No candy thermometer is needed for this easy fudge recipe. Creamy, smooth, delicious and chocolaty describes this fudge exactly. This fudge is perfect for holiday gift giving,
Making candy at the holidays is one of my favorite traditions and I think I like it even more than cookie baking. You can find many of my favorite candy recipes here on the blog including my Grandmother's caramels, my favorite peppermint fudge and delicious maple walnut fudge.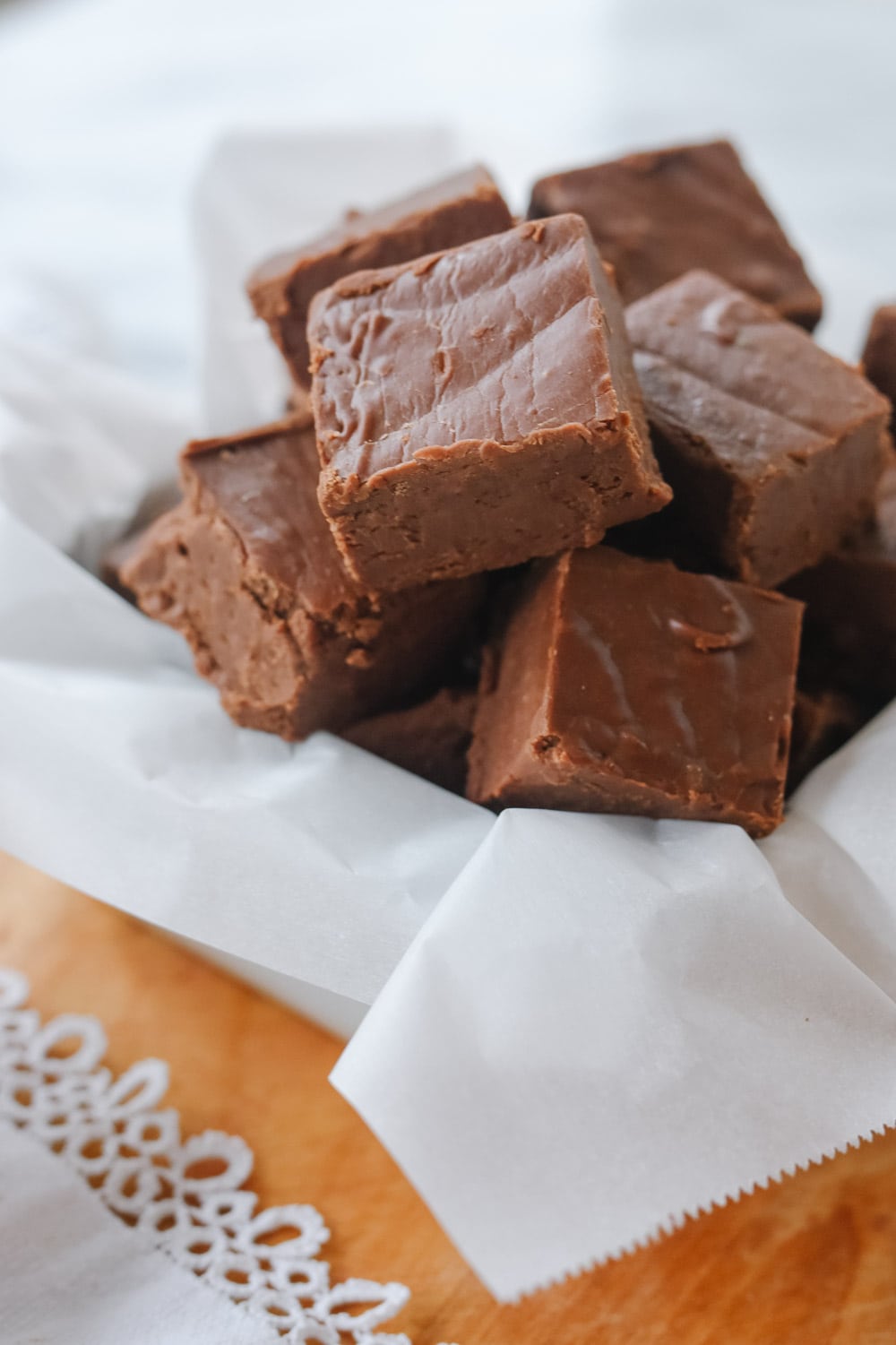 Chocolate Fudge
Fudge and the holidays just go together, at least at my house they do. I have a family history of excellent fudge and candy makers including my mom and my great Aunt Dorothy. I decided I better work on my fudge making skills to make sure the family tradition carries on. My mom is famous for her Rocky Road Fudge and she has made it every Christmas for as long as I can remember. My Aunt Dorothy made the most amazing peanut brittle.
I have discovered that it is possible to have good fudge days and bad fudge days. My mom always said the weather can affect your fudge making and I have found she is right. I made a batch of fudge this week on a cloudy, rainy day and it didn't turn out great. The next day was sunny and dry so I made another batch and I had perfect fudge! I guess you could say that it is fair weather fudge!!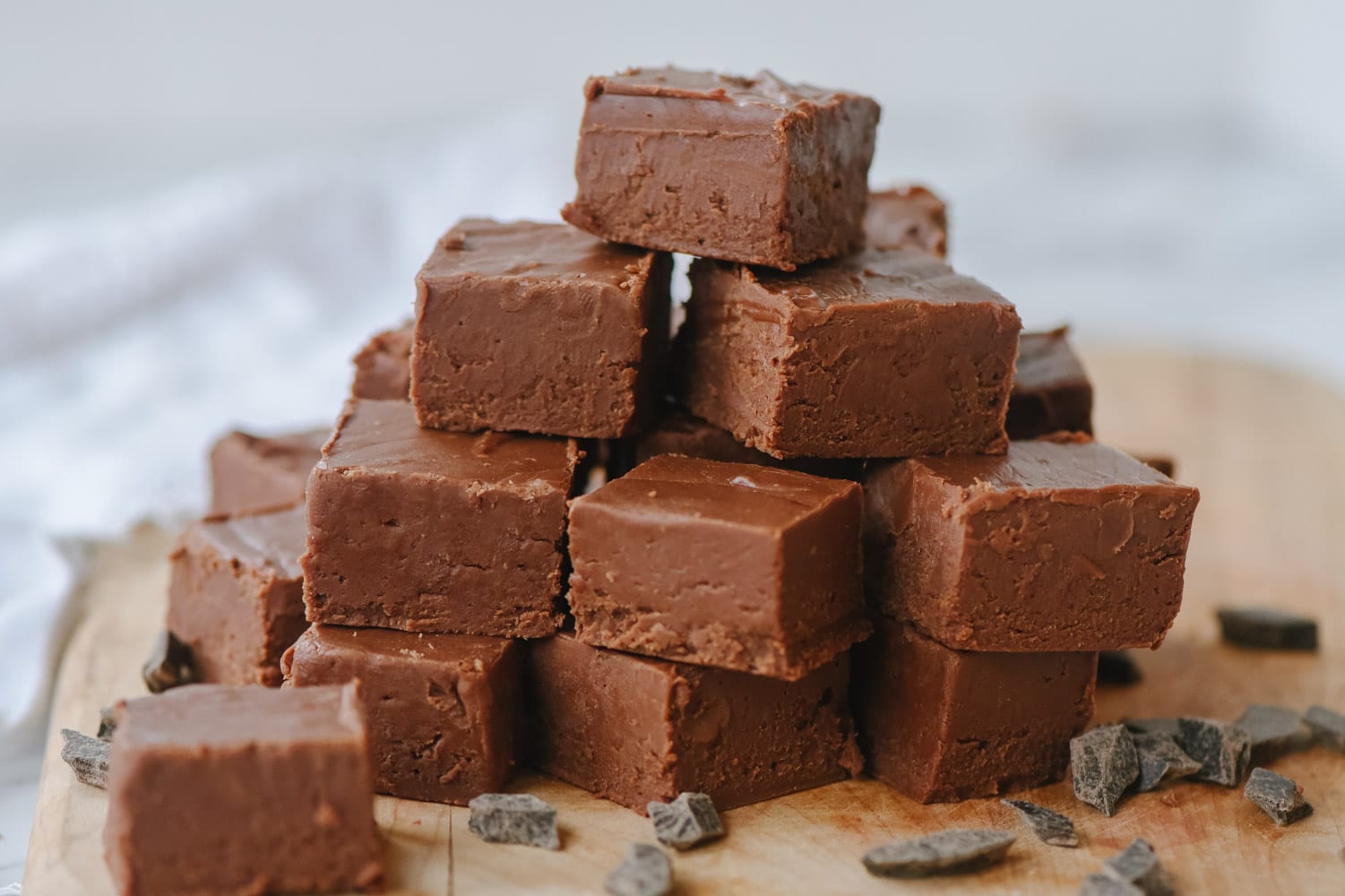 This easy fudge recipe has been around for decades and I think it originally came off the back of the Nestle's chocolate chip package, or rumor has it!
Easy Fudge Ingredients
Chocolate: This fudge recipes uses a combination of chocolates, semi sweet, milk chocolate and unsweetened. If you are a dark chocolate fan, use dark chocolate chips instead of semi sweet and replace the milk chocolate with semi sweet. Play around with it and have fun! A good quality chocolate can make a big difference in the quality of your fudge.
Sugar: I love using granulated and brown sugar in my fudge for a deeper flavor.
Evaporated Milk
Butter: Use a good quality butter
Marshmallows: I always use the marshmallow fluff in the jar. Use the Kraft brand, not the store bought brand. It does make a difference.
Vanilla Extract: You can mix things up and add in peppermint or mint!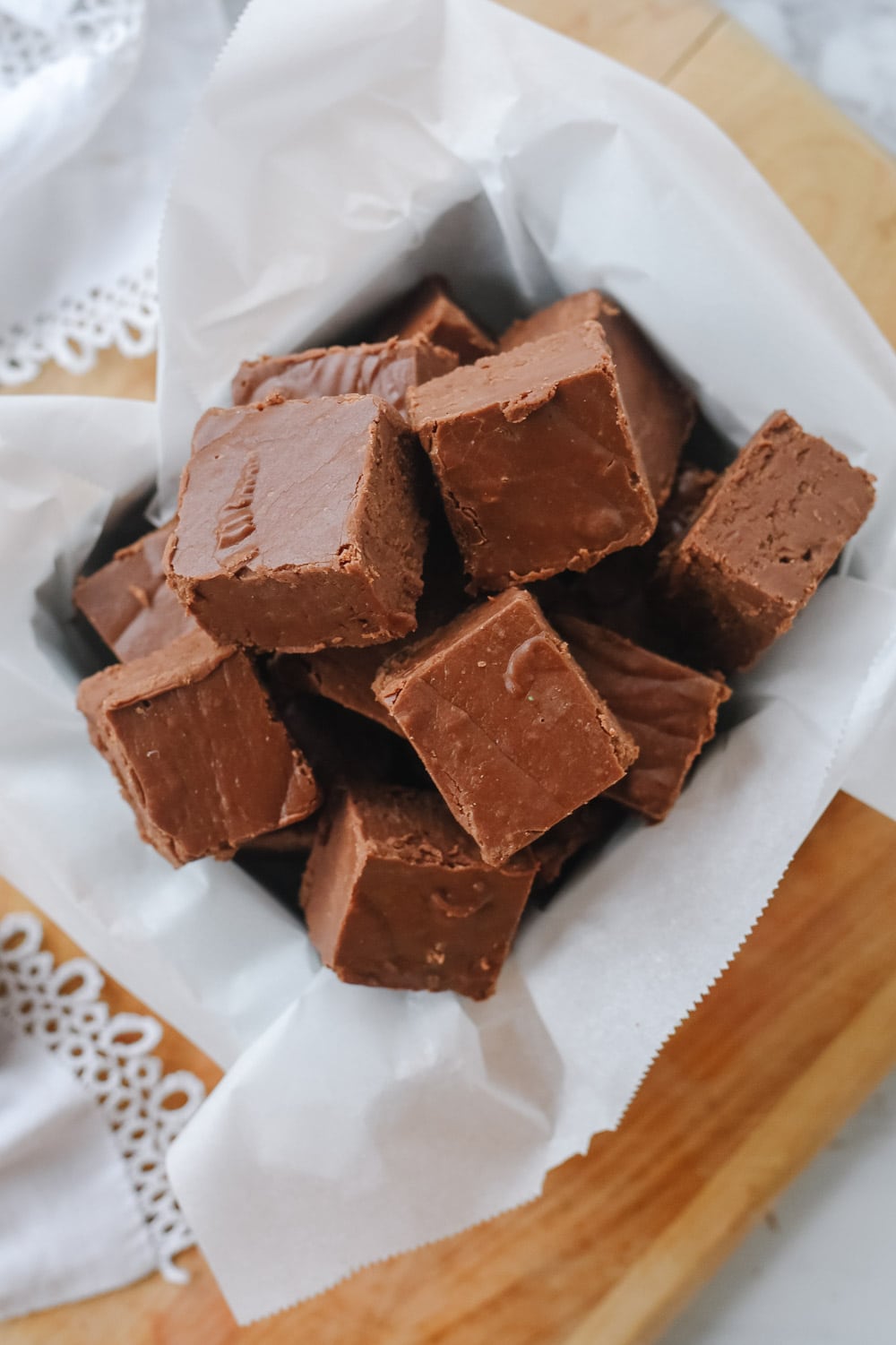 How to Make Fudge
You want a heavy pan with tall sides. I have my mom's old candy making pan and it is actually the pan from an old stove top pressure cooker. You can often find great heavy pans at Goodwill. If your pan isn't really heavy, just make sure you cook the fudge slowly and stir continuously! Make sure your pan is big enough time, it should be three times the volume of your fudge. You need plenty of room to stir.
Wooden Spoon. You are going to do a lot of stirring so you want a good solid wooden spoon!
Parchment Paper or foil. I always line my pan with either parchment paper or foil to make it easy to remove the fudge and cut it into pieces. I also spray the foil or paper with cooking spray. Fudge is much easier to cut outside of the pan.
Ingredients Ready. When fudge is ready, it's ready so be sure and have all your ingredients out and ready to go.
Candy Thermometer. This recipe can be made without a thermometer but if you have one and you want to double check the fudge is ready, use your thermometer. The fudge is ready when it reaches the soft ball stage of 237-239 degrees F.
Does Fudge Need to Be Refrigerated?
No, as a general rule, fudge is best stored in an air tight container in a cool, dry place. I put layers of wax paper or parchment paper between my layers of fudge to prevent them from sticking together. If a recipe specifies to refrigerate it, then do so of course but this recipe does not need to be refrigerated.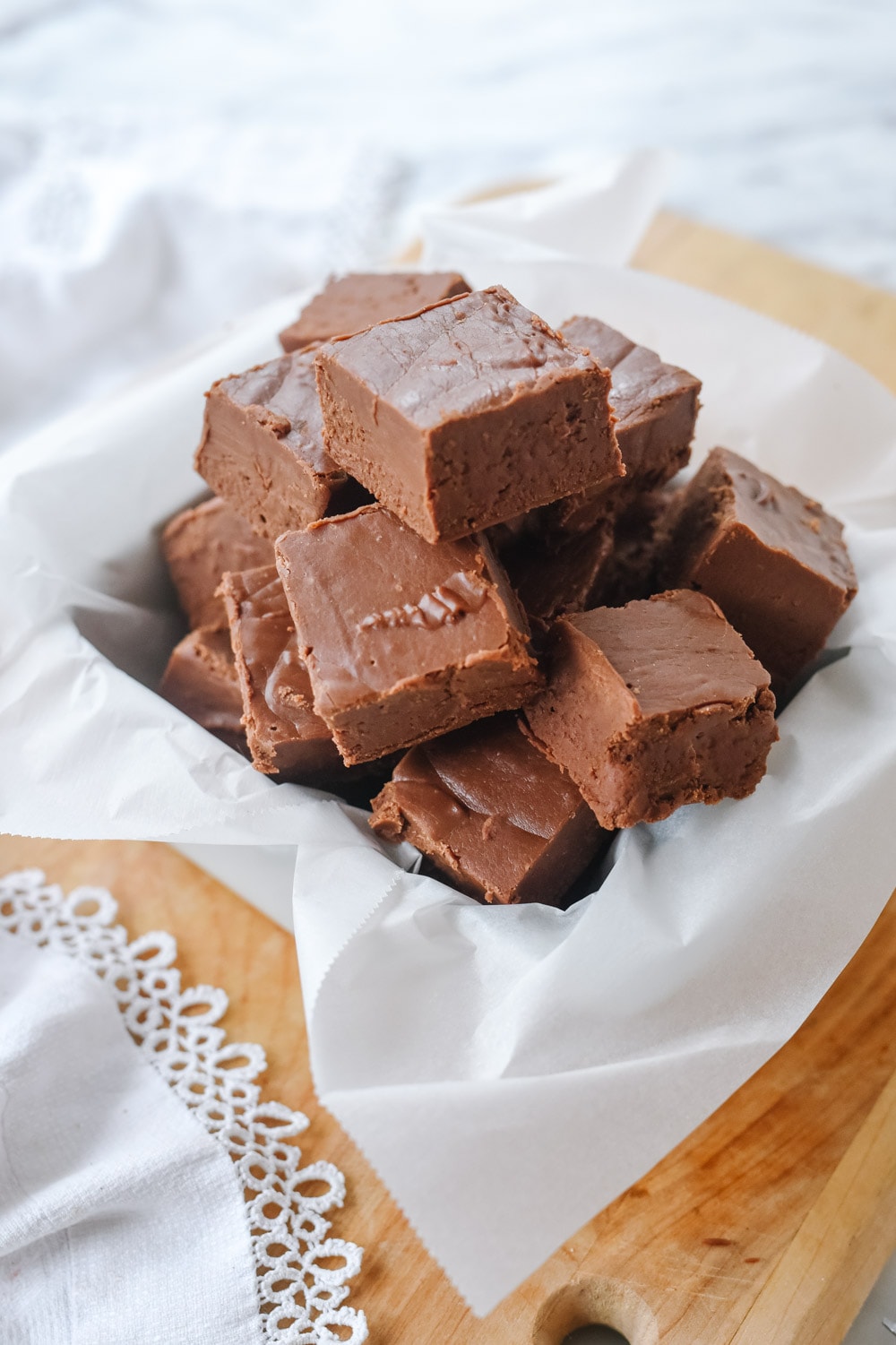 Other favorite holiday treats:
For all of my other favorite kitchen products and tools visit my Amazon Store.
Did you know I wrote a cookbook? Check out the Holiday Slow Cooker Cookbook for 100 delicious recipes
Easy Fudge Recipe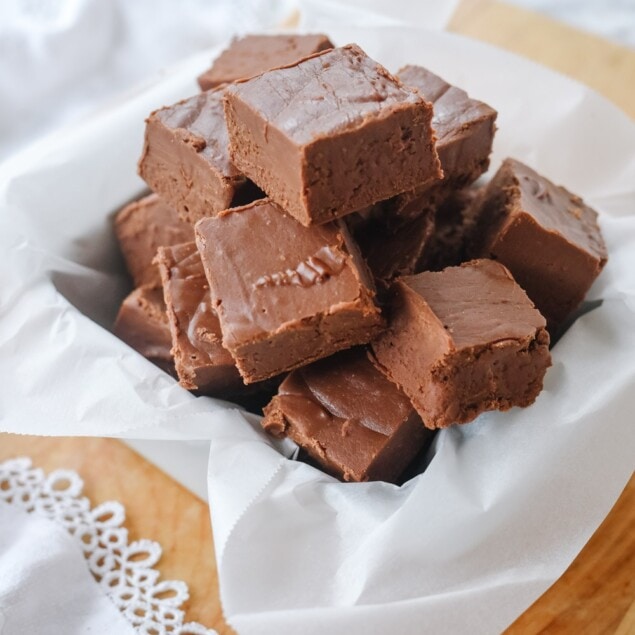 Easy Fudge Recipe
No candy thermometer is needed for this easy fudge recipe.  Creamy, smooth, delicious and chocolaty perfectly describes this fudge.  This fudge is perfect for holiday gift giving, 


Ingredients
1 Tbsp butter
3 1/3 cups sugar
1 cup brown sugar
12 oz evaporated milk
1 jar Marshmallow Fluff
1 tsp vanilla extract or mint, peppermint
2 cups semi sweet chocolate chips
2 cups milk chocolate chips
2 oz. unsweetened chocolate chopped
Instructions
Line a 9 x 13 pan with foil or parchment paper. You want the edges of the foil or paper to go up the sides of the pan, so you can grab them to remove the fudge from the pan. Spray paper or foil with cooking spray

In a heavy saucepan, combine sugars, milk and butter. Bring to low boil, just beginning to bubble and start timer for 5 minutes. Stir constantly for the 5 minutes, allowing it to come to a full boil. Stir, stir, stir!

Stir in marshmallow fluff and vanilla until blended.

Add in chocolate and stir until melted. Immediately pour into prepared pan.

Shake or tap the pan to get the surface of the fudge smoother, avoid touching it with your hands.

Allow to set up at room temperature.

Using foil or paper, lift fudge out of pan. Remove foil or paper and cut fudge into squares. Store in an airtight container with layers of paper between fudge.
Nutrition Facts:
Calories: 279kcal (14%) Carbohydrates: 51g (17%) Protein: 2g (4%) Fat: 9g (14%) Saturated Fat: 5g (31%) Cholesterol: 4mg (1%) Sodium: 15mg (1%) Potassium: 93mg (3%) Fiber: 2g (8%) Sugar: 46g (51%) Vitamin A: 45IU (1%) Vitamin C: 1mg (1%) Calcium: 29mg (3%) Iron: 1mg (6%)
* Disclaimer: All nutrition information are estimates only. Read full disclosure here.