This rocky road fudge is a classic at our house and has made an appearance every Christmas for decades! It is not Christmas without rocky road fudge.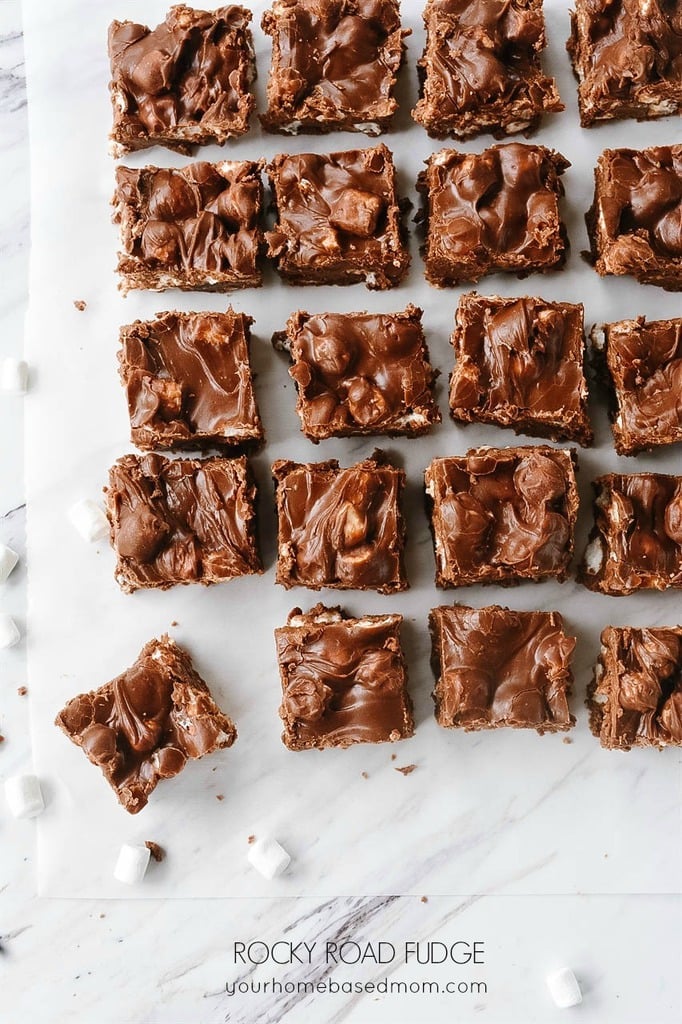 Does your family have a favorite holiday treat?  Something that is a must have each holiday season, the thing that everyone looks forward to and dreams about?! Christmas is not Christmas at our house until there is Rocky Road Fudge. For the last fifty years my mother has made Rocky Road Fudge – it's her holiday specialty.  In fact, I was at her house this weekend , the weekend before Thanksgiving, and she already had her first batch in the refrigerator.  Still making rocky road fudge at 88 years of age!
I actually didn't make my first batch of rocky road fudge until a few years ago,  fudge making was mom's job and she does it so well!  I make it a little different than my mother does though, I make it a little less rocky.  No nuts for me!  I know it really isn't truly Rocky Road without the nuts but I don't like nuts in my candy!  The only rocks I like in my Rocky Road Fudge are marshmallows. Pure chocolate fudgy goodness with marshmallows – yum!!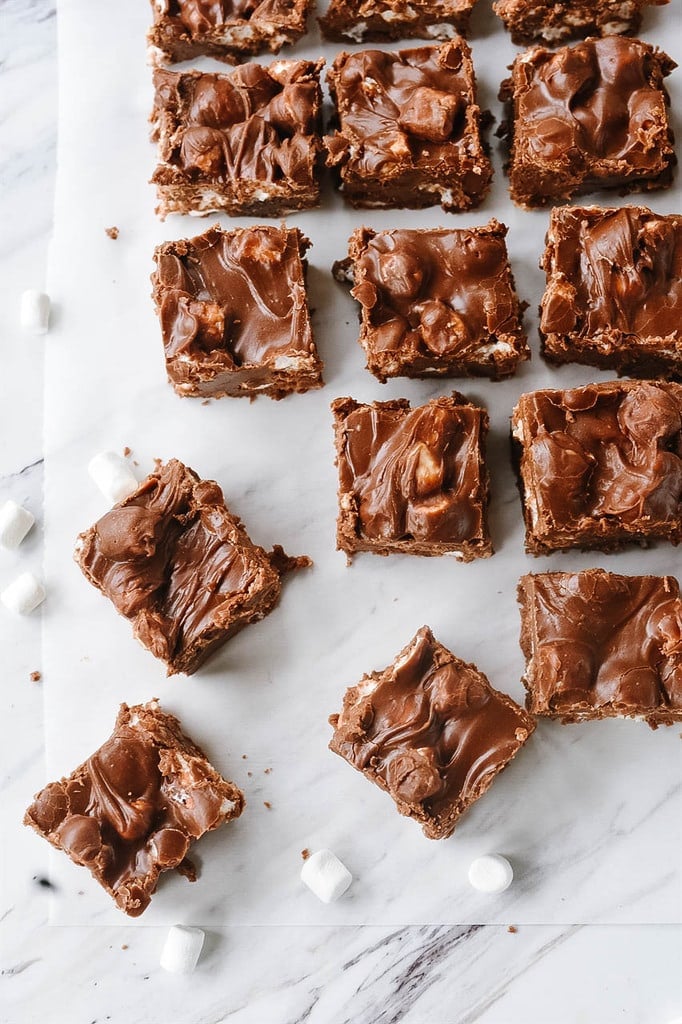 How Do You Make Rocky Road Fudge?
There are a few tricks to making rocky road fudge.  The first one is you want to use a nice heavy pan.  Fudge needs to boil for a while and in order for it not to burn on the bottom you need a heavy pan.  I use my mom's old candy making pan.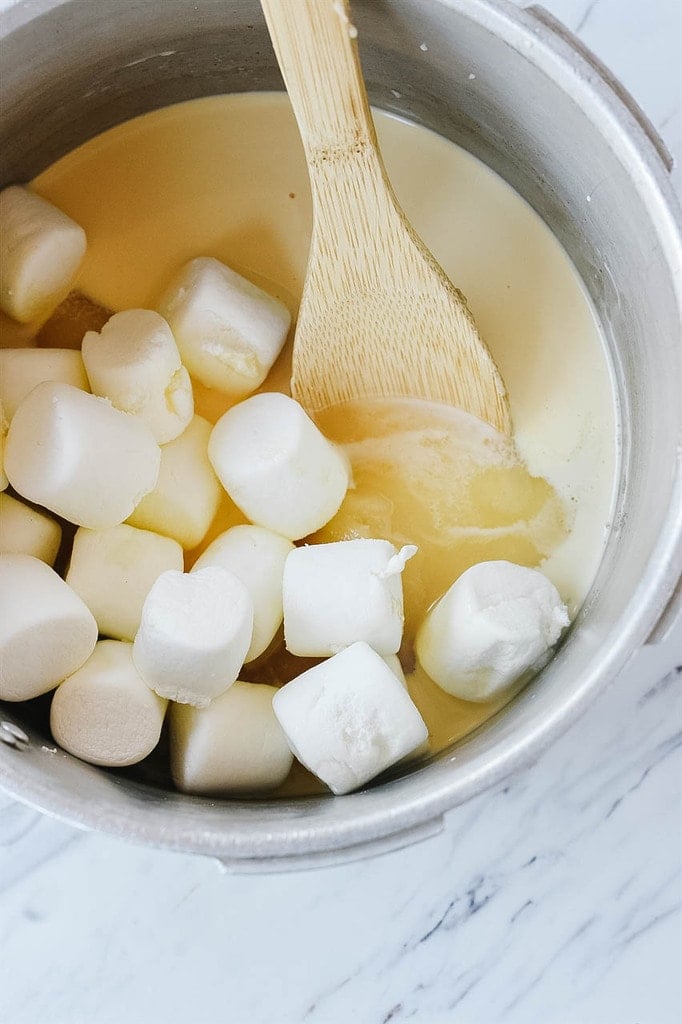 Since the fudge is nice and warm when you add the marshmallows make sure you freeze them first so they hold their shape.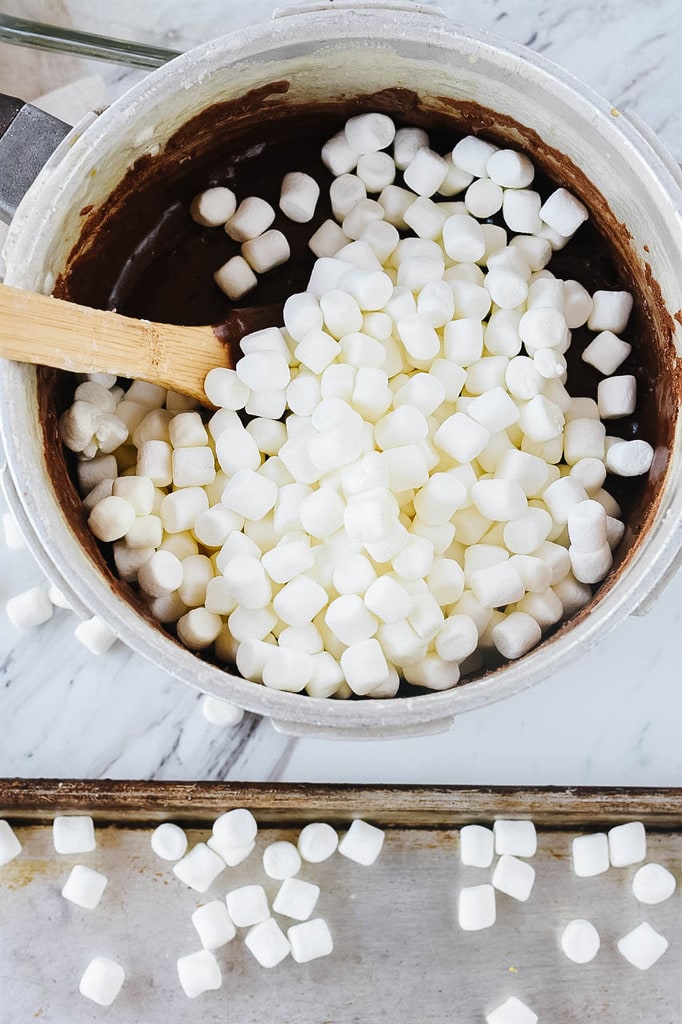 This recipe is quick and easy as far as fudge recipes go and makes a nice big batch.  You don't need a candy thermometer either.  Just boil for 6 minutes.
Pour it into a greased 9 x 13 pan and allow it to set up.  It will thicken as it cools.  I like to keep it in the refrigerator.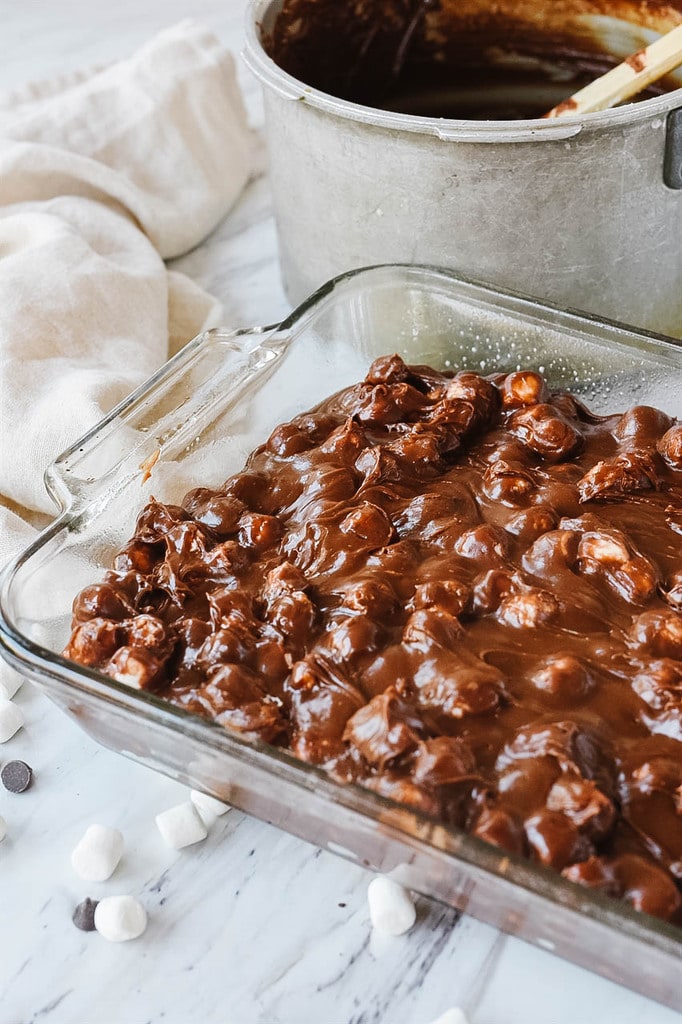 Rocky Road Fudge is rich and chocolatey so cut the pieces fairly small.  My mom likes to add walnuts into her rocky road fudge to make it "real" rocky road fudge as she likes to call it but I'm going to stick with "less" rocky road fudge!
Other favorite candy recipes:
White Chocolate Peppermint Fudge
For all of my other favorite kitchen products and tools visit my Amazon Store.
Did you know I wrote a cookbook?  Check out the Holiday Slow Cooker Cookbook for 100 delicious recipes
Rocky Road Fudge Recipe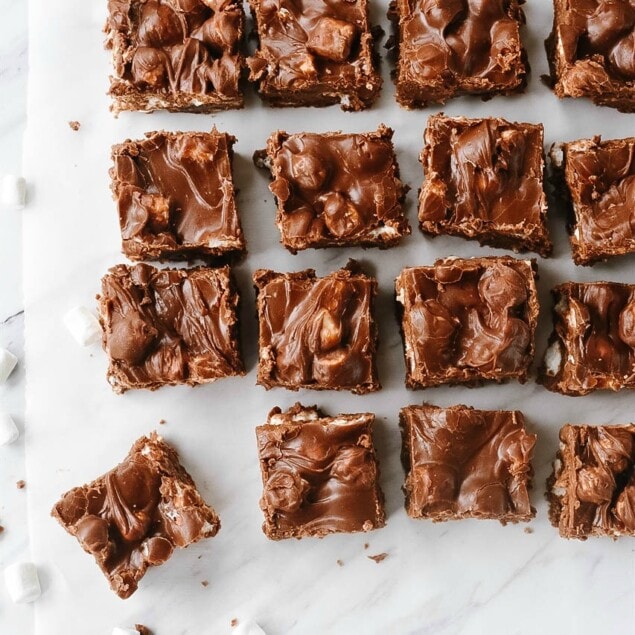 Rocky Road Fudge
Rocky Road Fudge is full of marshmallows, nuts and chocolate goodness. My mom has been making it for fifty years!
Ingredients
12 oz semi sweet chocolate chips
1 cup butter
4 C sugar
1 1/2 C evaporated milk
20 large marshmallows
2 C walnuts chopped
1 tsp vanilla
16 oz miniature marshmallows frozen
Instructions
Place 2/3 of the bag of miniature marshmallows on a baking sheet and freeze

Mix together sugar, milk and 20 lg. marshmallows and boil for 6 minutes, stirring constantly

Remove from heat and add chocolate chips and butter

Stir until thick, add nuts and let sit awhile to thicken up a bit, add vanilla and frozen marshmallows

If you are not adding nuts you may want more marshmallows

Pour into greased 9 x 13 pan
Nutrition Facts:
Calories: 443kcal (22%) Carbohydrates: 63g (21%) Protein: 3g (6%) Fat: 20g (31%) Saturated Fat: 9g (56%) Cholesterol: 25mg (8%) Sodium: 106mg (5%) Potassium: 174mg (5%) Fiber: 1g (4%) Sugar: 54g (60%) Vitamin A: 280IU (6%) Vitamin C: 0.4mg Calcium: 63mg (6%) Iron: 1.3mg (7%)
* Disclaimer: All nutrition information are estimates only. Read full disclosure here.
Need some help figuring out what's for dinner tonight?
Come join our Facebook Group!  Join hundreds of others who love sharing dinner time ideas.  You don't want to miss out on the fun!

You'll find lots of ideas for dinner from all our awesome members and you can share your ideas too!  Join the Family Dinner Table today.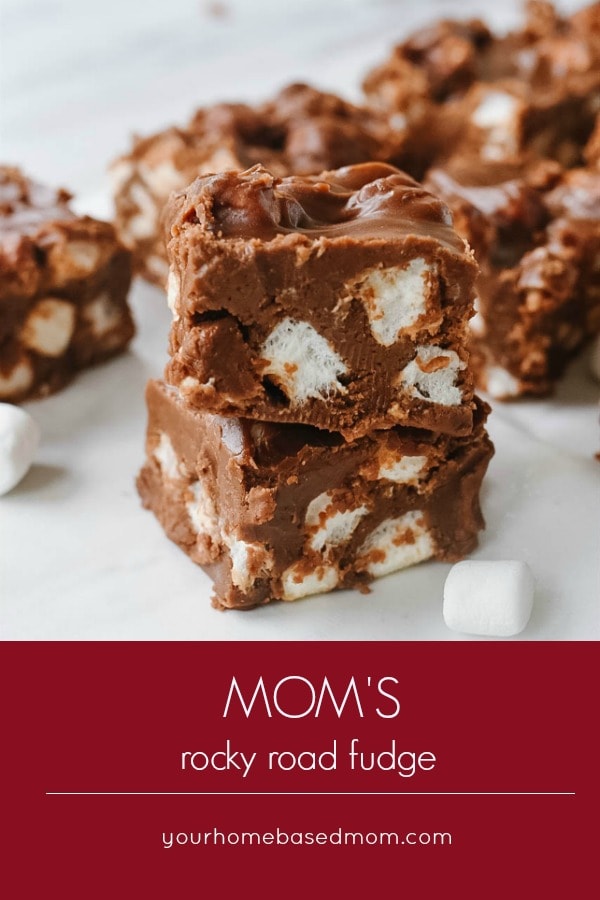 Originally posted  December 18, 2009