For Christmas this year my mother gave me a cookbook.  This wasn't one of the newest cookbooks on the bookstore shelves.  This cookbook was over 60 years old.  It was given to my mother when she was 20 years old by her grandmother –  my Great Grandmother Mary Calista Welles Schenck  (I love the fact that she spelled my mother's name wrong.  There is an E on her Anne!)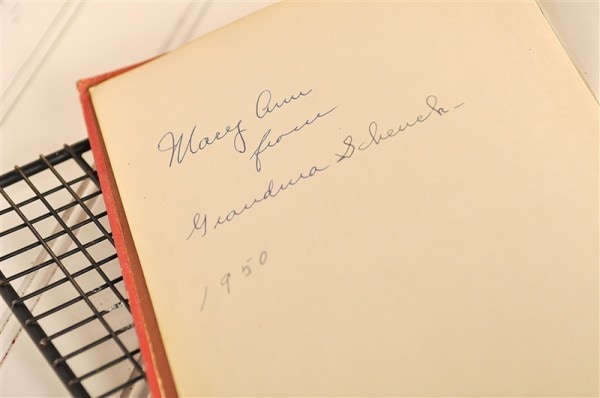 My memories of my Great Grandmother are faint and few.  She passed away when I was eight years old.  But I grew up hearing stories about Great Grandma Schenck, I have visited her home in Elmwood, Illinois,  stood by her grave and I have always had a bit of a connection to her.  I named my first daughter after her – Calista Mary Wilkes.
I was thrilled to receive this cookbook.  My mother had included a note in the cookbook that read:
 "The first thing I made from this cookbook was the butterscotch chiffon cake on page 159.  I t was delicious!  I baked it as dessert for the first meal I ever cooked – it was for a boyfriend.  I never made it again because my father had a heart attack later that night!    The most used recipe is the lemon meringue pie (most stained page in the book!) 
My grandmother was a woman ahead of her time.  She ruled her household, was very vocal about women's rights and very active in her community.  She was certainly influential in my life!  I pass this book on to you with much love and pride of the woman you have become.  With much love – Mom"
Not only will I treasure the cookbook but also the note from my mother.
So I knew immediately that I needed to try the lemon meringue pie.  I am still undecided on whether I should risk making the butterscotch chiffon cake though – is there such a thing as a cursed recipe!?!?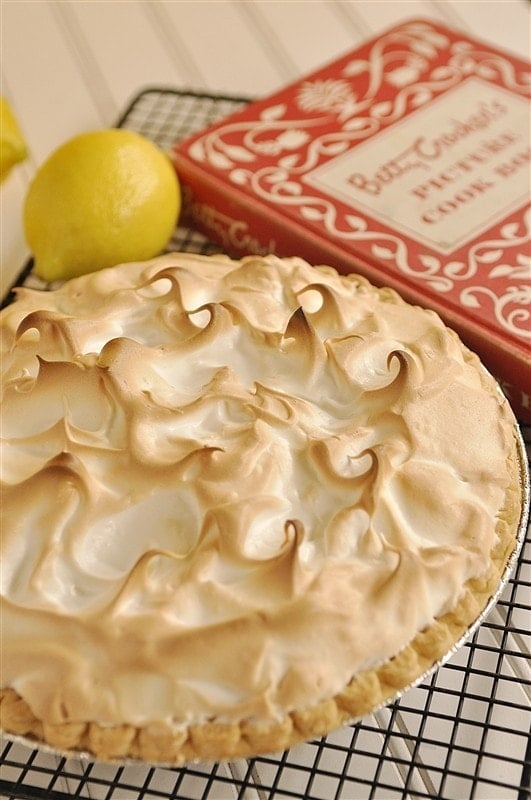 This cookbook proves, like mother, like daughter.   First, it is obvious, like me, my mother loves lemon since the most used page in the cookbook is for lemon meringue pie. From the looks of the page, my mom is a messy cook just like me!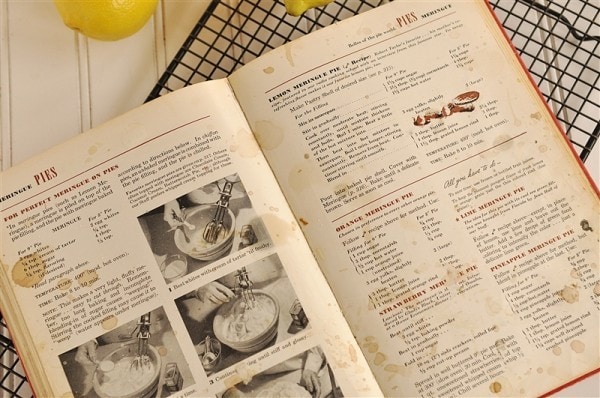 That messy page #317 tells a story.   I know there are many stories between those pages.  Stories of family dinners, parties and holidays when she probably made and served that pie.
Have you ever wished that a cookbook could talk?   That it could tell the stories of the people that made the recipes, the people that enjoyed the food. Where they served it and to who. I do.  I wonder, if my recipes could talk, what would they say about me?  What stories would they have to tell.
I am grateful now that some of my spills are now part of her spills, part of those pages.  That my story is now between the pages of that cookbook along with my mothers.
I love stories.  I love reading stories and telling stories.  That is probably why I love blogging so much.  I am also excited to be a part of the [email protected] conference hosted by Cherish Bound. I was also able to be a part of this conference last year where I met several of you!
I will be speaking on "Life is in the Details" – Like a good story – what makes a good life is the details. Details evoke emotions, memories and tell the story. Learn how we can focus on the detail, not only in our stories, but in our everyday life, parties, events and special occasions. Discover how when you connect the dots between all the joys, life seems fuller and more satisfying.
 The conference runs March 21-23, 2013 in Salt Lake City, Utah. This year
[email protected]
will be held in partnership with the
RootsTech
family history and technology conference at the Salt Palace. This is pretty exciting news for anyone fascinated with family history like I am.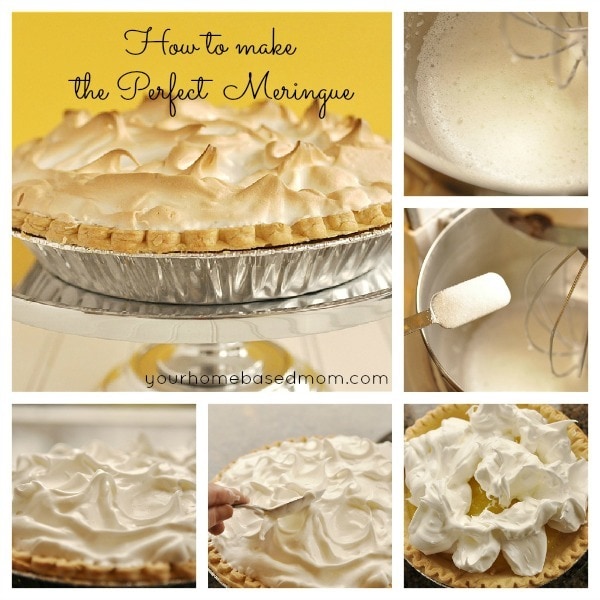 How to Make Meringue
To make meringue, you will use the leftover egg whites from the pie recipe.  Just be sure you don't get any of the egg yolk into the egg white.  This can prevent them from whipping properly.  Also, make sure your bowl and beaters are clean also.
Whip the egg whites with the cream of tartar until they are foamy.
Add in your sugar a tablespoon at a time and then beat until it turns glossy and forms a stiff peak.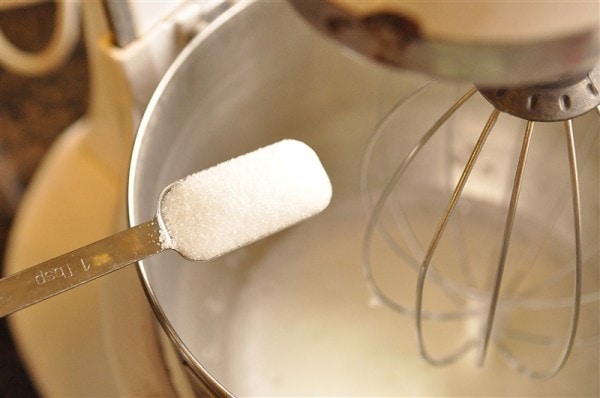 Fill the pie crust with your filling and then spoon the meringue onto the top of the pie.
Then spread the meringue over the top of the filling, being sure to totally seal the edges.  You don't want any holes or openings.  Be sure the meringue comes all the way to the edge of the pie crust.
TRUE CONFESSIONS:  I did not make this pie crust.  I figured by this time you were probably wondering how I got such a perfectly fluted edge.  I didn't.  I had made a pie crust using my Perfect Pie Crust Tutorial but then I put it in the oven to bake and got distracted.  It burned.  I was out of time and fortunately had a store bought one in the freezer so that's what you got!
Use the back of your spoon to form peaks across the top of the pie and to make sure the meringue covers the whole surface.  Be careful to seal the meringue onto the edge of the crust to prevent shrinkage.  If the filling is exposed to the heat it may "weep."
Isn't she pretty!?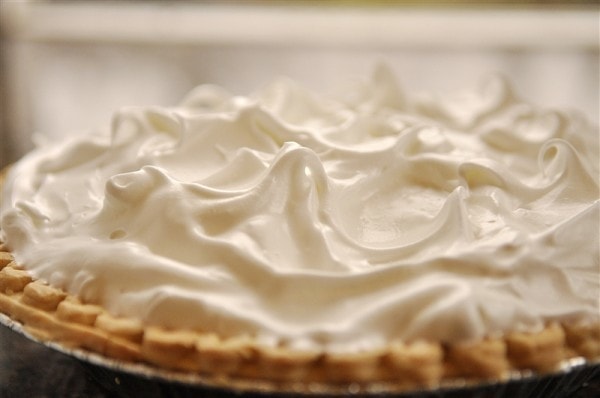 She is now ready for the oven where she will bake for about 10 minutes or until the meringue turns golden brown -just like this.  Allow to cool before serving.  Keep it away from drafts or the meringue can fall.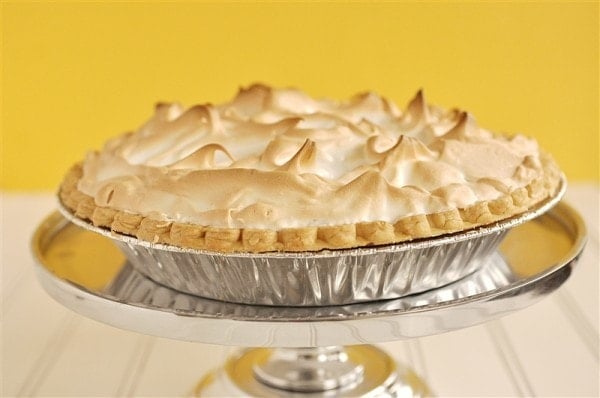 Then she is ready – take a nice big slice and enjoy!!
For other delicious pie recipes try:
Lemon Meringue Pie Recipe
Print
Lemon Meringue Pie
Deliciously sweet and tart, this is the perfect lemon meringue pie!
Ingredients
1

pie crust

10" baked pie crust

1 1/2

C

sugar

1/3

C

cornstarch

1 1/2

C

hot water

3

egg yolks

slightly beaten

3

Tbsp

butter

4

Tbsp

lemon juice

or more to taste

1 1/2

Tbsp

lemon zest
Meringue
3

egg whites

1/4

tsp

cream of tartar

6

Tbsp

sugar
Instructions
Mix together sugar and cornstarch.

Add in water and stir until mixed.

Cook over medium heat, stirring constantly until mixture thickens and boils.

Boil for one minute.

Add a little of the hot mixture into your 3 egg yolks.

Then pour that hot mixture into the pan with the rest of the hot mixture and stir.

Boil one minute longer, stirring constantly.

Remove from heat. Continue stirring until smooth.

Add in butter, lemon juice and lemon rind.

Pour into baked pie shell.

Cover with meringue.

Bake until a light golden brown at 400 degrees for about 10-12 minutes.

Cool and serve.
Meringue
Beat egg whites and cream of tartar until foamy.

Add in sugar one tablespoon at a time until stiff and glossy

Pile meringue onto pie filling

Be sure and seal the meringue onto the edge of crust to prevent shrinking.

if the filling is exposed to heat it will "weep"

Swirl the meringue with the bottom of a spoon for a decorative top.

Bake until lightly golden brown. Cool gradually, away from drafts

A chill m ay make the meringue fall.
Nutrition
Serving:
1
g
|
Calories:
243
kcal
|
Carbohydrates:
41
g
|
Protein:
2
g
|
Fat:
7
g
|
Saturated Fat:
3
g
|
Cholesterol:
56
mg
|
Sodium:
100
mg
|
Potassium:
46
mg
|
Sugar:
31
g
|
Vitamin A:
155
IU
|
Vitamin C:
2.9
mg
|
Calcium:
11
mg
|
Iron:
0.5
mg
Tidy Mom  ***Fingerprints on the Fridge  ***Serenity Now ***Not Your Ordinary Recipes *
Whipperberry * Real Housemoms *