Making the Perfect Pie Crust is easy with this step by step tutorial.  Perfect pie crust every time!
This post contains affiliate links.
Are you scared of pie crust?  I use to be.  I admit it can be a bit intimidating.  And nothing can ruin a good pie quicker than a bad pie crust!
Pie crust should be flaky and tender not tough.
There are a lot of pie crust recipes out there.  Some of the recipes use shortening and others swear by all butter.
Several years ago a friend and I did a pie crust bake off.  We tried all different recipes and combinations to see which one we thought was the flakiest and the most tender. Today's recipe is the one I liked the best.  It is also a combination of shortening
 and butter.
Pie Crust is really pretty easy to make.  The trick is to remember to be gentle and to handle it as little as possible.  Overworking the dough and handling it too much will pretty much guarantee a tough crust.  Today I'm going to share with you my Perfect Pie Crust Tutorial for flaky and tender pie crust every time!
Step 1:  Combine shortening, butter, flour and pinch of salt in a deep bowl.

Step 2: Using your hands, (Yes, your hands!) combine the ingredients until little pebbles form. Use both hands!


Step 3:  Your water needs to be cold.  I put some water in a cup and then fill it with ice cubes.  You don't need much water and I really don't know the amount because it will vary according to the day, the weather, etc.  I just splash a small amount into the bowl and then use a fork to start "fluffing" the dough until it starts to hold together.  Do not pour a bunch of water into the bowl.  Add it teaspoon by teaspoon just until the dough holds together. Use your hands to form it into a ball.


Dough should be soft and moist but not wet.
Step 4: Divide dough into two balls. While working with one keep the other covered so it doesn't dry out or you can also freeze it if you'd like for use later. I like to place my ball of dough between two layers of wax paper and flatten it.

Step 5: Using a rolling pin, roll the dough out into a circle. If you are using a 9 inch pie plate make circle your circle is bigger than 9 inches.


Step 6: Remove the top layer of wax paper and turn the pastry over into your pie pan and then remove the underside of wax paper.
Press pastry into pie pan.


Step 7: Using your fingers, flute the edge of the crust.

Step 8:  Cover the pie with foil or plastic wrap and put in the freezer for about 30 minutes to allow the pastry to firm up a bit.

Step 9: Then depending on the type of pie you are making you may fill the pie or bake the crust first. For Grandma Zola's Chocolate Meringue Pie I baked the crust first.
Because the edges of a pie tend to brown quicker then the rest of the pie I usually cover the edges of my pie with foil for half of the baking time.  Last week I found this fun pie crust shield so I thought I'd give them a try.  It worked pretty good.


Step 10:  Enjoy a flaky, tender pie crust!
For a fun idea to use up your pie crust scraps check out my Pie Fries post!
Perfect Pie Crust Recipe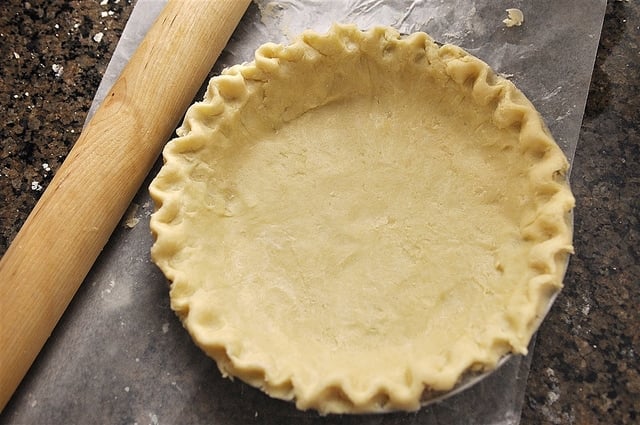 Perfect Pie Crust
Making the Perfect Pie Crust is easy with this step by step tutorial.  Perfect pie crust every time!
Servings
:
2
9" pie crusts
Ingredients
2 1/2

C

flour

1/2

C

butter

1/2

C

shortening

pinch

of salt

ice cold water

add teaspoon by teaspoon until right consistency has formed
Instructions
Place flour, salt, butter and shortening in bowl.

Use your hands to combine ingredients until small pebbles form

Add cold water a teaspoon at a time until the dough begins to hold together and form a ball.

Do not over handle the dough. Dough should be soft, moist but not wet.

Divide dough in half.

Place ball of dough onto wax paper and flatten. Place another piece of wax paper over the top and roll out the pastry into a circle. If your pie pan is 9 inch make sure your circle is bigger than 9 inches so you have enough for the edging..

Remove the top layer of wax paper and place pastry into pie tin. Remove other piece of wax paper and press pastry into pan. Use your fingers to crimp the edge of the crust.

Freeze for 30 minutes to firm up the pastry. This helps prevent pastry from shrinking during baking.

Prick the bottom of crust to prevent bubbling during baking.

If pie calls for a baked crust bake at 400 degrees. For the first 10-12 minutes keep the edges of pie covered with foil and then remove for the last 15 minutes. Bake until golden brown.