We've been keeping our grill busy lately.  We're using it for the usual stuff – hamburgers, steak, chicken etc.  but this week I tried something new and fun on the grill – Grilled Flatbread with Chorizo and Peppers.  So fun to cook something different on the grill!
The best part is – it's easy and on those hot summer days not having to heat up the house with the oven is a big plus!  I headed to my local store to pick up the ingredients I would need.
The recipe called for Kraft Shredded Triple Cheddar Cheese.  I love the combination of the three types of cheddar, Vermont White Cheddar, Sharp Cheddar and Medium Cheddar.  It is located in the refrigerated deli section of the store.
It also comes in some great new packaging which makes it easier to use. I'm loving the new stand up packaging.  No more laying on it's back on the counter and spilling out onto the counter!   The packaging is smaller too which is great but still has the same amount of cheese in it!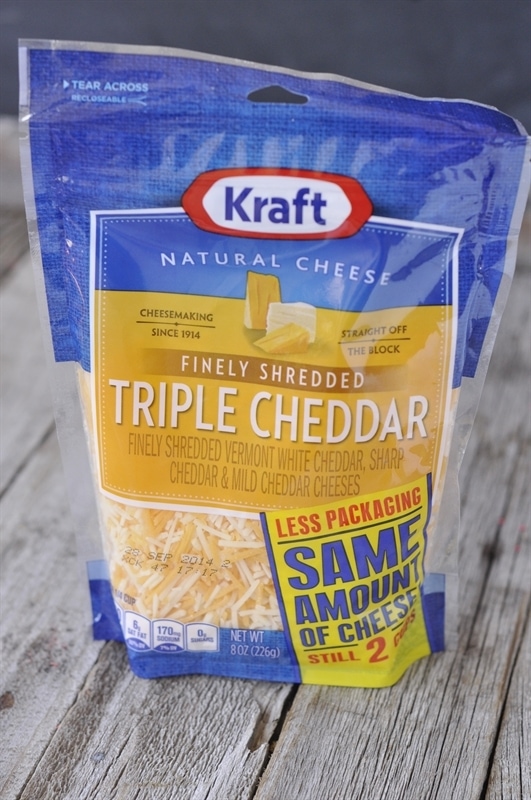 To make the flatbread I rolled out the pizza dough onto a piece of parchment paper I had drizzled with a little olive oil.
From there I took it out to the grill and just flipped it upside down to put the dough onto the grill.
Let it cook for 5 minutes or so until the bottom is lightly charred and  you've got grill marks.
After turning it over it's time to add all the yummy toppings .  Salsa is your base and then sprinkle on chorizo, peppers and then the KRAFT Triple Cheddar Cheese!
Close the lid of the grill and let it cook until the cheese is all nice and melted and the crust is golden brown. Yum!!  About five more minutes.
The next step is to just slice it up and enjoy!
Grilled Flatbread with Chorizo & Peppers would be the perfect appetizer for a summer BBQ or could even be eaten as a main dish with a nice green salad.
Grilled Flatbread Recipe
Print
Grilled Flatbread with Chorizo & Peppers
Servings
2
flatbread pizzas
Ingredients
2

Tbsp

olive oil

1

lb.

refrigerated pizza dough

room temperature

3/4

C

fresh salsa

4

oz.

dry cured Spanish chorizo

chopped

1/2

C

mixed red and yellow pepper strips

1

pkg.

8oz. KRAFT Shredded Triple Cheddar Cheese
Instructions
Heat grill to medium heat.

Brush 1 Tbsp oil onto a large sheet of parchment paper.

Divide dough in half

Place 1 piece of dough on parchment and roll out to 14 x 8 rectangle.

Repeat with dough on a second sheet of parchment.

Transfer dough, parchment side up to grill. Remove parchment.

Grill 2-4 minutes or until bottoms of crusts are lightly charred and you have grill marks.

Turn and place grilled side up.

Top with salsa, chorizo, peppers and cheese.

Grill another 4-5 minutes or until cheese is melted.