These Crescent Rolls are soft, buttery and delicious. They are the perfect addition to any holiday meal or Sunday dinner.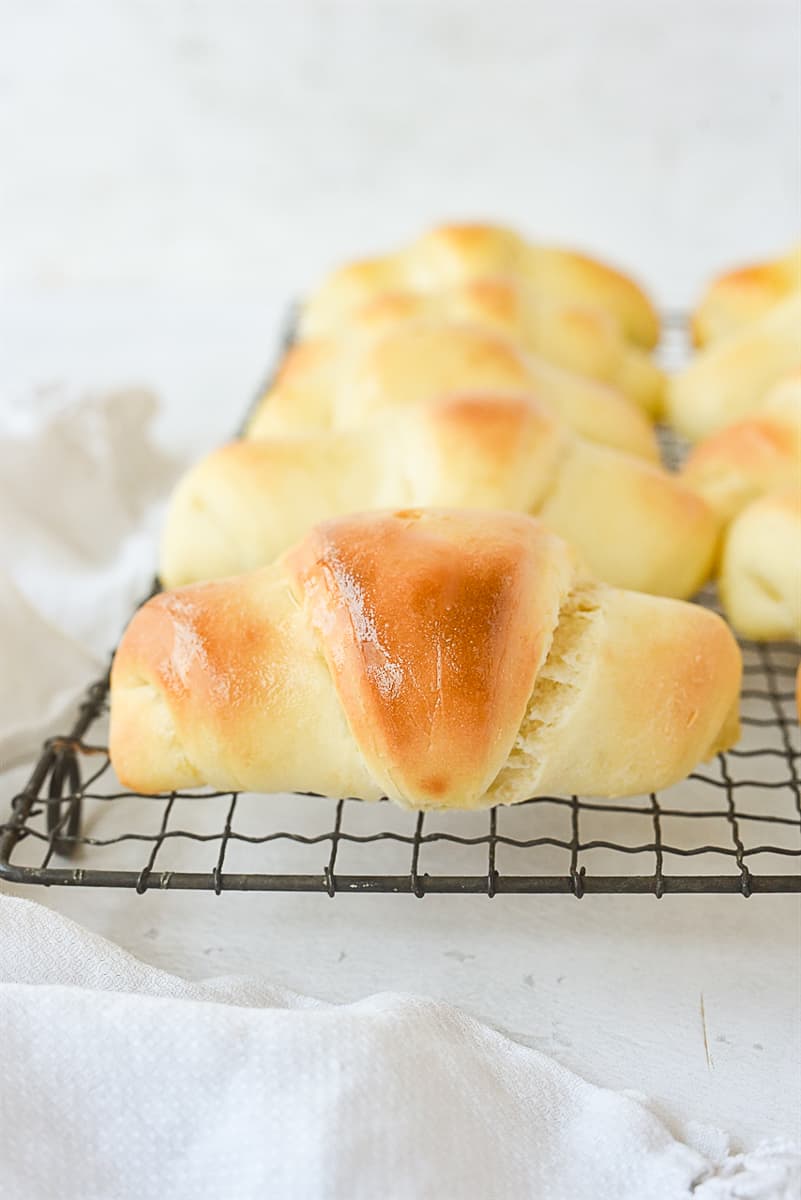 If I had to choose my favorite holiday meal menu item it would be homemade rolls, every time, every holiday. You can have the turkey, mashed potatoes and gravy – give me the rolls!
My sausage and cornbread dressing is a close second at Thanksgiving but a homemade roll is heaven.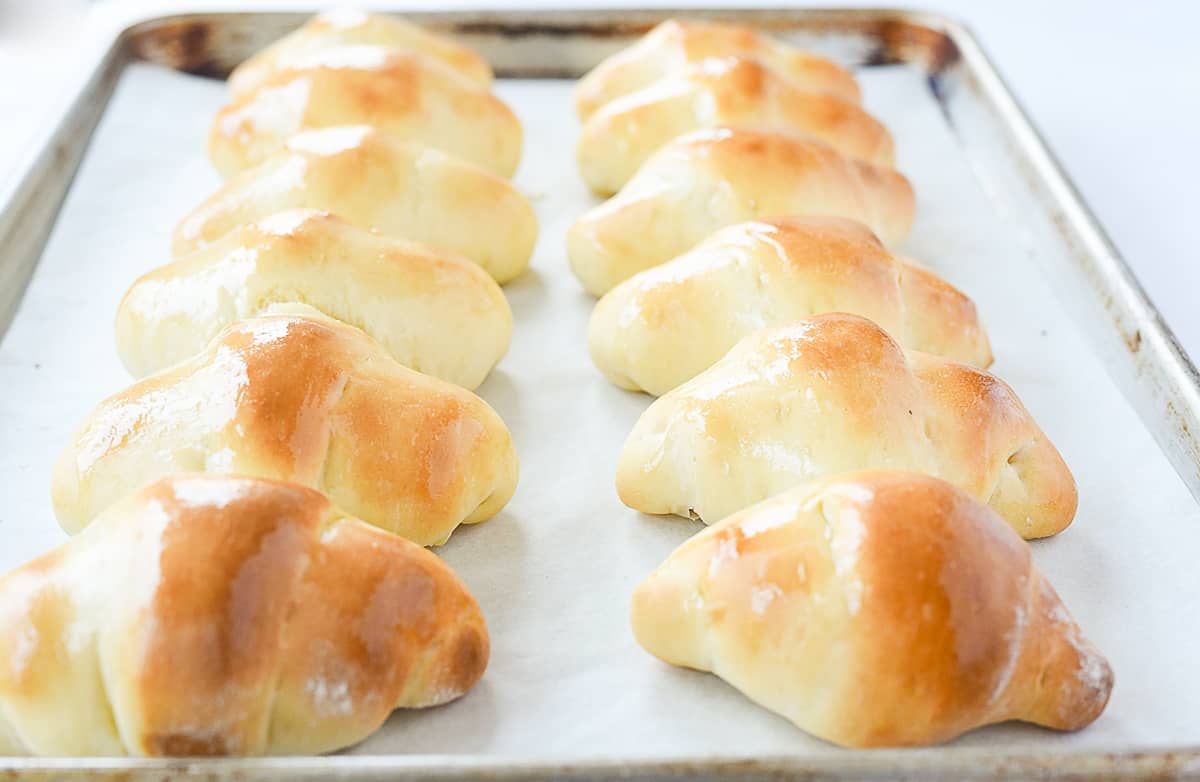 I have lots of different yeast roll recipes here on the blog but today's recipe is one of my favorites. It is a recipe that was given to my mother by a sweet Danish woman named Anna who was an amazing cook.
My mom is the resident roll maker in our family and this is the recipe she uses.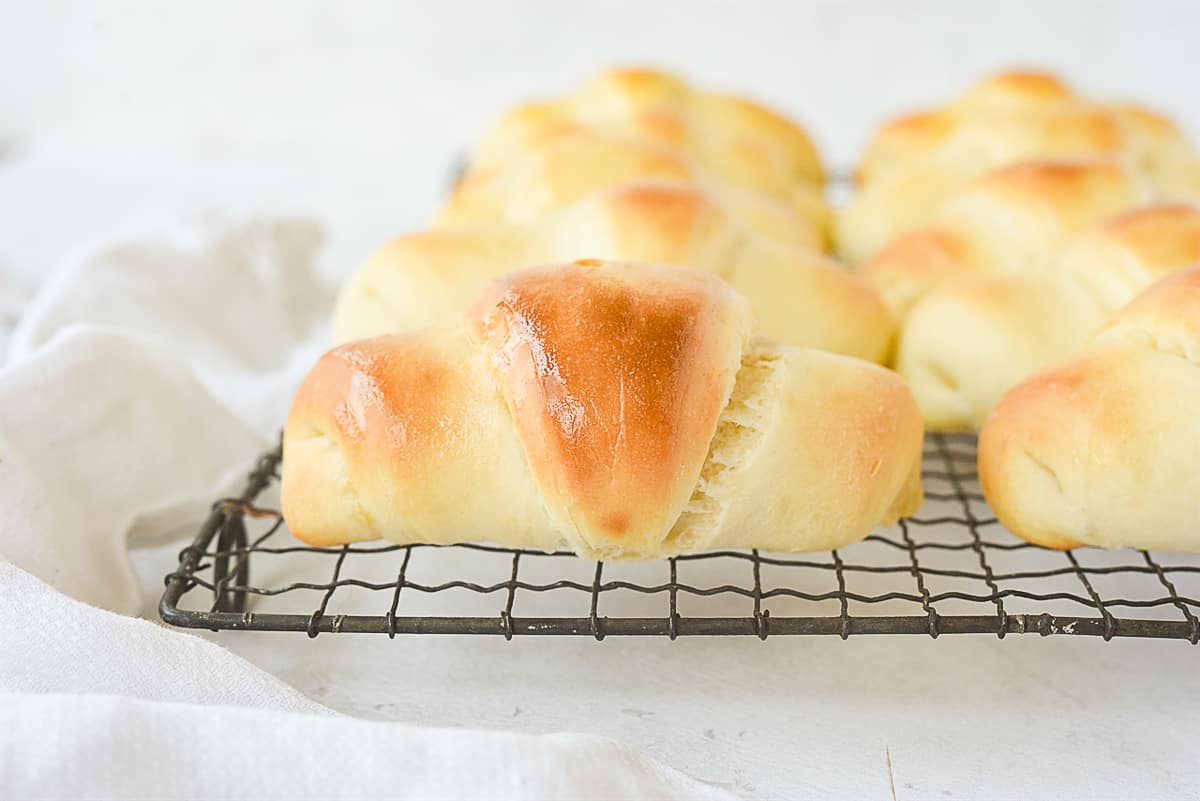 How to Make Crescent Rolls
If you make yeast rolls the first few steps may be slightly different than you are use to. But trust me on this one, it works.
Mix together the first 3 ingredients of butter, sugar and salt in a bowl.
Combine 1 cup of water to a boil and pour over ingredients in bowl. Stir to dissolve sugar and melt butter. Cool mixture until temperature is below 110 degrees F. You can put it in the refrigerator to speed up the process if needed but don't let it get cold.
Activate 2 packages of dry active yeast in a cup warm water. Allow to sit for about 5-10 minutes until foamy and bubbly. For tips on proofing yeast check out this post.
Kneads. Combine yeast mixture and sugar mixture together in bowl of stand mixer. Add in eggs and flour. Knead the dough for 5-10 minutes. It will be very soft and slightly tacky.
Rise Allow the dough to rise right in the mixer bowl, covered with a towel for about an hour.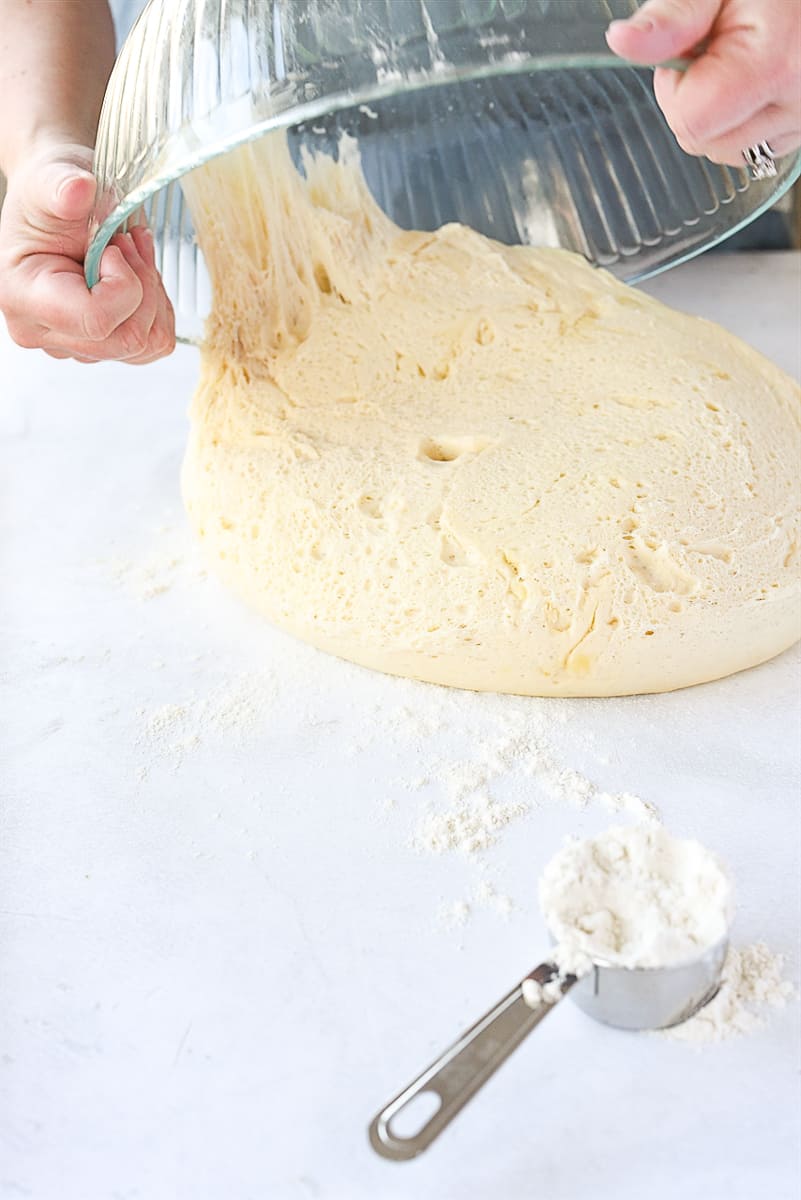 Roll out Place dough on lightly floured surface. Knead a few times with your hands. Add just enough flour so you can work with the soft dough without it sticking to your hands.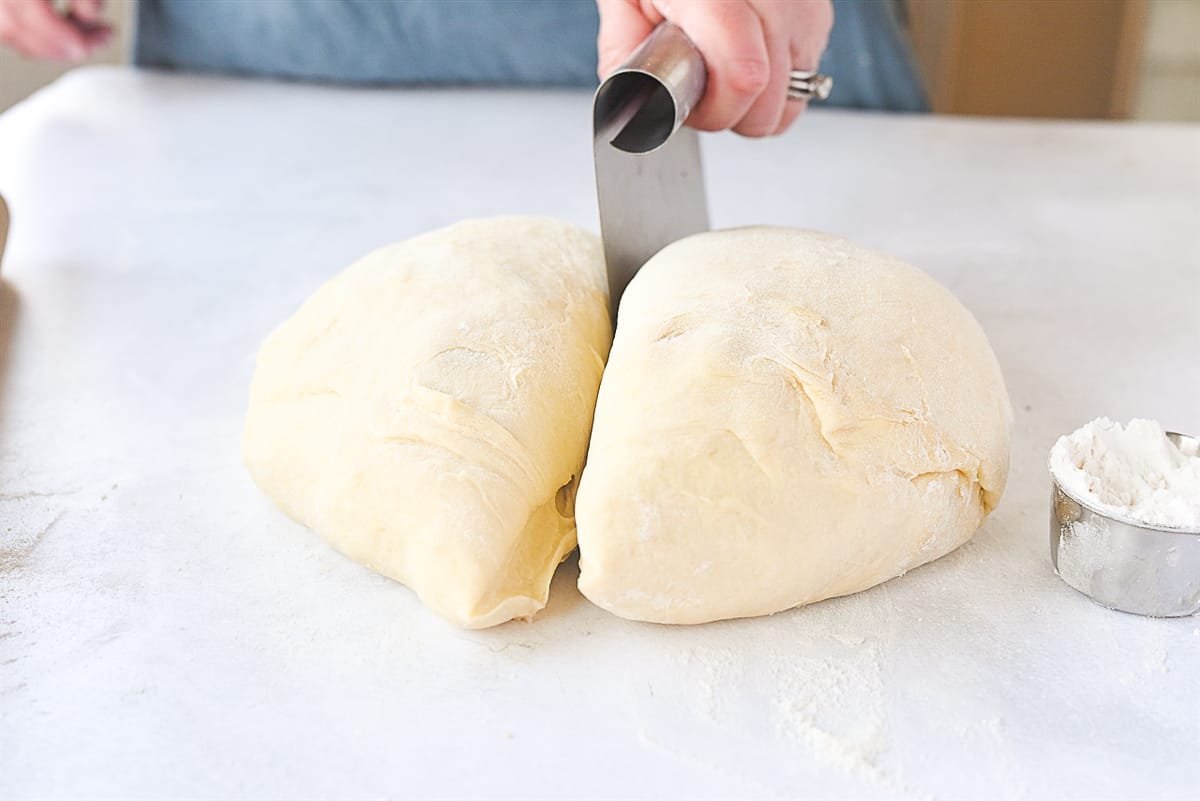 Divide and Cut. Divide dough into two pieces. Roll each half into a circle, about 12 inches in diameter. Cut each circle into twelve pieces.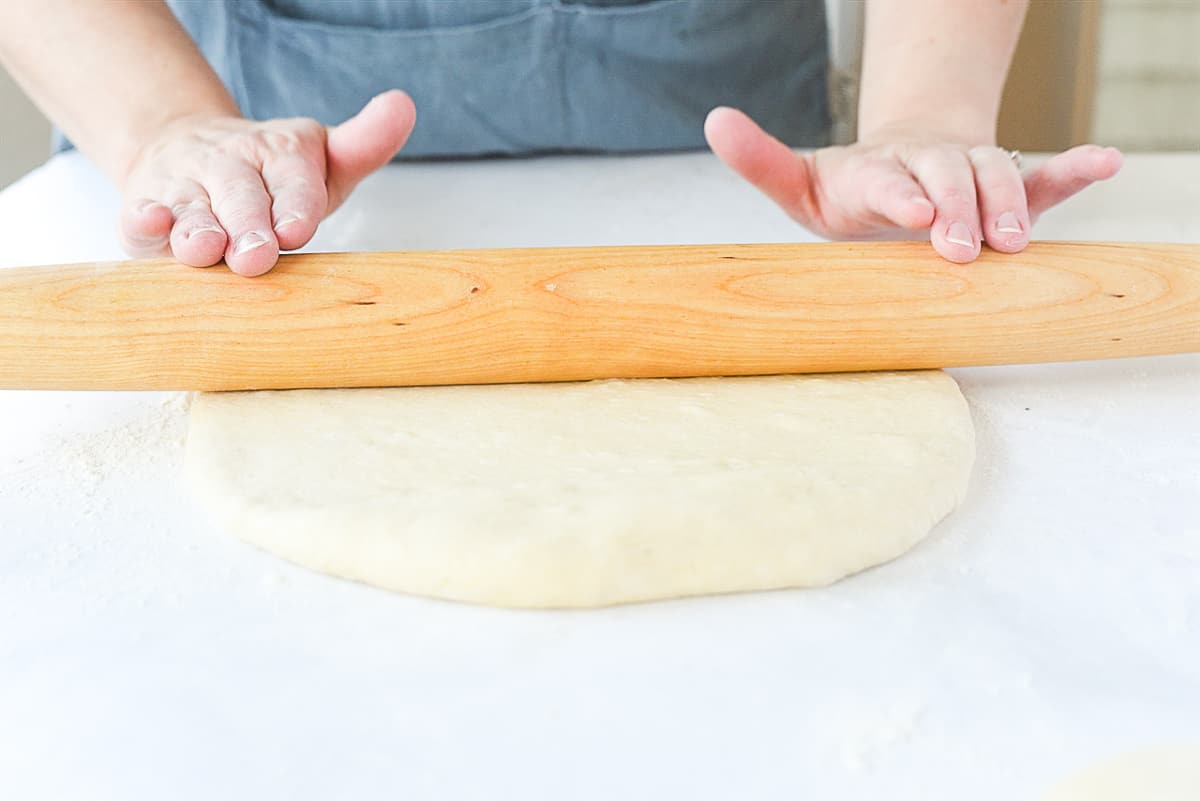 Roll each dough triangle up into a crescent shape roll, start with the wider end of the triangle.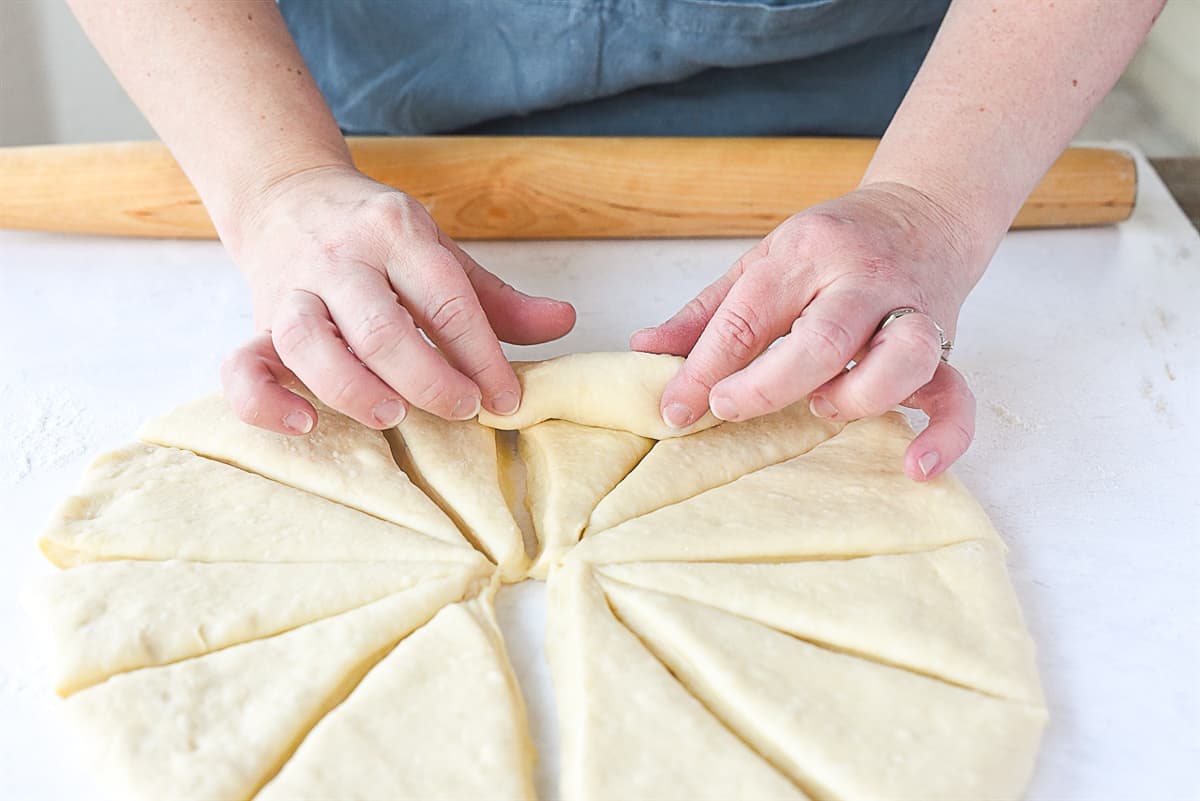 Rise. Allow to rise for about one hour.
Bake at 350 degrees F. for 12-14 minutes or until golden brown.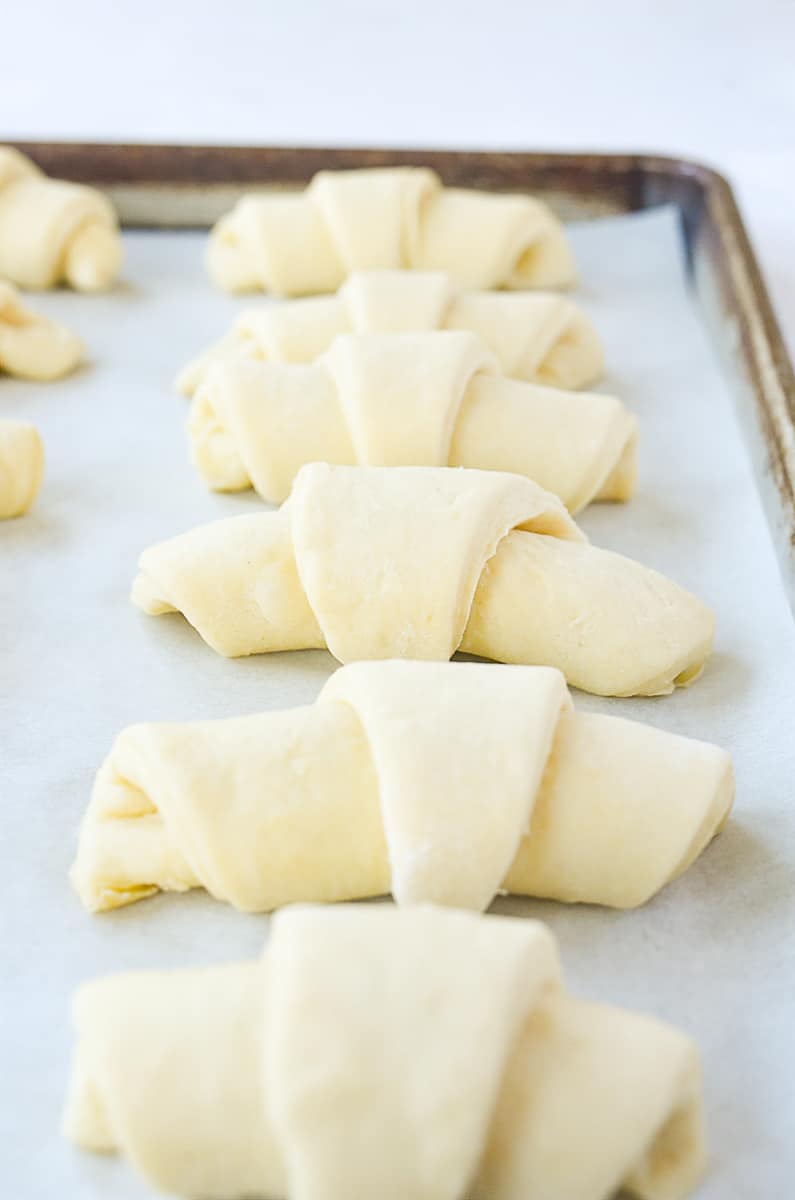 To give the rolls that pretty shine I like to brush them with a little butter as soon as they come out of the oven. The more butter the better as far as I'm concerned.
Make Ahead Roll Recipe
Refrigerator Method. After dough has been needed but before the first rise, place the dough into an airtight container and let it rise overnight in the refrigerator.
Take it out 3 hours before you want to bake the rolls, roll them out and let them rise. (see directions below)
Freezer Method. Once the rolls have been formed into the crescent shape, place them on a baking sheet. Freeze the dough until frozen solid. Place rolls into a zippered plastic bag.
To bake the rolls, place frozen rolls on a parchment covered or greased baking sheet and allow to rise for about 4 hours, depending on the temperature of your house and bake according to directions below. They can be frozen for up to 6 months.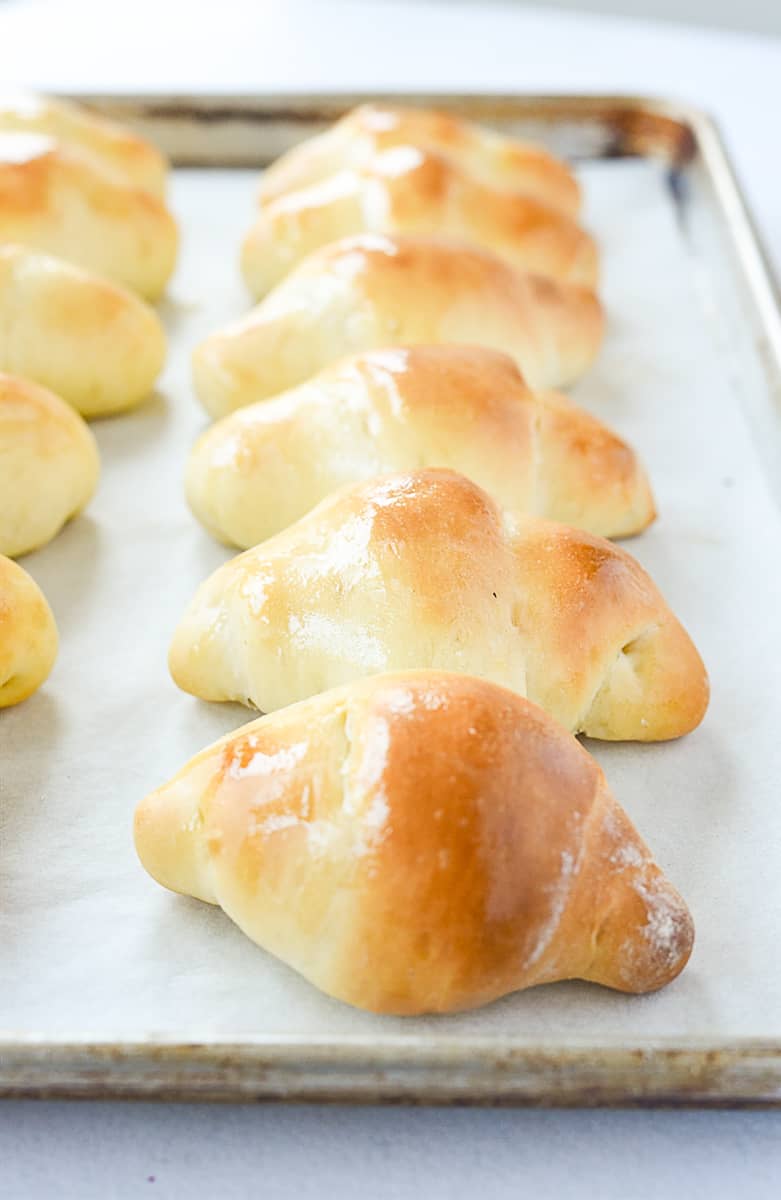 I like to time it so my rolls are coming out of the oven right before I'm ready to serve them, but that is not always possible with oven space. But when you can, eat your rolls warm!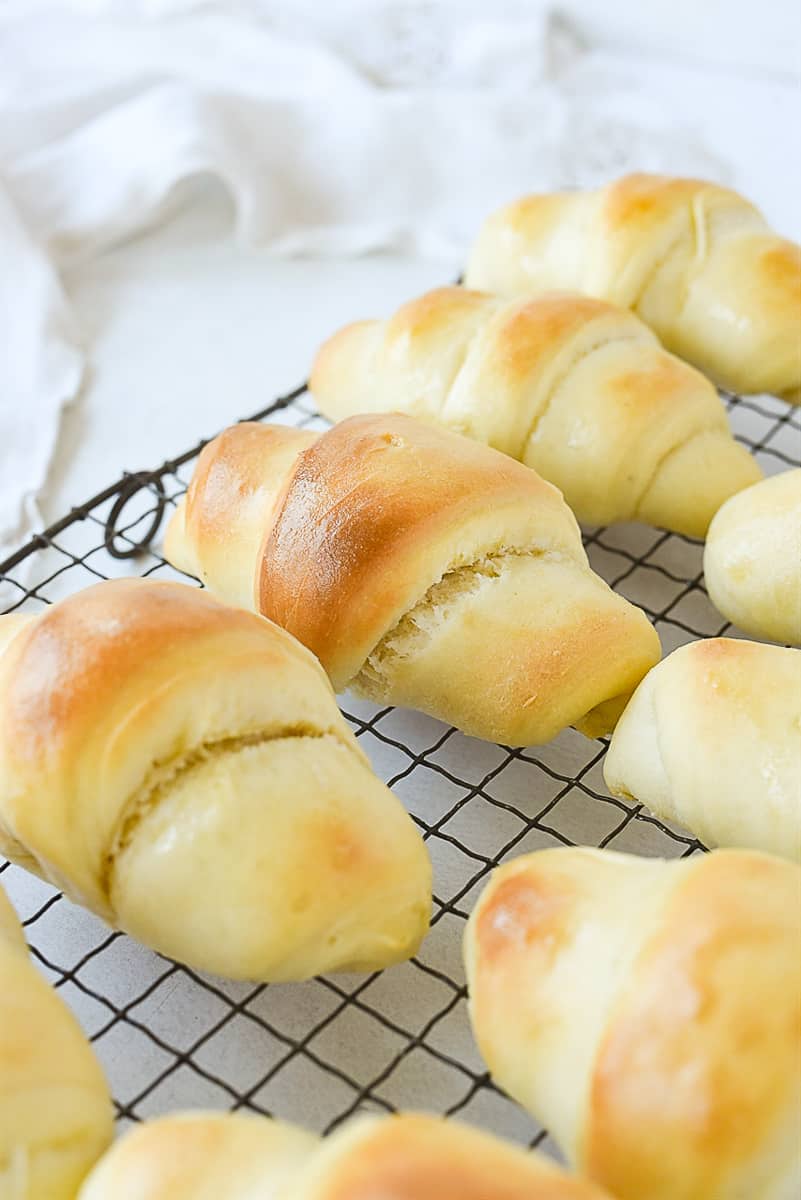 Be sure and follow me on You Tube for lots of recipe videos!
For all of my other favorite kitchen products and tools visit my Amazon Store.
Check out more of my delicious roll recipes:
Crescent Roll Recipe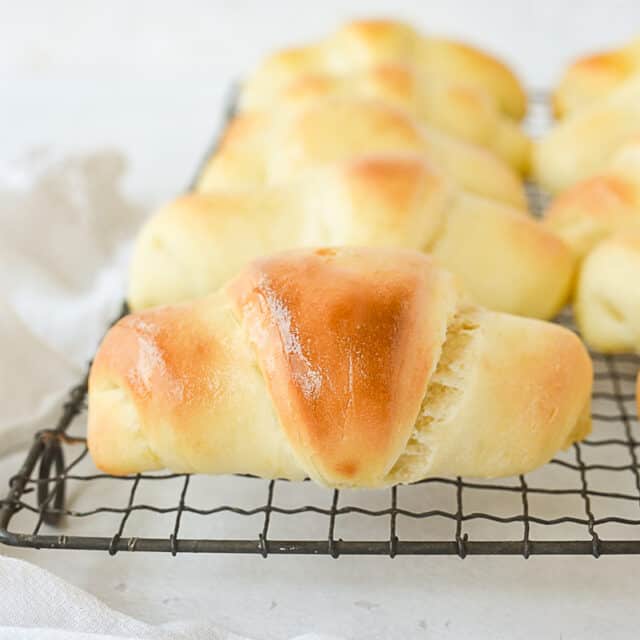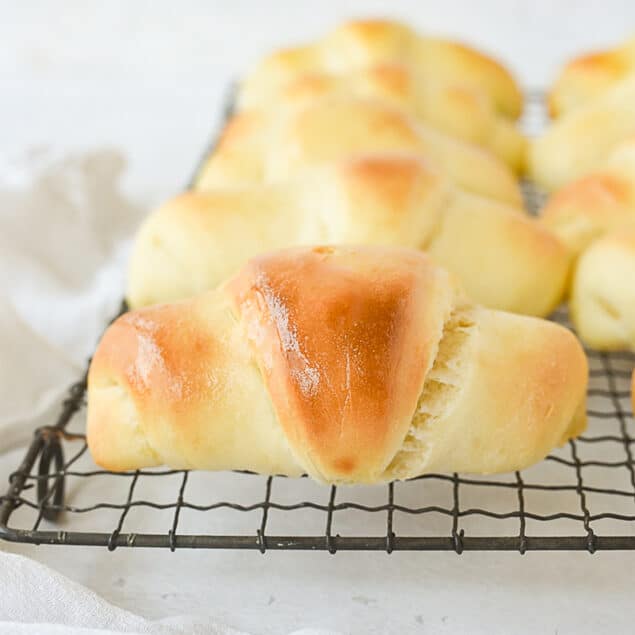 Crescent Rolls
Delicious buttery soft crescent rolls.
Rise Time:
1
hour
30
minutes
Ingredients
2/3 cup sugar
1/4 tsp salt
1 stick 1/2 C butter
1 cup hot water
4 1/2 tsp dry active yeast 2 packages
1 cup warm water. 105-110 degrees F.
2 eggs beaten
6 cups flour
Instructions
Combine first 3 ingredients. Pour 1 C boiling water water over all and allow sugar to dissolve and butter to melt.

Cool slightly so the water is not too hot when you add the yeast in.

Add 2 packages of dry active yeast to 1 C warm water.

Soak yeast in warm water for 5 minutes until foamy and bubbly.. Add to sugar mixture.

Add in eggs and flour and knead for five minutes in stand mixer..

Dough will be soft and a little tacky but not overly sticky. Add additional flour if needed. At this point the dough can be put into a bowl with a tight lid and refrigerated overnight. Or you can just allow it to raise for about 1 hour in the mixing bowl. Cover with a towel.

After raising put onto a floured covered surface. Divide dough in half.

Add in enough flour so the dough is workable and not too sticky.

Roll out into a 12 inch circle. Cut into 12 pie shaped pieces. Roll up into a crescent roll.

Do the same with the other half of the dough. Place on baking sheet and allow to rise for about o30-40 r or until doubled in size.

Bake at 350 for 12 minutes or until golden brown.

If you have refrigerated the dough just remove from the refrigerator 3 hours prior to baking and roll out the dough, form into crescents and let rise for 3 hours.

Makes 24 good size rolls.
Nutrition Facts:
Calories: 148kcal (7%) Carbohydrates: 30g (10%) Protein: 5g (10%) Fat: 1g (2%) Saturated Fat: 1g (6%) Trans Fat: 1g Cholesterol: 14mg (5%) Sodium: 32mg (1%) Potassium: 60mg (2%) Fiber: 1g (4%) Sugar: 6g (7%) Vitamin A: 20IU Vitamin C: 1mg (1%) Calcium: 8mg (1%) Iron: 2mg (11%)
* Disclaimer: All nutrition information are estimates only. Read full disclosure here.
originally posted November 18, 2011