Cookie Butter Ice Cream with Biscoff Cookies is a fun way to enjoy a favorite treat.  If you can't keep your spoon out of the cookie butter this one is for you!  This Biscoff ice cream is made with both cookie butter and biscoff cookies.  The best of both worlds.
I fly a lot on Alaska Airlines back and forth to visiting kids and grand baby and my very favorite thing is the Biscoff cookies they give you with their drink service.  I know I can buy them in my local grocery store and have them at home, but for some reason they taste even better on the airplane with my Diet Coke!  If you aren't familiar with a Biscoff or Speculoo cookie, they are a lightly spiced shortbread cookie that is traditionally enjoyed around Christmas time in Europe.  And they are the inspiration for cookie butter which has becomes so popular here in the US.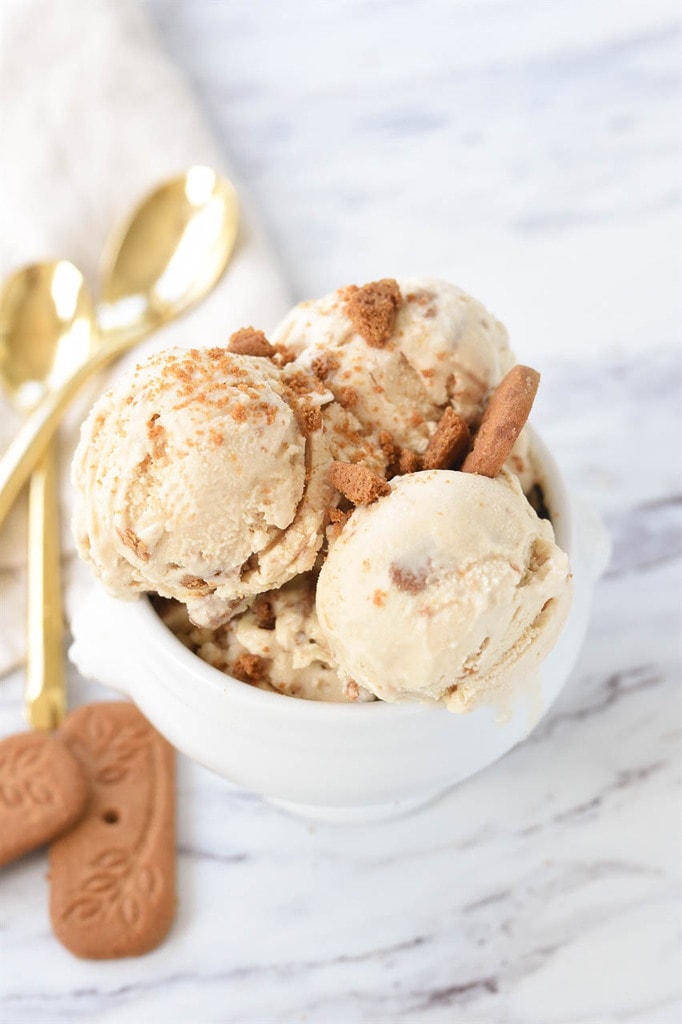 I'm a big fan of cookie butter.  I pretty much just keep a spoon in the jar.  If you have never tried cookie butter, you can find it in many grocery stores these days.  Usually in the peanut butter aisle.  Cookie butter, Biscoff Spread and  Speculoos Spread are all the same delicious tasting treat.  Whatever you call it, this stuff is good!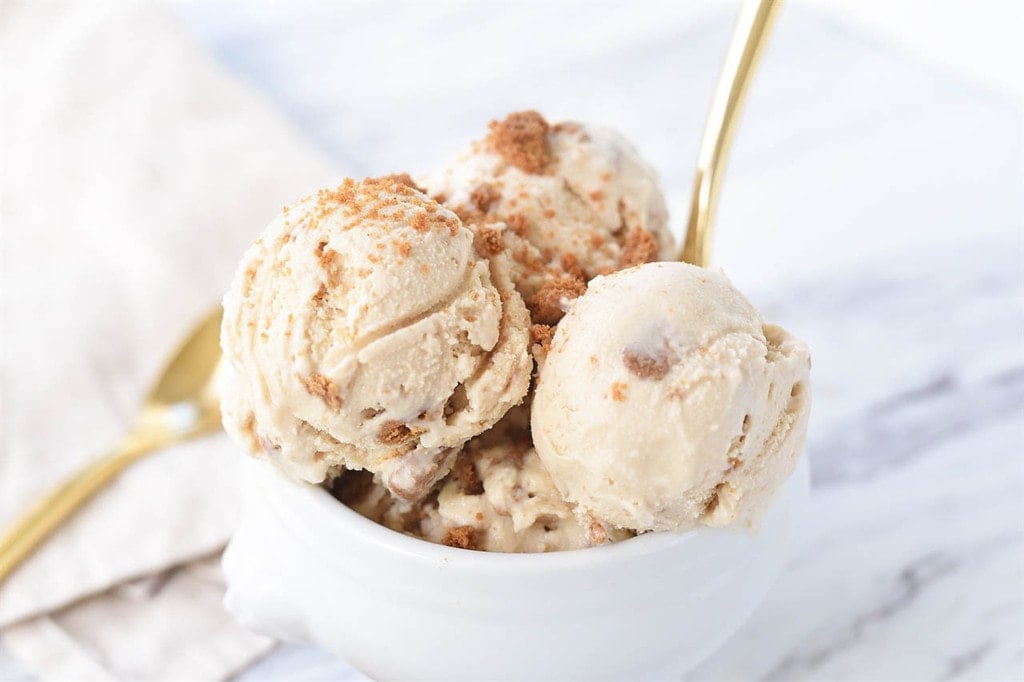 I'm all about adding my favorite treats into ice cream.  My Circus Animal Cookie Ice Cream is one of my favorites as well as Malted Milk Ball Ice Cream.  And lets not forget the Candy Bar Ice Cream.  I always start with my very favorite, been making it for years and years, vanilla ice cream base.  And then I add in my favorite treats.
How to Make Biscoff Ice Cream
With my basic vanilla ice cream there is no cooking involved.  But with this particular recipe, in order to get the biscoff spread to incorporate into the milk, you need to stir it over some low heat for a few minutes.  Just long enough for the cookie butter to melt and mix into the milk.  Don't let it boil or get too warm, it really only takes a few minutes.  Then I add in the rest of the half and half and whipping cream and let it chill in the refrigerator until ithas cooled.  This usually takes about 30 minutes.
Then I just put it into my ice cream maker and churn according to the directions.  Once the ice cream has set, add the Biscoff cookies that you have broken up.  Then just churn a few more minutes to make sure the cookies are incorporated throughout the ice cream.  You want to make sure there is a bit of cookie in every bite of ice cream!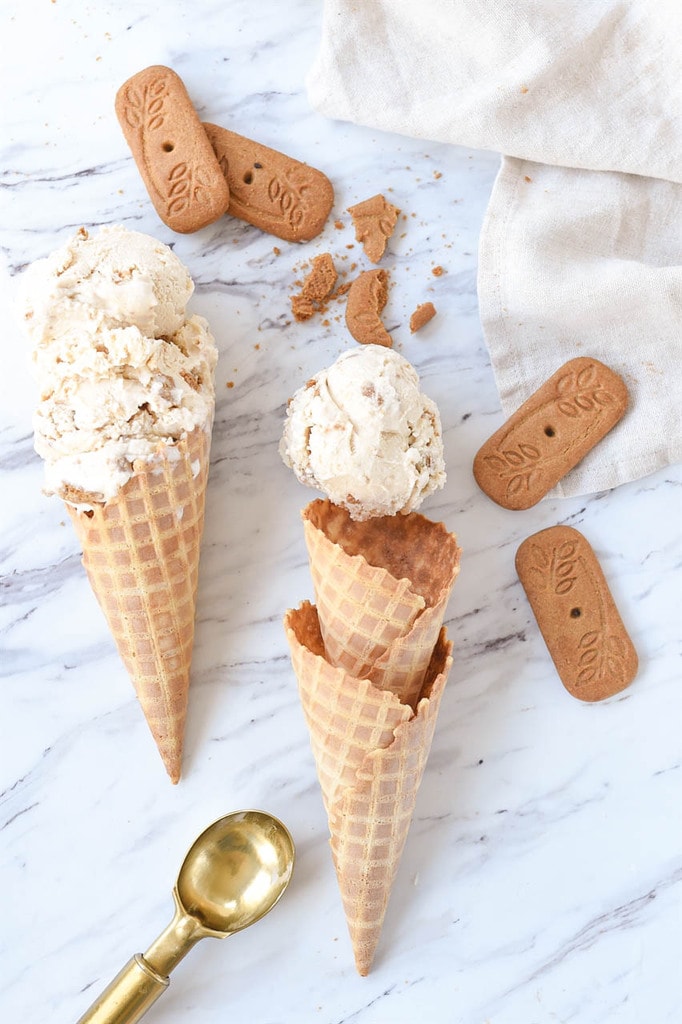 This was my second official batch of ice cream for the summer season and it was a total winner.  I had made some vanilla ice cream the week before to go with a berry cobbler.  Homemade ice cream is so easy to make and in 30 minutes you can have a delicious batch ready to go!
This Cookie Butter Ice Cream is sweet, but not too sweet.  And the mild spice of the Biscoff cookies throughout the ice cream gives it some great texture and flavor.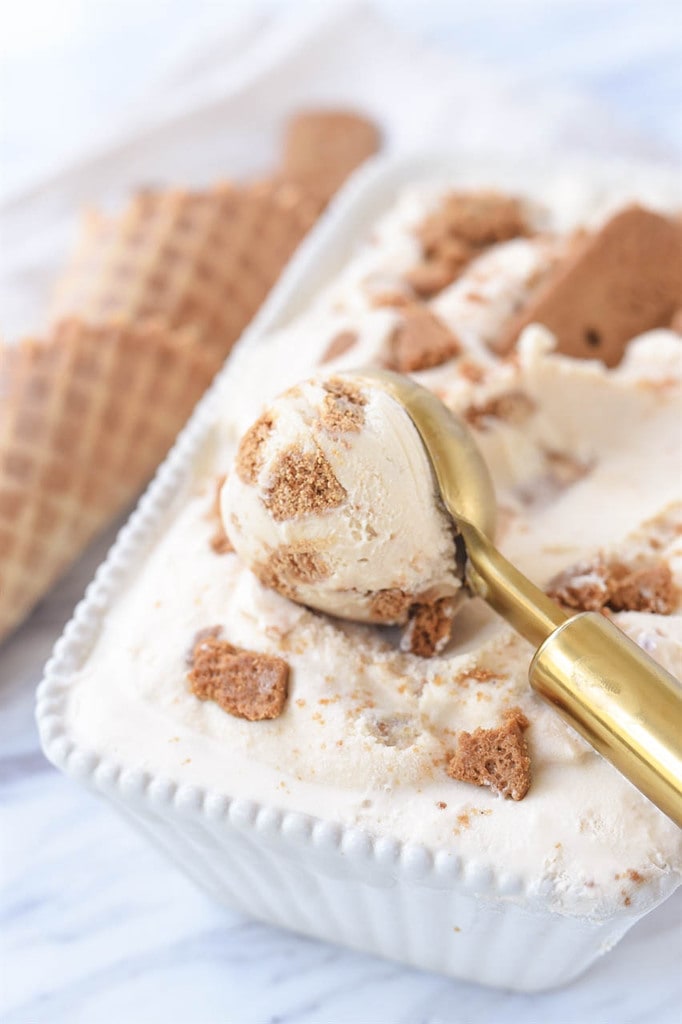 Serve it in a bowl, on a waffle cone (my favorite) or just grab a spoon and dig it!
I like to put my ice cream into my favorite ice cream container and freeze it for a few hours before serving to allow it to firm up a bit more.
Some of my other favorite ice cream treats:
Some of my favorite kitchen tools for making COOKIE BUTTER ICE CREAM:
ICE CREAM MAKER:  This 2 qt. Counter top ice cream maker is one of my favorite kitchen appliances and gets used all summer long!
INSULATED ICE CREAM TUB:  After churning my ice cream I put it into this and then into the freezer.  It keeps the ice cream smooth and easy to scoop.
ICE CREAM SCOOP:  Get the perfect scoop of ice cream every time.
Cookie Butter Ice Cream Recipe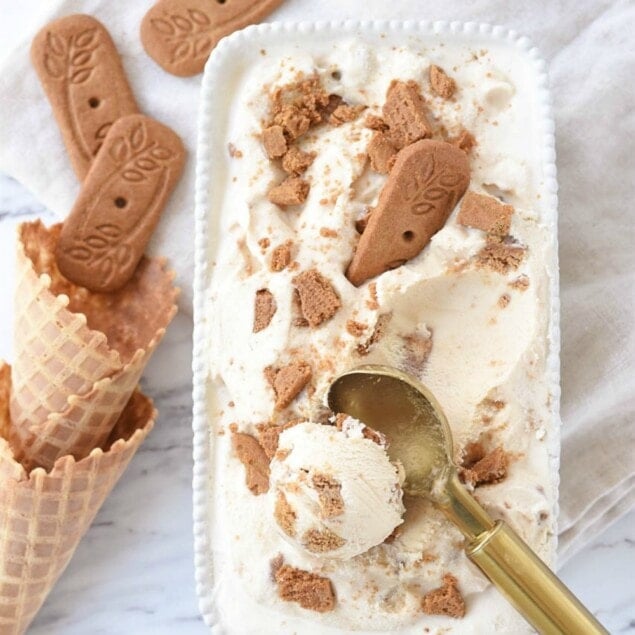 Cookie Butter Ice Cream
Cookie Butter Ice Cream with Biscoff Cookies is a fun way to enjoy a favorite treat. If you can't keep your spoon out of the cookie butter, biscoff or speculoos spread this one is for you!
Ingredients
1 1/2 cups whole milk
1 1/2 cups granulated sugar
1/2 cup cookie butter, biscoff spread or speculoos spread
1/4 tsp salt
1 1/2 cups half and half
1 tsp vanilla
1 cups whipping cream
10-12 biscoff cookies, crushed
Instructions
Mix together whole milk, sugar and cookie butter in a small sauce pan and put over medium heat. Stir until cookie butter is melted. Do not allow it to boil.

Remove from heat and add in all remaining ingredients except for cookies.

Refrigerate until chilled through

Put into ice cream maker and churn according to manufacturers directions.

Near the end, add in crushed cookies and churn until they incorporate throughout ice cream.

Enjoy!
Nutrition Facts:
Calories: 430kcal (22%) Carbohydrates: 51g (17%) Protein: 4g (8%) Fat: 24g (37%) Saturated Fat: 12g (75%) Cholesterol: 62mg (21%) Sodium: 122mg (5%) Potassium: 141mg (4%) Sugar: 45g (50%) Vitamin A: 670IU (13%) Vitamin C: 0.6mg (1%) Calcium: 119mg (12%)
* Disclaimer: All nutrition information are estimates only. Read full disclosure here.
Need some help figuring out what's for dinner tonight?
Come join our Facebook Group!  Join hundreds of others who love sharing dinner time ideas.  You don't want to miss out on the fun!

You'll find lots of ideas for dinner from all our awesome members and you can share your ideas too!  Join the Family Dinner Table today.