Cookie Butter Chocolate Chip Cookies are in the style of Levain chocolate chip cookies, filled with white chocolate chips, Biscoff cookies and Cookie Butter!
These cookie butter chocolate chip cookies recipe starts out with a copycat recipe for Levain Chocolate Chip Cookies, the ones made in the famous New York Bakery.  Then I added lots of cookie butter and Biscoff cookie goodness to make them even better.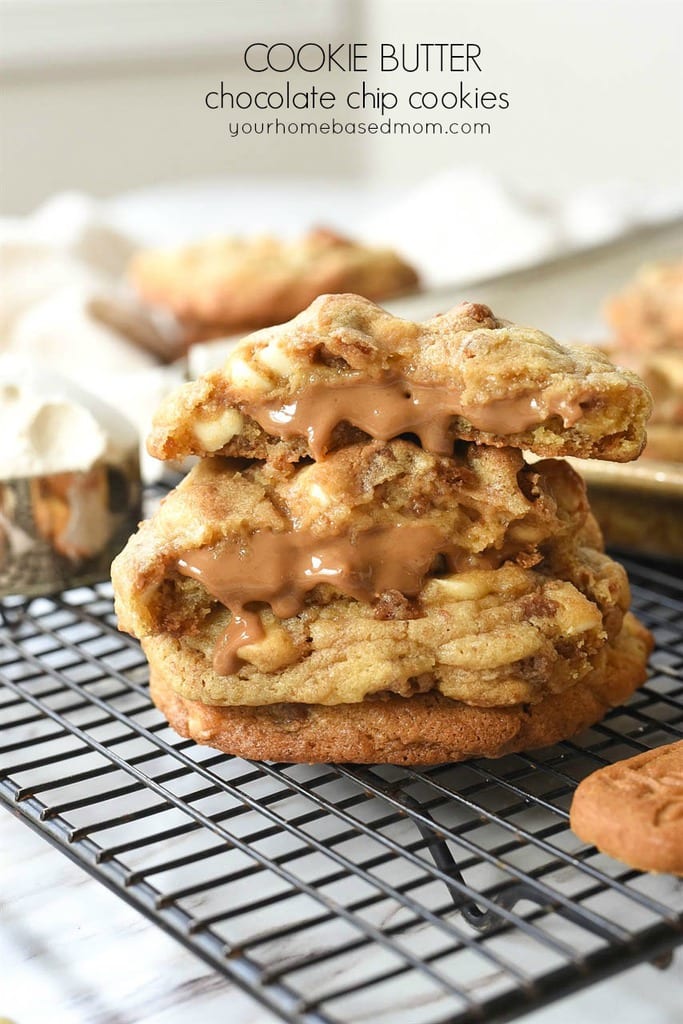 I love a good chocolate chip cookie and whenever I visit a new city I hit as many bakeries as I can in search of the best  chocolate chip cookies. When I visit my youngest daughter in NYC, I always make at least one trip to Levain Bakery for one of their world famous chocolate chip cookies!  I shared a copycat recipe for their Chocolate Peanut Butter Cookie a few years ago.  It's one of my favorites.  If you have never had Levain chocolate chip cookies, they cookies are big.  They weigh in at almost half a pound!
Another favorite chocolate chip cookie of mine is the one made by Chip Cookies in Provo, Utah.  They actually deliver warm chocolate chip cookies and cold milk to your door. Each month they feature a specialty cookie.  I love to follow their Instagram account to see what their cookie of the month will be.  This month it was a Cookie Butter Chocolate Chip Cookie.  I knew I needed one, but I didn't have a trip to Provo planned.  So, I decided to figure out how to make them at home. And I did!
What is Cookie Butter?
If you aren't familiar with cookie butter, it is also known as Speculoos Cream.  It is named after the spiced shortcrust biscuit from Belgium which gives it the gingerbread flavor with a caramel accent.  Cookie Butter is basically a creamed version of this cookie in a jar.  It's a spreadable, spoonable, lickable cookie and it is oh so good!  Trader Joe's carries Speculoos Cookie Butter  and you can also find Biscoff Cookie Butter too.  In addition to the cookie butter, I crushed up Biscoff or Speculoos Cookies into the dough as welll.
The first thing I had to do was find a recipe for Levain chocolate chip cookies.  I found the perfect copy cat recipe over at A Bountiful Kitchen.  I had the opportunity to meet Si in Utah earlier this year and she is a delight.  Make sure to pay her a visit.
I adapted her recipe by adding in white chocolate chips, broken up Biscoff cookies and a couple teaspoons of cookie butter in the middle of each cookie.  They are as delicious as they sound!
How to make Cookie Butter Chocolate Chip Cookies
I didn't make my cookies quite as big as the original Levain chocolate chip cookies because, as much as I love a chocolate chip cookie, a half pound is a lot of cookie.  I made mine about half that size.  Each ball of dough weighed 3 oz., which is still a lot of cookie.  But trust me, you'll be glad they are that big!  I divide the ball of dough in half and add 2 two teaspoons of Cookie Butter in the middle.
Then, I added the other half of the dough on top and sealed in the cookie butter.
Next, bake the cookies at 400 degrees F for 8-9 minutes.  Do not overbake them!  You want them soft and gooey on the inside.
Once they are out of the oven, be sure you have a big glass of cold milk handy to enjoy with these cookie butter chocolate chip cookies.  You are going to need it!
Check out more of my other favorite cookie recipes:
Here are my favorite kitchen tools that I used to make COOKIE BUTTER CHOCOLATE CHIP COOKIES:
6 PIECE MEASURING CUP SET – Everyone needs at least one set of measuring cups, I have 4 sets!
I love these MAGNETIC MEASURING SPOONS – I love these things.  They are magnetic so they stay together in the drawer!
5 POUND FOOD SCALE –  You will find all kinds of ways to use this food scale in the kitchen from measuring flour to cookie dough.
For all of my other favorite kitchen products and tools visit my Amazon Store.
Did you know I wrote a cookbook?  Check out the Holiday Slow Cooker Cookbook for 100 delicious recipes
Cookie Butter Chocolate Chip Cookie Recipes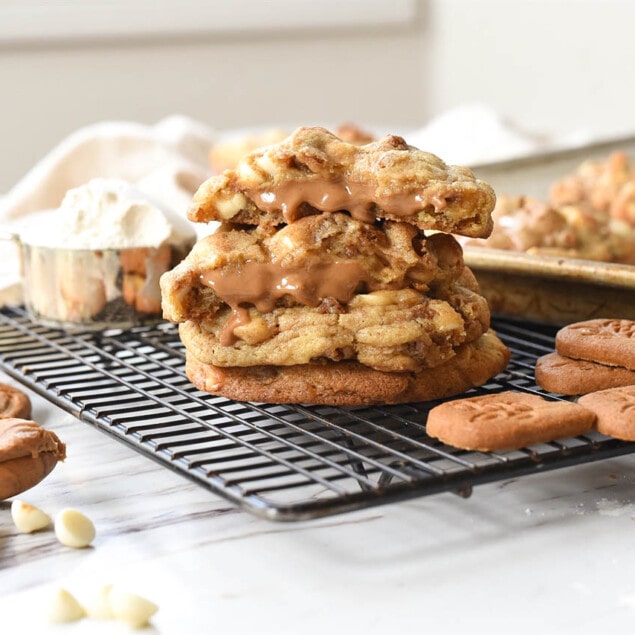 Cookie Butter Chocolate Chip Cookies
Cookie Butter Chocolate Chip Cookies are Levain Bakery style cookies filled with white chocolate chips, Biscoff cookies and Cookie Butter!
Ingredients
1 cup butter chilled
3/4 cup brown sugar
1/2 cup sugar
2 eggs
1 cup cake flour
1 1/2 cups all purpose flour
1 tsp baking powder
1 tsp baking soda
1/2 tsp salt
2 cups white chocolate chips
2 cups crumbled Biscoff cookies
1 cup cookie butter divided
Instructions
Preheat oven to 400 degrees F.

Beat butter in mixer on low with a paddle attachment.

Add sugars and beat until smooth, about 1 minute. Butter should be totally blended in.


Add eggs and mix until combined, about 30 seconds.

Incorporate in all dry ingredients and mix on low until wet and dry are just combined.

Add in white chocolate chips and pulse to mix in (do not over mix)

Add in crumbled cookies and pulse to mix in.

Mix by hand if needed to make sure all ingredients are well distributed.

Divide dough into 8 or 16 equal pieces depending on how big you want your cookies. 3 oz. or 6 oz. I did 3 oz.

Divide each piece of dough in half and add 2 tsp of cookie butter on top of the bottom piece. Add on top piece and encase cookie butter. Dough ball will be roughly shaped. Use your hands, not a cookie cookie scoop.

Place 8 cookies (if making 3 oz. cookies) on a parchment covered baking sheet and bake for 7-8 minutes for 3 oz and 8-9 minutes for 6 oz. Do not overbake! The top and bottom will be golden brown.

Allow to cool slightly before serving.
Nutrition Facts:
Calories: 454kcal (23%) Carbohydrates: 52g (17%) Protein: 5g (10%) Fat: 25g (38%) Saturated Fat: 13g (81%) Cholesterol: 55mg (18%) Sodium: 284mg (12%) Potassium: 140mg (4%) Sugar: 34g (38%) Vitamin A: 390IU (8%) Vitamin C: 0.1mg Calcium: 76mg (8%) Iron: 0.9mg (5%)
* Disclaimer: All nutrition information are estimates only. Read full disclosure here.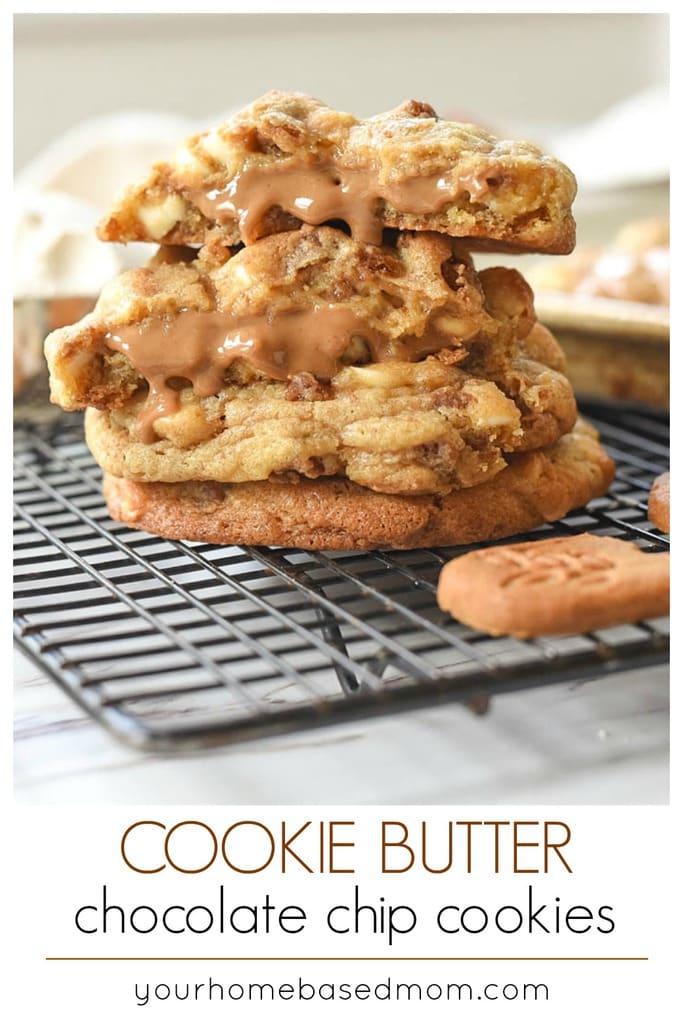 Need some help figuring out what's for dinner tonight?
Come join our Facebook Group!  Join hundreds of others who love sharing dinner time ideas.  You don't want to miss out on the fun!

You'll find lots of ideas for dinner from all our awesome members and you can share your ideas too!  Join the Family Dinner Table today.