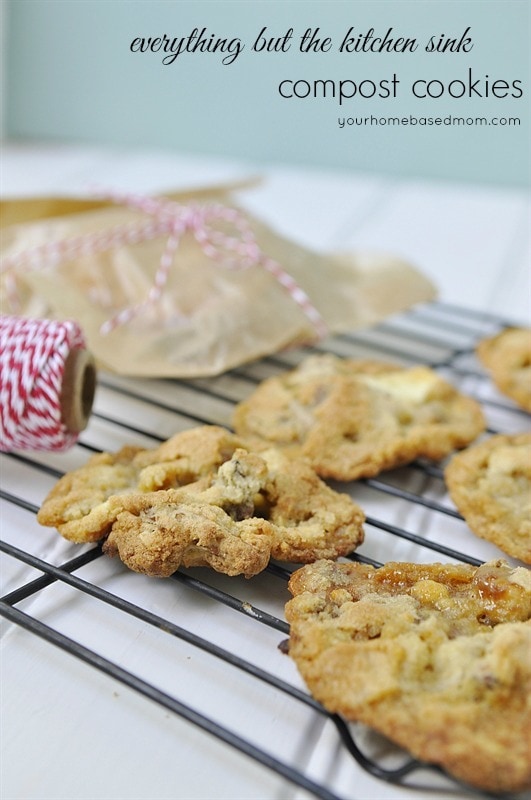 I think this is the last recipe I have to share from both our graduation parties – our Sail Away graduation party and the Smart Cookie party.
Today's recipe is from the Smart Cookie party.
When I asked several people what their favorite cookie was from the Milk & Cookie Bar this cookie ended up in everyone's Top Three – the Compost Cookie.
Yes, it has a funny name and no, it doesn't really have compost in it (several people asked!)  The cookie originated from the Momofuku Milk Bar in NYC.  It's the same place that amazing Crack Pie I shared here on the blog came from.  If you haven't tried the Crack(Chess) Pie you MUST!!
So back to the compost cookie.  It is called compost because you pretty much throw in whatever you have in your cupboard.  I looked in my pantry and found potato chips, pretzels, fritos, white chocolate and Twix bars (leftover from those amazing Twix cookies.)
You need 1 1/2 C of your favorite snack food (pretzels, chips, etc.) and 1 1/2 C of your favorite sweet treats or baking ingredients (choco. chips, candy bars etc.)
The other trick to these cookies is that you beat the sugar, butter, corn syrup, eggs and vanilla for 10 minutes to get the sugar nice and dissolved. The dough ends up very fluffy and creamy as a result.
This cookie is both crisp and soft and sweet and salty.  A totally fun combination.
Because the dough is so soft and fluffy it does need to be refrigerated for at least an hour before baking.
So get creative and come up with your own combination of Compost Cookies.  Let me know what you add in? It is fun to try different combinations and each time I make them they are a little different.  It is a great way to clean out that pantry too!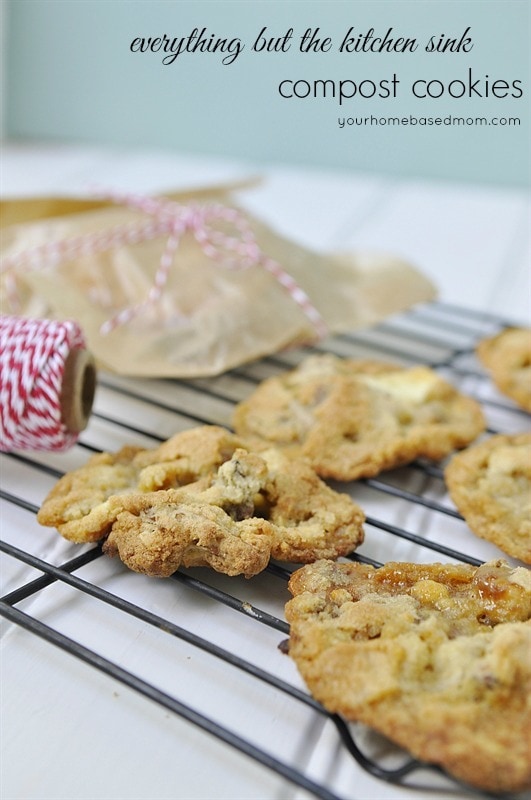 Compost Cookies
Ingredients
1

C

butter

unsalted

1

C

granulated sugar

3/4

C

light brown sugar

1

Tbsp

corn syrup

1

tsp

vanilla extract

2

large eggs

1 3/4

cups

all purpose flour

2

tsp

baking powder

1

tsp

baking soda

2

tsp

Kosher salt

1 1/2

C

your favorite baking ingredients

options: chocolate chips, Twix, Raisenettes, Rollos, Cocoa Krispies

1 1/2

C

your favorite snack foods

chips, pretzels, etc.
Instructions
Mix with the paddle attachment, cream butter, sugars and corn syrup on medium high for two to three minutes until fluffy and pale yellow in color

Turn down the speed to low and add eggs and vanilla

Turn up speed to medium high and beat for 10 minutes

This allows the sugar to fully dissolve, the mixture will become an almost pale white color and your creamed mixture will double in size

After 10 minutes add the flour, baking powder, baking soda and salt

Mix for about another minute just until your dough comes together

Do not over mix at this point

At a low speed, add in the baking ingredients and mix for 30 - 45 seconds until they evenly mix into the dough

Add in your favorite snack foods last, beating at low low speed until they are just incorporated

Using a 6 oz. ice cream scoop, make balls of cookie dough and place onto a parchment lined cookie sheet

Cover the dough with plastic wrap and refrigerate for a minimum of one hour or up to 1 week

DO NOT BAKE your cookies from room temperature or they will not hold their shape

Heat the oven to 400 F. Take the plastic off your cookies and bake 9 to 11 minutes

While in the oven, the cookies will puff, crackle and spread

At 9 minutes, the cookies should be browned on the edges and just beginning to brown towards the center.

Leave the cookies in the oven for the additional minutes if these colors don't match up and your cookies still seem pale and doughy on the surface

Cool the cookies completely
Stay Updated!
Need more recipes and creative ideas? Sign up and get a FREE copy of my ebook! Do you think your friends would love this too? Please share my blog with them. Thanks!