Compost Cookies are a sweet and salty treat made from whatever combination of treats you can pull out of your pantry. These cookies are always unique!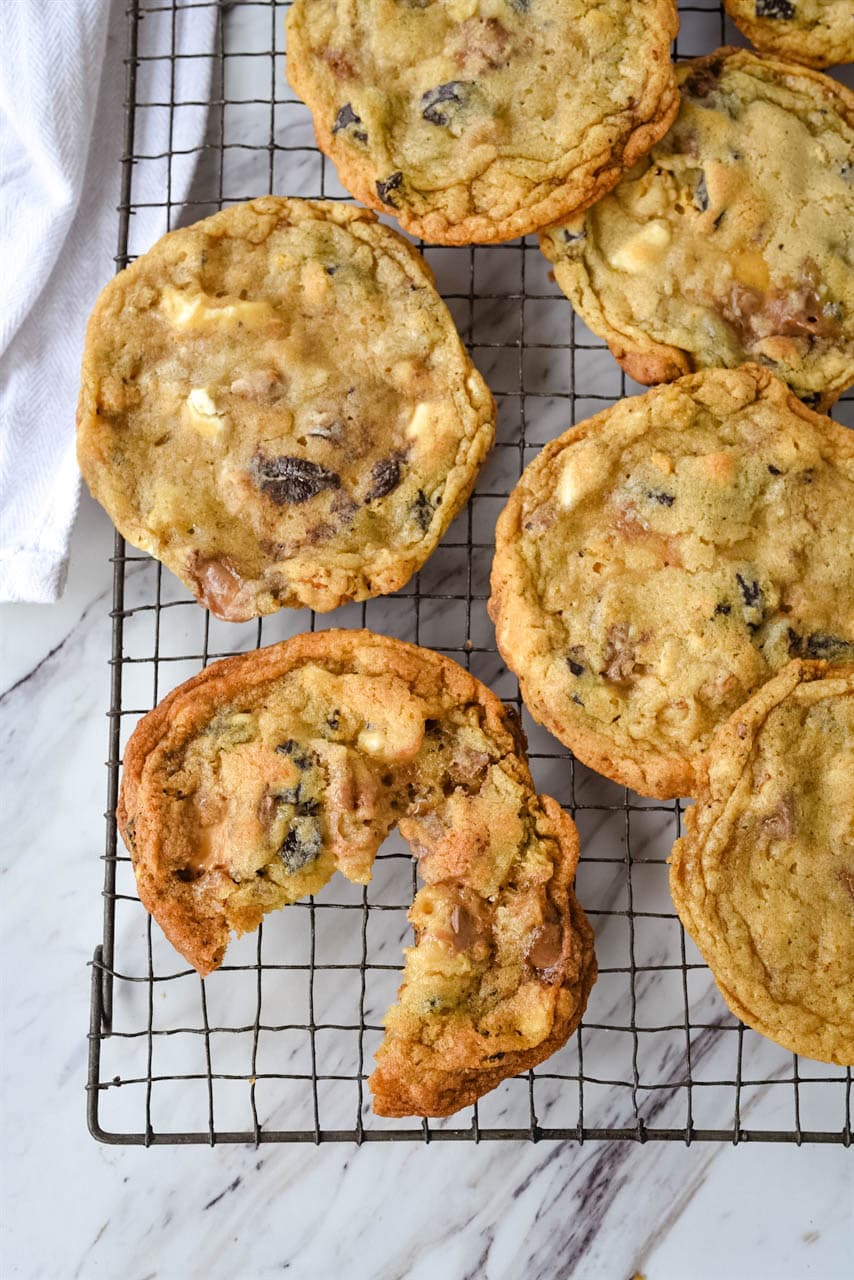 Compost Cookies is a funny name.  They are made with a combination of salty and sweet snacks from your pantry leftovers.  And they are delicious.  This cookie is both crisp and chewy as well as sweet and salty.  A totally fun combination.
These crazy and delicious cookies originated from the Momofuku Milk Bar in NYC.  It's the same place that amazing Chess Pie I shared originated from.  They are called compost cookies because you pretty much throw in whatever you have in your cupboard.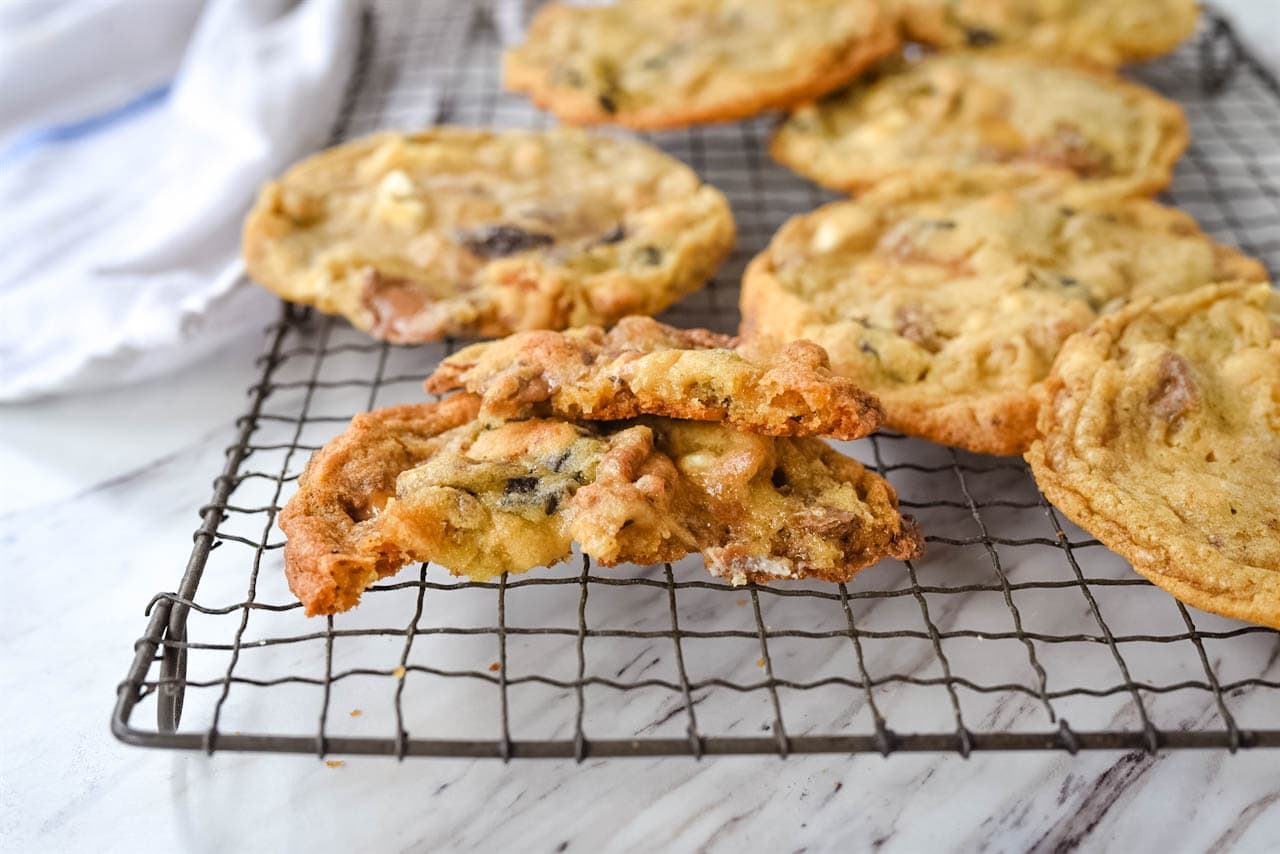 Ingredients
All Purpose Flour
Granulated Sugar
Light Brown Sugar
Eggs
Butter
Corn Syrup
Vanilla Extract
Baking Powder
Baking Soda
Kosher Salt
Chocolate Chips or Candy
Pretzels or Salty Treat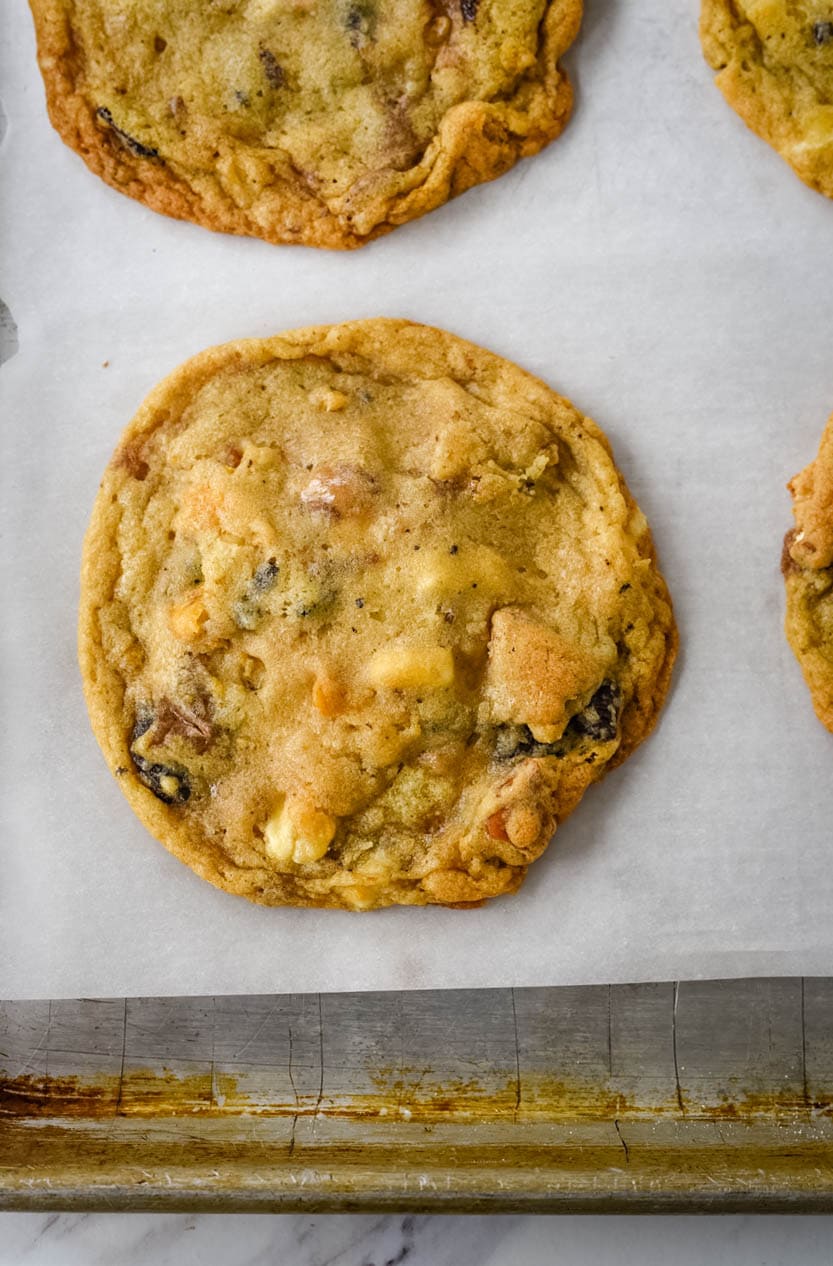 How to Make Compost Cookies
Salty Treats: you will need 1 1/2 cups of your favorite salty snack food such as pretzels, chips, Frito, etc. Whatever you have in your pantry. I used pretzels, potato chips and fritos.
Sweet Treats: you will need 1 1/2 cups of your favorite sweet treat such as chocolate chips, M & M's and candy bars. Once you have dug out whatever is in your pantry, you are ready to go. This is the perfect opportunity to use up some of those opened bags of treats that tend accumulate in the pantry. I used chocolate chips, white chocolate and a candy bar I had on hand.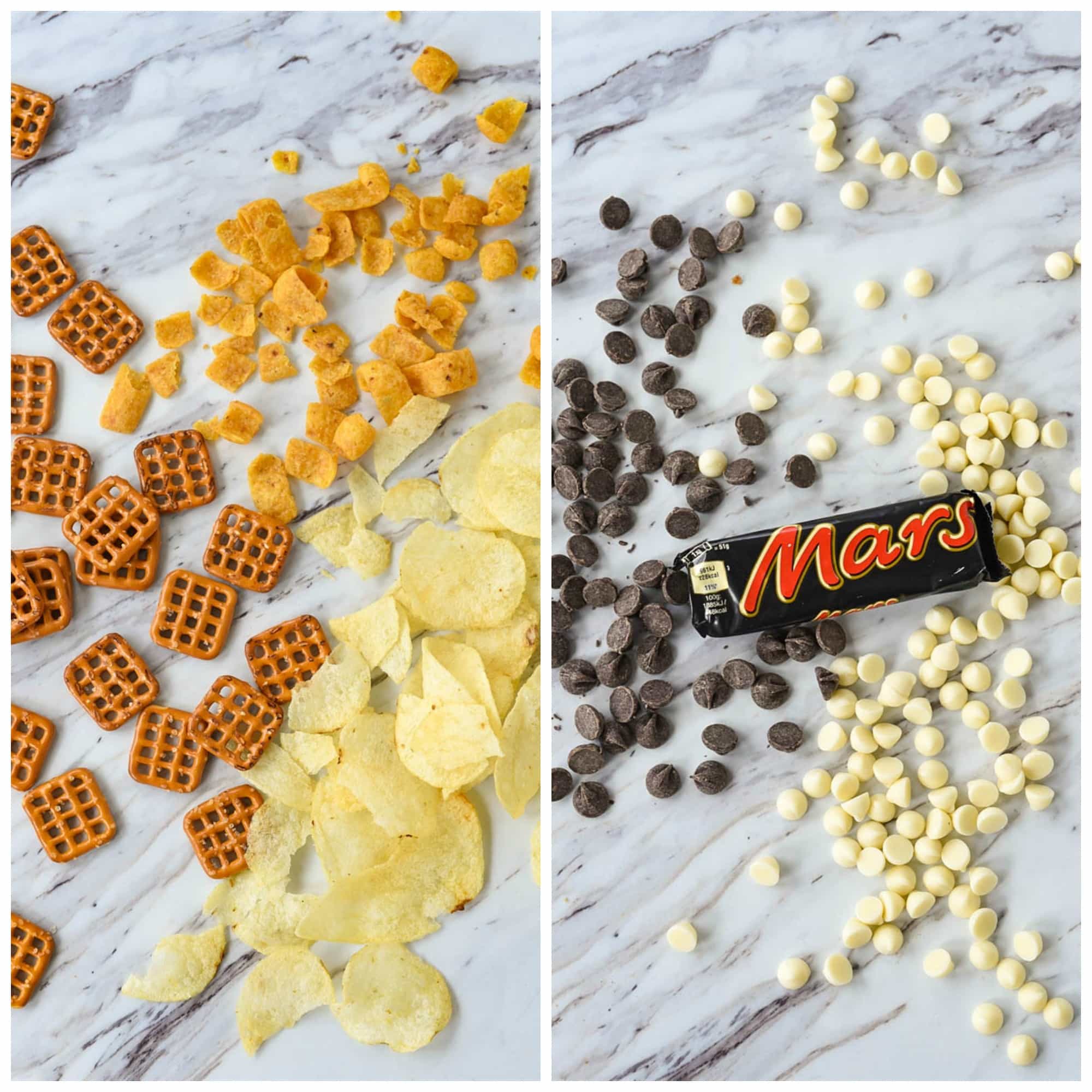 Step One: Beat together the sugars, corn syrup and butter for 2-3 minutes until it is pale and fluffy. The corn syrup makes for a chewier cookie. If you don't have corn syrup the cookie will work fine without it.
Step Two: Mix in eggs one at a time and vanilla. Beat dough for 5 minutes with a stand mixer or 10 minutes with a hand mixer.

This allows the sugar to fully dissolve, the mixture will become a pale color and your creamed mixture will increase in size.

Step Three: Add in dry ingredients and stir until just combined. Do not overmix.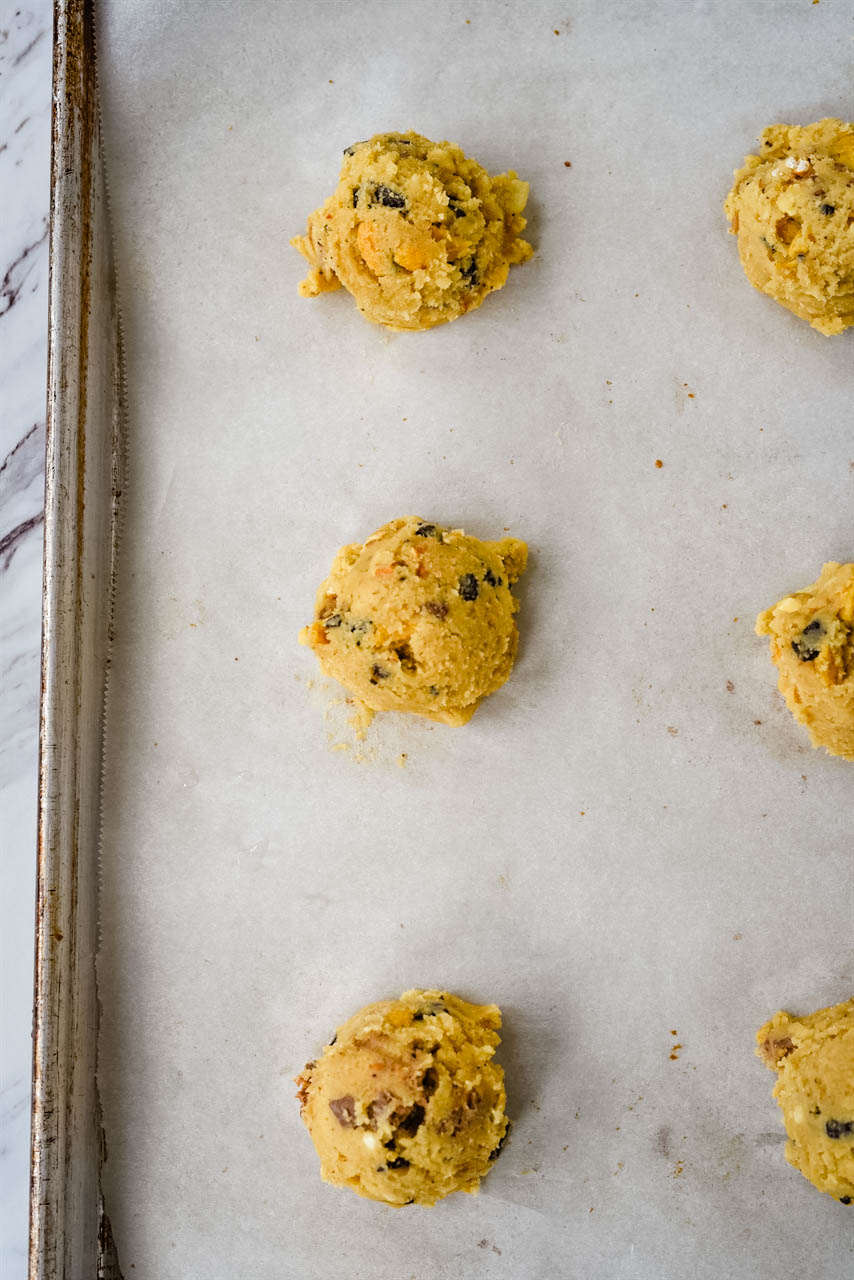 Step Four: Add in sweet and salty add ins. Mix these just until they are combined. I usually just pulse the mixer a few times.
Step Five: Cover dough and refrigerate for an hour to overnight. I have baked these cookies without refrigerating and they turned out great, just slightly thinner but still delicious!
Step Six: Place dough on a parchment covered baking sheet and bake for 9-11 minutes at 350 degrees F. until edges turn golden brown and center is still pale. Do not overbake.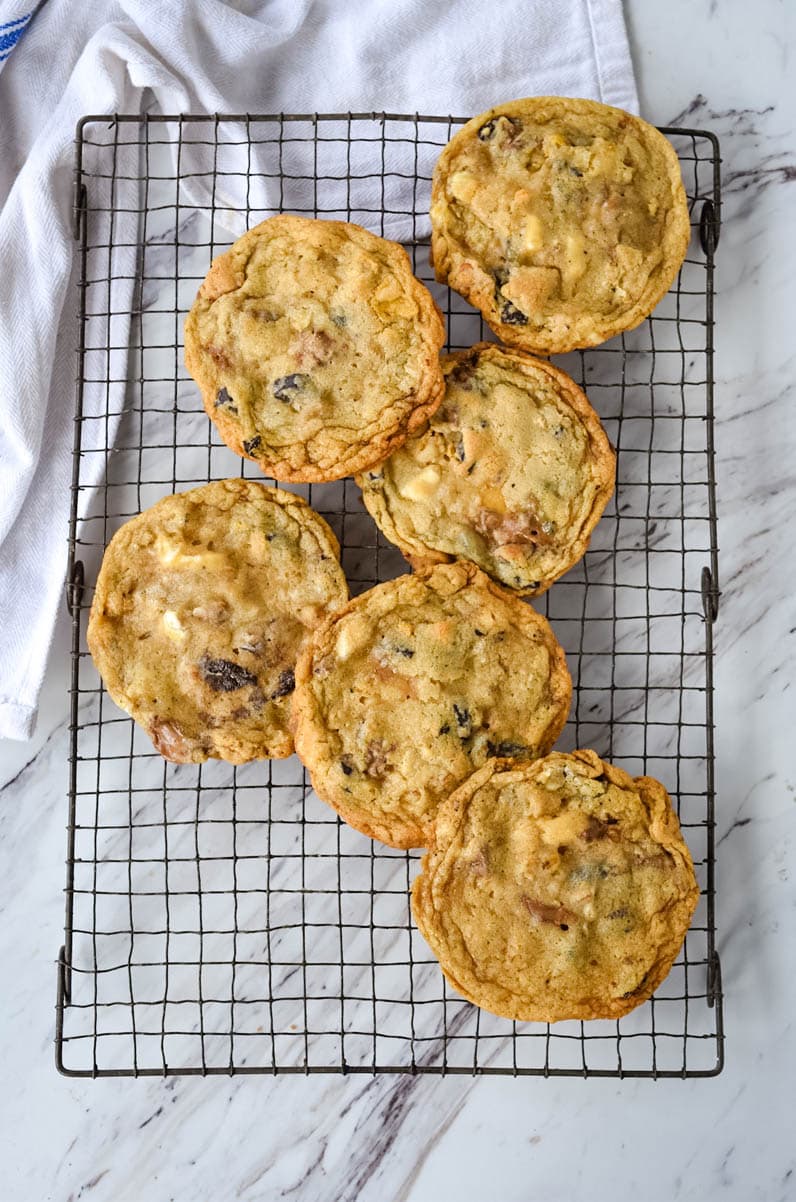 So get creative and come up with your own combination of Compost Cookies. 
Some of my other favorite cookies include:
Be sure and follow me over on You Tube for weekly cooking demos.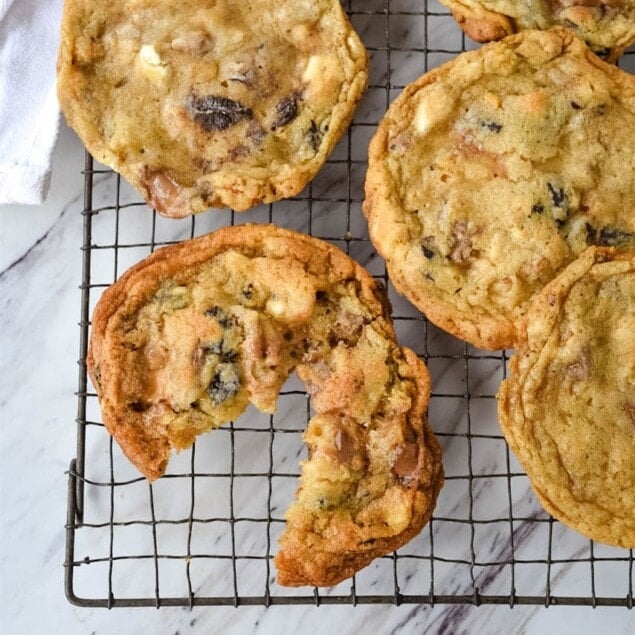 Compost Cookie Recipe
Compost cookies, or garbage cookies, are made with a combination of salty and sweet treats leftover in your pantyr!
Ingredients
1 cup butter unsalted
1 cup granulated sugar
3/4 cup light brown sugar
1 Tbsp corn syrup
1 tsp vanilla extract
2 large eggs
1 3/4 cups all purpose flour
2 tsp baking powder
1 tsp baking soda
2 tsp Kosher salt
1 1/2 cup chocolate chips or a combination of any sweet candy or treat you have on hand such as candy bars like Twix, Raisenettes, Rollos, Cocoa Krispies
1 1/2 cup pretzels or a combination of salty treats such as chips, pretzels, fritos, nuts etc.
Instructions
Mix with the paddle attachment, cream butter, sugars and corn syrup on medium high for two to three minutes until fluffy and pale yellow in color

Turn down the speed to low and add eggs and vanilla

Turn up speed to medium high and beat for 10 minutes

This allows the sugar to fully dissolve, the mixture will become an almost pale white color and your creamed mixture will double in size

After 10 minutes add the flour, baking powder, baking soda and salt

Mix for about another minute just until your dough comes together

Do not over mix at this point

At a low speed, add in the baking ingredients and mix for 30 – 45 seconds until they evenly mix into the dough

Add in your favorite snack foods last, beating at low low speed until they are just incorporated

Using a 6 oz. ice cream scoop, make balls of cookie dough and place onto a parchment lined cookie sheet. You will get 18 cookies making them this size, for more cookies, make them smaller.

Cover the dough with plastic wrap and refrigerate for a minimum of one hour or up to 1 week. I have baked these cookies without refrigerating the dough and they worked fine, a little thinner but still a great cookie.

Heat the oven to 350 degrees F for 9-11 minutes. The cookies should begin to brown around the edges and be pale in the middle

Leave the cookies in the oven for the additional minutes if these colors don't match up and your cookies still seem pale and doughy on the surface
Nutrition Facts:
Calories: 244kcal (12%) Carbohydrates: 35g (12%) Protein: 3g (6%) Fat: 11g (17%) Saturated Fat: 7g (44%) Cholesterol: 36mg (12%) Sodium: 393mg (17%) Potassium: 75mg (2%) Fiber: 1g (4%) Sugar: 23g (26%) Vitamin A: 281IU (6%) Vitamin C: 1mg (1%) Calcium: 43mg (4%) Iron: 1mg (6%)
* Disclaimer: All nutrition information are estimates only. Read full disclosure here.