Making delicious pretzel rolls at home is easier than you think. Baked in your oven at home, they look like they came from a bakery and taste amazing.
I love those big soft pretzels they they sell at the mall. I also love making them at home using this recipe.
Several years ago I had my first taste of a pretzel roll, they combined a dinner roll with a soft pretzel. It was pretty much a brilliant idea.
I love the flavor the salt gives these rolls and the crust outside that forms from boiling the dough in water before baking.
What Goes Well With Pretzel Rolls?
They can be served as a dinner roll, warm and with butter on top.
I also love serving them as I would a giant pretzel, with some mustard or a yummy cheese dip.
They are also great used as a sandwich roll adding in meat and cheeses.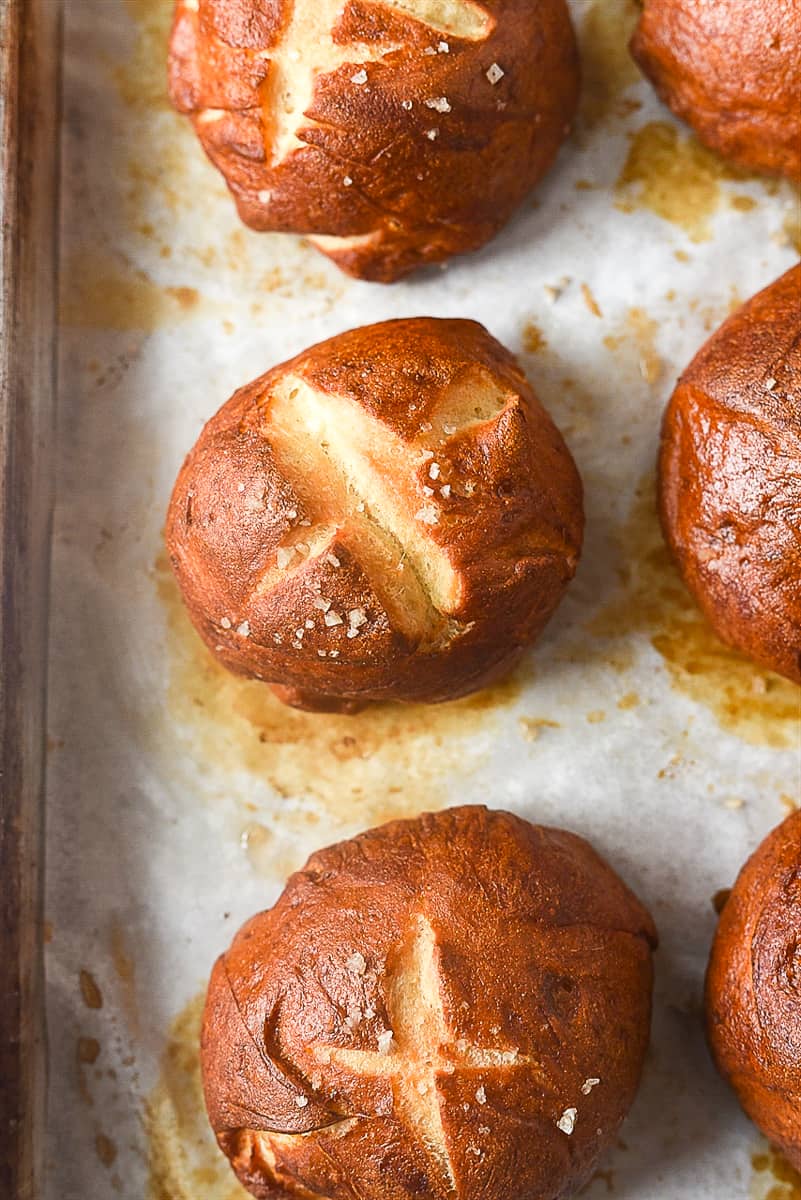 Although these rolls are more bread than pretzel the sprinkle of salt on top gives the hint of pretzel. Of course, like any roll or bread it is always better warm, fresh out of the oven but these rolls were pretty yummy the next day too.
How to Make Pretzel Rolls
Preheat oven to 400 degrees F.
Mix together warm water and yeast and allow to proof for 5-10 minutes. If you have any questions about working yeast be sure and read this post.
In a large bowl, combine yeast mixture with flour, sugar and salt.
Knead until dough is soft and smooth.
Cover and allow to rise for 30-35 minutes.
Form the dough into 12 balls, about 1/3 cup each. Shape into a round ball.
Cover dough with a cloth and allow to rise for another 30 minutes.
Bring 9 cups of water to a boil in a large pan while dough is rising.
Add in 1/2 cup baking soda.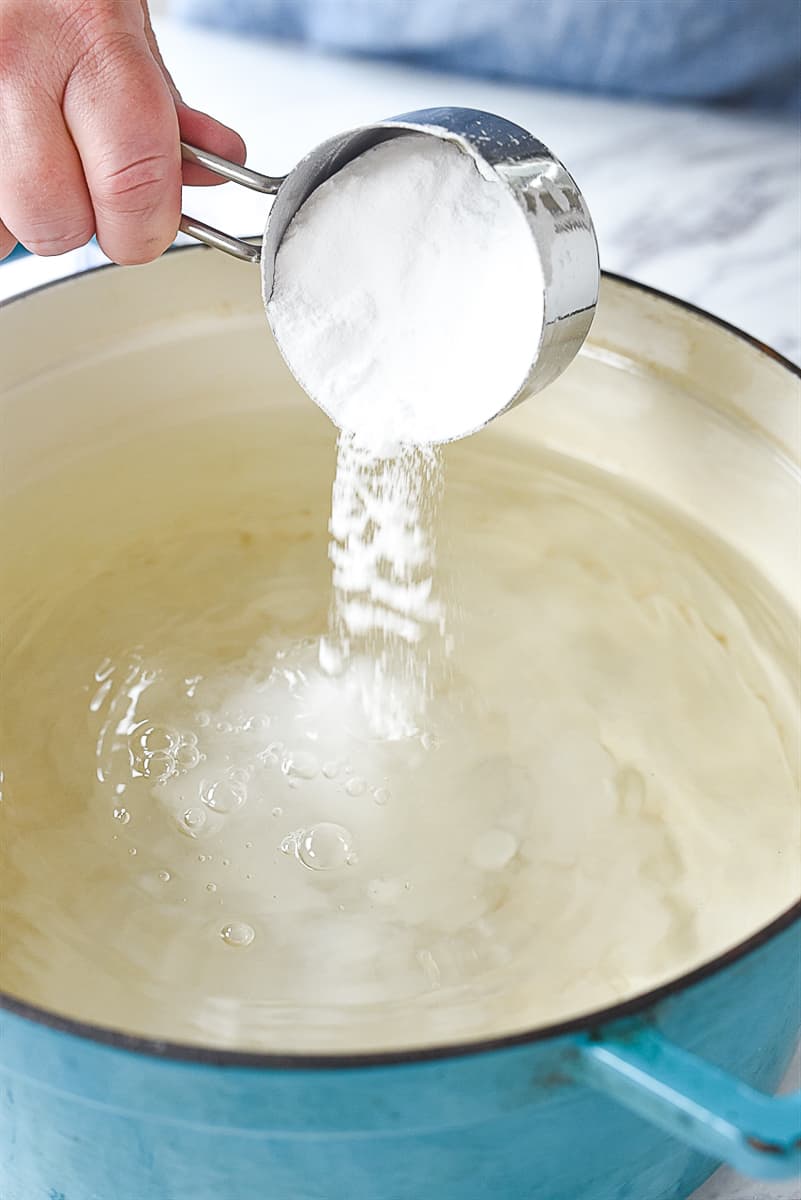 Gently place 2-3 balls of dough into boiling water for 20-30 seconds.
Repeat the process with all the dough.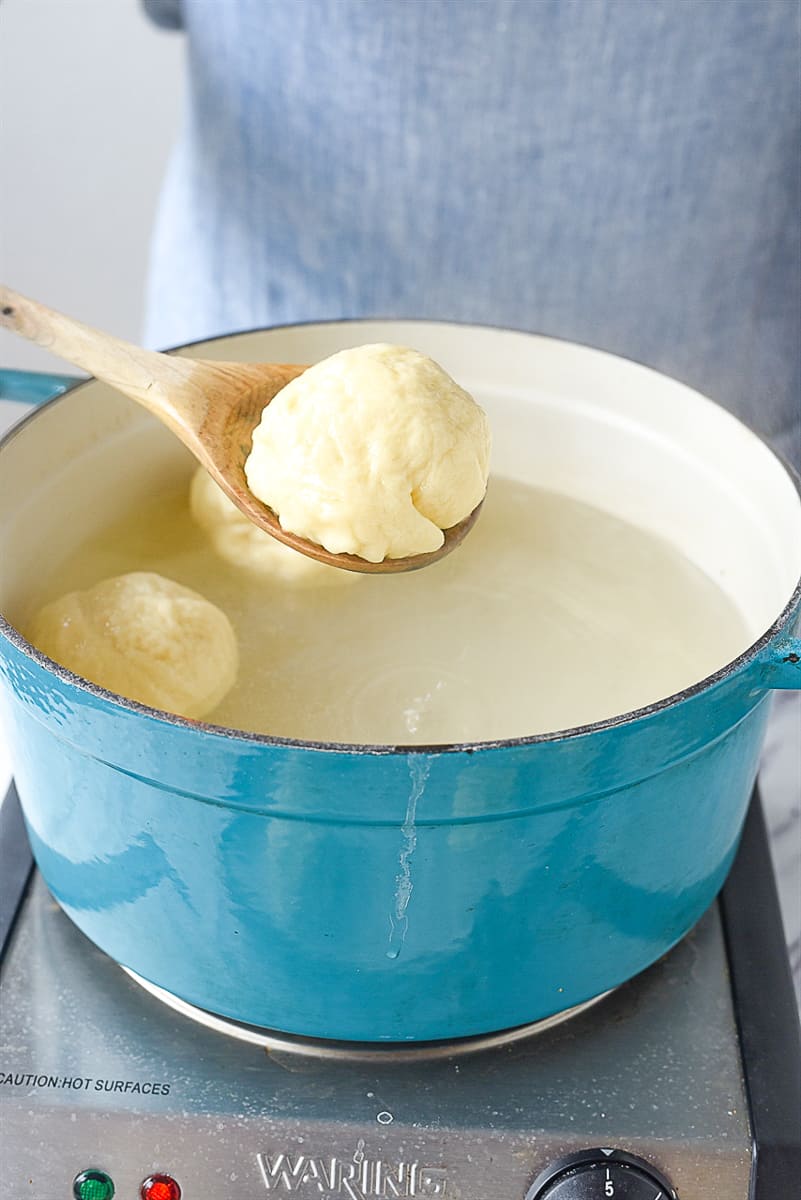 Remove dough from water, allowing excess water to drip off and place onto a parchment lined baking sheet..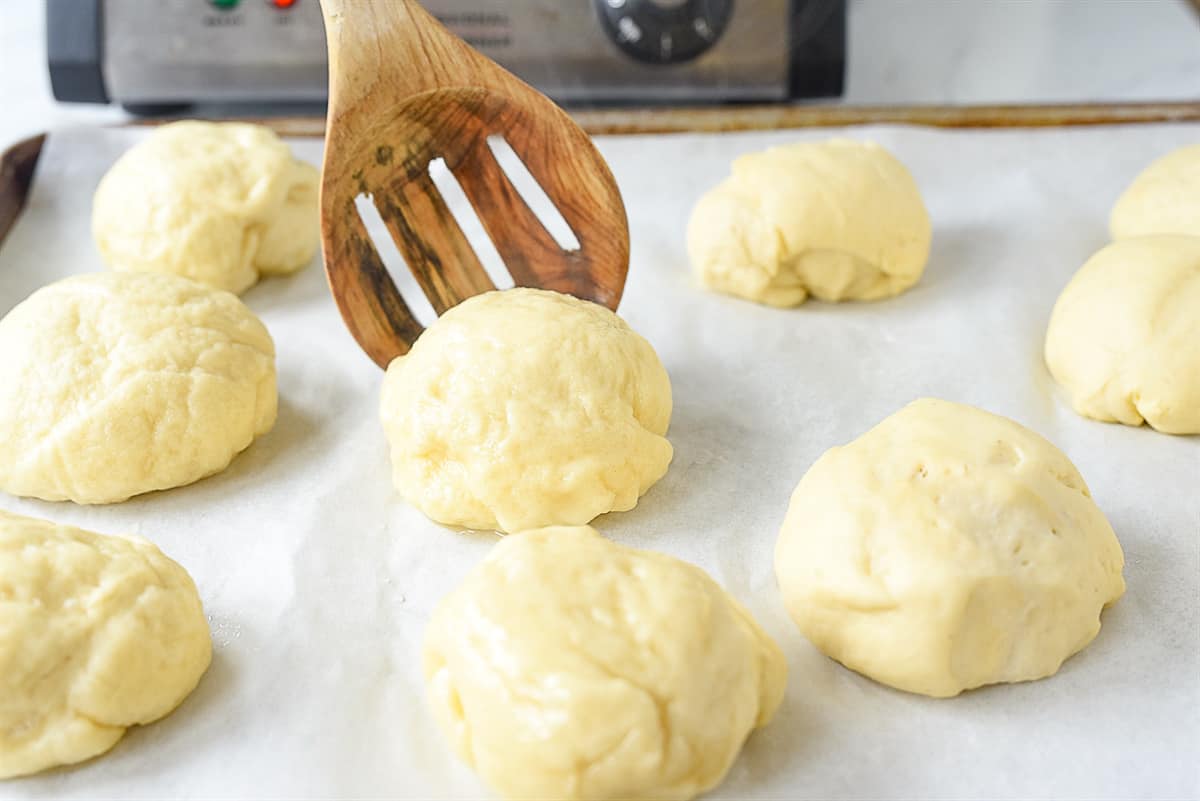 Using a sharp knife, cut an X in the top of each ball of dough, about 1/4 inch deep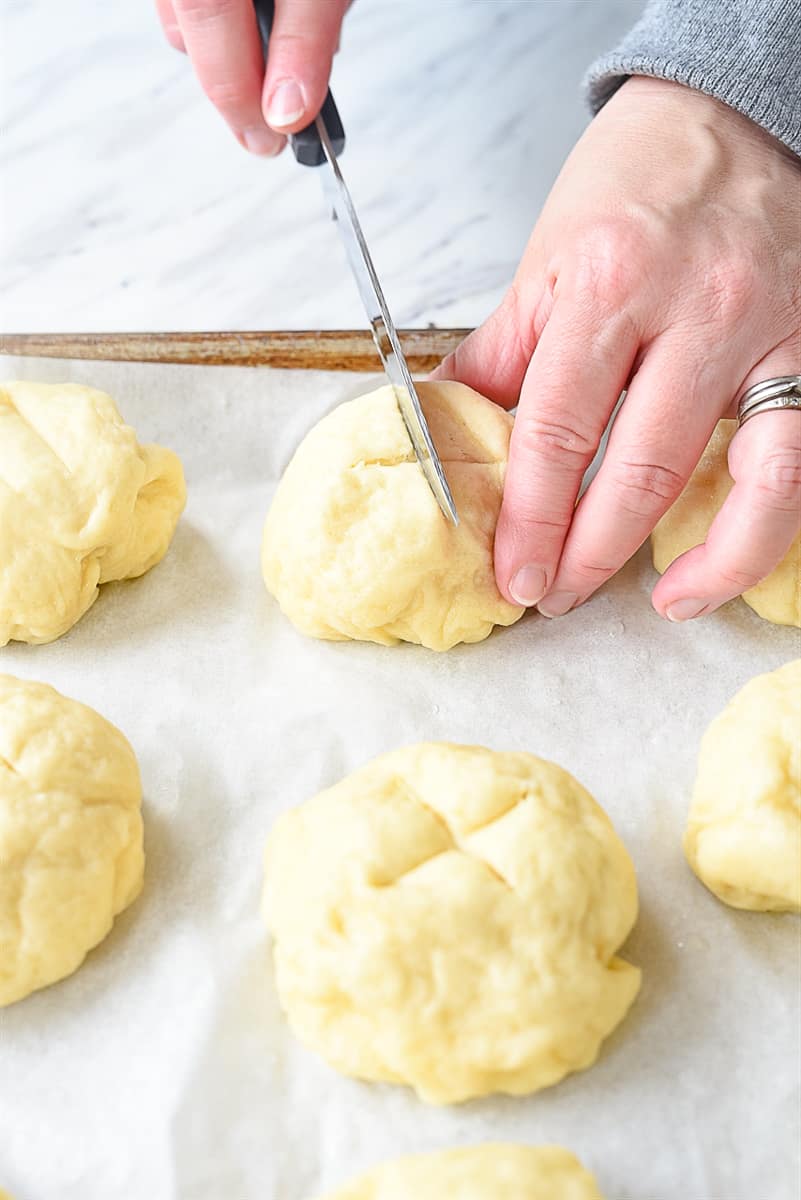 Brush each roll with an egg wash.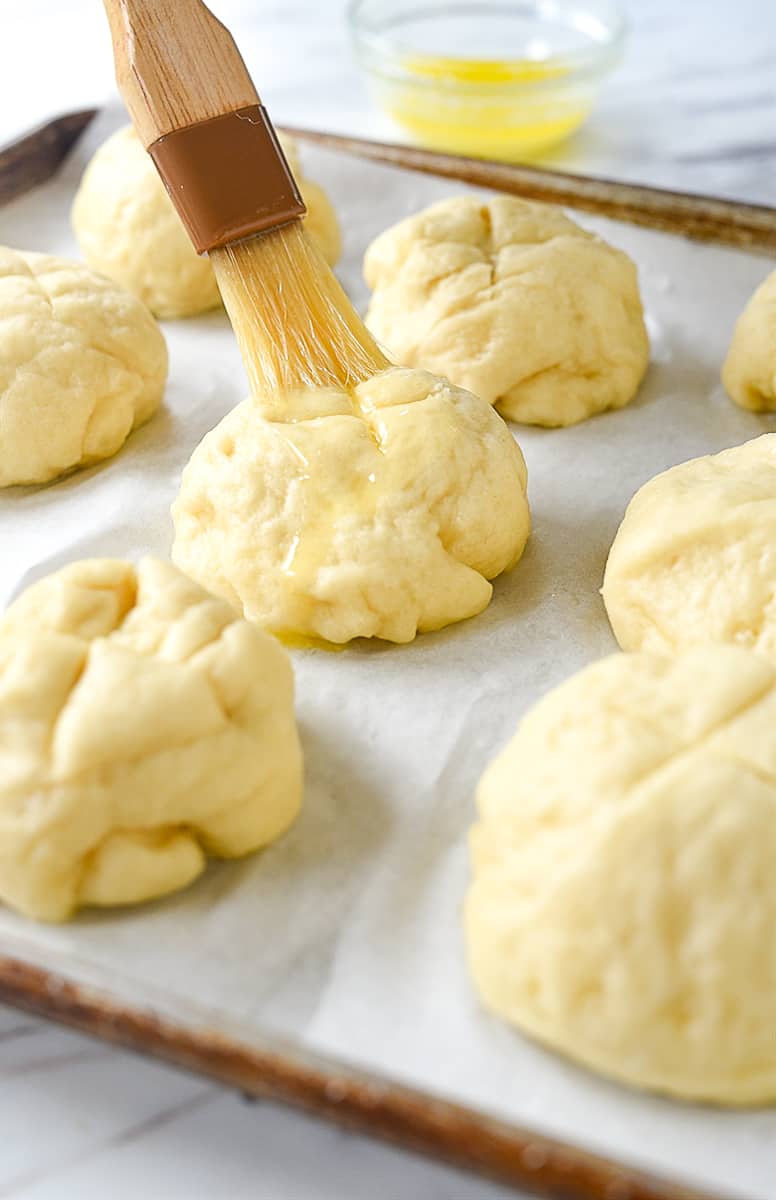 Sprinkle with a coarse Kosher salt.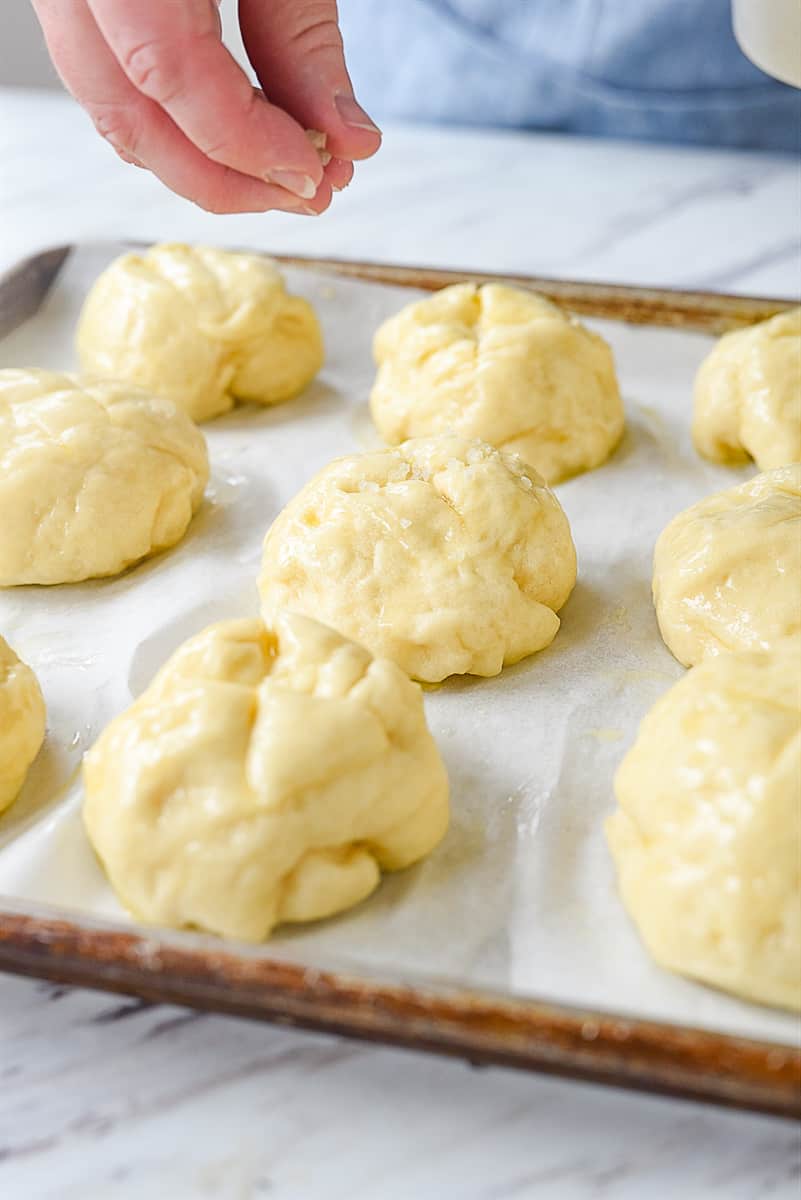 Bake in preheated oven for 22-25 minutes or until the rolls are a deep golden brown.
Remove from oven and serve warm.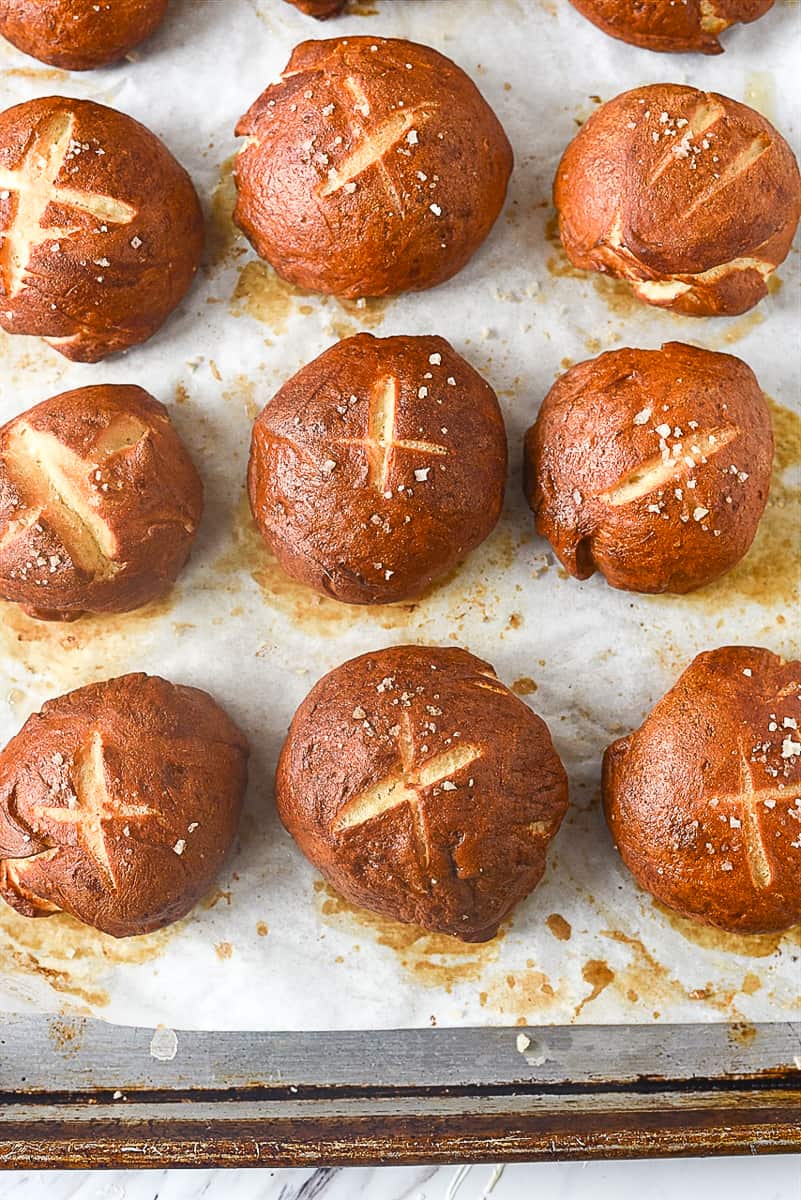 What Makes Pretzel Rolls Brown?
The pretzel rolls turn brown as a result of being dipped into the baking soda/water mixture. A chemical reaction takes place with the pH of the baking soda effecting the surface of the dough, causing it to turn a deep brown as the rolls bake.
Can Pretzel Rolls Be Frozen?
They will freeze, in an airtight container for up to 2 months. To reheat, bake frozen pretzel rolls at 350°F for 15 -20 minutes or until warmed through or microwave until warm.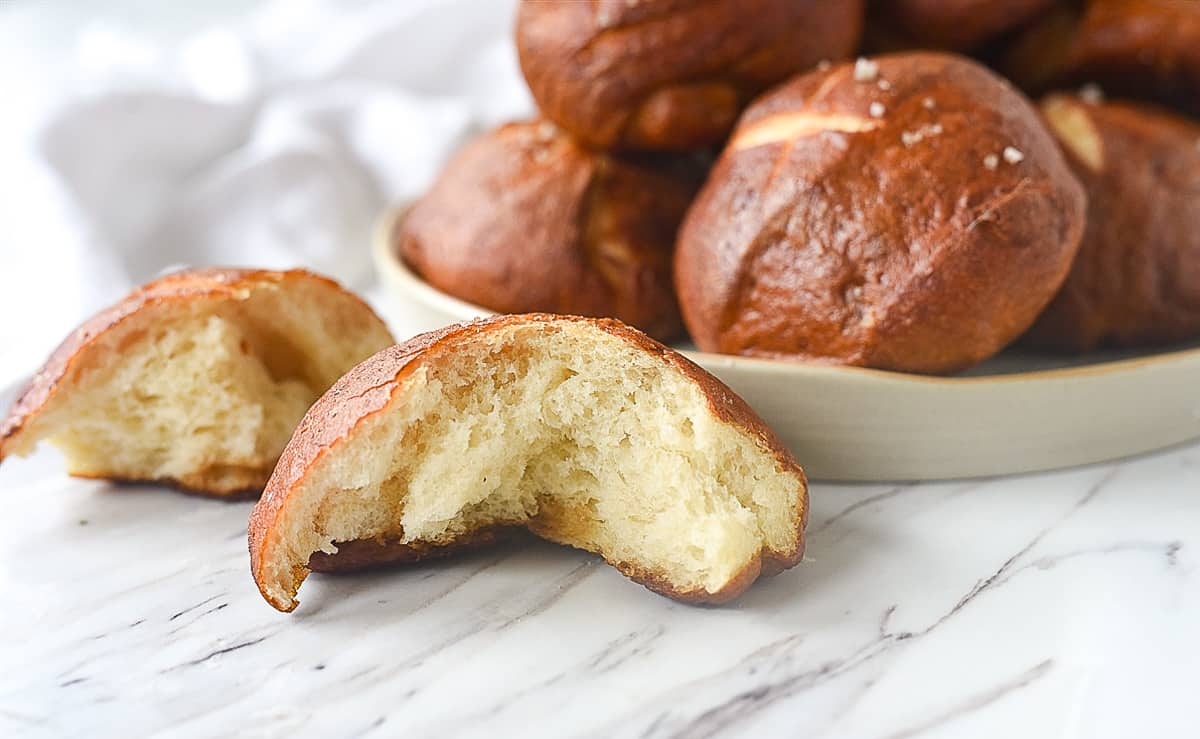 For all my other favorite kitchen products and tools visit my Amazon Store.
Did you know I wrote a cookbook? Check out the Holiday Slow Cooker Cookbook for 100 delicious recipes.
Be sure and follow me over on You Tube for weekly cooking demos.`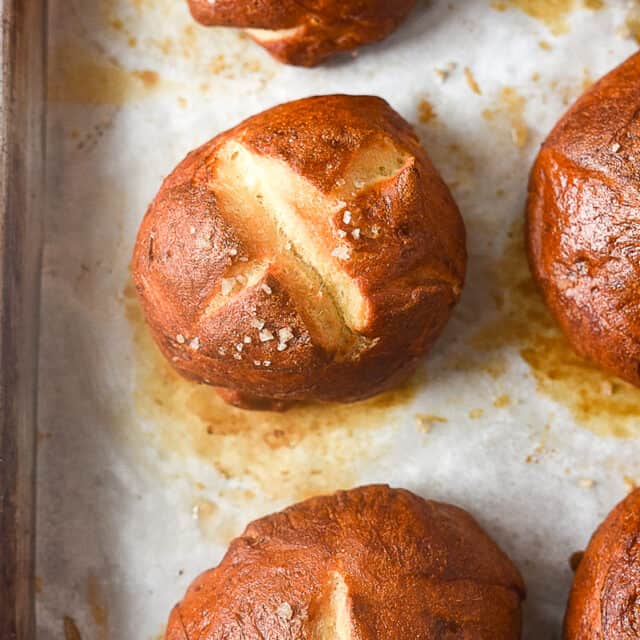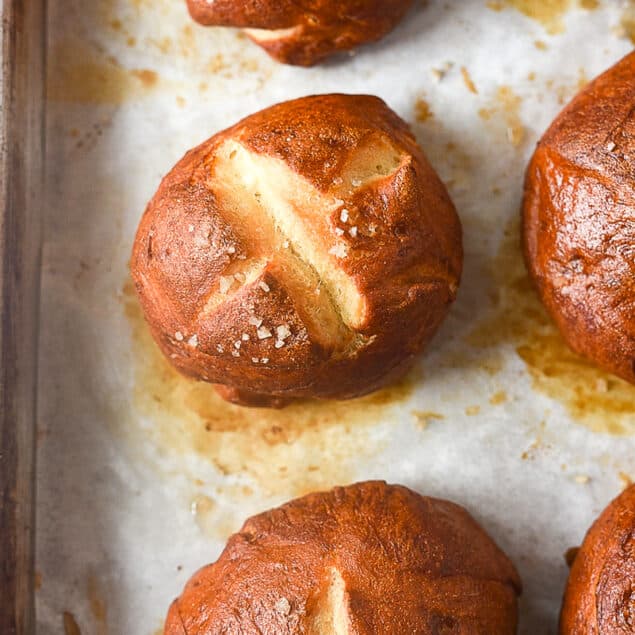 Pretzel Rolls
Be sure and follow  me over on You Tube for weekly cooking demos.`
Ingredients
1 cup warm water 105°F to 115°F
2 1/4 tsp dry yeast
2 3/4 cups all purpose flour plus more for dusting the work surface
1 Tbsp granulated sugar
1 tsp sea salt
1 egg beaten
1 Tbsp coarse kosher salt for sprinkling
Instructions
Preheat oven to 400

Place the warm water in a bowl and sprinkle the yeast on top. Set aside to rest until the mixture bubbles, about 5 minutes.

Place the flour, sugar, and salt in a large bowl. Add in the yeast mixture and mix with a dough hook until the dough is elastic and smooth

Place in the oiled mixing bowl, and turn the dough to coat in oil. Cover with a clean, damp dishtowel and let rest in a warm place until the dough doubles in size, about 30 to 35 minutes.

Once the dough has risen, punch it down and divide the dough into 12 pieces, about 1/3 cup each. Place on a parchment lined baking sheet. Allow to rise for about 30 minutes.

In a large dutch oven, bring 9 cups of water to a boil. Add in 1/2 cup baking soda.

Gently place 2-3 balls of dough at a time into the boiling water for 20-30 seconds.

With a slotted spoon, remove dough to the parchment lined sheet, allow excess water to drain off.

Cut an X into the surface of each roll, about 1/4 inch thick.

Brush with melted butter.

Sprinkle with coarse Kosher Salt.

Bake at 400 Degrees F. for 20-25 minutes or until a deep brown color.
Nutrition Facts:
Calories: 121kcal (6%) Carbohydrates: 24g (8%) Protein: 4g (8%) Fat: 1g (2%) Saturated Fat: 1g (6%) Polyunsaturated Fat: 1g Monounsaturated Fat: 1g Trans Fat: 1g Cholesterol: 14mg (5%) Sodium: 783mg (34%) Potassium: 57mg (2%) Fiber: 1g (4%) Sugar: 1g (1%) Vitamin A: 20IU Vitamin C: 1mg (1%) Calcium: 8mg (1%) Iron: 1mg (6%)
* Disclaimer: All nutrition information are estimates only. Read full disclosure here.
Originally posted May 1, 2012