When a chocolate craving hits, this chocolate, nutella & toffee brownie skillet is guaranteed to do the job!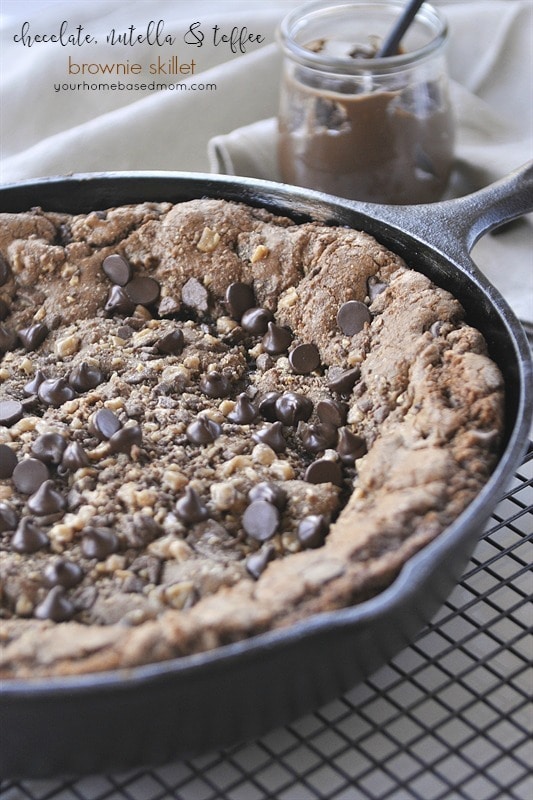 So the other day I was craving chocolate, it does happen  now and then.  I was also in the mood to cook something in my cast iron skillet.  I've told you before how much I love that thing.  I honestly think food tastes better that has been cooked in a cast iron skillet.  I keep a stack of four of them in various sizes on my stove top and I use them all the time.  It is my go to frying pan.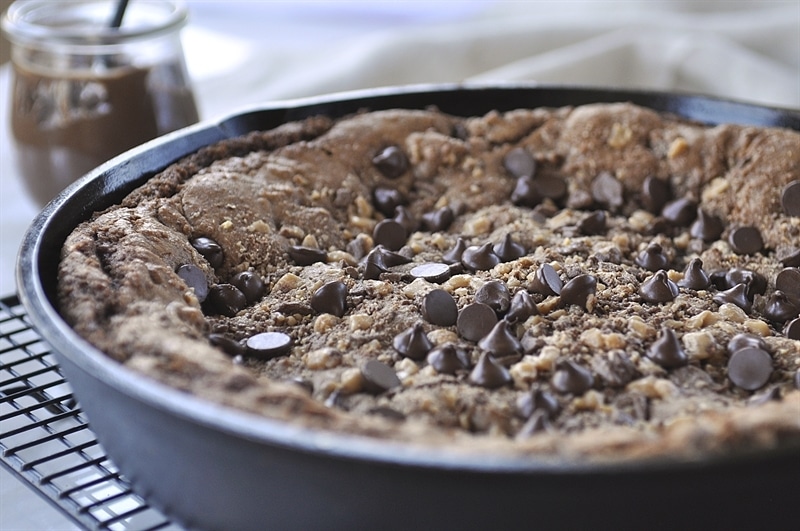 So when you put chocolate and a cast iron skillet together you come out with Chocolate, Nutella, Toffee Brownie Skillet.  You'd be hard pressed to get more amazing things together in one place!  The combo of chocolate, nutella and toffee is pretty much heaven made.
The cast iron pan gives you a nice crisp edge to your brownies and nice soft, gooey center.  Just the way I like my brownies.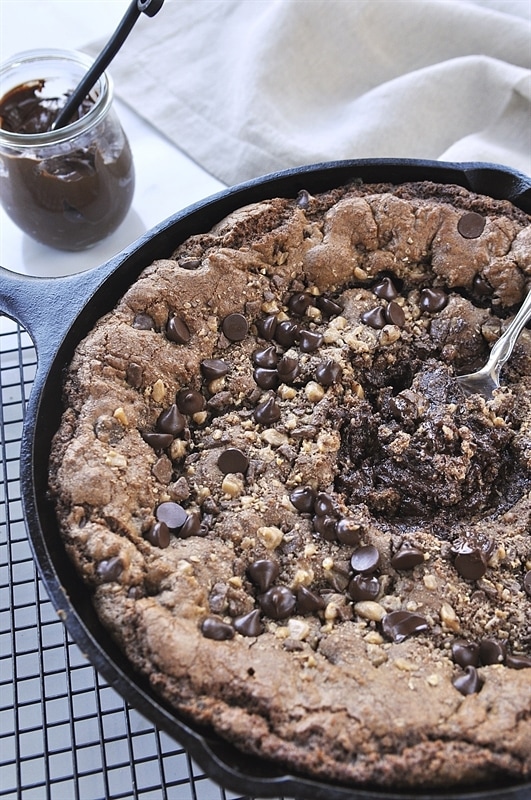 The only thing that would have made this better would have been a nice scoop of vanilla ice cream.  Unfortunately I was out!  So I just grabbed a spoon and dug in.  I actually grabbed two spoons because I am always willing to share!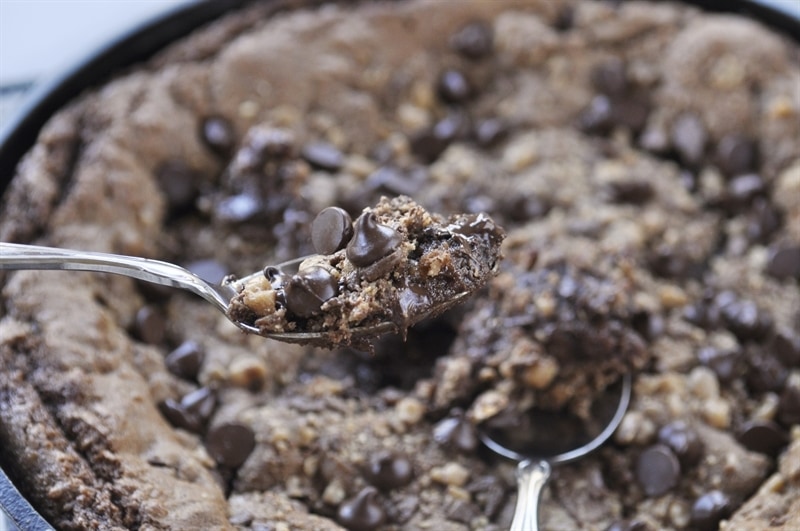 When you put your batter into your cast iron pan be sure and leave about a 1/2 inch gap between the batter and pan to give the batter a little room to expand and not over cook on the edges.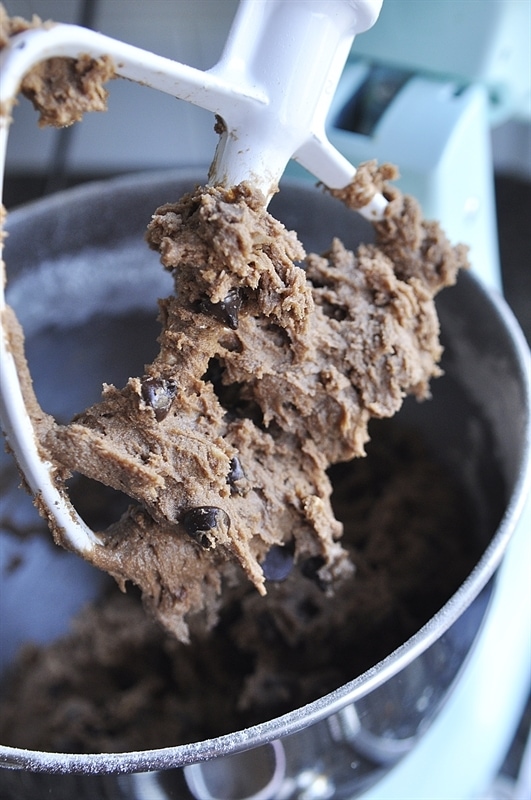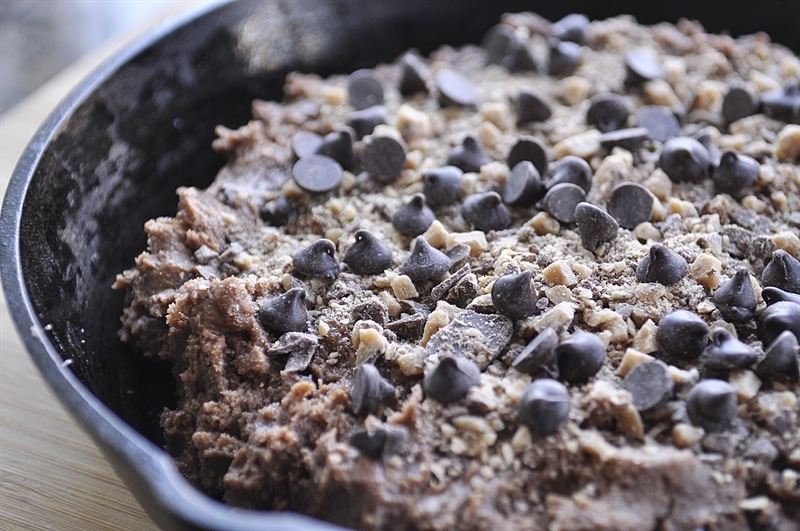 For other delicious skillet recipes try these: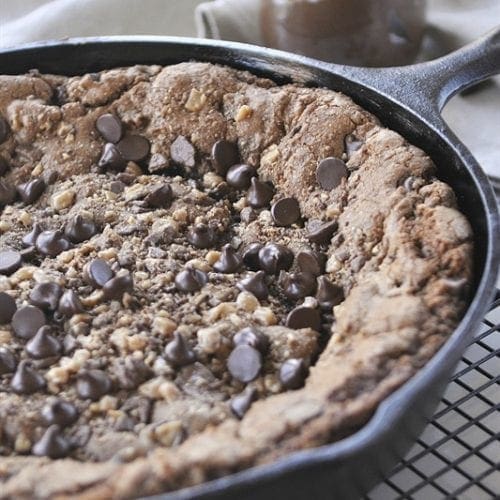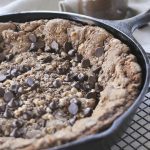 Print
Chocolate, Nutella & Toffee Skillet Brownie
Ingredients
1/2

C

butter

melted and cooled

3/4

C

Nutella

1/2

C

brown sugar

1/2

C

white sugar

2

eggs

1

tsp

vanilla

1

tsp

baking soda

1/2

tsp

salt

2

C

flour

1

C

semi sweet chocolate chips

1/2

C

toffee pieces
Instructions
Preheat oven to 350 degrees F.

In a mixer, mix together butter, Nutella, sugars, eggs and vanilla until smooth.

Add in flour, salt and baking soda until batter forms.

Stir in 3/4 C of chocolate chips and 1/4 C of toffee pieces.

Spray 10 " cast iron pan with non-stick spray.

Spoon in batter and press into pan leaving a 1/2" space around the skillet. This will allow the brownie to spread and the sides won't overcook.

Top with remaining chocolate chips and toffee pieces.

Bake for 25-30 minutes or until edges are set and tooth comes out clean.

Let cool on a wire rack until just warm.

It will be soft and gooey in the middle but as it cools it will set up.

Serve with ice cream

Want Tips for Using a Cast Iron Skillet?
Want my Top 10 Tips for cooking in a cast iron skillet? Enter your email below and get the printable download instantly! You'll also be subscribed to my newsletter so you can stay updated on my latest recipes.