The secret to a good caramel cake is all in the frosting.  And the caramel frosting on this cake is the best.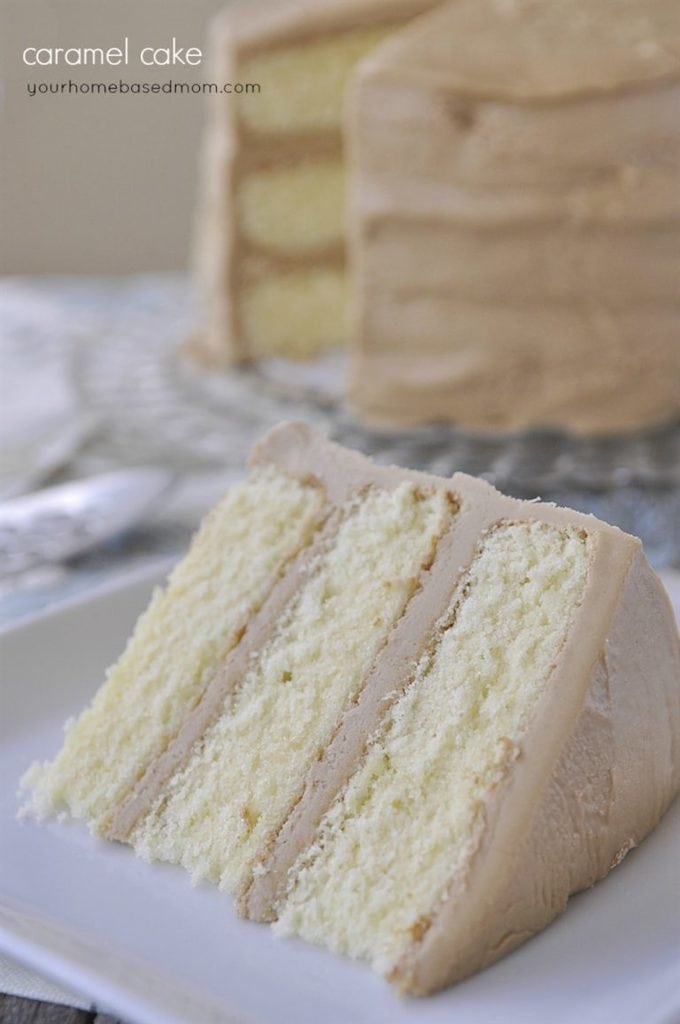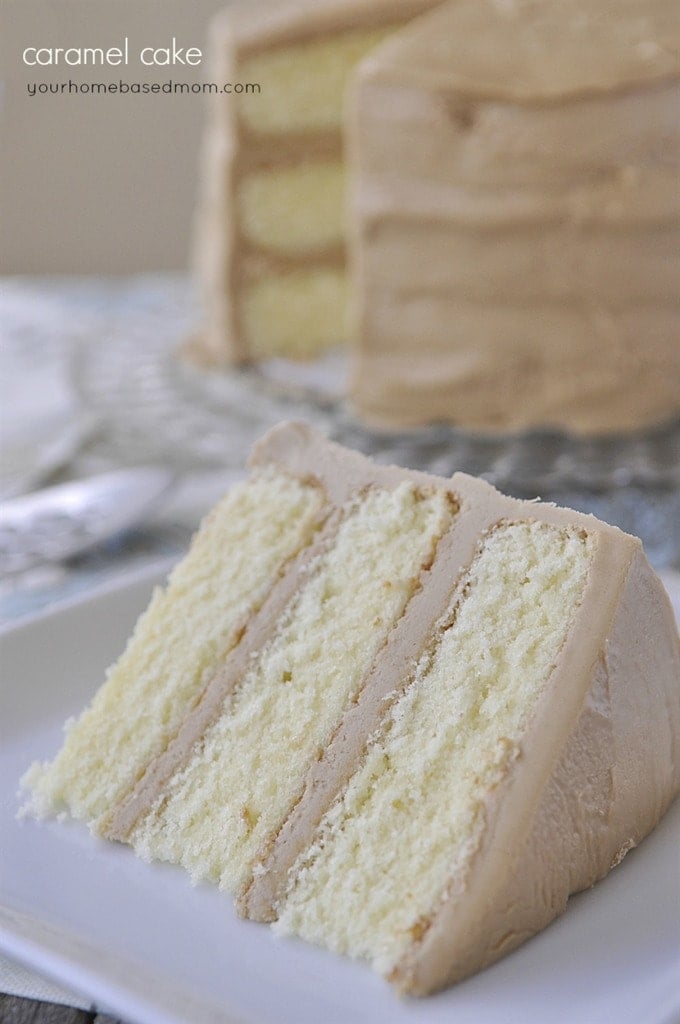 I love caramel cake and spent years on a quest for the perfect recipe.  When my husband was a child, his favorite cake was a white cake with caramel frosting.  This caramel cake has the base of a nice, light, fluffy yellow cake, but the frosting is the star of the show.   A caramel cake is really all about the frosting, but it definitely needs a good cake to let it shine.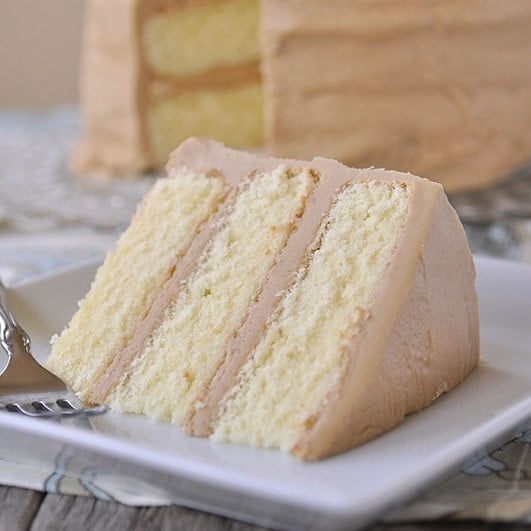 I've experimented with lots of from scratch cakes and I've finally found one that is everything a cake should be.  Light, fluffy, tender, moist and flavorful.  And it make the perfect base for this caramel cake.
Bob Red Mill Super Fine Cake Flour is what gives the cake it's amazing texture.  Because cake flour has less protein than all purpose flour, it helps give the cake a lighter and more airy texture.  It does make a difference and it's worth the effort to buy and use cake flour.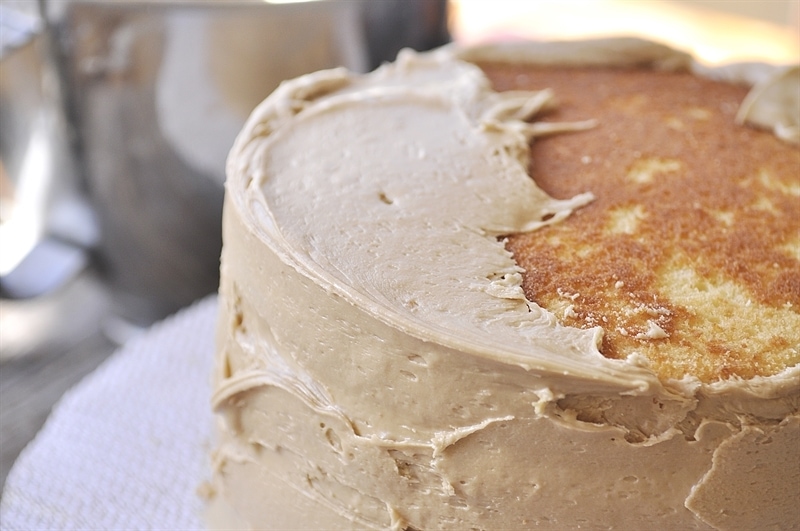 Must have items for frosting a cake.
For this cake, I used 3- 8 inch cake pans. After baking and cooling, be sure and brush off as much of the crumbs on the outside of the cake as possible.  It makes frosting easier.
I love using this cake turn table to frost my cakes because it makes it so easy to turn the cake as you frost it.  And the non slip mat keeps the cake in place.  I also use a cardboard round underneath the cake so it is easy to remove from the turntable and place on my serving plate.  And for frosting a cake, an offset spatula is a must.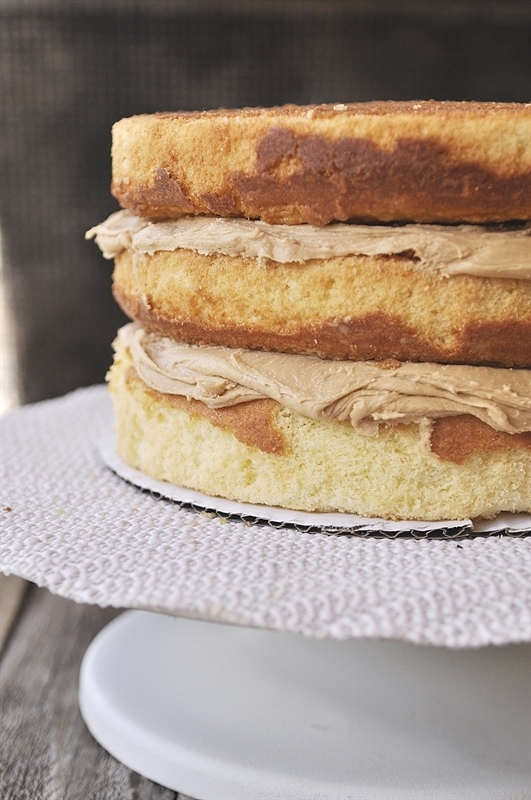 I am definitely not a professional cake decorator.  It may not look perfect, but it tastes pretty perfect!  I basically eat cake so I can have frosting and this caramel cake has a lot of frosting goodness.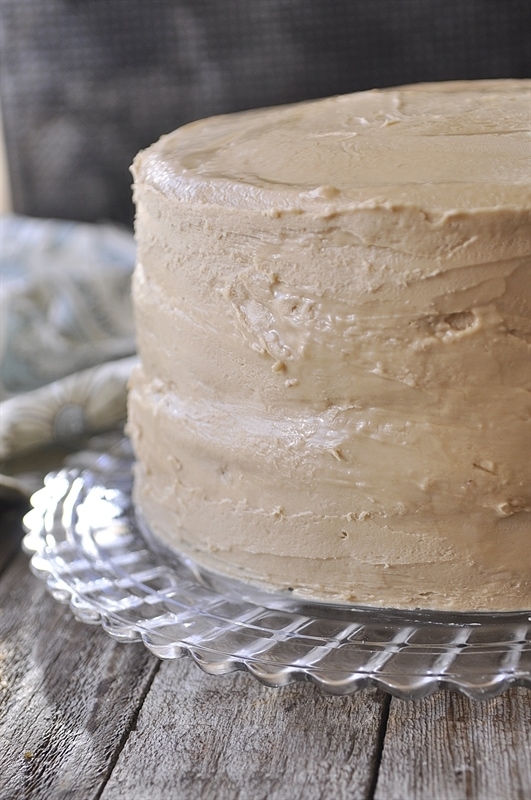 Caramel Frosting
The caramel frosting is made with butter, butter and more butter.  Just the way frosting should be.  Also, it calls for dark brown sugar, evaporated milk, vanilla and powdered sugar.  And unlike many caramel frostings, this one doesn't need to be cooked for long periods of time.  Just cook it in the microwave for a few minutes and then into the mixer it goes.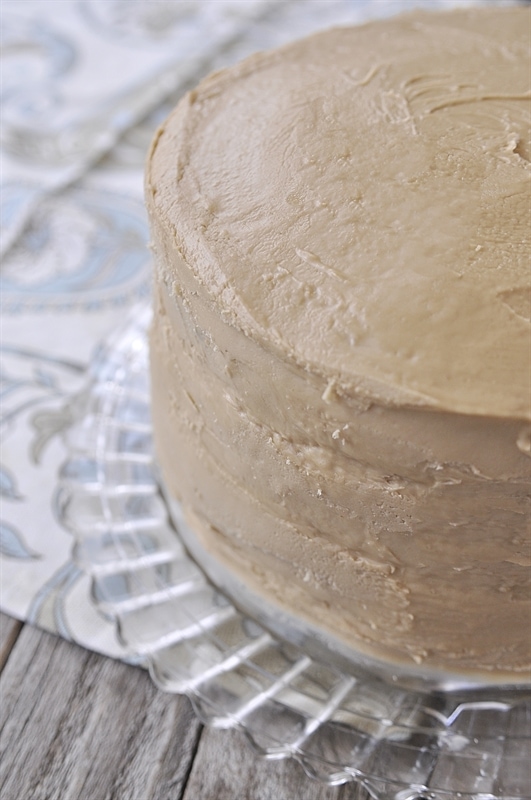 This recipe makes a generous amount of frosting, so don't be stingy with those layers.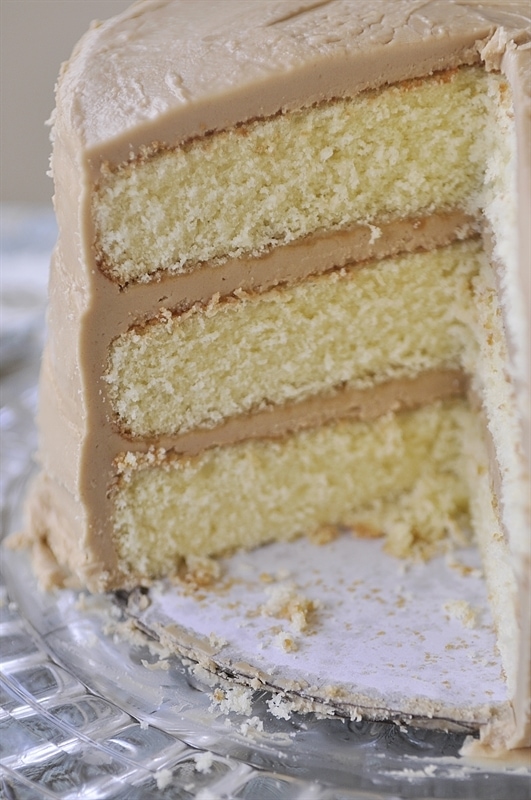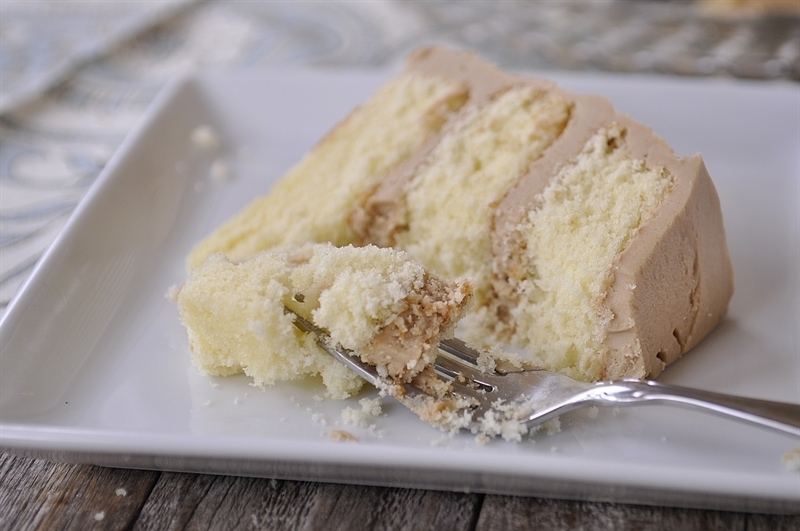 Some of my other favorite cakes:
Some of my favorite kitchen tools I use to make Caramel Cake:
8 inch CAKE PAN – Works great for cakes but I also like putting dinner rolls in it.
6 PIECE MEASURING CUP SET – Everyone needs at least one set of measuring cups, I have 4 sets!
MAGNETIC MEASURING SPOONS – I love these things.  They are magnetic so they stay together in the drawer!
Caramel Cake Recipe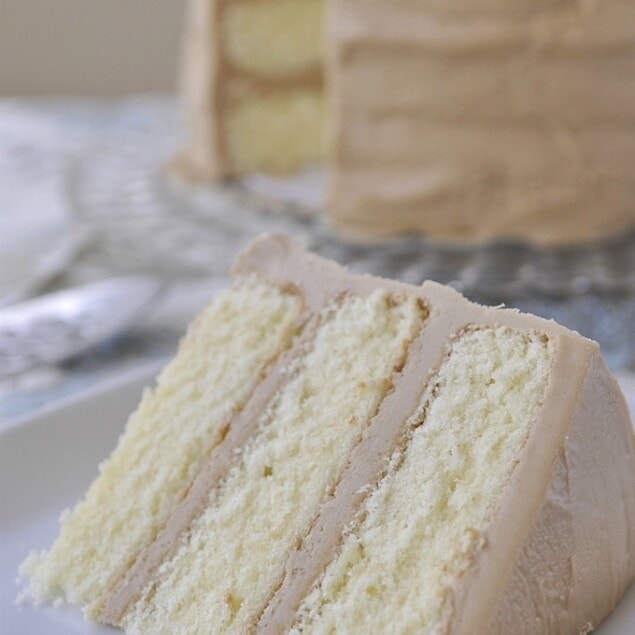 Caramel Cake
Soft, moist white cake with a decadent caramel frosting.
Ingredients
1 cup butter softened
3¼ cups cake flour
1 tablespoon baking powder
½ teaspoon salt
2½ cups sugar
2 teaspoons vanilla extract
4 eggs room temperature
1¼ cups milk I used whole milk
Frosting
1 cup butter divided
2 cups dark brown sugar
1/2 cup evaporated milk
1 1/2 tsp vanilla
6 cups powdered sugar
Instructions
Preheat oven to 350?F.

Spray three 8-inch pans generously with baking spray and flour. Cut circles of parchment paper or wax paper to fit pans and place one in the bottom of each pan.

Combine cake flour, baking powder, and salt together; set aside.

(If you are using the extra fine cake flour you won't need to sift the flour, if not put the flour, baking powder and salt through a sifter.)

Beat butter and sugar in the bowl of an electric mixer until light and fluffy.

Add vanilla and then eggs one at a time, beating after each addition.

Add flour mixture and milk alternately in 3 batches, beating until smooth after each addition.

Divide batter between prepared pans.

Bake until golden, 25-30 minutes.

Let cool on a rack for 10 minutes; invert cakes onto a cooling rack; let cool completely.

Brush off crumbs from sides and top of cake.

Place one cake layer on a plate or cake stand.

Add icing and spread to cover. Repeat with remaining layers.

Frost entire cake with a generous layer of icing.
Frosting
Place 1/2 cup butter, brown sugar and evaporated milk into a microwave safe bowl. Microwave for 1 minute, stir. Return to microwave and cook on high for 2-3 more minutes or until the mixture is smooth and no longer gritty. Can also be done in a saucepan on the stovetop. Heat until ingredients are combined and no longer gritty.

Cool mixture for 15 minutes.

Place in mixer and add in powdered sugar and mix on low until incorporated.

Turn to medium high and mix for another minute.

Add in 1/2 cup of softened butter and vanilla and mix on medium high for 3-4 minutes or until light and fluffy.

Frosting should be a nice spreadable consistency. Add more milk if too stiff or more sugar if too thin.

Frost cake.
Nutrition Facts:
Calories: 982kcal (49%) Carbohydrates: 165g (55%) Protein: 7g (14%) Fat: 34g (52%) Saturated Fat: 20g (125%) Cholesterol: 141mg (47%) Sodium: 423mg (18%) Potassium: 278mg (8%) Sugar: 138g (153%) Vitamin A: 1090IU (22%) Vitamin C: 0.2mg Calcium: 153mg (15%) Iron: 1mg (6%)
* Disclaimer: All nutrition information are estimates only. Read full disclosure here.
Recipe may need to be adapted for high altitude baking.  See info here.
Need some help figuring out what's for dinner tonight?
Come join our Facebook Group!  Join hundreds of others who love sharing dinner time ideas.  You don't want to miss out on the fun!

You'll find lots of ideas for dinner from all our awesome members and you can share your ideas too!  Join the Family Dinner Table today.