These whole wheat chocolate chip cookies have a great chewy texture thanks to the whole wheat.
You will find dozens of cookie recipes on the blog. Some of our all time favorites include these Brown Sugar Cookies, The Perfect Sugar Cookie and Twix Cookies. Find all my cookie recipes here.
One of my favorite jobs as a mom is making chocolate chip cookies. I feel like a good mom when I make chocolate chip cookies. Don't we all need to feel like good moms now and then, especially when we have teenagers?
Maybe it comes from watching too much June Cleaver in Leave it to Beaver as a child but having a plate of warm chocolate chip cookies waiting for my kids when they come home for school makes me happy – and it makes them happy too!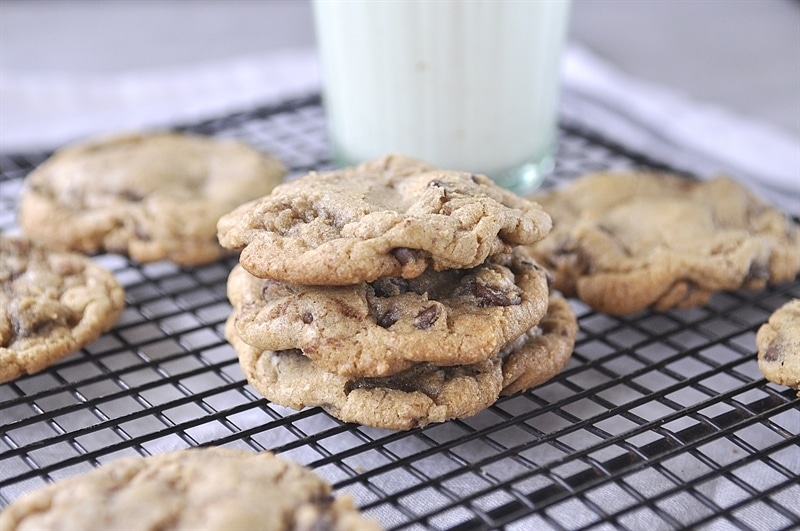 Homework is always easier with a warm whole wheat chocolate chip cookie!
I am a collector of chocolate chip cookie recipes. I have tried dozens!
Recently I was sent another chocolate chip cookie recipe by one of my readers and I can never resist a new chocolate chip cookie recipe.
As I looked closer at the recipe I realized it was the exact same recipe as the Best Big Fat, Chewy Chocolate Chip Cookie except for one ingredient. Instead of two cups of white flour, this recipe had used a cup of white flour and a cup of whole wheat flour.
The idea of putting whole wheat flour into a cookie almost makes it a health food – doesn't it? I used soft white whole wheat and I am a fan of Bob's Red Mill so I used their whole wheat flour.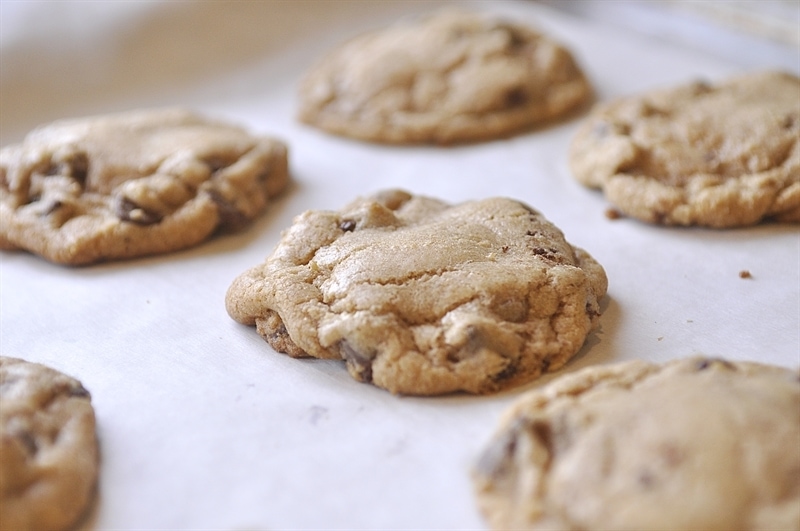 How to Make Whole Wheat Chocolate Chip Cookies
The wheat flour works wonderfully! I loved it in the cookie. The best part was my kids had NO IDEA there was wheat flour in it. I love the texture the wheat flour gave the cookie. The cookie had just a bit more body and was a little more chewy. It wasn't heavy by any means and if I hadn't put the wheat flour in myself I never would have known.
It was an amazing cookie – just like the name says!
If you have never worked with wheat flour before, don't be afraid. This recipe is the perfect way to introduce whole wheat flour into your families diet. Just imagine, a healthy whole wheat chocolate chip cookie – well, almost.
For all of my other favorite kitchen products and tools visit my Amazon Store.
Did you know I wrote a cookbook? Check out the Holiday Slow Cooker Cookbook for 100 delicious recipes.
Whole Wheat Chocolate Chip Cookie Recipe
Whole Wheat Chocolate Chip Cookies
Delicious chocolate chip cookies made with whole wheat.
Ingredients
3/4 cup unsalted butter melted
1 cup packed brown sugar
1/2 cup white sugar
1 egg
1 egg yolk
1 Tbsp vanilla extract
1/2 tsp baking soda
1/2 tsp salt
1 cup all-purpose flour
1 cup whole wheat flour
2 cup semisweet chocolate chips
Instructions
Grease cookie sheets or line with parchment paper (I actually did neither, and they came out fine on a plain old bare shiny metal cookie sheet).

In a medium bowl, cream together the melted butter, brown sugar and white sugar until well blended

Beat in the vanilla, egg, and egg yolk until light and creamy

Mix in dry ingredients until just blended

Stir in the chocolate chips, then chill in the fridge for 1-2 hours

Drop cookie dough 1/4 cup at a time onto the prepared cookie sheets (I did large golf ball size chunks, and could fit 9 at a time – they spread quite a bit, so don't try to cram them)

Cookies should be about 3 inches apart

Bake for 10-12 minutes in a 325 F preheated oven, or until the edges are lightly toasted

Cool on baking sheets for a few minutes before transferring to wire racks to cool completely

For a softer cookie be careful not to overcook- remove cookies from oven when the edges are barely toasted

For a crunchier cookie, bake for 12-15 minutes or until edges are golden brown

Makes 14-17 cookies
Nutrition Facts:
Calories: 231kcal (12%) Carbohydrates: 29g (10%) Protein: 3g (6%) Fat: 12g (18%) Saturated Fat: 7g (44%) Cholesterol: 31mg (10%) Sodium: 83mg (4%) Potassium: 125mg (4%) Fiber: 2g (8%) Sugar: 19g (21%) Vitamin A: 205IU (4%) Calcium: 23mg (2%) Iron: 1mg (6%)
* Disclaimer: All nutrition information are estimates only. Read full disclosure here.