Impress your guests with this easy and delicious Caramelized Onion Tart with Brie and Cambozola Cheese.
I've  made this yummy caramelized onion tart three times in the last couple weeks.  It has become my go to appetizer for holiday parties this year.  No one is complaining!  Whenever I am given the option of bringing something sweet or savory to a party I always go for the savory.  I first took it to a fun ladies tea a couple of my friends hosted and it was a hit.  I was asked to cut it into small pieces to make sure that everyone got a piece.  I also took it to a white elephant party and one other Christmas party.  It disappeared all three times.
 This tart has a lot of amazing flavors going on – the onions that have been caramelized in a little sugar and balsamic vinegar, two kinds of cheeses and a sprinkle of fresh tarragon.
It uses puff pastry which I buy at the store.   Let it sit at room temperature for a while before you try to work with it.  Roll it out into a  10 x 14 inch rectangle and then poke it with a fork all over.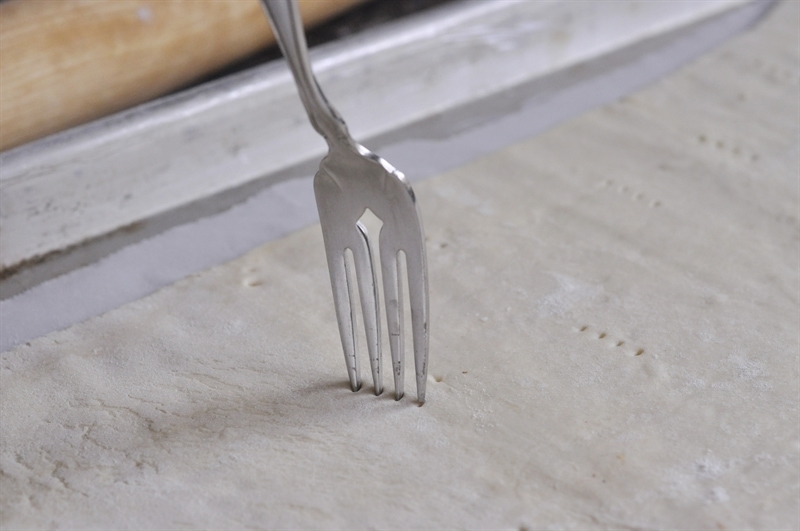 Caramelize your onions, I like them nice and caramelie (is that a word??)
Spread them over the puff pastry.  And then top it with thin slices of brie and cambozola cheese. You could also use blue cheese in place of the cambozola if you prefer.  I do remove the rind from the brie even though you don't have to because it is totally edible.  I just like it better that way.  Then a sprinkle of fresh tarragon.  Use dried if you don't have fresh.
Bake it at 400 degrees F for about 15-18 minutes or until it gets nice and puffy and golden brown.
Do you have a go to appetizer for holiday parties?
Here are a couple of my other favorites:
Caramelized Onion Tart with Brie and Cambozola Cheese
Ingredients
2 Tbsp olive oil
4 cups of sliced onions sliced root-to-top into 1/4-inch thick slices (about 2-3 med onions)
1 Tbsp brown sugar
2 Tbsp balsamic vinegar
1/2 tsp salt
1/2 tsp pepper
8 oz frozen puff pastry defrosted a couple hours in the fridge
2 oz chilled Brie cheese rind removed and sliced thinly
2 oz Cambozola or other blue cheese sliced thinly
2 Tbsp chopped fresh tarragon
Instructions
Put oil in a large pan. Add onions and cook until beginning to soften and brown.

Add sugar, vinegar, salt and pepper. Turn the heat down and continue to cook unjtil caramelized, about 20 minutes

Roll pastry into a 10-to-14-inch rectangle . Place pastry on a baking sheet lined with parchment paper. Prick with a fork all over to prevent the pastry from forming big bubbles while baking.

Place onions over pastry, cover to the edges. Dot with cheese. Sprinkle with tarragon.

Bake in a preheated oven at 400°F for 15-18 minutes or until cheese has melted and pastry is crispy.
Recipe from Simply Recipes