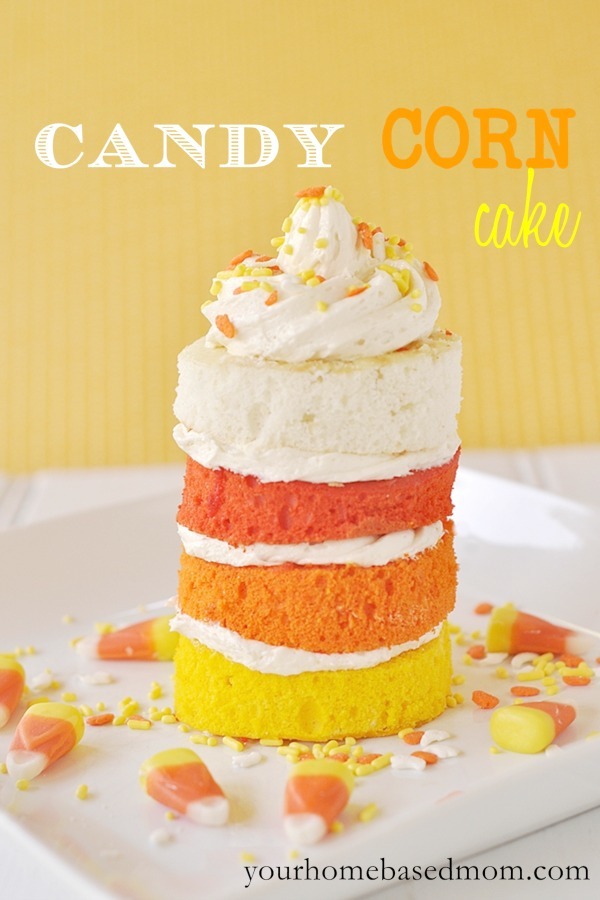 It's that time of year again – Candy Corn time!!
I am one of "those." A candy corn lover. It's not just that I like the way they taste but I love how cute they are!! That's the best part. I pretty much love anything that is candy corn shaped or in any way shape or form resembles candy corn.
If you have spent any time on Pinterest you know that ombre is all the rage. Ombre being where color is graduated from light to dark. When I saw these cute little pink ombre cakes over at Baking with Blondie , my first thought was that they would be darling in candy corn colors. Guess what? I was right.

Here's how I did it.
I used a standard white cake mix and mixed it up according to the directions. I then divided the batter equally into four bowls.


I found this great food coloring chart for creating all kinds of colored frosting using a standard box of food coloring in my Food Network Magazine. It was just what I needed to get just the right colors.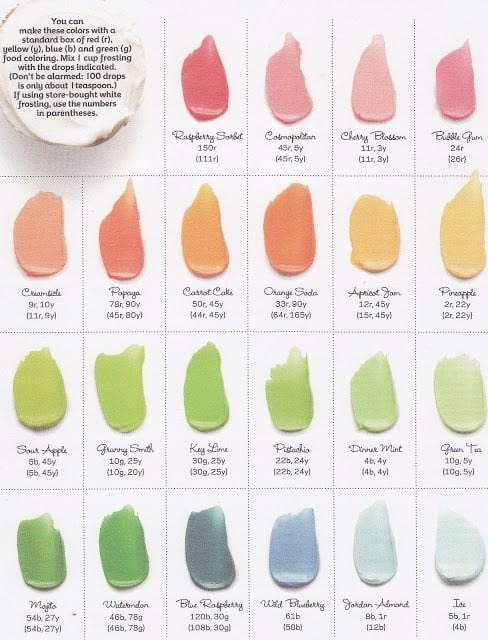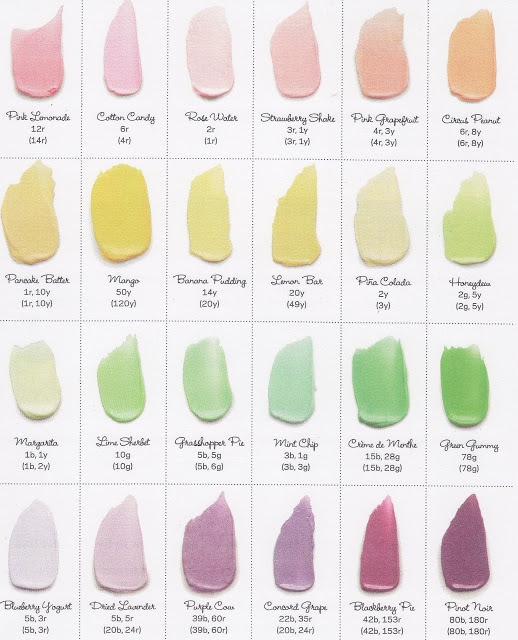 This is what I used to make my colors for the candy corn cakes – just red and yellow.


I used the colors Carrot Cake, Apricot Jam and Lemon Bar. Don't let the number of drops scare you – there are 100 drops in a teaspoon so it is really not that much food coloring.


I left one bowl white and made my three other colors.


I then put the batter into my greased and floured cake pan that I lined the bottom with wax paper.


Since the pans were half full I baked the cake for half the time listed on the box and then allowed it to cool on a rack.


After they were cooled I used a biscuit cutter to cut the round shapes. Try to get your cake layers as even as possible. You may need to shave them a bit with a serrated knife to get the layers even. If they are not even you will have a hard time stacking the cakes and getting them to stand upright. Mine are not as even as they should be and I had a few cakes topple over.


I mixed up a batch of my favorite buttercream frosting.

I then layered each little cake with some buttercream frosting and stacked them up.

Top your little candy corn cakes with some more buttercream and sprinkles if you'd like.


How cute is that! Won't they be perfect for your Halloween party!?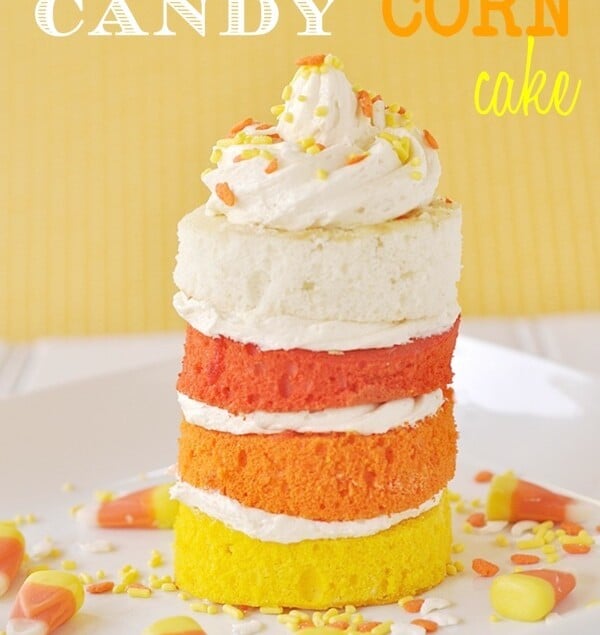 Candy Corn Cakes and Cake Tutorial
Ingredients
1 white cake mix and ingredients listed on back
yellow and red food coloring
Buttercream
1 1/2 sticks butter softened
1 lbs. powdered sugar
1 tsp pure vanilla extract
whipping cream or 1/2 and 1/2 – enough to thin frosting to desired consistency
Instructions
Mix together cake mix according to directions on back of box.

Divide batter into four bowls. Set one aside to remain white.

Using food coloring chart make three different colors.

Put batter into four greased, floured and lined with wax paper cake pans

Bake for half the time listed on the back of box.

Remove and cool on rack.

Using a biscuit cutter or bottom of glass cut out circles. If cake layers are not even use a serrated knife to make them even.
Buttercream
Beat butter in mixer on medium high for 2-3 minutes or until pale and creamy. Reduce speed to medium and add sugar, 1/2 cup at a time. Beat well after each addition increasing speed to high after all sugar is added.

Add vanilla and food coloring if desired.

Beat until buttercream is smooth.

Layer Buttercream between layers of cake. Top with more buttercream
Shared at:
The 36th Avenue * Or so She Says * Tidy Mom*Thirty Handmade Days *House of Hepworth*Be Different Act Normal