These angel sugar cookies are light and delicious. There is no rolling out or cutting required with these sugar cookies which makes them the easiest and most delicious cookies ever!.  Enjoy them frosted or "naked."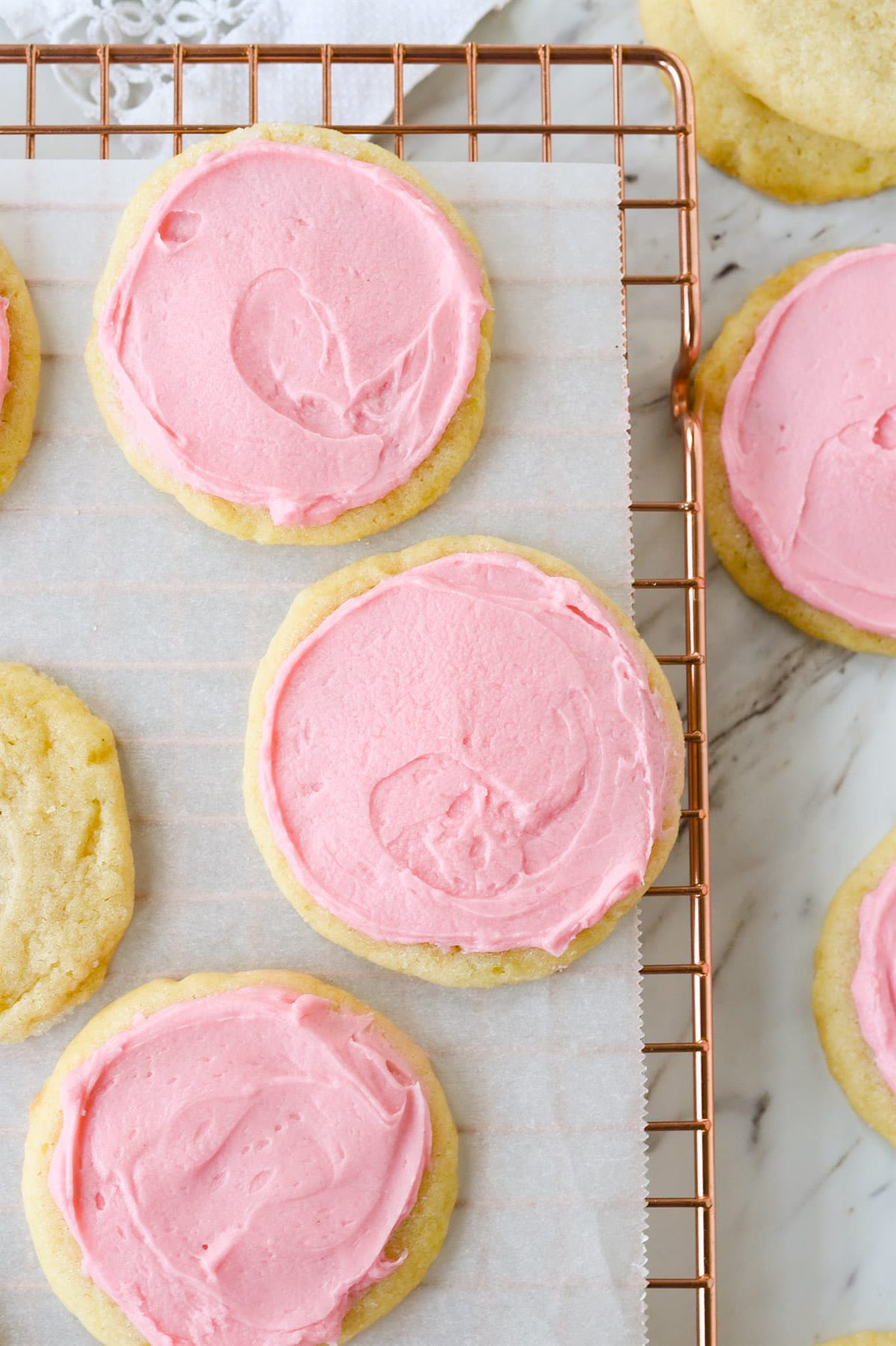 Why You'll Love This Recipe
Next to a warm chocolate chip cookie, sugar cookies are my favorite. I have quite a few sugar cookie recipes on the blog including this sugar cookie which is practically perfect.  But there is room in this world for more than one sugar cookie recipe, and this angel sugar cookie recipe should be one of them. 
There is no rolling or cutting with this recipe so they are quick and easy to make.
The cookie is light, tender and crispy on the edges.
They have great flavor so they can be enjoyed without frosting if you like.
Although this dough does need to be refrigerated for an hour before baking, it is totally worth the wait.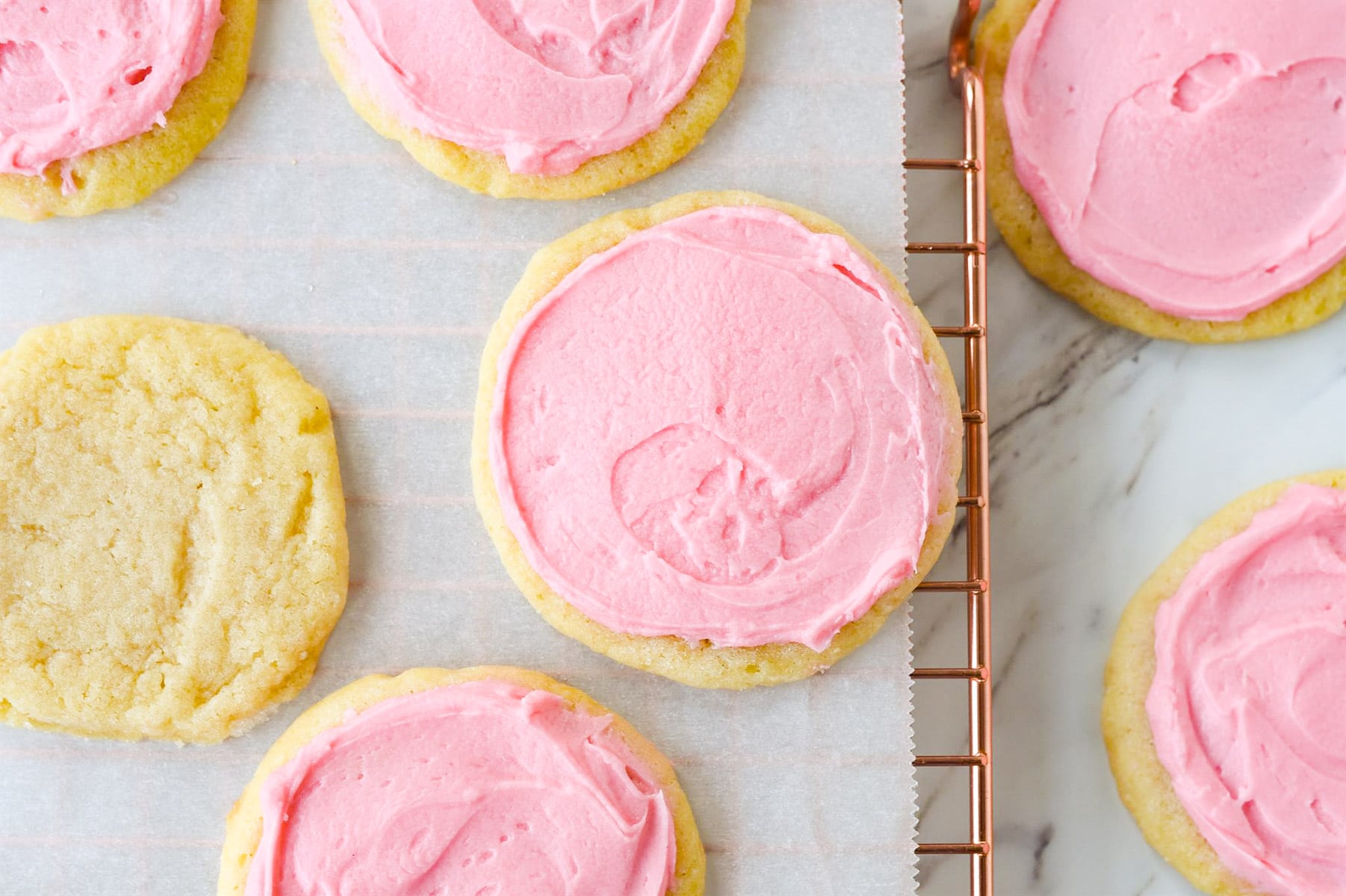 What is an Angel Sugar Cookie?
So what is different about this sugar cookie recipe you may ask??  This cookie is thin, tender and crisp around the edges.  I don't like the thicker, heavier sugar cookies you usually find in the grocery store.  These angel cookies are just the way I like them, tender, delicious and melt in your mouth good.
I like my sugar cookies with frosting and always use my favorite buttercream frosting recipe.
Ingredients Needed
Eggs. I always use large eggs.
Oil. Canola or vegetable oil. The oil makes the cookie nice and chewy in the middle.
Butter. I use salted but if using unsalted butter add a pinch more salt to dough.
Sugar. You will need granulated sugar and powdered sugar. The powdered sugar gives these cookies a light and delicate texture.
Vanilla Extract or could use almond
Flour. I prefer unbleached all purpose flour.
Salt
Baking soda
Cream of tartar
How to Make Angel Sugar Cookie recipe
Cream your butter, sugar, oil, vanilla and eggs using a stand mixer or an hand held electric mixer. 
Add in your dry ingredients and mix just until combined. 
Cover the dough with some plastic wrap and put in the refrigerator for an hour.
Scoop dough onto a parchment lined baking sheet.
Use the bottom of a glass, wet and dipped in sugar to gently push down on the dough.
Bake at 350 degrees F for 9-10 minutes or just until the edges start to turn golden brown. 
Cool on a wire rack before frosting.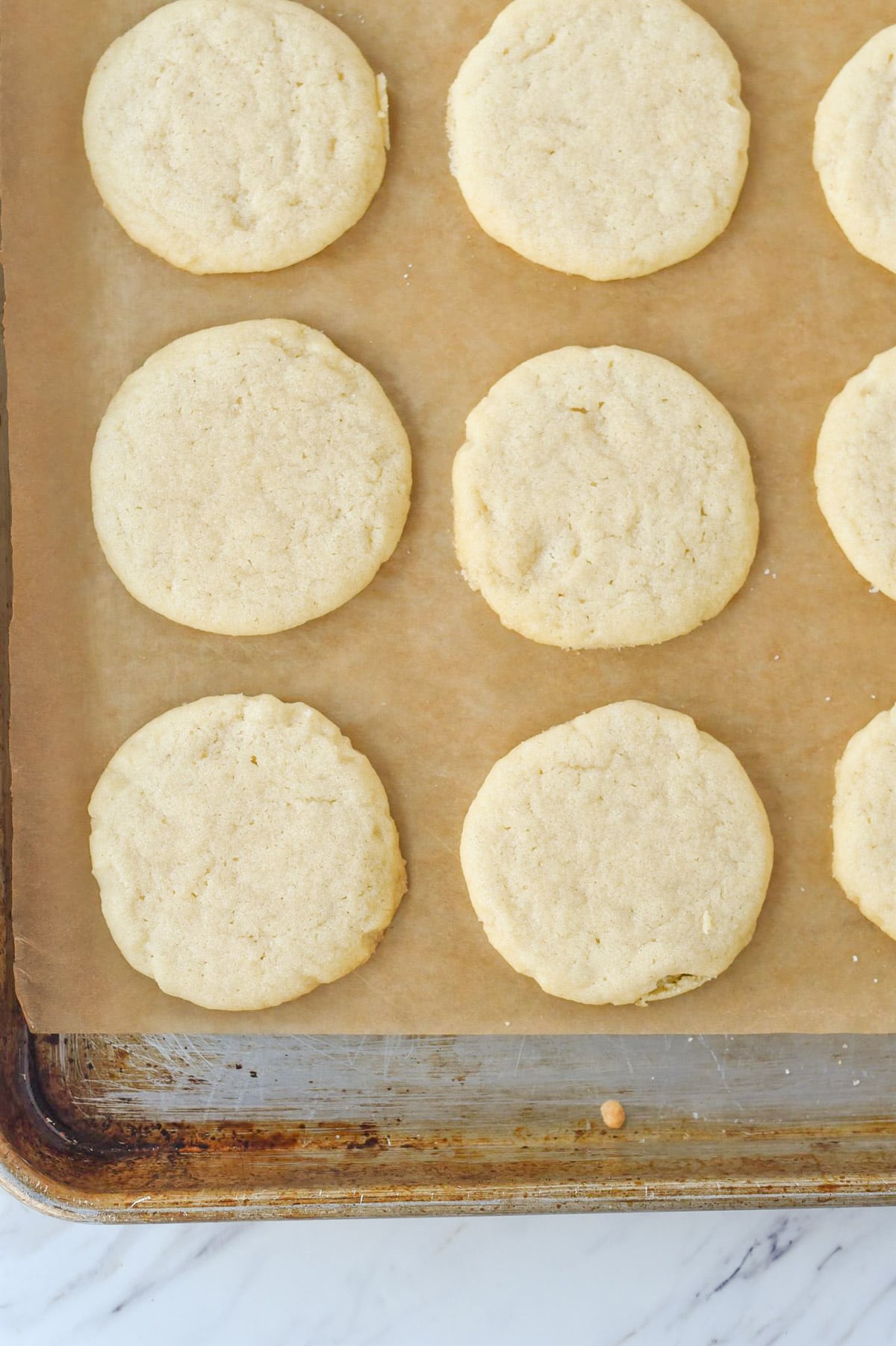 How to Decorate a Sugar Cookie?
Like I said before, these cookies are delicious without frosting but I am a frosting girl.  So a nice layer of buttercream frosting is my favorite way to enjoy a sugar cookie.  I often add almond extract to my frosting and you can use food coloring to make them whatever color you like!
Because these angel sugar cookies are so light and crisp you need to be careful when frosting them.  Lay them flat on the counter  and press gently (do not hold them in your hand) when you frost them so they don't crumble under the pressure! 
Because they crumble easily they will not travel well so you will just have to eat them all at home!!
Add a few sprinkles to dress them up if you like!
Tips from Leigh Anne
Do not over mix the dough if you want a tender sugar cookie.
Use a cookie scoop to form even size balls of dough and place on a baking sheet. 
Serve plain or frosted.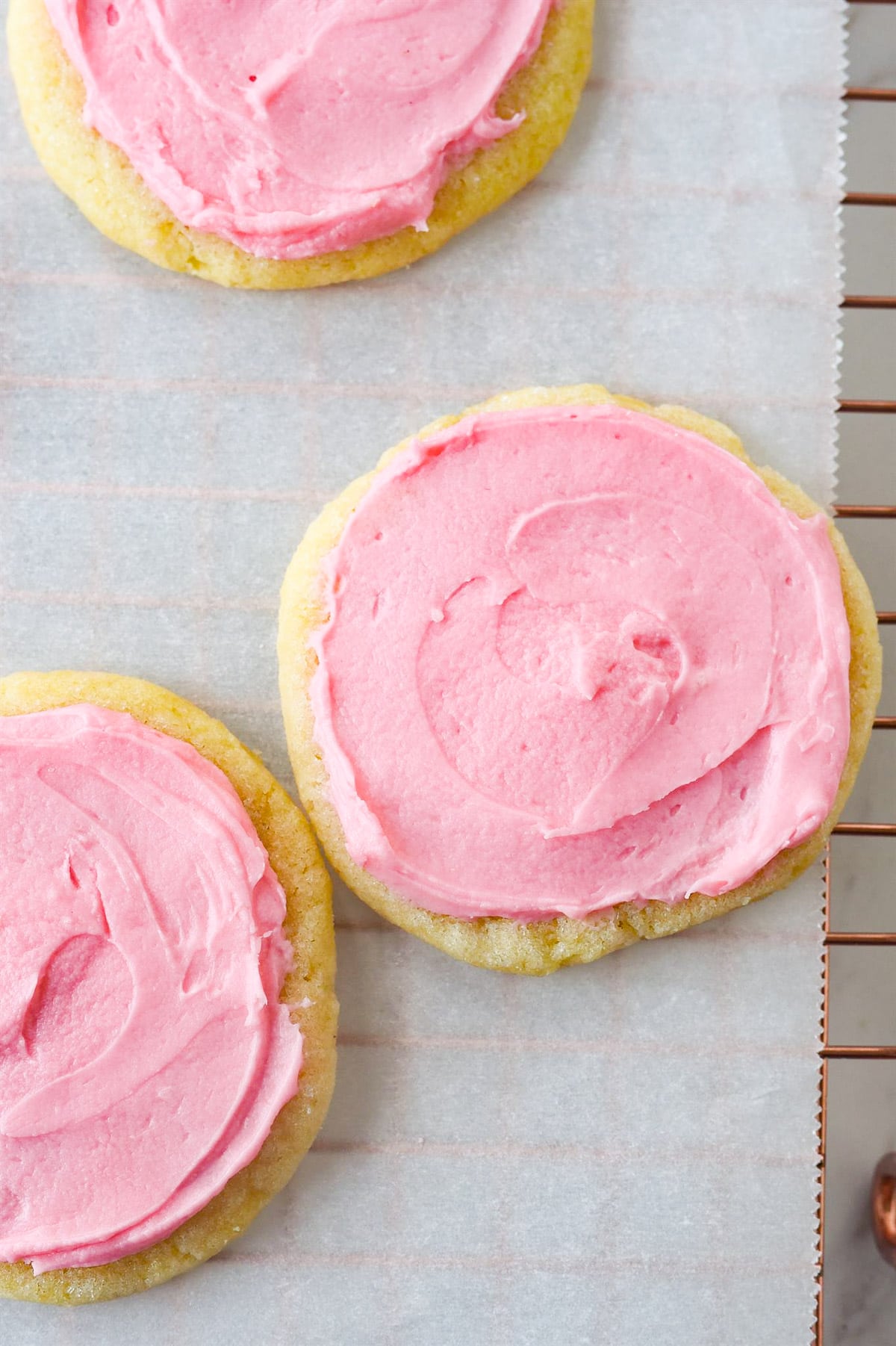 Frequently Asked Questions
Can angel sugar cookies be frozen?
Yes, they can.  Be sure and read all my tips for How to Freeze Cookies here. I prefer to freeze them unfrosted and then frost them after I thaw them
How long will they last?
When stored in an airtight container at room temperature they will last 3-4 days.
Be sure and check out some of my other favorite dessert recipes:
Be sure and follow me over on You Tube for weekly cooking demos.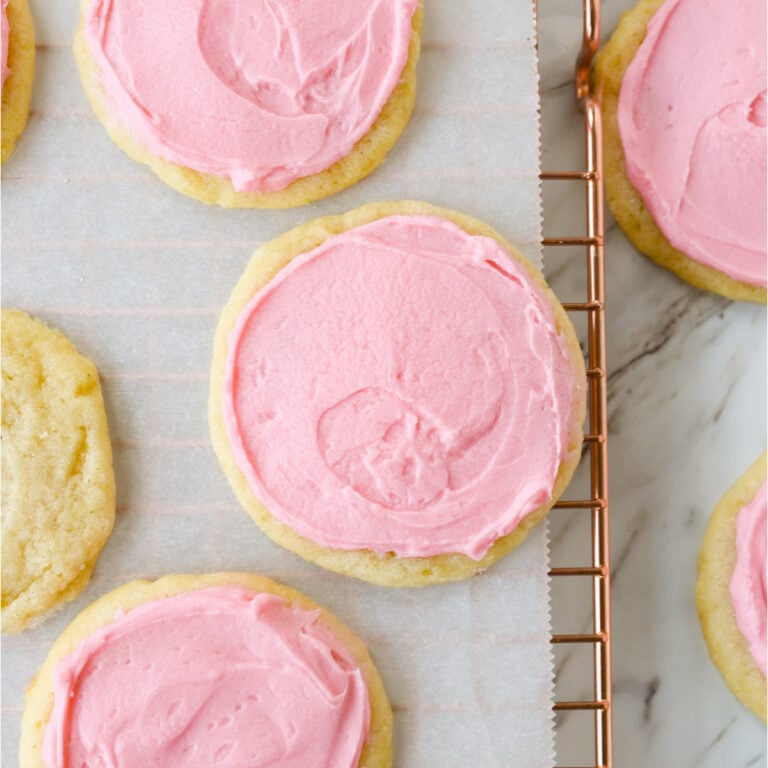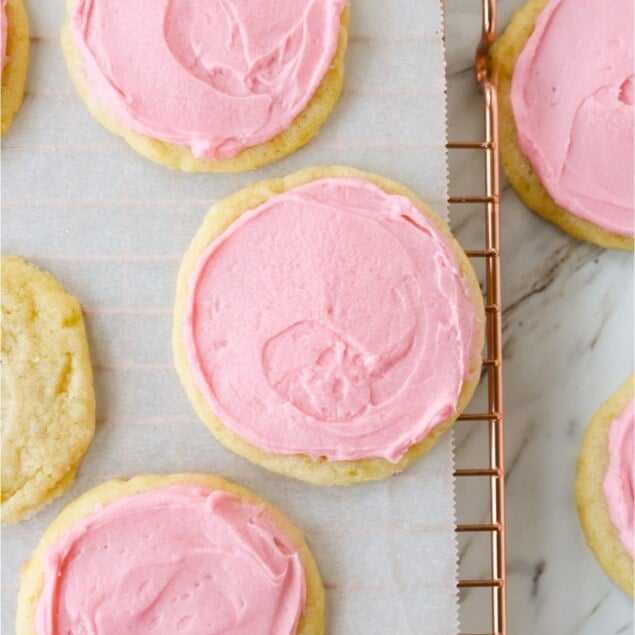 Angel Sugar Cookies
These angel sugar cookies are light and delicious. There is no rolling out or cutting required with these sugar cookies which makes them the easiest and most delicious cookies ever!. 


Ingredients
2 large eggs
1 cup canola oil
1 cup. butter softened
1 cup sugar
1 cup powdered sugar
1 tsp pure vanilla extract or could use almond
4 cups all purpose flour plus 2 Tbsp
1 tsp salt
1 tsp baking soda
1 tsp cream of tartar
Instructions
Preheat oven to 350 degrees F.

To make the dough, use a large mixing bowl and cream together the eggs, oil, butter, sugars and vanilla

Add the rest of ingredients and mix until combined. Don't overmix.

Refrigerate the dough for 1 hour

Using a cookie scoop or spoon drop the balls of dough onto an ungreased cookie sheet

Wet the bottom of a glass, then dip it in the granulated sugar

Use the glass to flatten the balls of dough, dipping again into the sugar each time

Bake for 9-11 minutes or until the cookies are just barely turning brown around the edges

Do not overcook and let cool before eating and/or frosting
Tips & Notes:
Do not over mix the dough if you want a tender sugar cookie.
Serve plain or frosted.
Use a cookie scoop to form even size balls of dough and place on a baking sheet.
Nutrition Facts:
Calories: 142kcal (7%) Carbohydrates: 20g (7%) Protein: 2g (4%) Fat: 6g (9%) Saturated Fat: 4g (25%) Cholesterol: 23mg (8%) Sodium: 146mg (6%) Potassium: 34mg (1%) Fiber: 1g (4%) Sugar: 9g (10%) Vitamin A: 177IU (4%) Calcium: 5mg (1%) Iron: 1mg (6%)
* Disclaimer: All nutrition information are estimates only. Read full disclosure here.
Originally shared February 12,2010