Angel Biscuits are the perfect combination of a flaky biscuit and a delicious yeast roll.  The dough can be refrigerated and the biscuits baked later.
Who doesn't love a delicious biscuit!?  They are the perfect addition to breakfast lunch or dinner.  These Sour Cream Biscuits are some of the best biscuits I've ever made.  The addition of herbs to these Flaky Herb Biscuits give them amazing flavor and you won't believe what brown butter does for these Browned Butter Biscuits!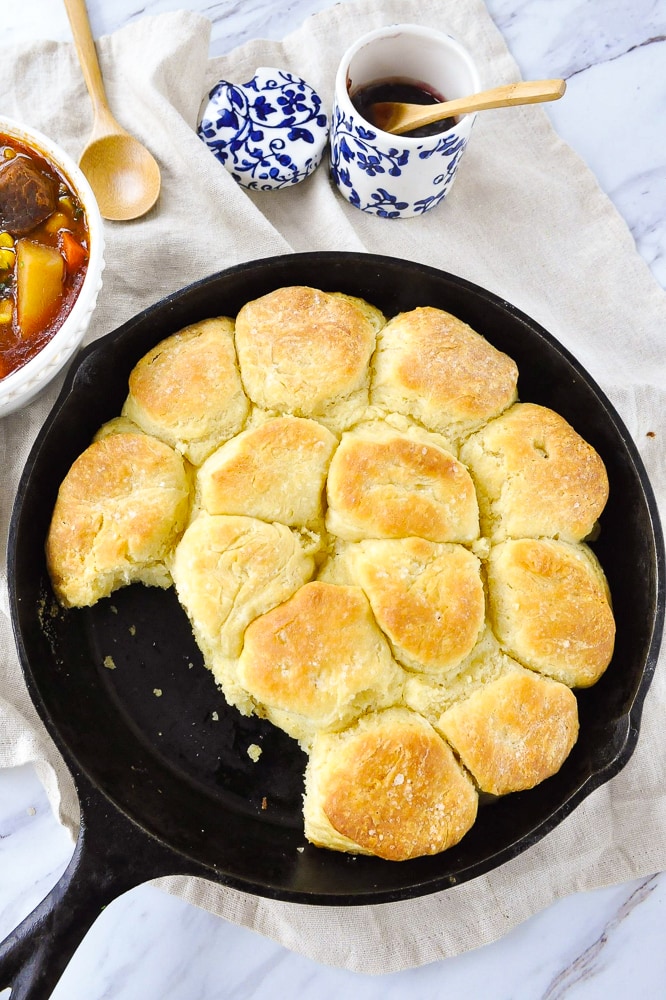 I love a good yeast roll and I also love a good biscuit. Today's recipe is the perfect combination of the two. It has the ease and quickness of a biscuit but it has more of the yeasty, lightness of a yeast roll. My sister in law, Teresa, gave me this recipe years ago and after a few tweaks I have made it my own.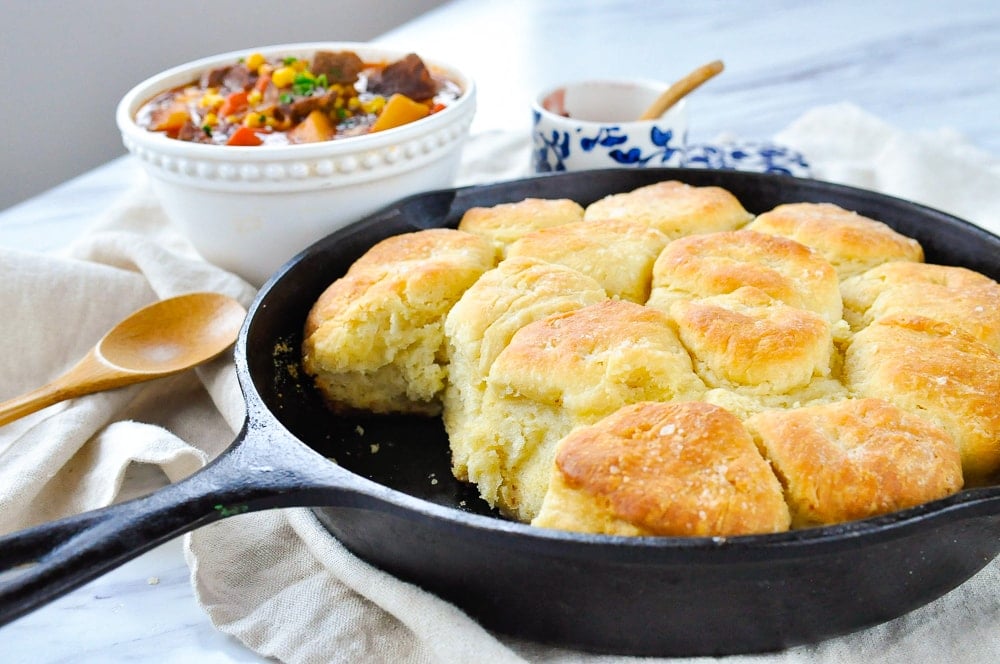 How to Make Angel Rolls
Start by adding your yeast to warm water and sugar and allow it to sit for 5 minutes.  The yeast mixture should get nice and puffy.
Put dry ingredients in a bowl and use a pastry blender or a fork to blend shortening into dry ingredients.  It will form a small crumb.
Pour yeast mixture into crumb mixture.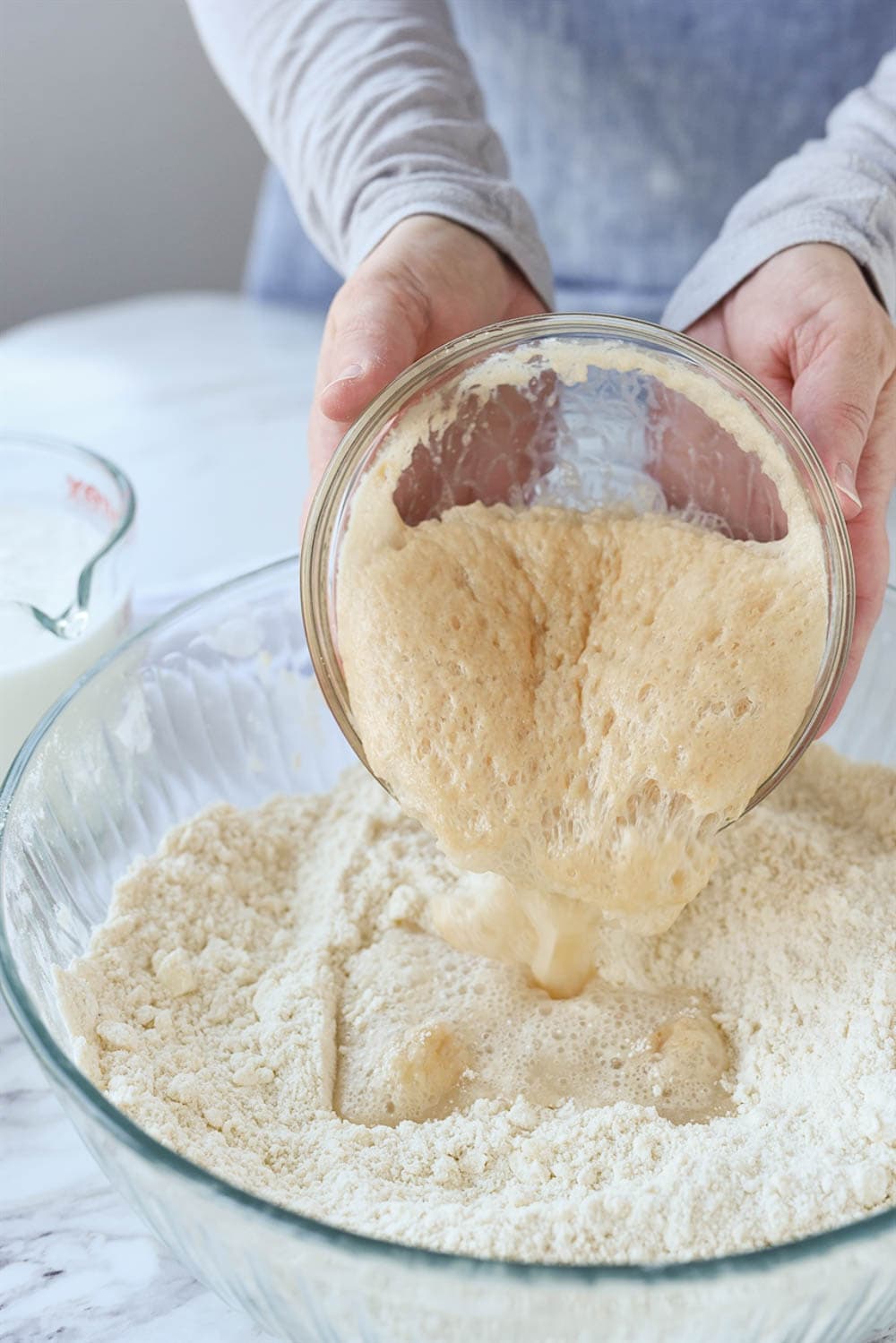 Stir until mixture is well combined and there is no dry ingredients. This is a fairly wet dough.  At this point you can refrigerate the dough in an airtight container and just pull out the amount of dough you want.
The mixture can keep in the refrigerator for 5-6 days.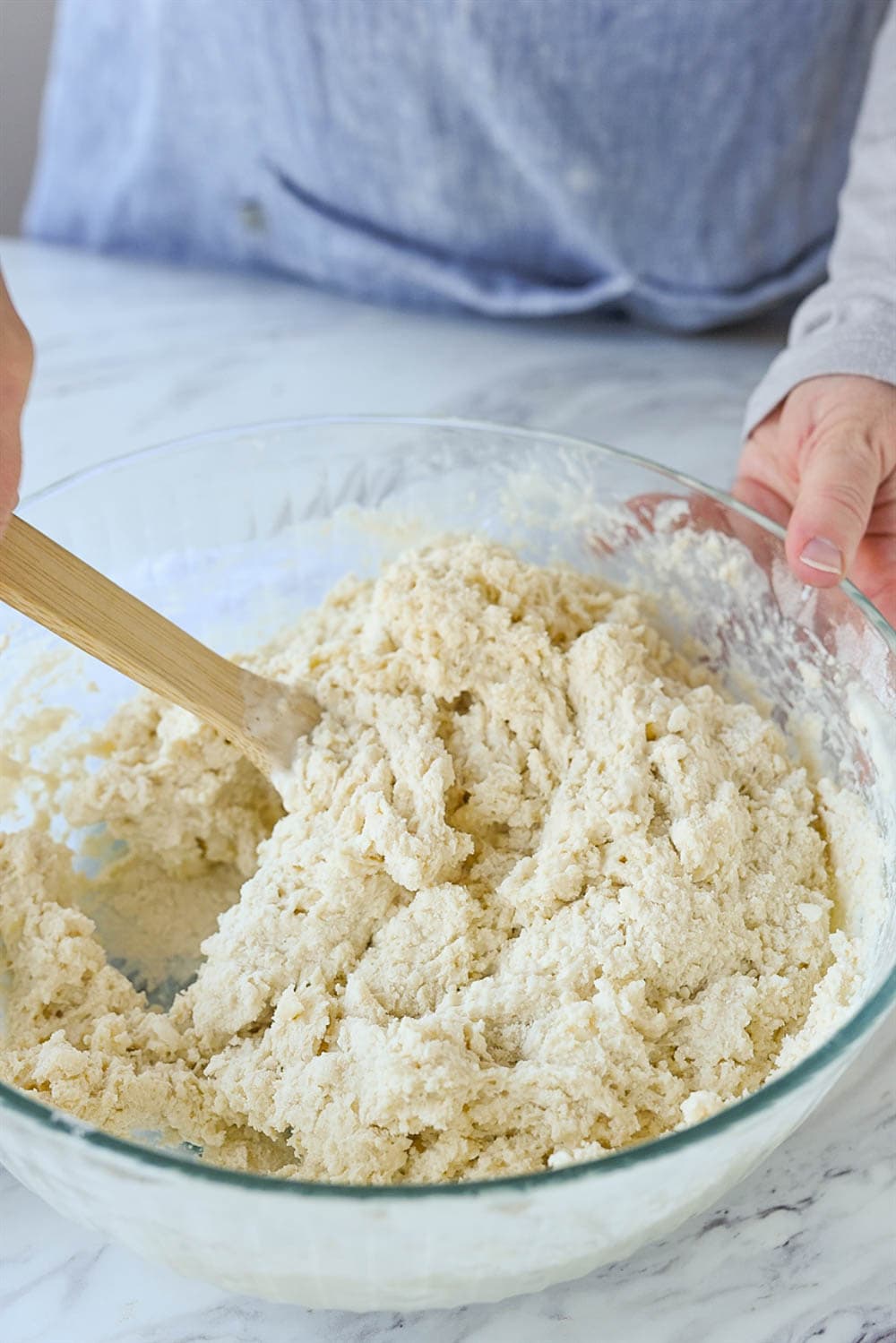 Drop Biscuits Vs. Rolled Biscuits
If you are ready to enjoy some fresh baked angel biscuits you can form your biscuit two different ways:
Make a drop biscuit by dropping scoops of dough onto a parchment lined baking sheet or a greased muffin tin.
Make a cut biscuit by rolling out dough and using a biscuit cutter to cut into circles.
Add 1/4 cup of melted butter to a cast iron pan and place cut biscuits into pan.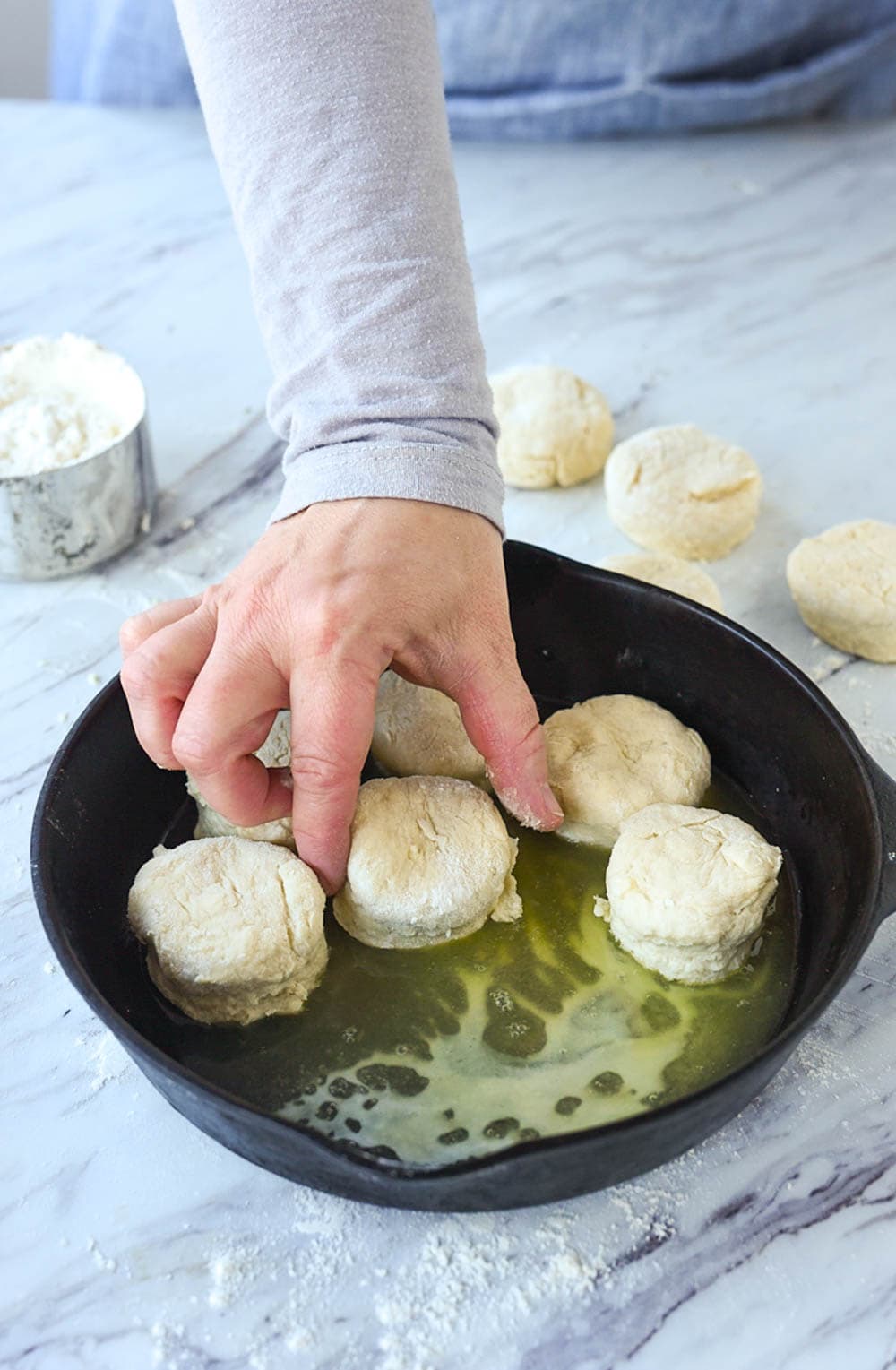 Allow the biscuits to rise for 30 minutes before baking.
Bake at 350 degrees F for 20 minutes or until golden brown.
Brush biscuits with 1/4 cup melted butter before serving.

No matter what shape you make them, they taste heavenly (just like an angel)  As I mentioned above, the other great thing about this dough is that you can refrigerate it for 5-7 days and just pull out the amount you need each night for dinner.  Fresh, warm biscuits in minutes.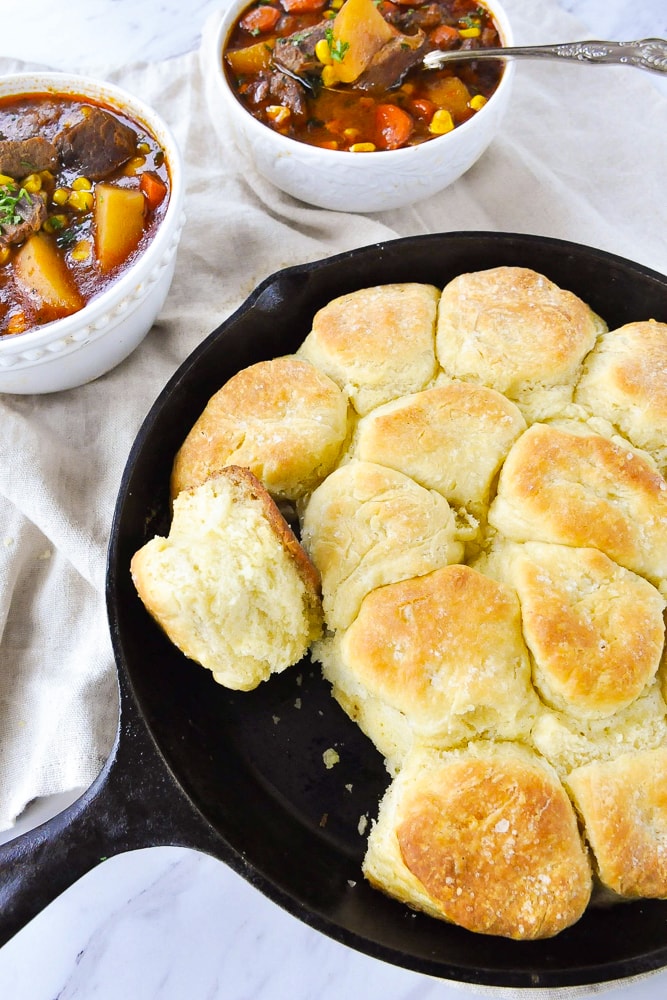 Angel Biscuits don't rise as much as a yeast roll, but they are not as heavy as a traditional biscuit either. And everyone will think they are a little bit of heaven!
Check out more of my easy bread recipes:
My favorite kitchen tools for making ANGEL BISCUITS:
REDMOND REAL SALT – this is my favorite, daily use salt.  It's unrefined, unprocessed, just the way nature made it!
CAST IRON SKILLET – I have an assortment of sizes but the 10 inch is my most used cast iron pan.
For all of my other favorite kitchen products and tools visit my Amazon Store.
 Angel Biscuits Recipe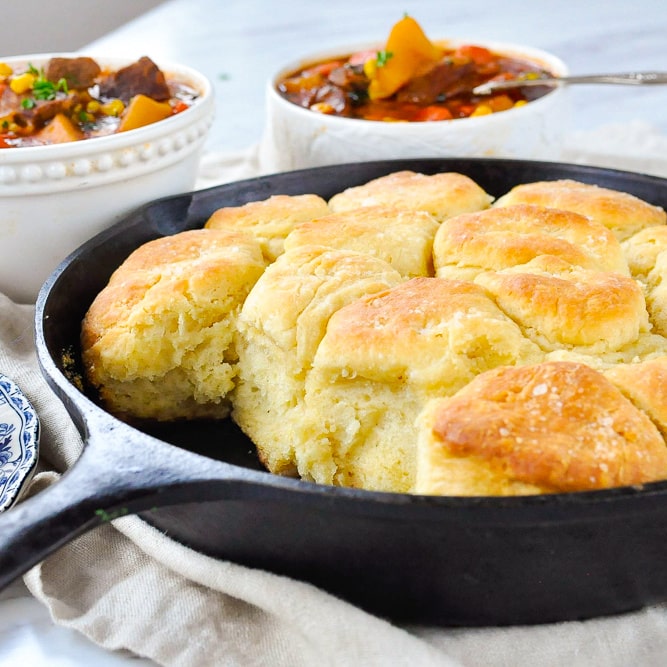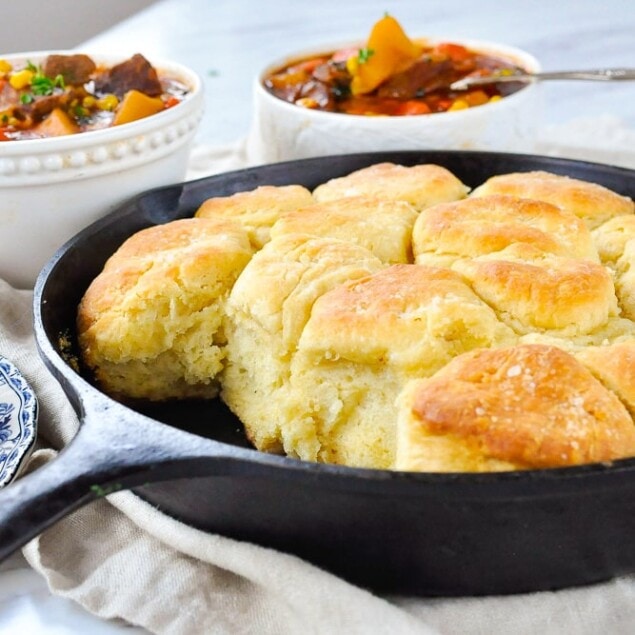 Angel Biscuits
Angel Biscuits are the perfect combination of a flaky biscuit and a delicious yeast roll.  The dough can be refrigerated and the biscuits baked later.
Ingredients
1 package 1 1/4 oz. dry active yeast
1/2 C warm water with 2 Tbsp sugar
5 C flour
1 Tbsp baking powder
1 tsp baking soda
1 tsp salt
2 cups buttermilk can also use regular milk
1/2 cup butter cold
1/2 cup shortening
1/2 cup butter melted and divided (only 1/4 cup if not using a cast iron pan.
Instructions
Add yeast to warm water and sugar and allow to sit for 5 minutes.

Mix together dry ingredients. Cut in cold butter and shortening until crumbly.

Add yeast mixture and milk to crumb mixture. Stir until well moistened.

At this point you may just cover the bowl and refrigerate until ready to use or roll the dough out and cut with a biscuit cutter. Dough should be about 1/2 inch thick.

If using a biscuit cutter, flour the cutter so that it cuts easier. Do not "twist" the cutter when it is in the dough, that will seal off the edges of the biscuit and prevent it from rising.

Place on a greased baking sheet and cover and allow to rise for about 30 minutes.

Another option is to grease a muffin tip and spoon dough into muffin tins (about 3/4 full).

Brush tops of biscuits with the 1/4 cup of melted butter after baking.

I also like to cook them in a cast iron pan. If using a cast iron pan place 1/4 cup of melted butter in bottom of pan before adding biscuits. Brush the tops of the biscuits after they are baked and still warm with the remaining melted butter.

Bake at 350 for about 20 minutes or until golden brown.

Makes approx. 32 biscuits
Nutrition Facts:
Calories: 141kcal (7%) Carbohydrates: 16g (5%) Protein: 3g (6%) Fat: 7g (11%) Saturated Fat: 2g (13%) Cholesterol: 2mg (1%) Sodium: 120mg (5%) Potassium: 81mg (2%) Fiber: 1g (4%) Sugar: 1g (1%) Vitamin A: 25IU (1%) Calcium: 36mg (4%) Iron: 1mg (6%)
* Disclaimer: All nutrition information are estimates only. Read full disclosure here.
Originally posted April 1, 2011
If you've tried this recipe or any other recipe on Your Homebased Mom, then don't forget to rate the recipe and let me know how it went in the comments below, I love hearing from you!
You can also FOLLOW ME on FACEBOOK, INSTAGRAM and PINTEREST to see more delicious food, party ideas and travel tips and what I'm up to on a daily basis!