The Munchies Ice Cream is full of all of your favorite things to munch on – potato chips, Ritz crackers, pretzels and M & M's.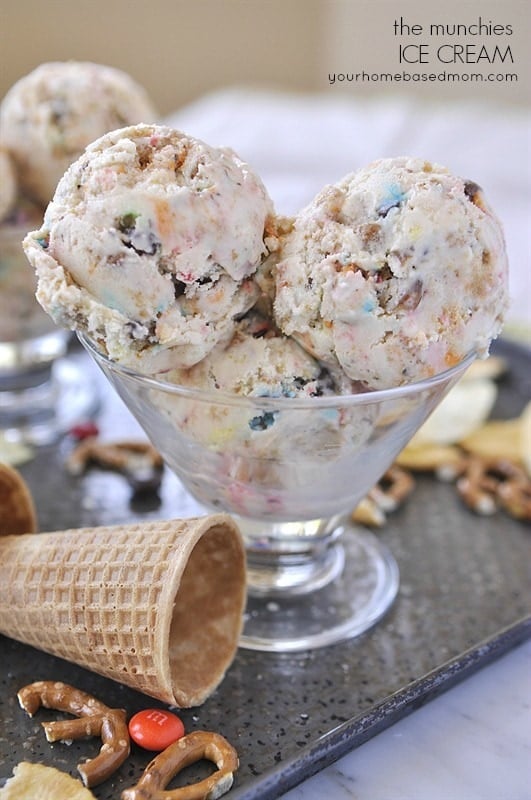 This Munchies Ice Cream is the perfect combination of sweet and salty. A perfect balance.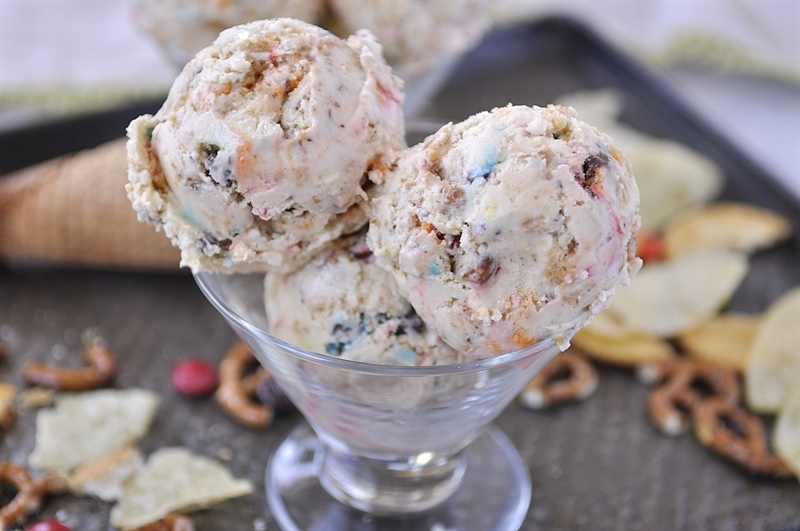 On my trip to New York we had to make a visit to Ample Hills Ice Cream. It has been voted the number ice cream in New York State after all! I couldn't pass up a chance to check it out. They have such fun and creative flavor combinations. We had a hard time choosing which ones to get so we got three different flavors and shared. We tried a Ooey Gooey Butter Cake Ice Cream, a Cinnamon Cookie Ice Cream and The Munchies. Tessa and I both voted that the Munchies was our favorite flavor. Once I got home and I had a case of the munchies I decided I needed to figure out how to make my own version of Munchies Ice Cream.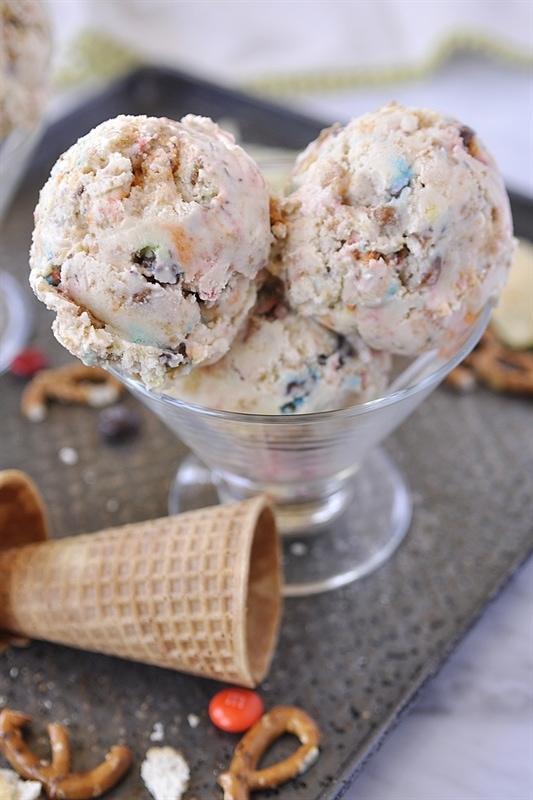 Fortunately for me, the owner of Ample Hills has shared his recipe for Munchies Ice Cream online so I got to work. The recipe calls for eggs so it is a cooked custard, it makes for a little more work but it also makes for a creamier ice cream. The milk mixture is infused with pretzels. The pretzels are strained out of the milk mixture and you are left with a yummy pretzel flavored milk base for your ice cream.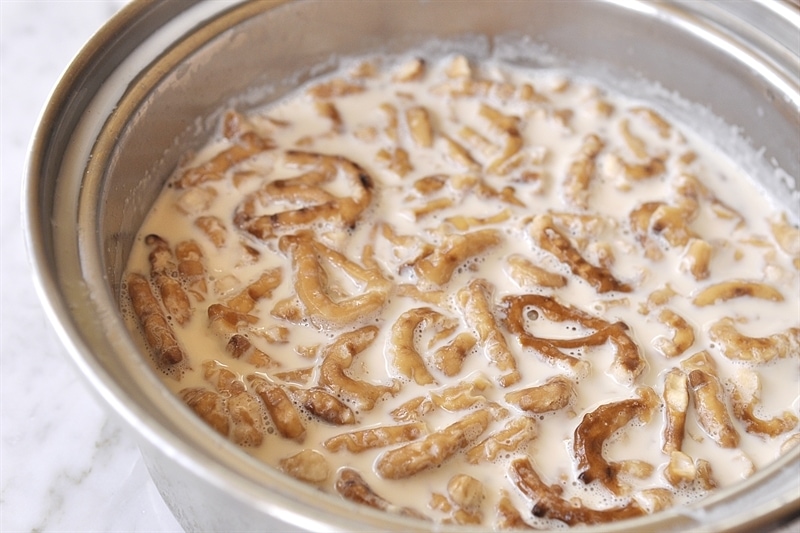 The best part of the ice cream is the yummy munchie mixture you make. Crushed up Ritz crackers, pretzels and potato chips that are combined with some sugar and butter. Leave it in clumps and then the mixture is put on a large cookie sheet and then baked in the oven until it is golden brown.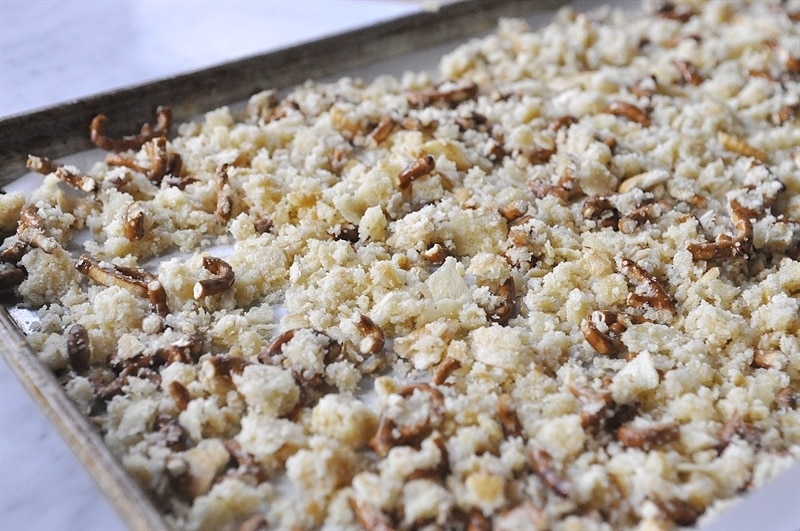 After your ice cream has churned in my favorite ice cream maker, you fold in the baked munchie mixture and some chopped M & M's. You won't use all the munchie mixture. I put in about 1 1/2 C of the mixture and have enjoyed munching away on the leftover mixture. You can also sprinkle it on top of your ice cream if you want more texture and crunch in your ice cream.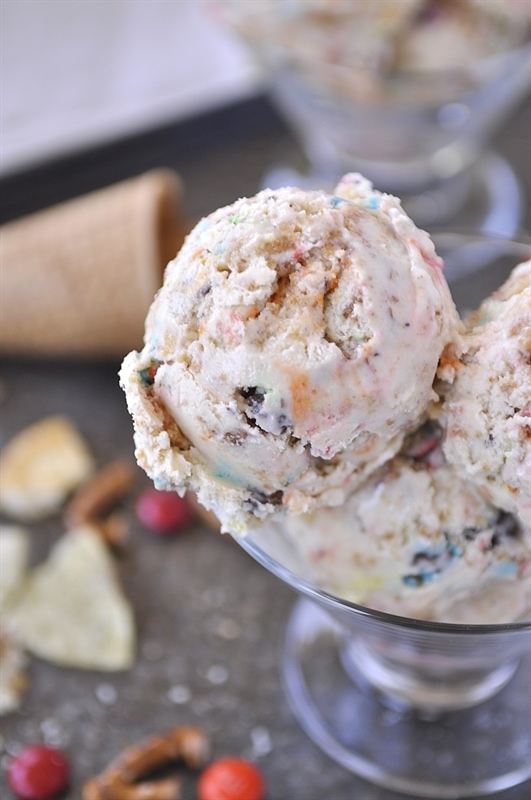 I think this Munchie Ice Cream may be my new favorite ice cream flavor.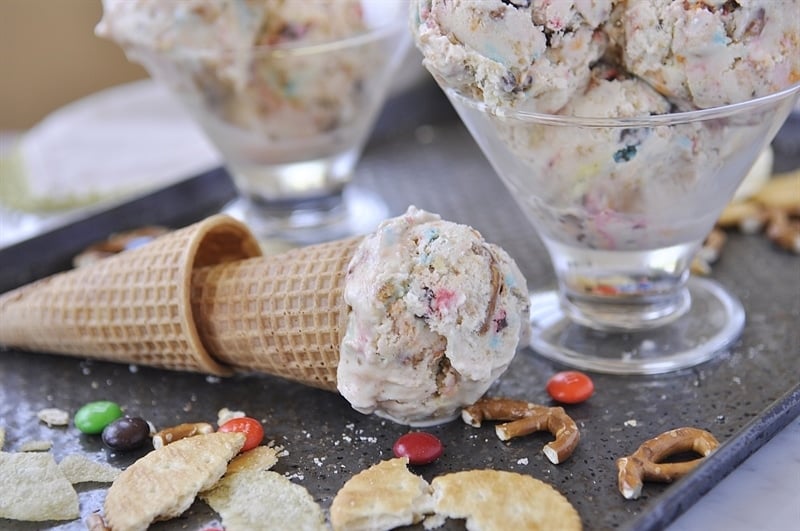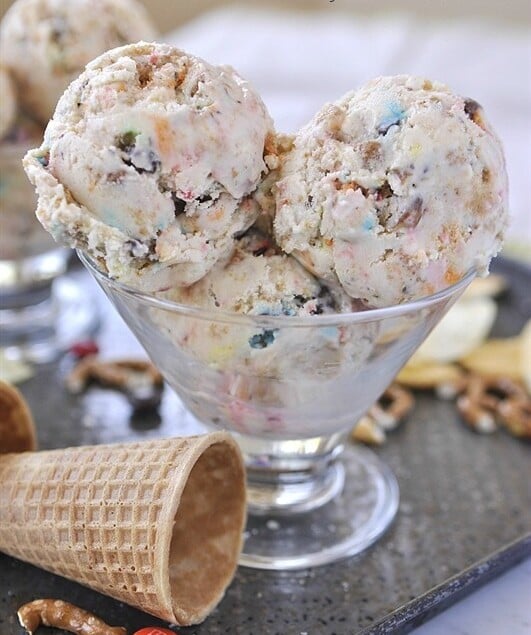 The Munchies Ice Cream
Pretzel ice cream loaded with your favorite snacks.
Ingredients
For the Pretzel Ice Cream:
3 cups whole milk
1½ cups mini salted pretzels
¾ cup organic cane sugar
½ cup skim milk powder
1? cups heavy cream
2 egg yolks
For the Munchies Mix-In:
1 cup Ritz crackers
1 cup salted mini pretzels
1 cup salted potato chips
½ cup skim milk powder
1 cup organic cane sugar
½ cup unsalted butter melted
8 ounces M&Ms chopped
Instructions
Make the pretzel ice cream: Prepare an ice bath in the sink or in a large heatproof bowl.

In a large saucepan, heat the milk over medium-high heat until it starts to steam, about 5-10 minutes. Remove the pan from the heat and stir in the pretzels. Cover the pan and let the pretzels steep for 20 minutes.

Pour the mixture through a wire-mesh strainer into a bowl, pressing down on the pretzels to extract as much milk as possible. Don't worry if some of the pretzel "pulp" pushes through into the ice cream. That's totally OK. Return the pretzel-infused milk to the saucepan.

Add the sugar and skim milk powder. Stir with a hand mixer or whisk until smooth. Make sure the skim milk powder is wholly dissolved into the mixture and that no lumps remain (any remaining sugar granules will dissolve over the heat). Stir in the cream.

Clip a candy thermometer to the saucepan and set the pan over medium heat. Cook, stirring often with a rubber spatula and scraping the bottom of the pan to prevent sticking and burning, until the mixture reaches 110ºF, 5 to 10 minutes. Remove the pan from the heat.

Place the egg yolks in a medium bowl. While whisking, slowly pour ½ cup of the hot milk mixture into the egg yolks to temper them. Continue to whisk slowly until the mixture is an even color and consistency, then whisk the egg-yolk mixture back into the remaining milk mixture.

Return the pan to the stovetop over medium heat and continue cooking the mixture, stirring often, until it reaches 165ºF, 5 to 10 minutes more.

Transfer the pan to the prepared ice bath and let cool for 15 to 20 minutes, stirring occasionally. Pour the ice cream base through a wire-mesh strainer into a storage container and place in the refrigerator for 1 to 2 hours, or until completely cool.
Munchies Mixture:
Make the munchies mix-in: Preheat the oven to 275ºF. Butter a 12-by-18-inch baking sheet and line it with parchment paper.

In a large bowl, using your hands, break up the crackers, pretzels, and potato chips into pieces about a quarter of their original size. The goal here isn't to pulverize them into dust (though a little dust is OK, as it will help bind everything together later on). Add the skim milk powder and sugar and toss to combine. Pour the butter over the mixture and work it together with your hands, squeezing it into clumps and breaking it apart, almost like kneading dough.

Spread the mixture evenly over the prepared baking sheet and bake for 20 minutes, until the mixture just begins to toast and turn brown. Set aside to cool completely.

Transfer the cooled base to an ice cream maker and churn it according to the manufacturer's instructions.

Transfer the ice cream to a storage container, folding in the munchies mix-in and M&M's as you do. Use as much of the mix-in as you want; you won't necessarily need the whole batch. Serve immediately or harden in your freezer for 8 to 12 hours for a more scoopable ice cream.
Tips & Notes:
This recipe makes 1.5 quarts of ice cream.
Nutrition Facts:
Calories: 556kcal (28%) Carbohydrates: 71g (24%) Protein: 10g (20%) Fat: 26g (40%) Saturated Fat: 14g (88%) Polyunsaturated Fat: 3g Monounsaturated Fat: 7g Trans Fat: 1g Cholesterol: 91mg (30%) Sodium: 396mg (17%) Potassium: 438mg (13%) Fiber: 1g (4%) Sugar: 50g (56%) Vitamin A: 945IU (19%) Vitamin C: 2mg (2%) Calcium: 257mg (26%) Iron: 2mg (11%)
* Disclaimer: All nutrition information are estimates only. Read full disclosure here.