A delicious blueberry buttermilk coffee cake topped with a heavenly glaze made with browned butter. Perfect for any time.
For other yummy coffee cakes try these Raspberry Cream Cheese Coffee Cake, Cinnamon Coffee Cake and Almond Torte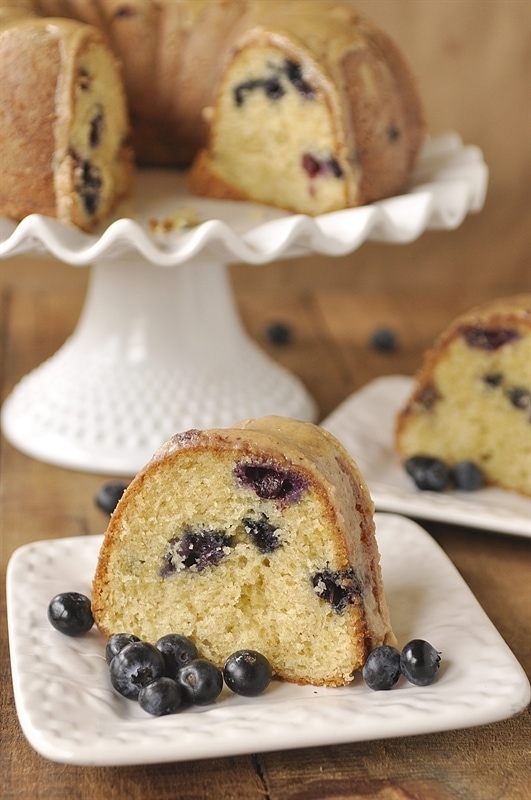 One of the many things I love about where I live, Portland, Oregon is all the amazing Farmer's Markets we have.   There is a small market that I frequent often.  Every time I go I check out the recipe table.  They have piles and piles of yummy recipes that use all the amazing fresh produce they sell at the market.  Today's recipe for Blueberry Coffee Cake with Brown Butter Glaze is one of them.  It is the brown butter glaze that really caught my attention.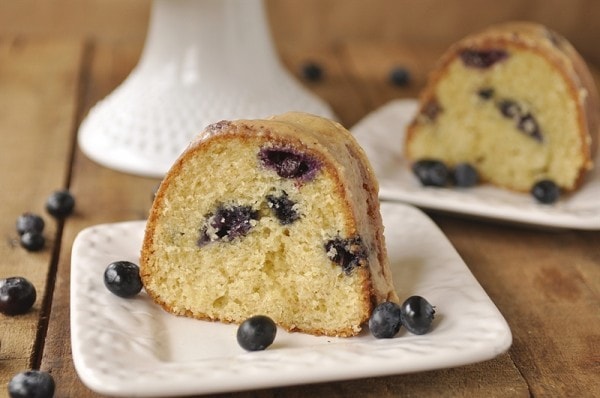 I loved the texture of this coffee cake, so nice and moist thanks to some buttermilk.  The flavor is also lovely with a hint of nutmeg and blueberries.
How to Make Brown Butter
But the crowning glory of this coffee cake is the brown butter glaze.  It is glorious!  I am a huge fan of anything with browned butter in it.
This stuff is so good that next time I make this I am going to double the brown butter glaze!
Find a detailed tutorial on how to make brown butter here.
It is simple to make, just melt butter and let it cook until it turns golden brown.  
How to Make Blueberry Buttermilk Coffee Cake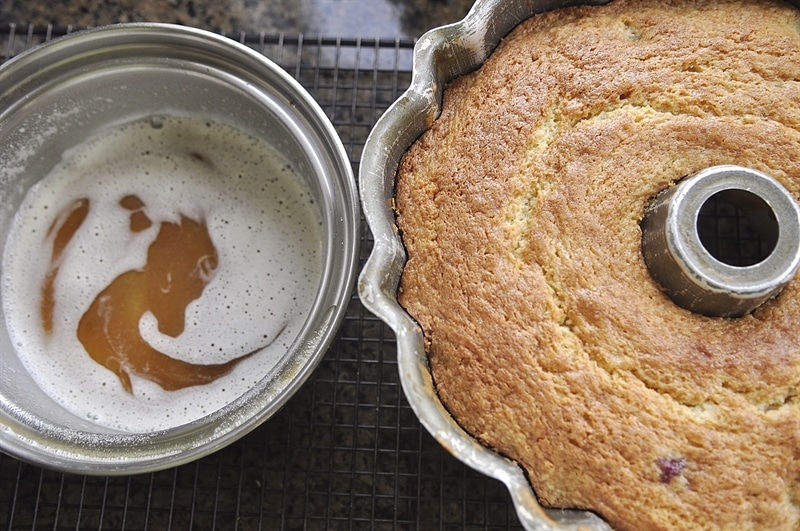 The other trick I use is I coat the blueberries in just a bit of flour before I stir them in.  This helps prevent them from all sinking to the bottom.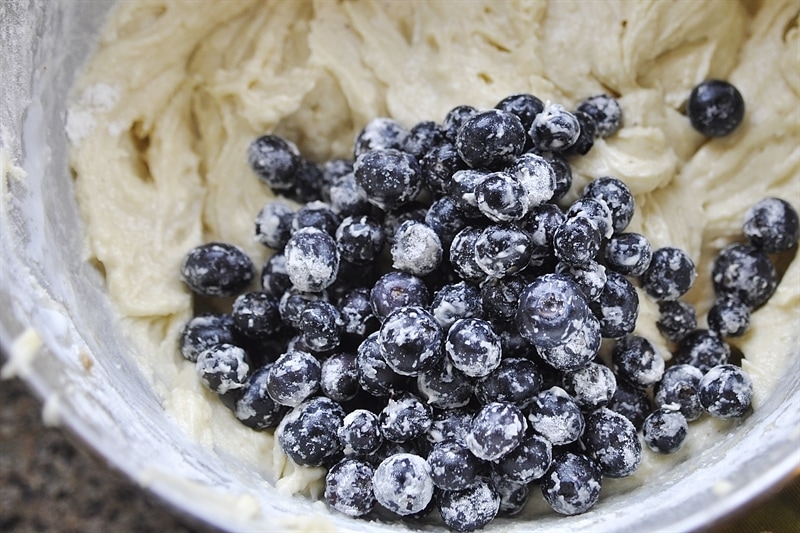 Be sure and grease your pan well.  I thought I did but I guess I didn't.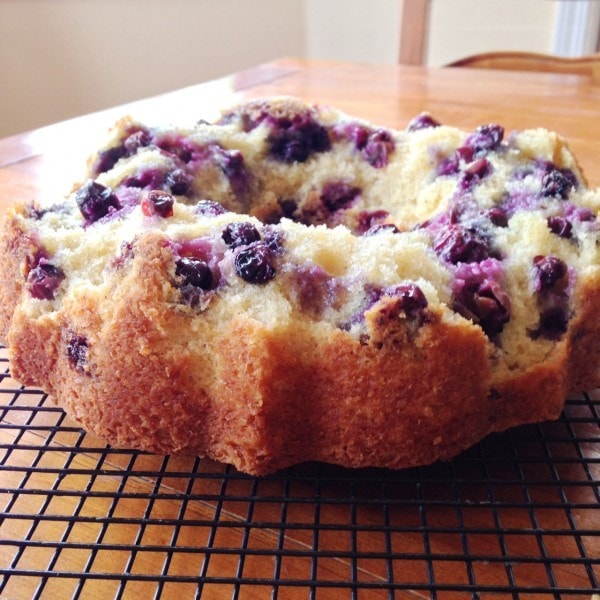 You may have seen this "oops" on Instagram on Easter Sunday.  Some of you had some great ideas on how to "fix it!"  It still tasted delicious and yes, we still ate it but I had to try it again so the next day I made another one and this time I greased and floured the pan and it came out perfectly!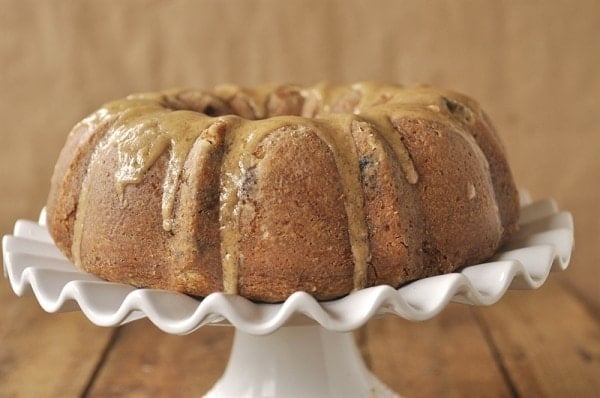 If you don't have a brunch or a shower planned you might just want to plan one so you have an excuse to make this lovely!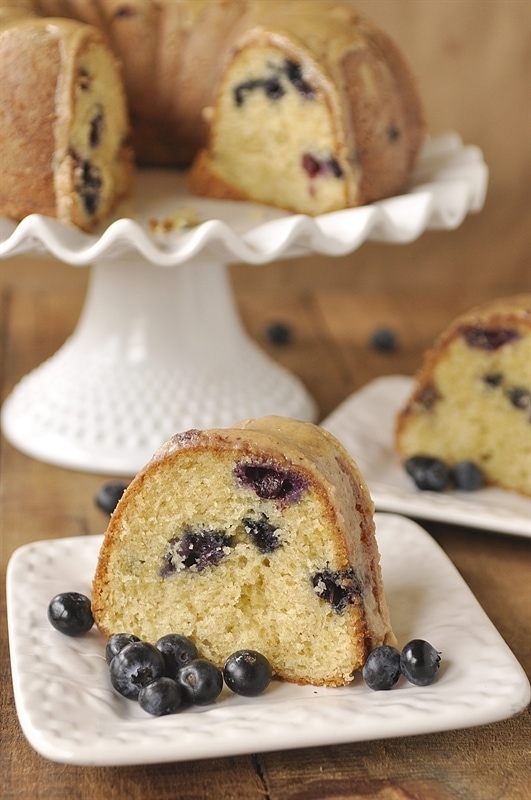 And, double the glaze.  You won't be sorry!
For all of my other favorite kitchen products and tools visit my Amazon Store. 
Did you know I wrote a cookbook?  Check out the Holiday Slow Cooker Cookbook for 100 delicious recipes.
Blueberry Buttermilk Coffee Cake Recipe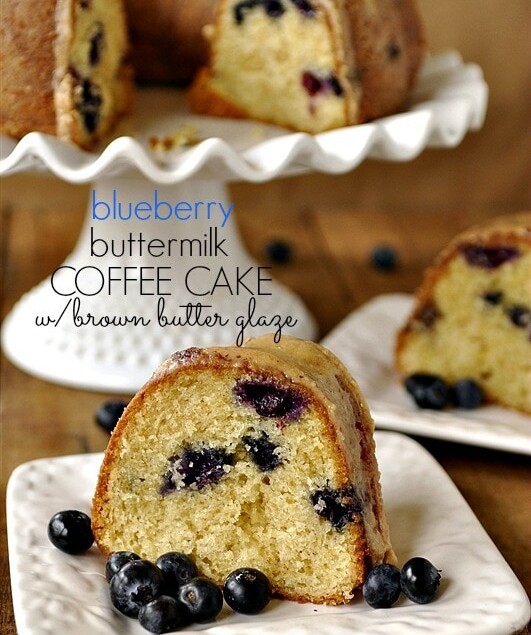 Blueberry Buttermilk Coffee Cake
Ingredients
1 cup butter room temperature
2 cups sugar
3 eggs
2 tsp vanilla
1 cup sour cream
2 1/2 cups flour
2 tsp baking powder
1/2 tsp baking soda
1/2 tsp salt
1/2 tsp nutmeg
1/4 cup buttermilk
1 cup blueberries
Glaze
4 Tbsp butter
1/2 cup powdered sugar
1 tsp vanilla
2 Tbsp milk
Instructions
Preheat oven to 350 degrees

Grease and flour a 10 inch bundt pan

Beat together butter and sugar.

Add eggs and vanilla and beat until fluffy

Add in sour cream and mix until smooth.

Mix together flour, baking powder, soda, salt, nutmeg

Partially mix into sugar mixture.

Add in buttermilk and beat until just smooth.

Fold in blueberries and pour batter into prepared pan.

Bake for 55 minutes or until a toothpick comes out clean.

Allow cake to cool partially in pan.

Remove from pan and cool.

Make glaze
Glaze
In a small pan melt butter and cook on low heat until the butter turns a golden brown.

In a small bowl add together powdered sugar and vanilla.

Whisk in the brown butter.

Thin glaze with milk if needed.

Drizzle glaze over top of cake.