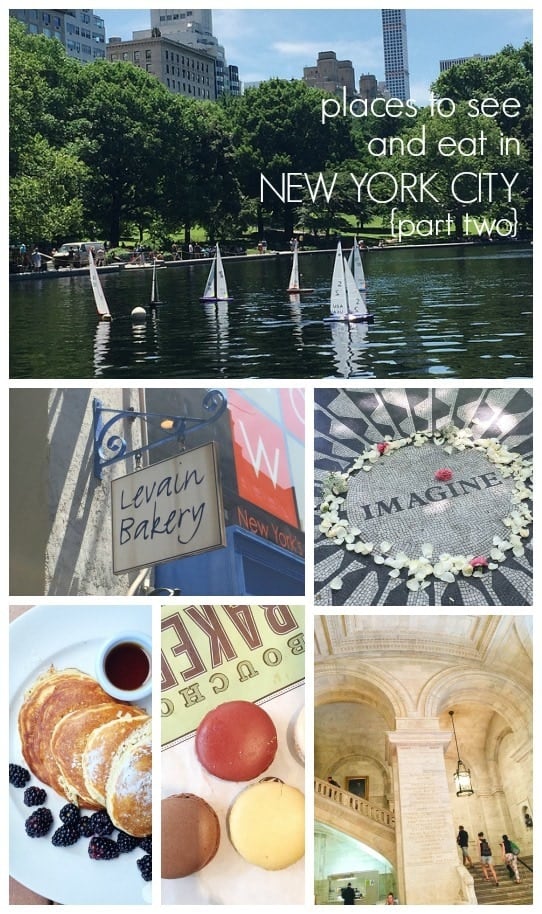 Part Two of my favorite places to eat in New York City and favorite places to see and do. Find Part One here.
Today is a continuation of all the fun places I visited and ate at while on my recent trip to New York City. If you missed Part One you can find it here.
Favorite Places to Eat In New York CIty
I am an early riser and like to get up and going but Tessa assured me that New Yorkers don't do much before 11:00 am. It is probably because they are up half the night!! We started our day with breakfast (although it was really lunch time) at Sarabeth's on Central Park.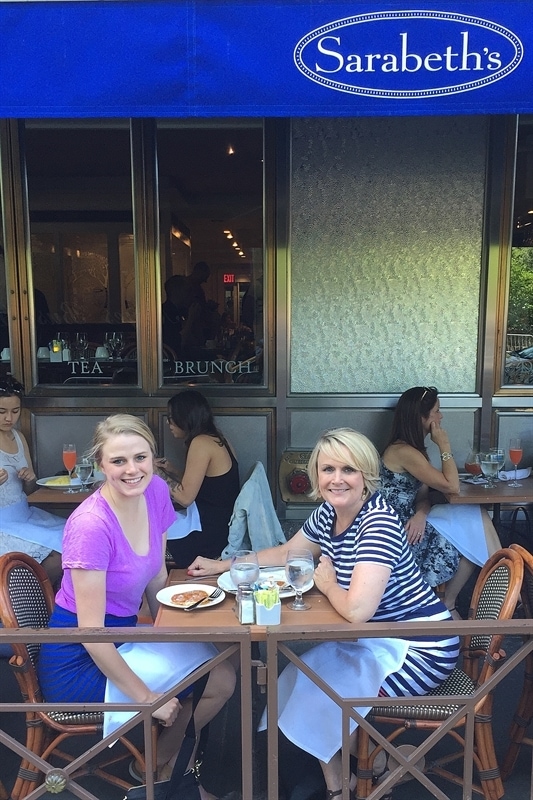 We enjoyed a delicious brunch sitting outside and got some great people watching in too. I took a friend's suggestion and ordered the Lemon Ricotta Pancakes and the Velvety Tomato Soup. They were both spot on!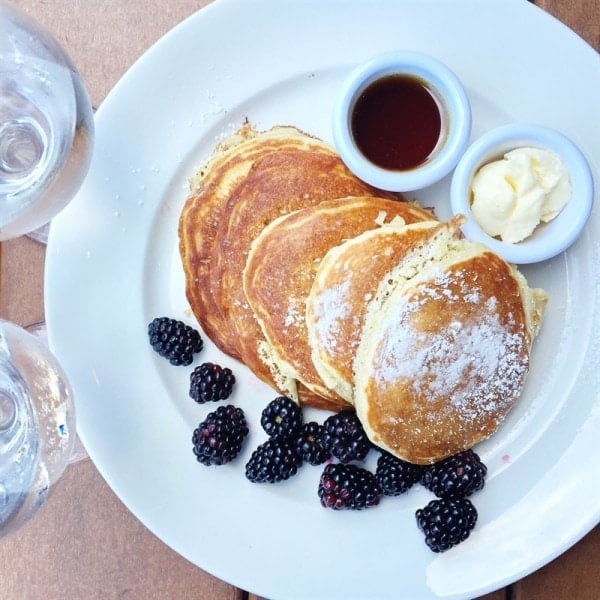 From there we walked across to Central Park to rent bikes. There will be all kinds of bike vendors outside the park trying to get you to rent from them. I would recommend using the only bike rental place that is actually licensed to rent in the park, Bike and Roll. You will find them at Columbus Circle. With Bike and Roll you get your bike right in the park.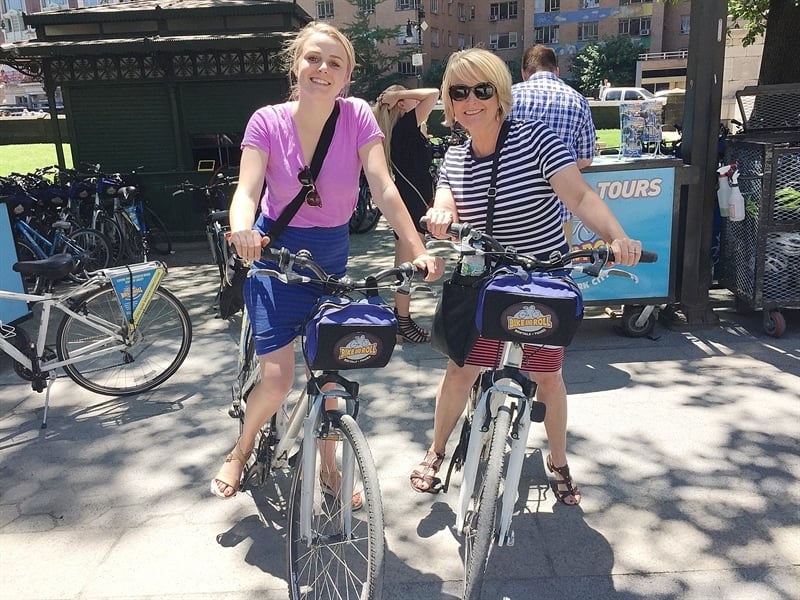 We rented them for an hour and that was just the perfect amount of time to ride all the way around the park, stopping a couple of times.  One of my favorite stops was the Conservatory Water where you could rent remote control boats.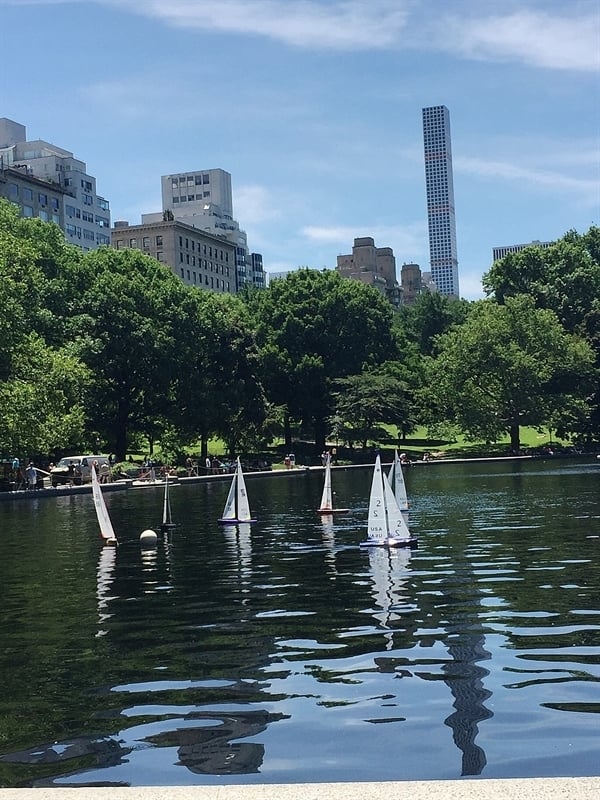 We also had to visit Strawberry Fields where there were some musicians singing Beatles songs.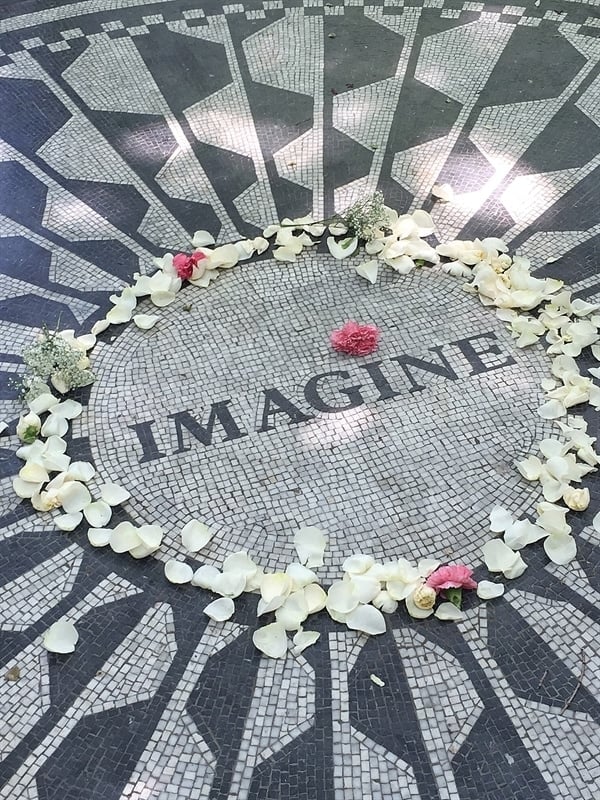 The bike ride is fairly easy except for that one hill…..
Since we had burned so many calories on our bike ride we headed back to Chelsea Market for lunch and some carne asada tacos from Los Tacos. Good Mexican food is hard to find in NYC but these were delicious.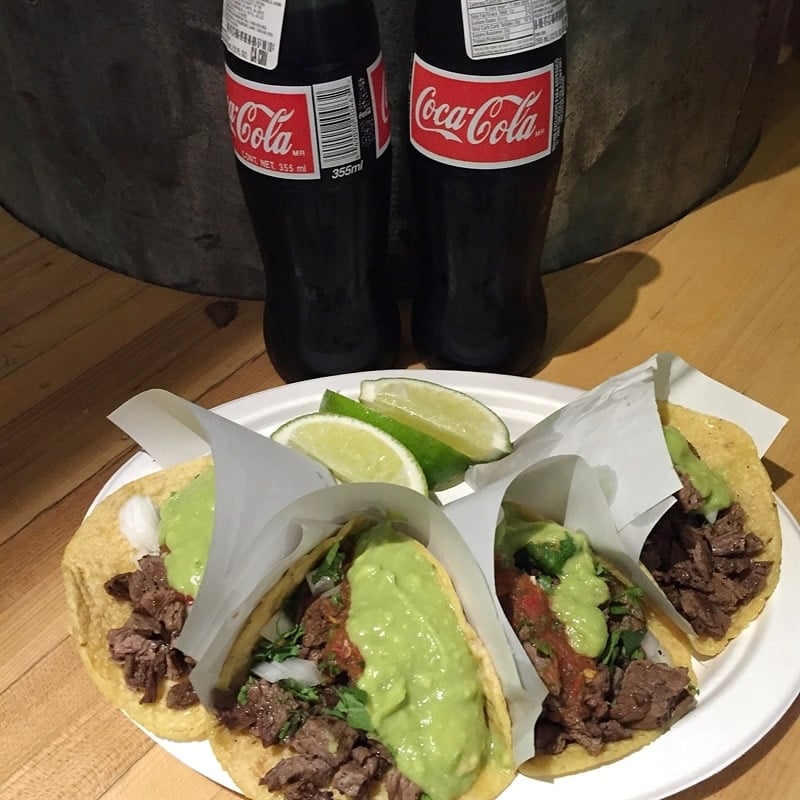 After lunch we took a walk along the Highline which gives you a fun view of the area. The Highline is an elevated section of some old railroad tracks. Chelsea is the old meatpacking district of NYC and it is fun to see the old buildings. We picked up a Strawberry Vanilla People's Pop to cool us off. There are quite a few food vendors right there at the beginning of the Highline.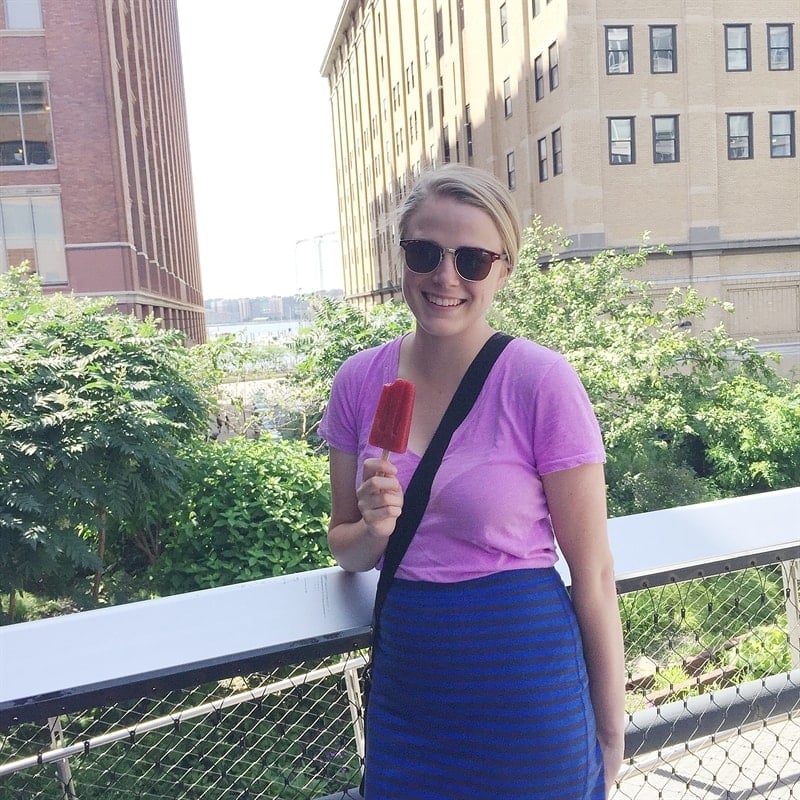 We also had to try an ice cream sandwich from Melt. We went for the red velvet with cream cheese ice cream. So yummy!!!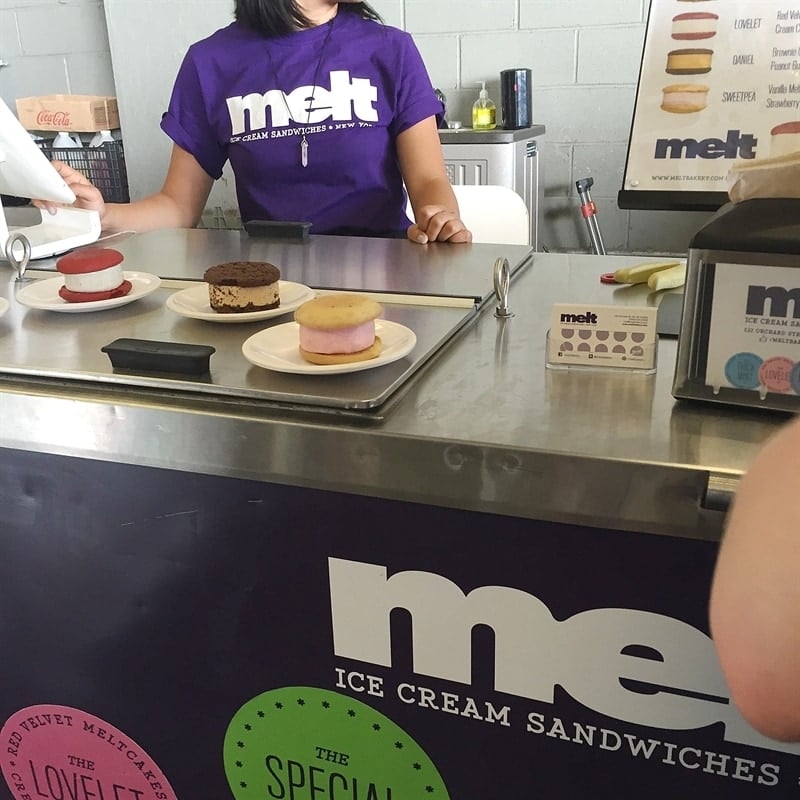 From there we headed back to the hotel to change for our show that night. We then went over to Greenwich Village for dinner and a little pizza taste testing. But first we had to have dessert.
Big Gay Ice Cream
Big Gay Ice Cream was our first stop. I love soft serve so knew I had to try this place after Tessa had posted a picture on her Instagram several weeks before my visit.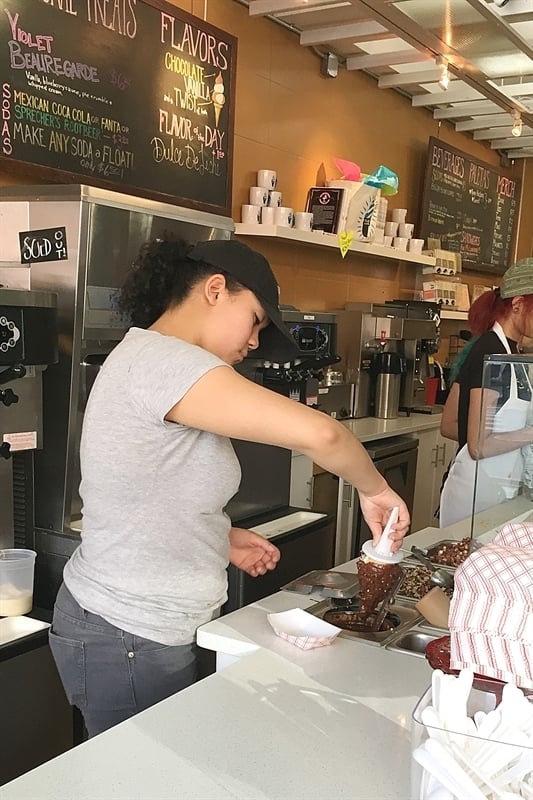 I went for the Salty Pimp. It is vanilla ice cream infused with dulce de leche, sprinkled with sea salt and dipped in chocolate. Basically heaven on a cone!
Favorite Places to Eat Pizza in NYC
We then had dinner. We Yelped to see what the best pizza by the slice places were in the area and decided to try the top two. Bleecker Street Pizza had been voted the best Pizza by the Slice in NYC by the Food Network for the last 3 years.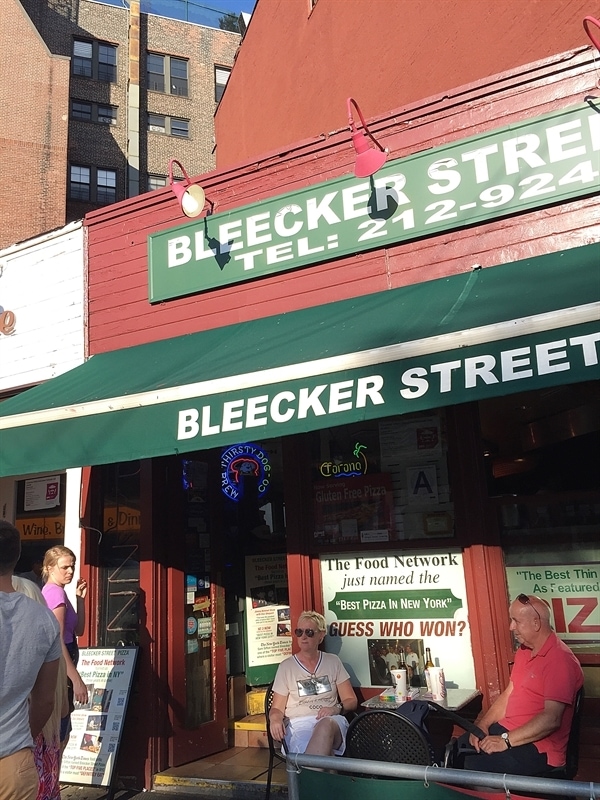 To make sure our taste testing was fair we had cheese pizza at each place. I can definitely see why it had been the winner the last three years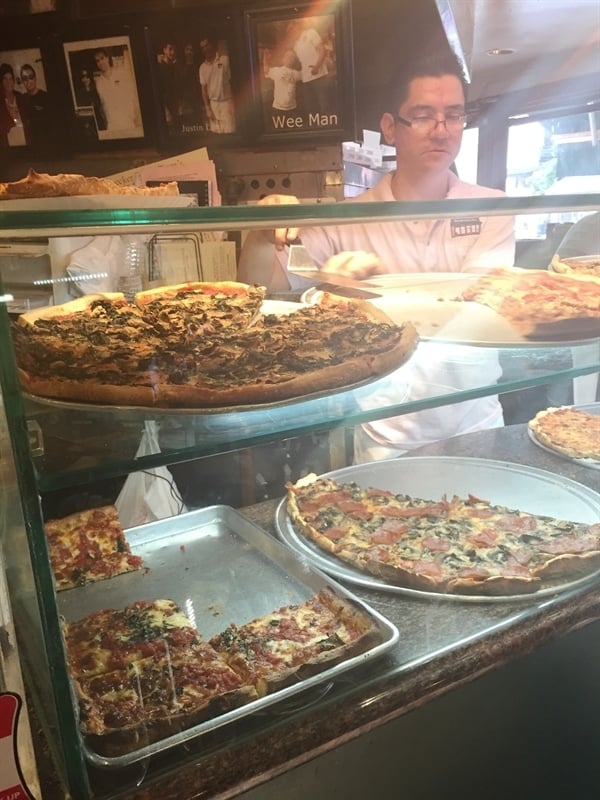 I think nothing beats a good piece of cheese pizza and this was good cheese pizza. Up next was Joe's Pizza which was just a few blocks away.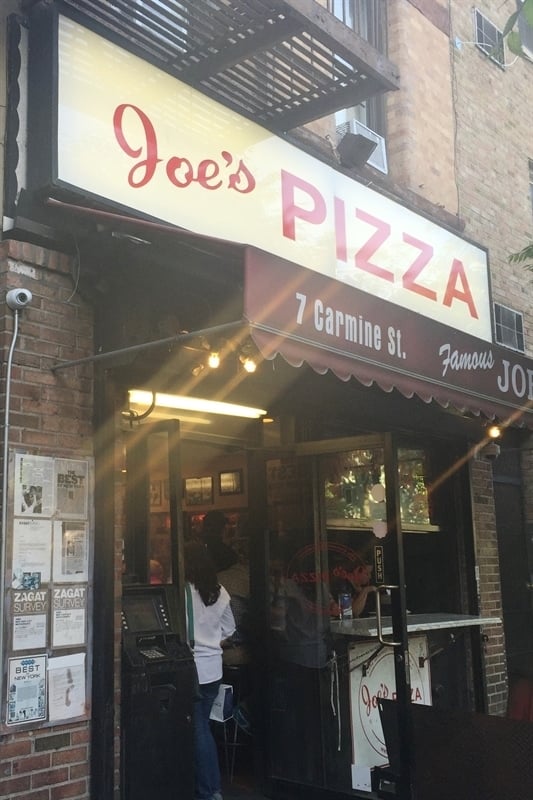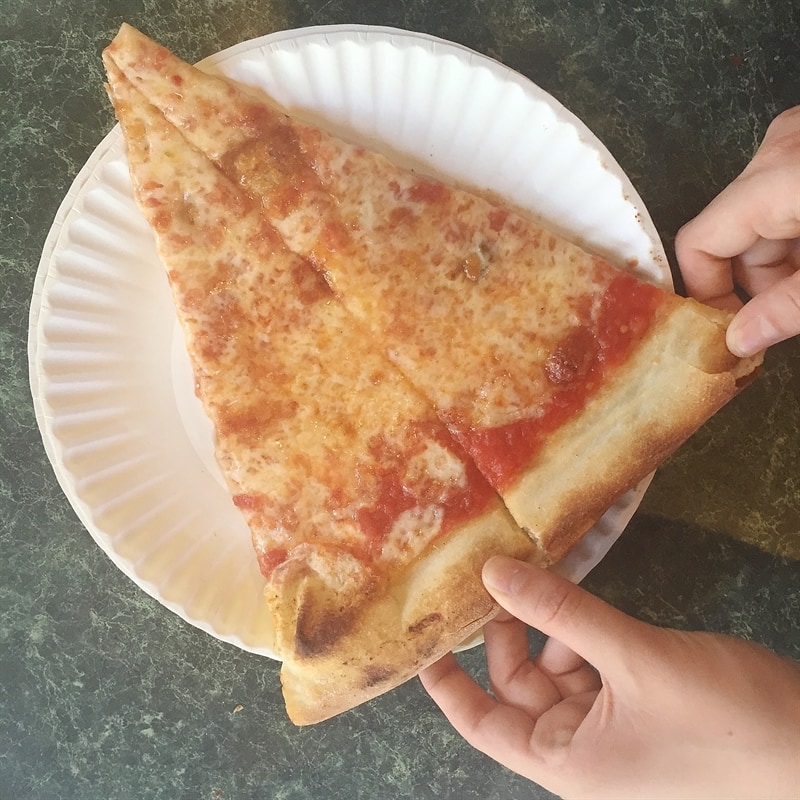 Both of these places are little, tiny hole in the walls which we love. The cheese pizza here was amazing too. We really couldn't pick a favorite!

That night we saw the show On the Town which was fabulous. It is an amazing dance show with tons of ballet which is unusual for that style of musical. Totally recommend it.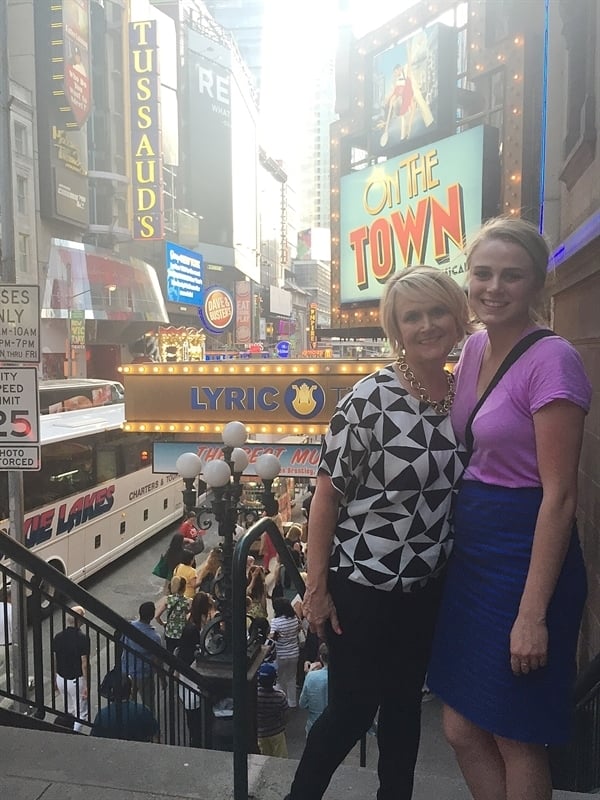 Magnolia Bakery
That night we decided we needed a late night snack after the show so we walked over to Rockefeller Center and got some Banana Pudding from Magnolia Bakery. They have cupcakes too but the banana pudding is where it is at! This is coming from someone who doesn't usually eat bananas. They stay open late! We took it back to our hotel to enjoy.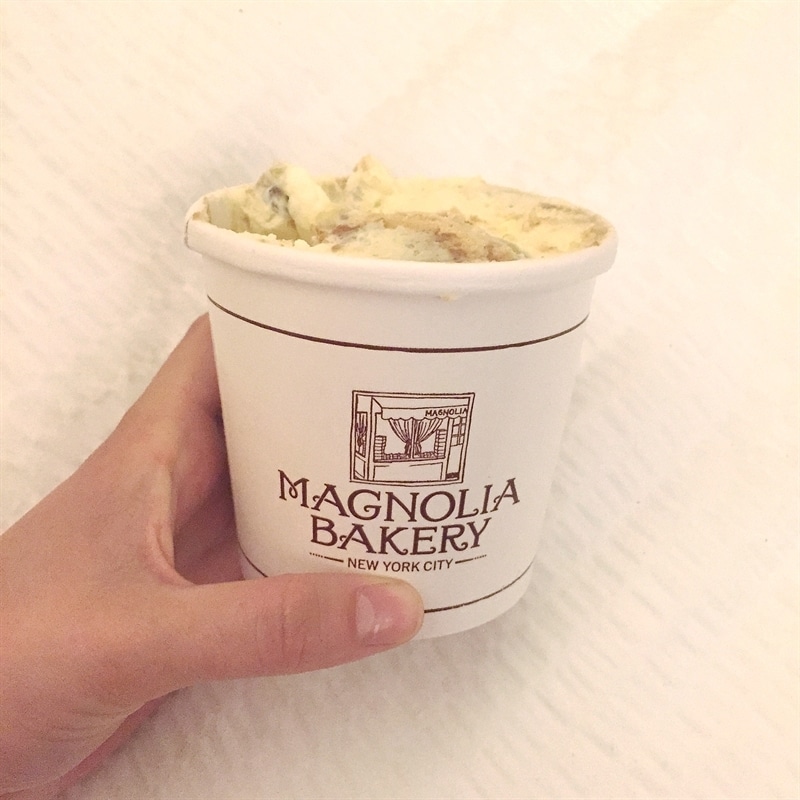 Jacob's Pickles Restaurant
Tessa had been raving about the restaurant Jacob's Pickles. She had had dinner there but heard their brunch was great too so we had to check it out.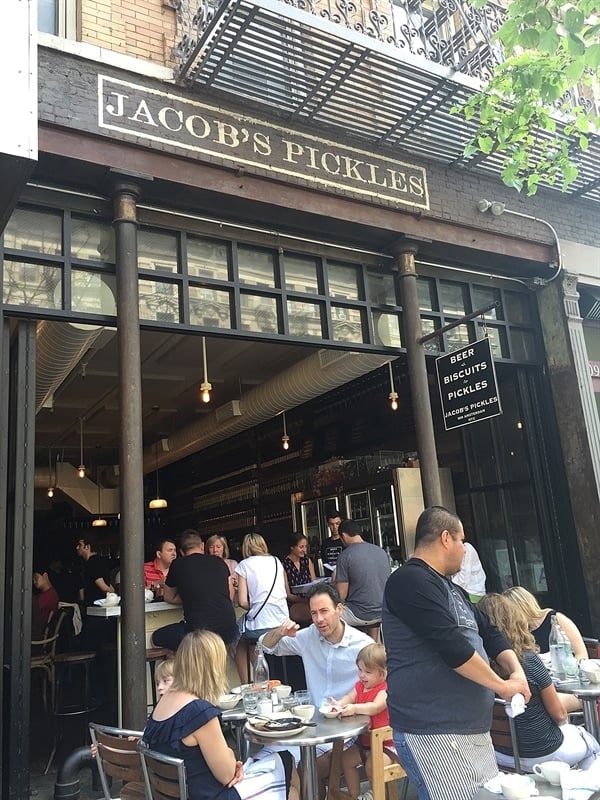 They are of course famous for their pickles and biscuits. We skipped the pickles but not the biscuits! We were able to meet up with a family friend who lives in NYC with her baby and husband and had a wonderful visit. The restaurant also makes three different kinds of housemade root beers so we had to try them all. We loved them all.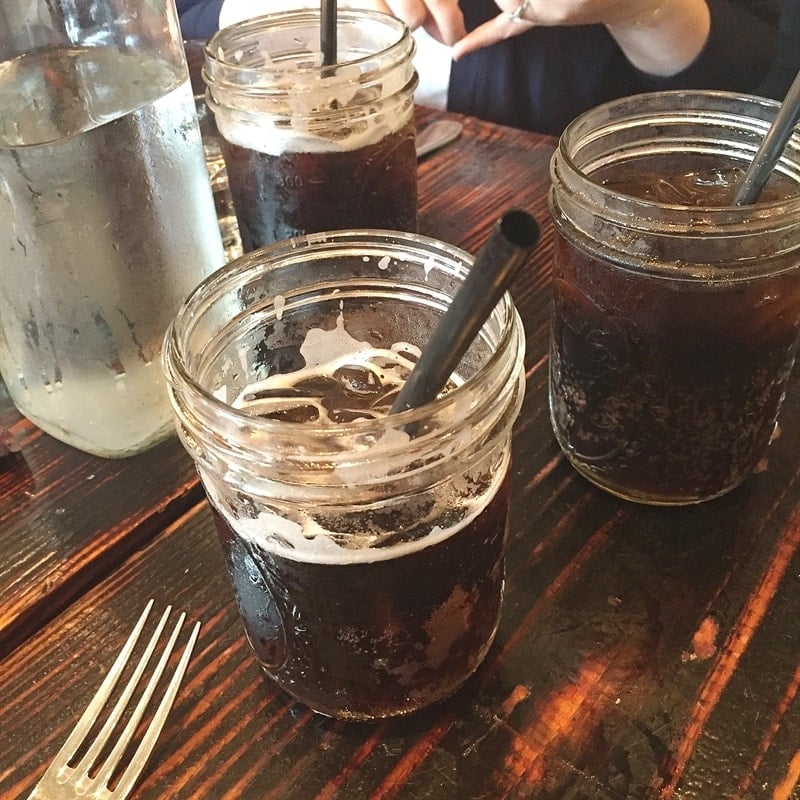 For food Tessa ordered the biscuit french toast which was amazing!!!! I loved my biscuits and gravy and our friend had the banana pancakes which were divine too. I don't think you could go wrong with anything on the menu!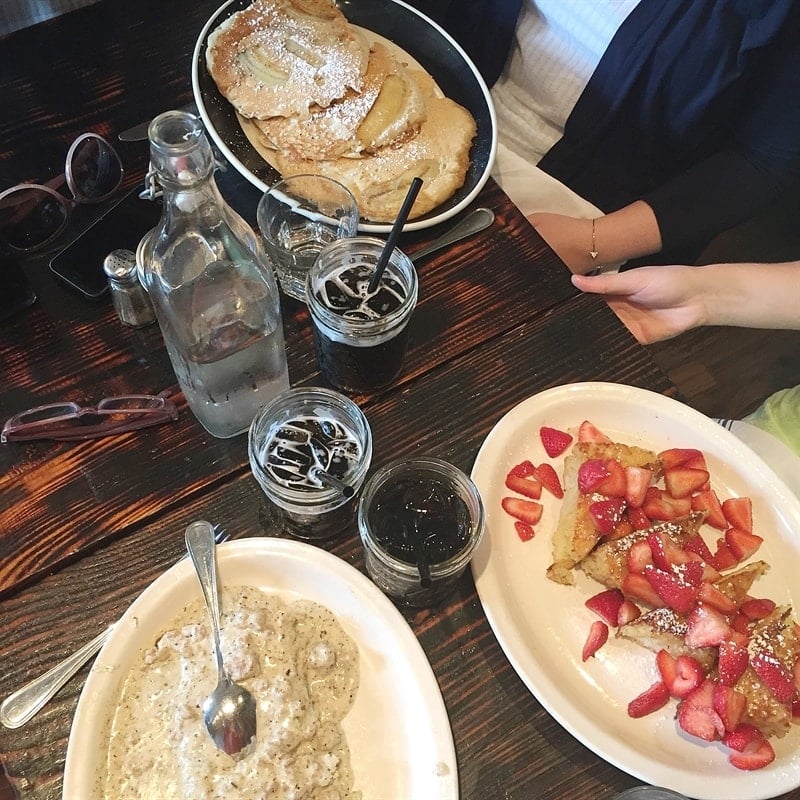 Favorite Places to Eat in NYC – Levain Bakery
After breakfast, because we hadn't had enough to eat (ha, ha) we walked over to Levain Bakery. If you don't know what you are looking for you could totally miss it. It is tiny and down a short flight of stairs into the basement of the building.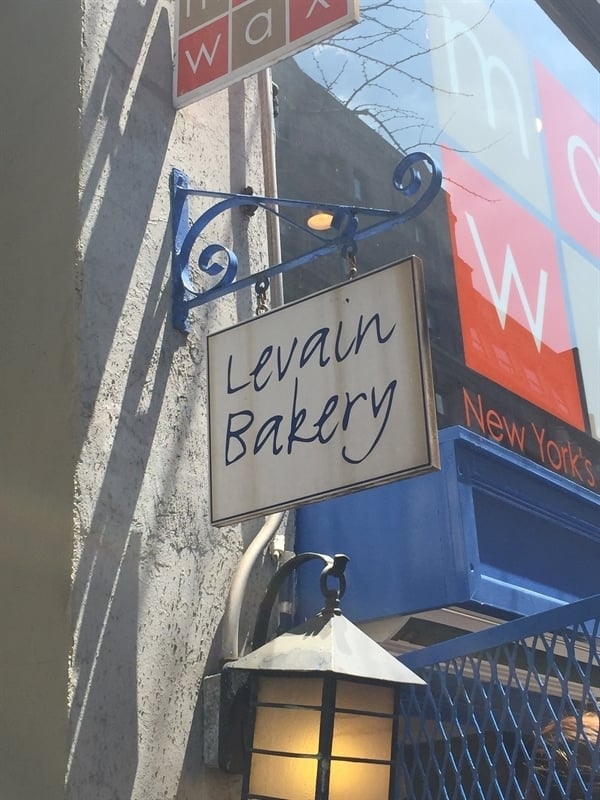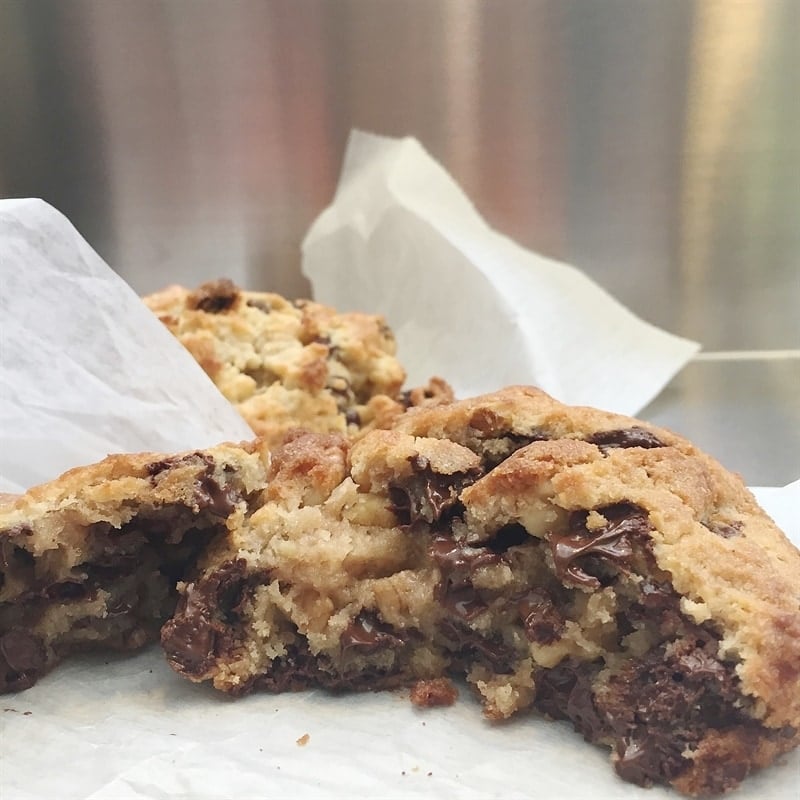 The bakery may be tiny but the cookies aren't! They are big and thick and so yummy! We tried a chocolate chip walnut, an oatmeal raisin and our favorite – the chocolate peanut butter. They totally live up to their reputation!!!

Tessa and I then walked over to attend church right near Rockefeller Center. The building where the chapel is also houses the New York City Mormon Temple. It was nice to sit in a quiet, reverent chapel and get away from the hustle and bustle of the city for a few hours.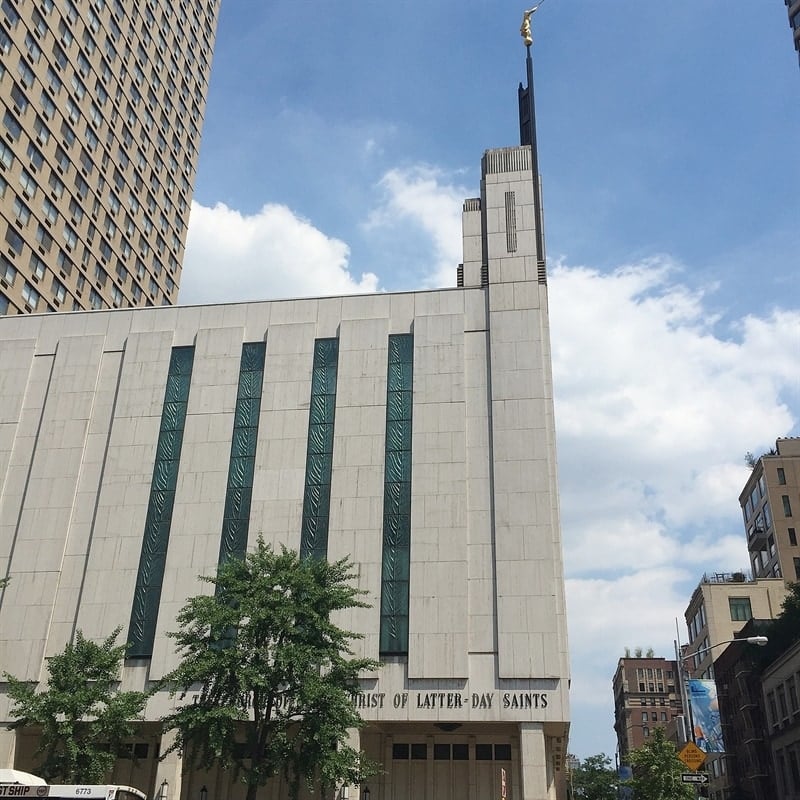 Broadway Show
We had tickets to see a matinee of Curious Incident of the Dog in the Nigh-time and it blew us away. It is an amazing production and an incredible insight into the autistic mind. The story is told from Christopher, the autistic boy's, thought process.
It just recently won 5 Tony Awards and we were able to see Alex Sharp in the lead roll, he just won best actor in his Broadway debut! He was amazing.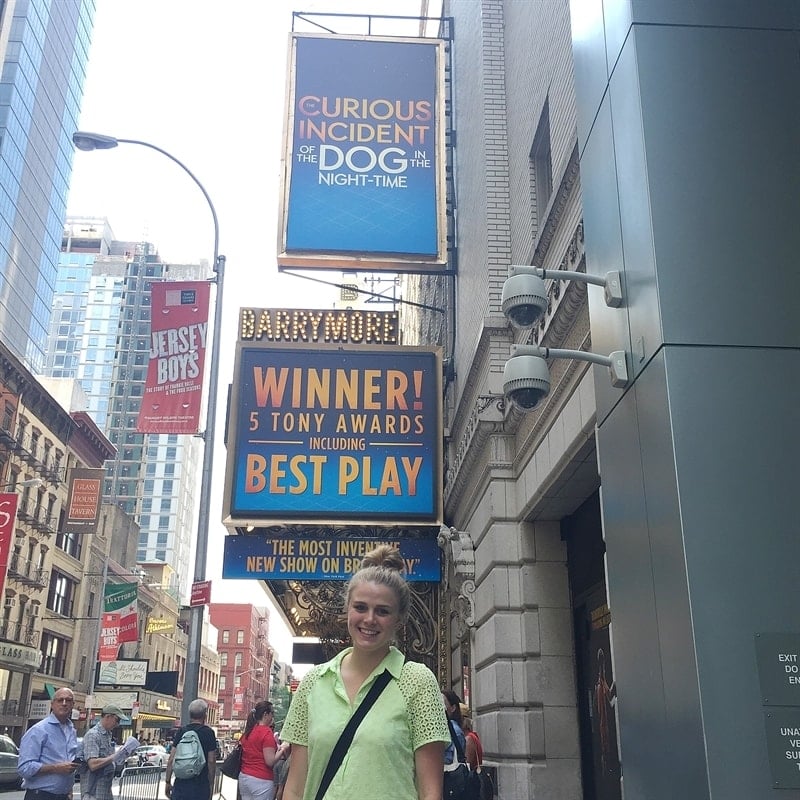 One World Trade Center
After the show we went down to the new One World Trade Center building. It just opened this year. You can pay to go up to the top to see an incredible view of the city.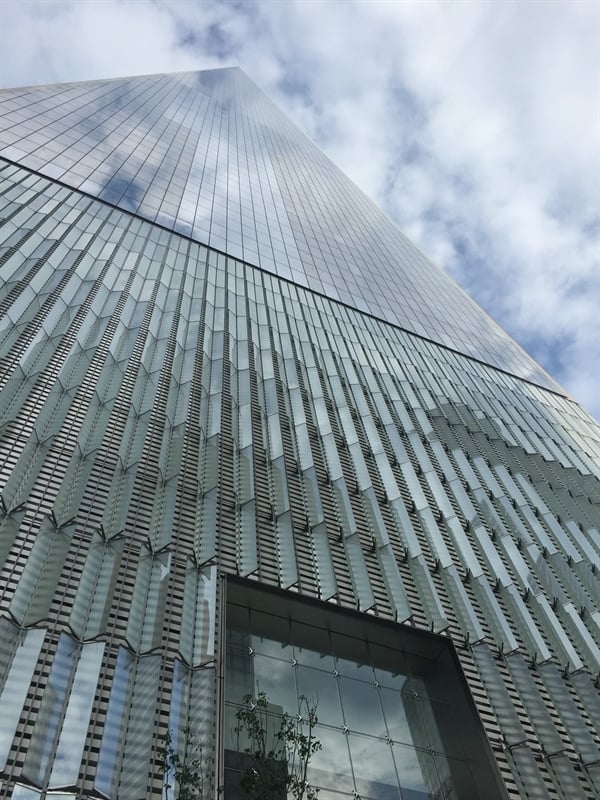 You have a 360 degree view of the city!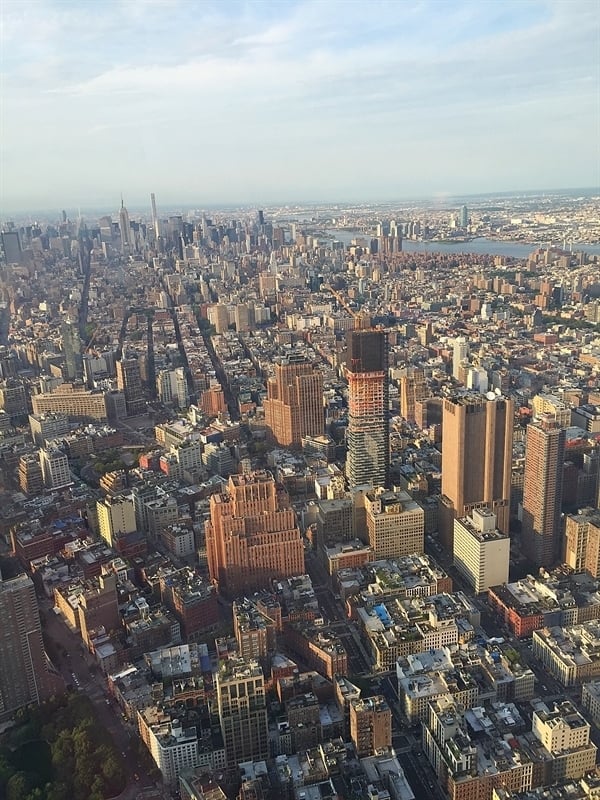 Parm Restaurant in NYC
We were once again hungry, believe it or not so we headed to Little Italy for dinner at Parm. It is a restaurant a blogger I know had recommended. Another quaint little restaurant. For such a big city, so many of the restaurants and the theaters are little.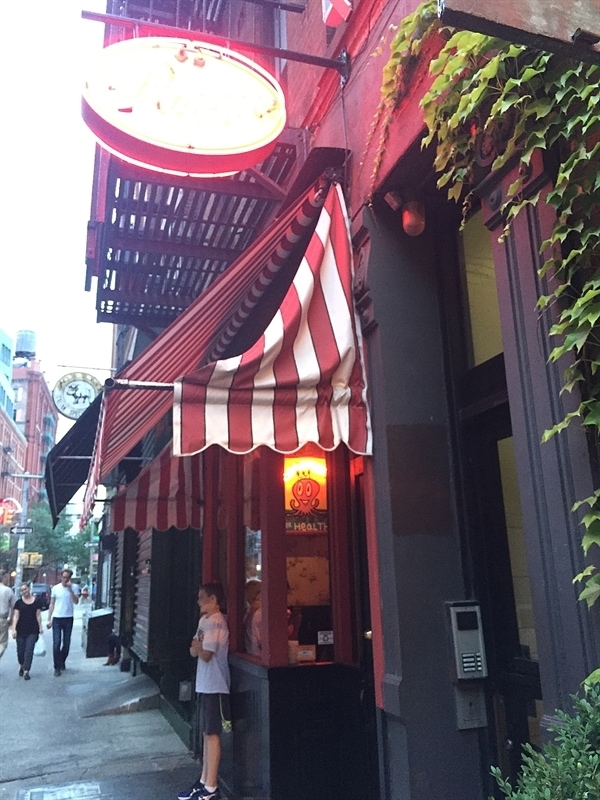 The Chicken Parmigiana came highly recommended so that is what we had – we loved it. But the thing we really loved was the garlic bread with fresh mozzarella that arrived at the table before the meal. I think I could have just eaten that!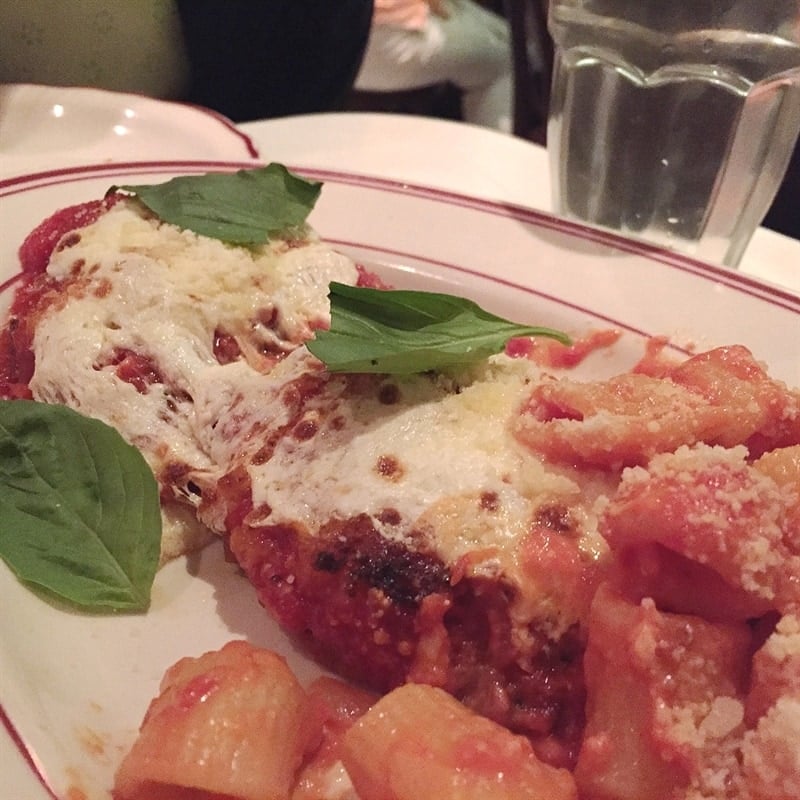 We headed back to the hotel and we greeted by this fun view of the Empire State Buildling – it was Flag Day!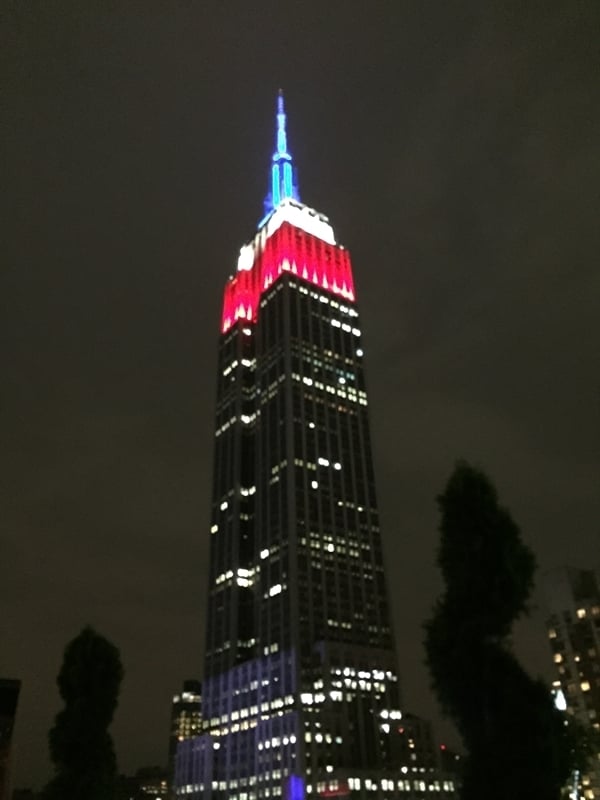 Macy's Department Store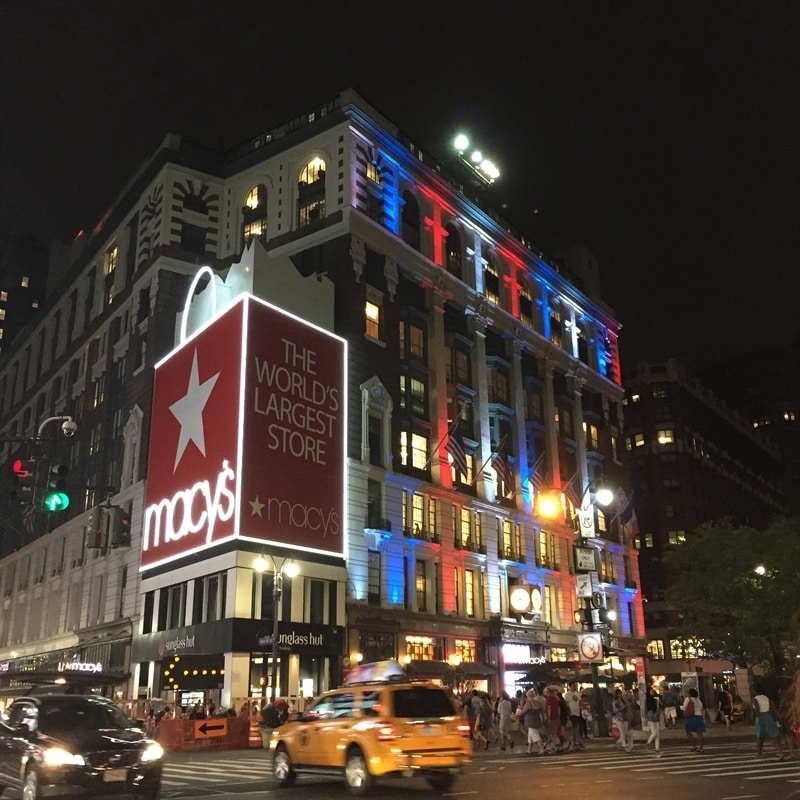 Macy's got into the spirit too. Yes, this is the Macy's of the famous Thanksgiving Day Parade. It is fun to visit the store and ride the old wooden escalator!

New York Public Library
It was my final day in the city and Tessa had to work. My sister in law lives just outside of Philadelphia which is an hour train ride away so she came into the city to spend the day with me. While I waited for her train to arrive I went over to the New York Public Library. It is magnificent.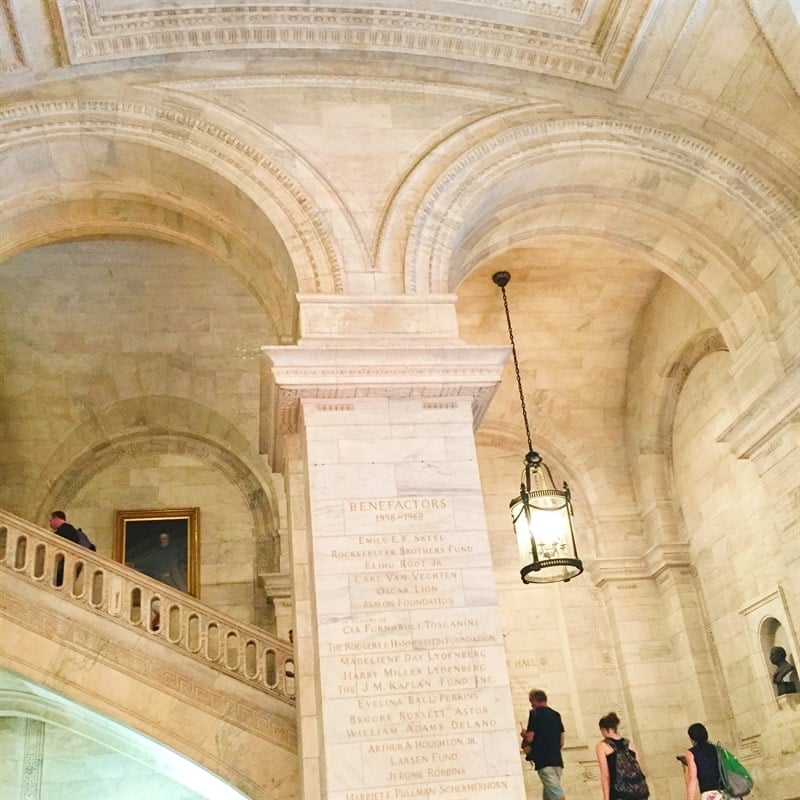 I definitely recommend taking the free audio tour. Unfortunately the famous and beautiful Reading Room was closed for renovations but there were plenty of other beautiful rooms to see.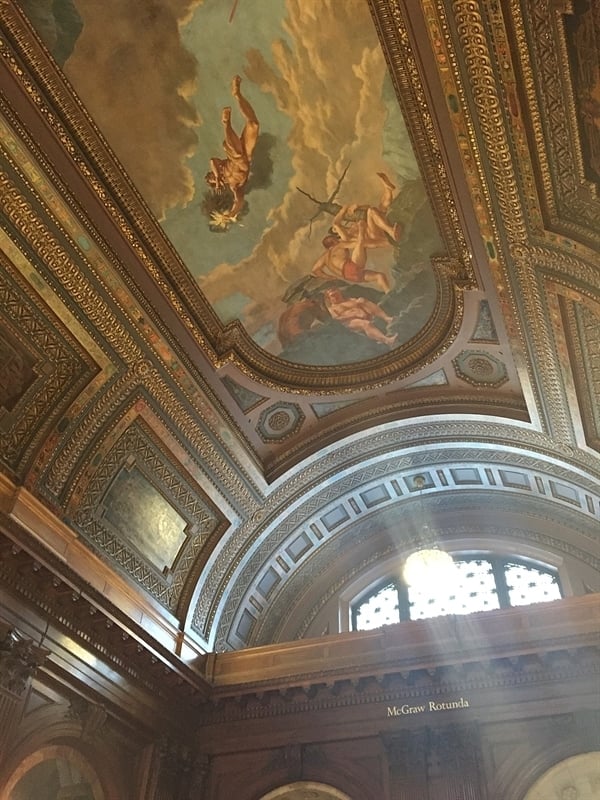 Eataly in NYC
Once I met up with my sister in law we walked over to meet Tessa for lunch at Eataly which is right by the Flat Iron Building. Such a fun place. Eataly is a food hall full of all kinds of yummy Italian food. Everything from seafood to pasta to pizza. We tried two different types of focaccia bread. Both were delicious. We had the margherita and then one with prosciutto and fresh mozzarella.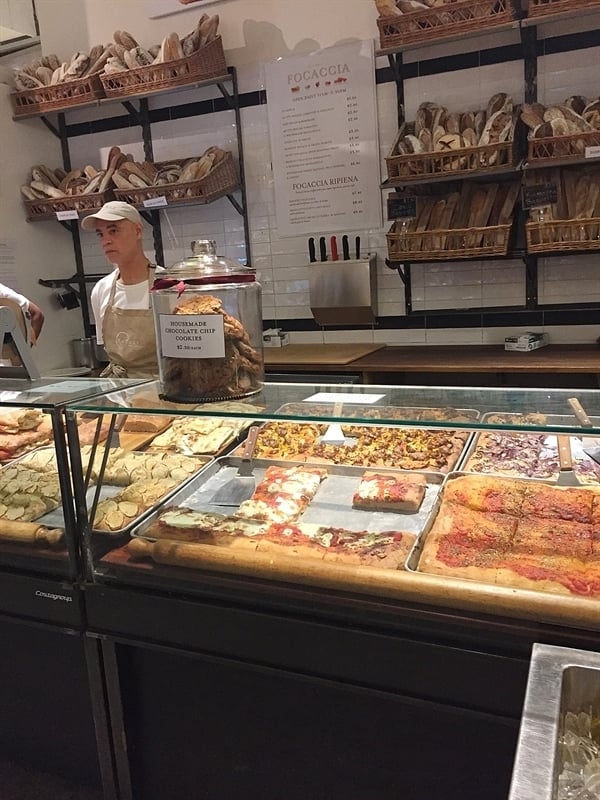 My sister in law had a Caprese Panini which was delicious but the best thing we had was this amazing Prime Rib Sandwich, man of man!!!
Dominique Ansel Bakery
Tessa had to go back to work but Jayna and I headed out for a little bakery tour. I had to make a second trip to Dominique Ansel to check out their Frozen S'mores on a Stick. Tessa had raved about this so I had to check it out.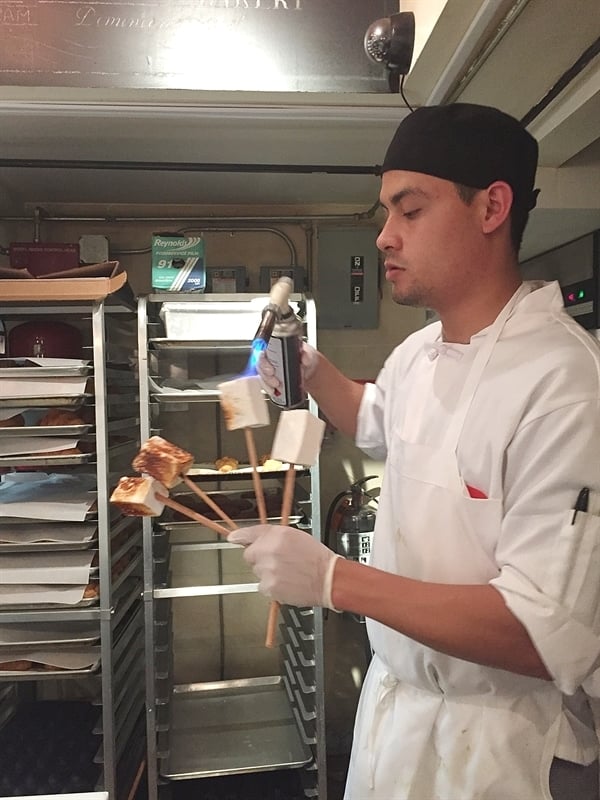 They toasted the marshmallow right when you order. They were amazing. I told my sister in law I would share with her but after I took my first bite I was sorry I had offered!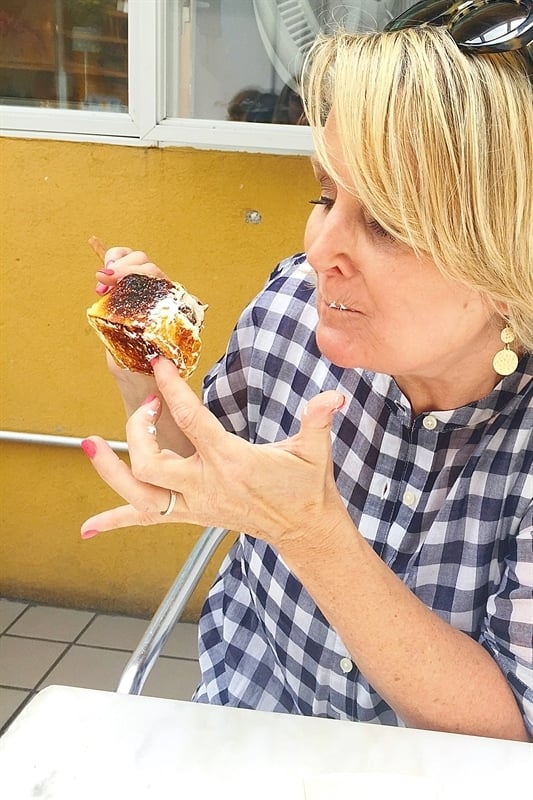 So yummy!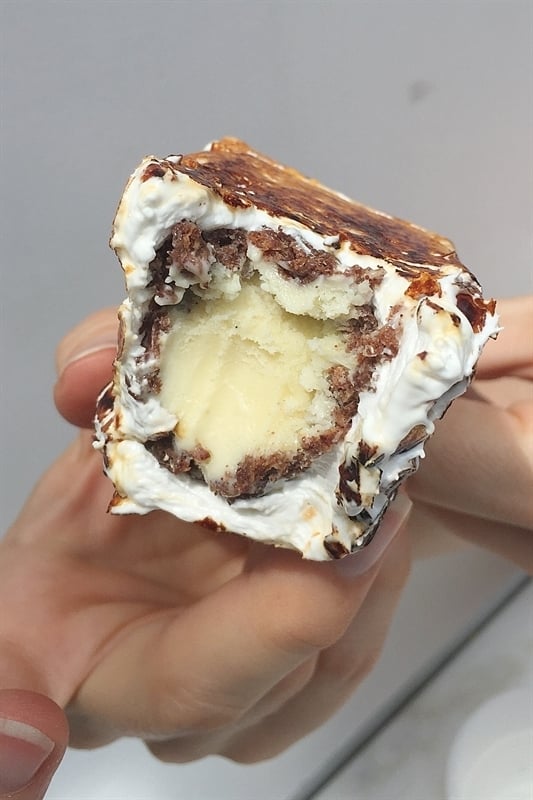 More Favorite Places to Eat in New York City
Our next stop was Momofuku Milk Bar in the East Village. I first heard of Momofuku several years ago and even shared a copycat version of their famous Crack Pie here on the blog. I was excited to get to taste the real thing and see if it lived up to it's hype. It did!
Compost Cookie
I have also shared a version of their famous Compost cookie here on the blog before. The real compost cookie has coffee grounds in it and I'm not a fan of coffee flavored anything. I went for the Cornflake Marshmallow Chocolate Chip cookie instead and a piece of Crack Pie. My sister in law tried the wheat free Coco Cookie. We loved everything.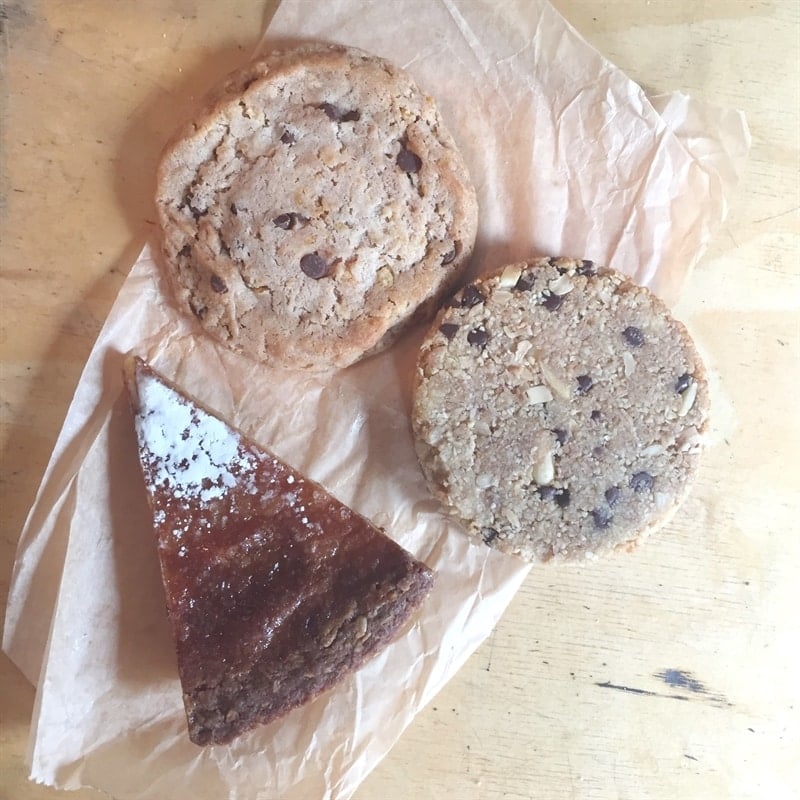 I couldn't pass up the Cereal Milk Soft Serve which tastes just like it's name. It tastes like the milk that is leftover when you eat all the cereal. They also add some toasted crushed cereal in the bottom and on the top of the ice cream. I loved it, my sister in law not so much. She is not a big fan of the leftover milk in the cereal bowl either.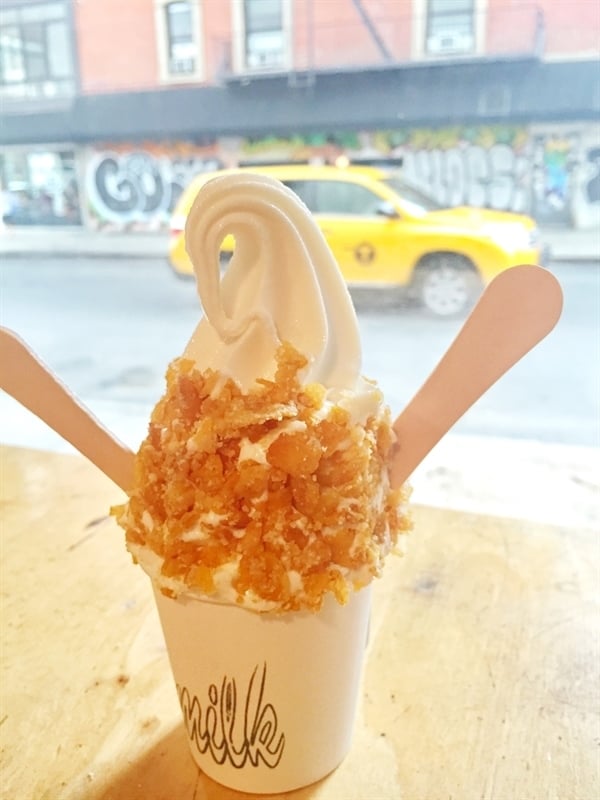 From there we headed over to Rockefeller Center to try and find the famous burger place inside the Le Parker Meridian Hotel. Hidden away in the corner of the hotel lobby behind a big velvet curtain is what is suppose to be one of the best burger places in New York City. There is no sign, you have to know what you are looking for. We found the Burger Joint but were both so full we opted for a soda and a milkshake. The burgers did look wonderful. It is a tiny little place.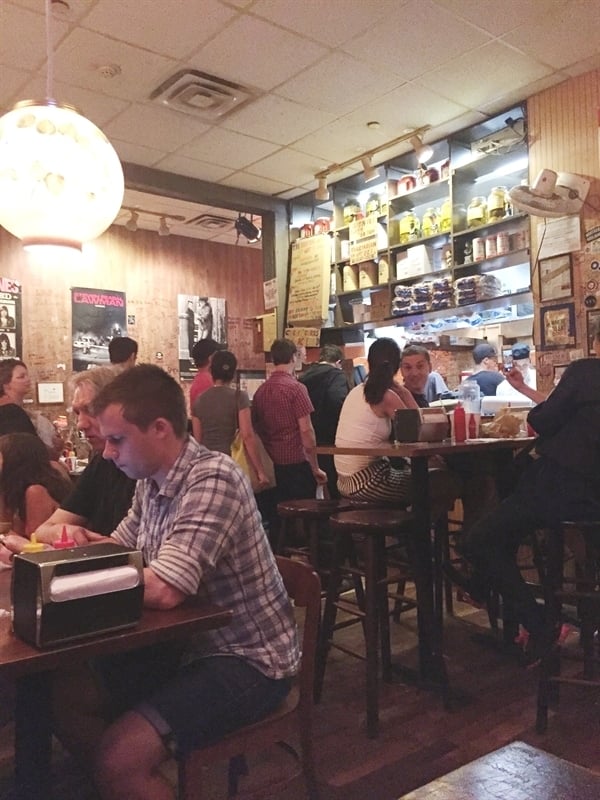 My sister in law wanted to introduce me to her favorite chocolate shop at Rockefeller Center – Teuscher Swiss Chocolates. We got their signature Champagne Chocolate a few others. At $120.00 a pound I didn't get too many!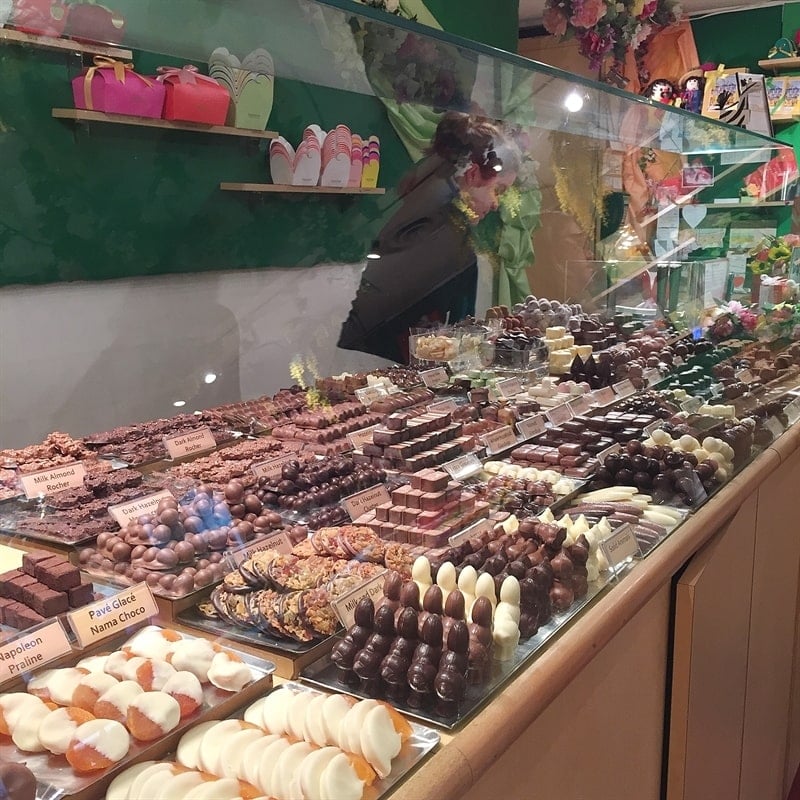 On the way to the chocolate shop we walked past Bouchon Bakery so of course I had to stop to pick up a few macarons.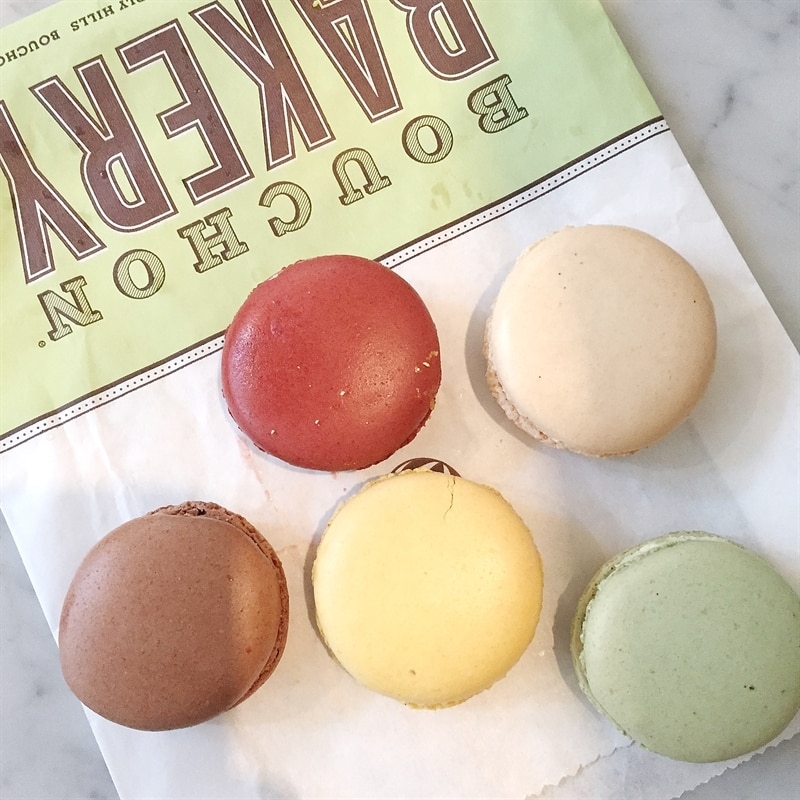 By this time we had had enough to eat and had walked our feet off. It was time to head to the airport.
It was sad to see my time come to an end but my feet were ready and I was looking forward to my own bed. We saw lots of fun things and ate lots of delicious food but of course the best part of the trip was seeing this cute girl! My NYC girl!