Baked donuts are a fun thing to do in the kitchen with the kids. No hot oil is involved so it is safe!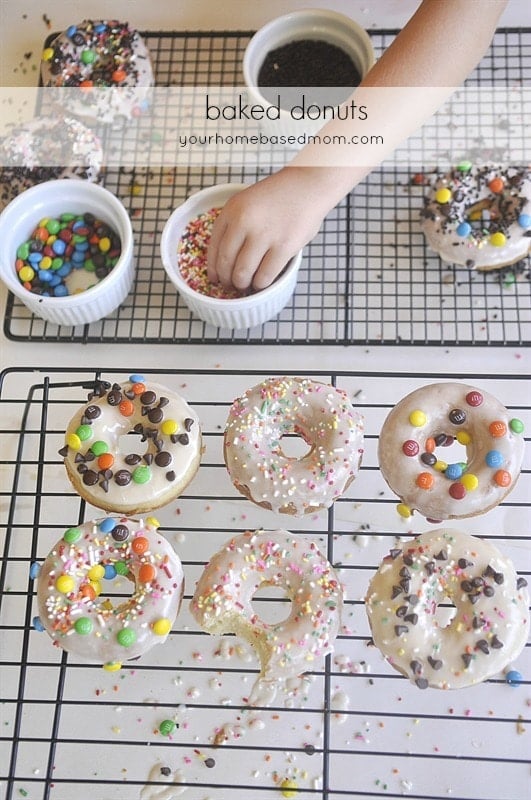 I love spending time in the kitchen with kids.  They are always so excited and eager to try something new.  Because none of my children live at home any longer I have to borrow people's children to play with in the kitchen.  They don't seem to mind.
This summer I asked three of my favorite kids what they wanted to learn how to make in the kitchen and donuts were at the top of their list. I decided baked donuts were the way to go rather than fried donuts.  It was also a hot summer day and baking seemed a better choice than frying. Whenever I am cooking with kids I like to have all the ingredients lined up for them out on the table.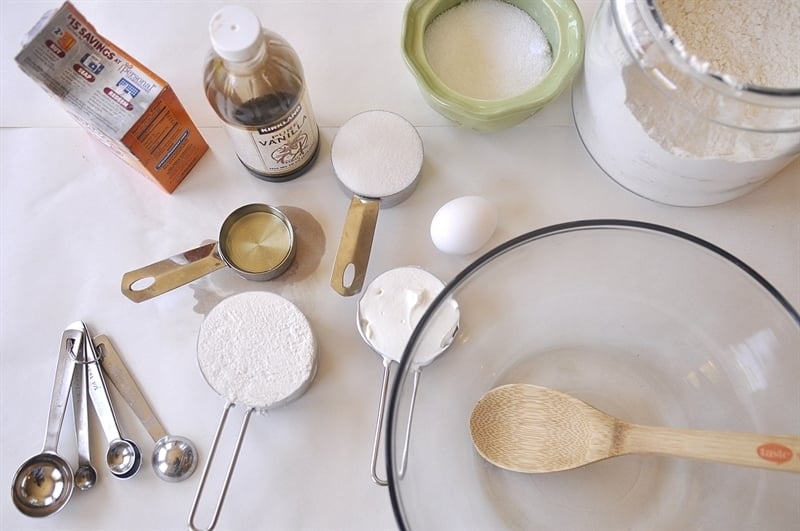 Kids love to measure ingredients and cracking eggs is always a popular activity.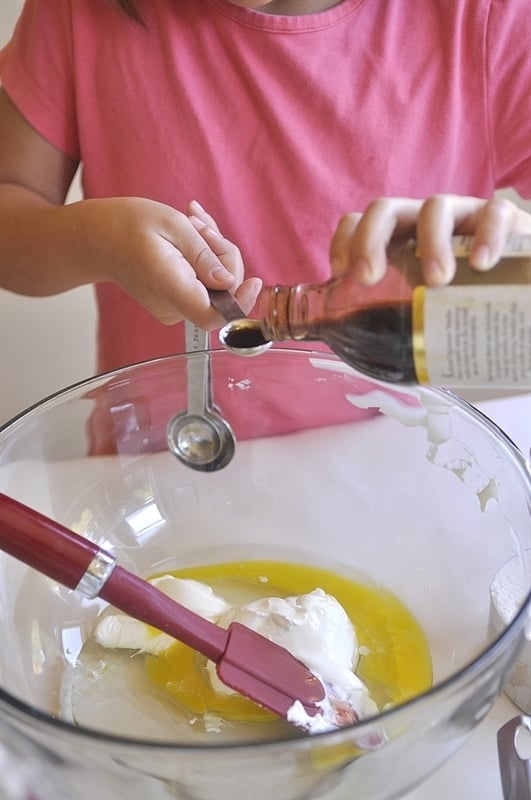 We made a sour cream donut. The sour cream helps make them nice and moist.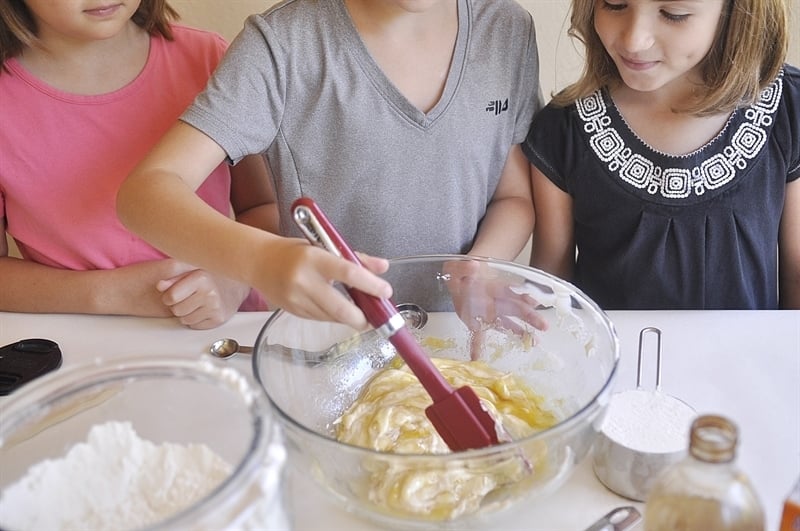 After the donut batter is mixed up we filled the donut pan. This recipe made about a dozen donuts, may depend a little on how full they fill the pan. We placed the batter into a large zippered plastic bag to make the filling process easier.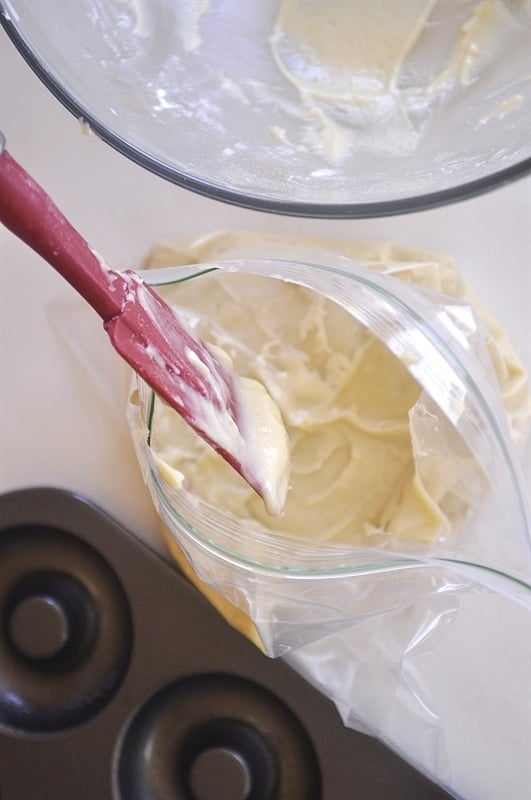 Close up the bag and clip off a corner of the bag and let the kids fill the donut pan. No worries if they aren't filled perfectly even – they will have fun doing it and when you are cooking with kids that is the first and most important rule – have fun!!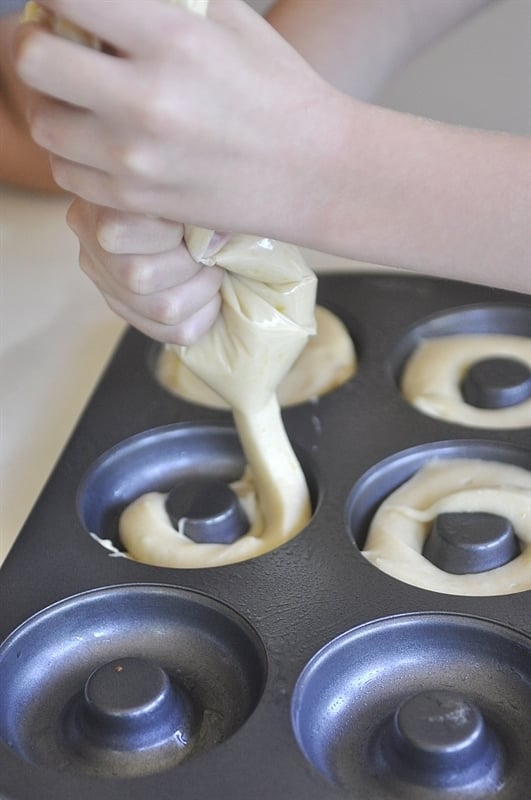 The pan should be about 2/3 full of batter. They will puff up as they bake.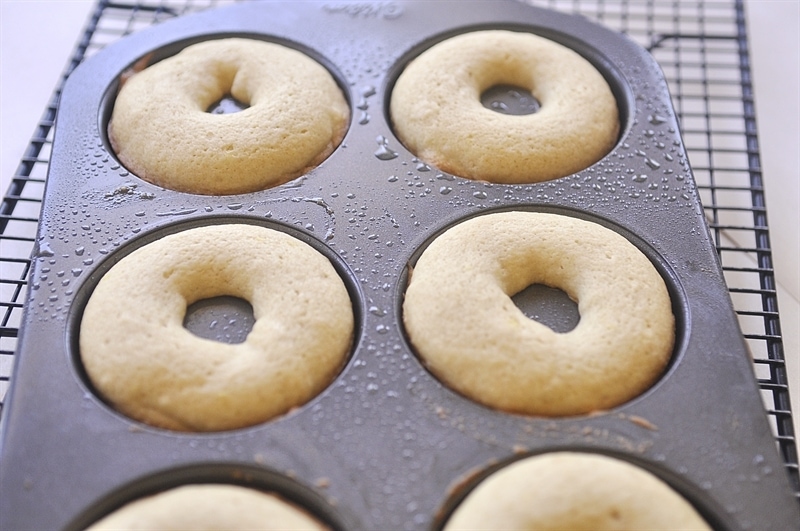 Let them cool on a cooling rack before icing. While they are cooling mix up your glaze. You want it just the right consistency so it stays on the donuts but is nice and smooth.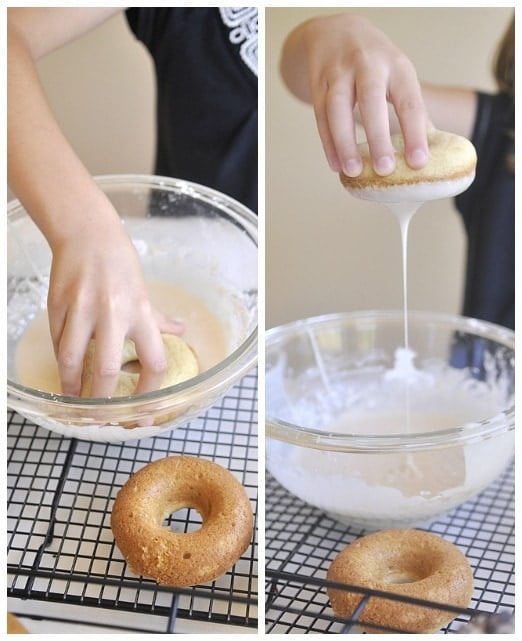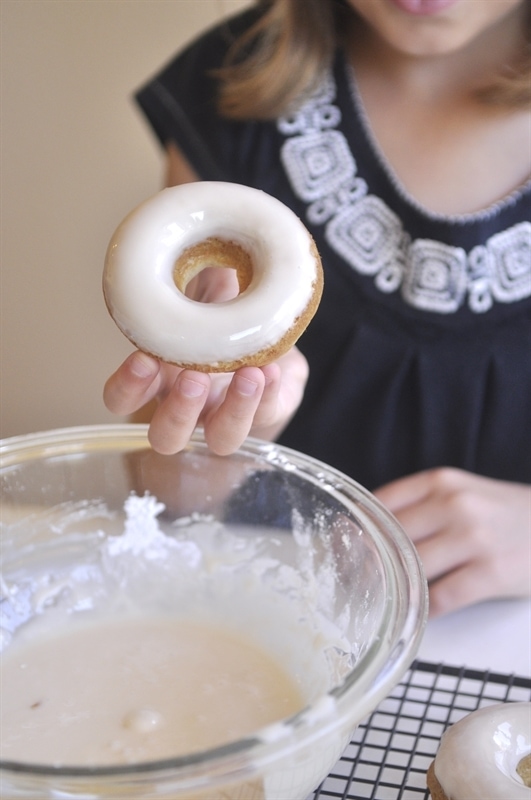 Have all your toppings ready to go so you can add them as soon as you have glazed your donut.
We had rainbow sprinkles, chocolate sprinkles, mini chocolate chips, mini M & M's.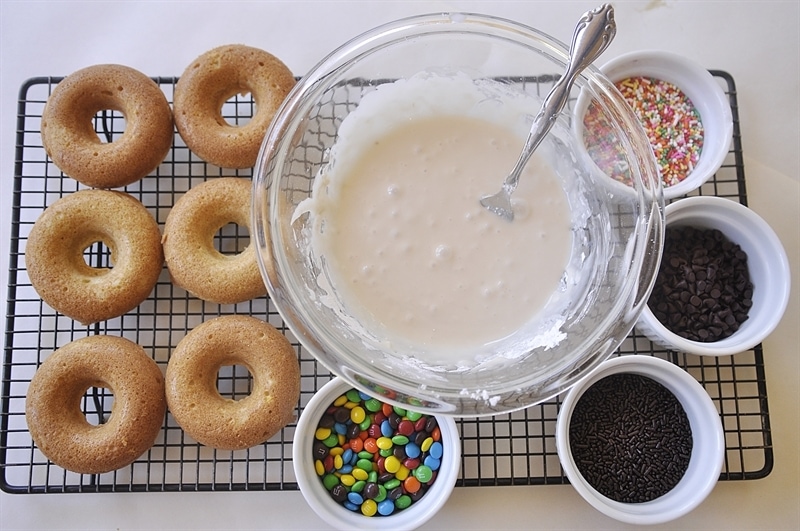 I think decorating the donuts was the most fun for the kids!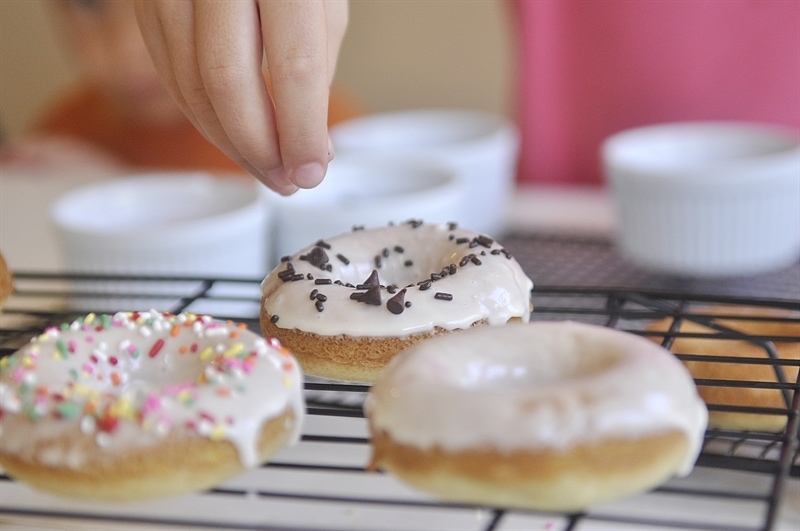 It was fun to see the kid's personalities reflected in their topping choices. Some them just added one topping and others added them all to one donut!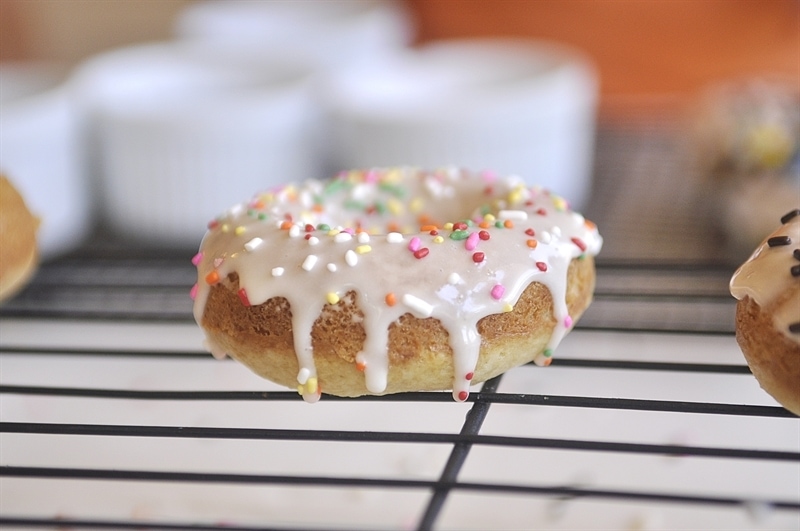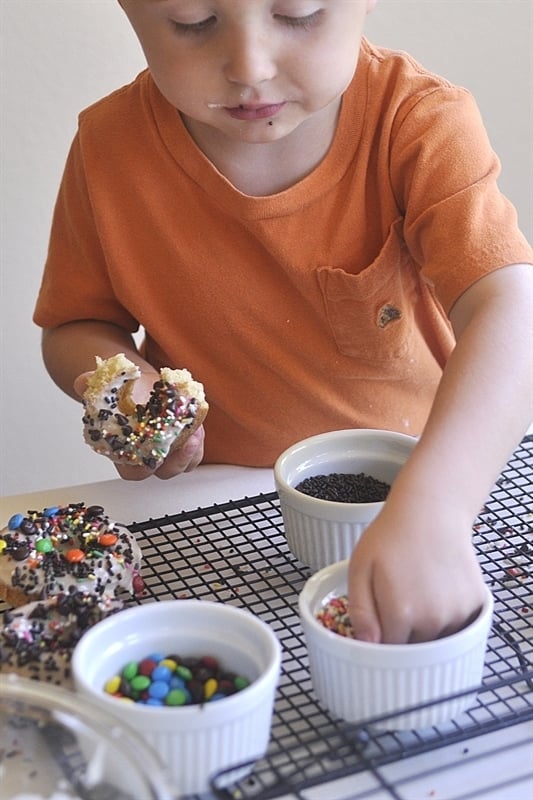 The girls little brother was also there patiently watching and waiting for a turn to decorate a donut! I think he actually had more fun eating handfuls of the toppings!!
Of course the best part of any cooking project is the eating!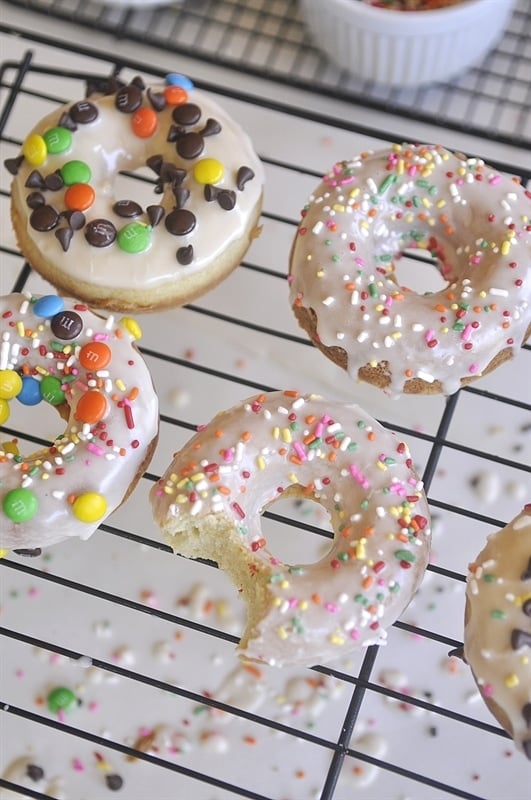 Have fun with the kids in the kitchen this summer and make Baked Donuts!
Besides my blog, you can follow me on Facebook, Instagram and Pinterest too!

Other fun Kids Can Cook ideas: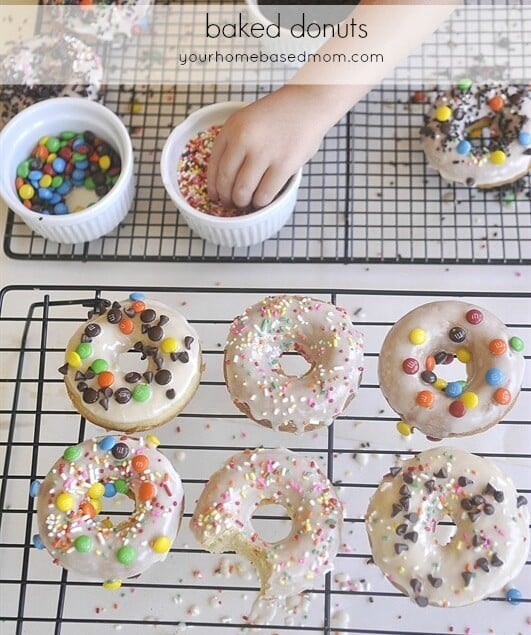 Baked Donut Recipe
Delicious baked cake donuts. Easy enough for kids to make!
Ingredients
1 C sour cream
2 egg
1 1/2 tsp vanilla extract
1/2 C canola oil
1 C sugar
2 C flour
1 tsp baking soda
1/2 tsp salt
Glaze
1 1/2 C powdered sugar
3-4 Tbsp milk enough to make nice dipping consistency
1/2 tsp vanilla or other flavoring of choice
Toppings
sprinkles mini chocolate chips, mini M & M's
Instructions
Preheat oven to 350 and grease donut pan.

Mix together sour cream, egg, vanilla, oil and sugar in a bowl.

Add in flour, baking soda and salt and stir until combined.

Place batter into a large zippered plastic bag. Close and snip off corner.

Squeeze batter into donut pan.

Fill pan with batter (about 2/3 full) and bake for 12-15 minutes or until golden brown and top springs back when touched.

Remove from pan and allow to cool on wire rack.
Glaze
Mix together powdered sugar, vanilla and milk. Add enough milk to make a nice dipping consistency.

Dip donuts and then sprinkle with desired toppings.

Eat!
Nutrition Facts:
Calories: 443kcal (22%) Carbohydrates: 64g (21%) Protein: 4g (8%) Fat: 18g (28%) Saturated Fat: 4g (25%) Cholesterol: 50mg (17%) Sodium: 306mg (13%) Potassium: 85mg (2%) Sugar: 42g (47%) Vitamin A: 220IU (4%) Vitamin C: 0.2mg Calcium: 43mg (4%) Iron: 1.5mg (8%)
* Disclaimer: All nutrition information are estimates only. Read full disclosure here.