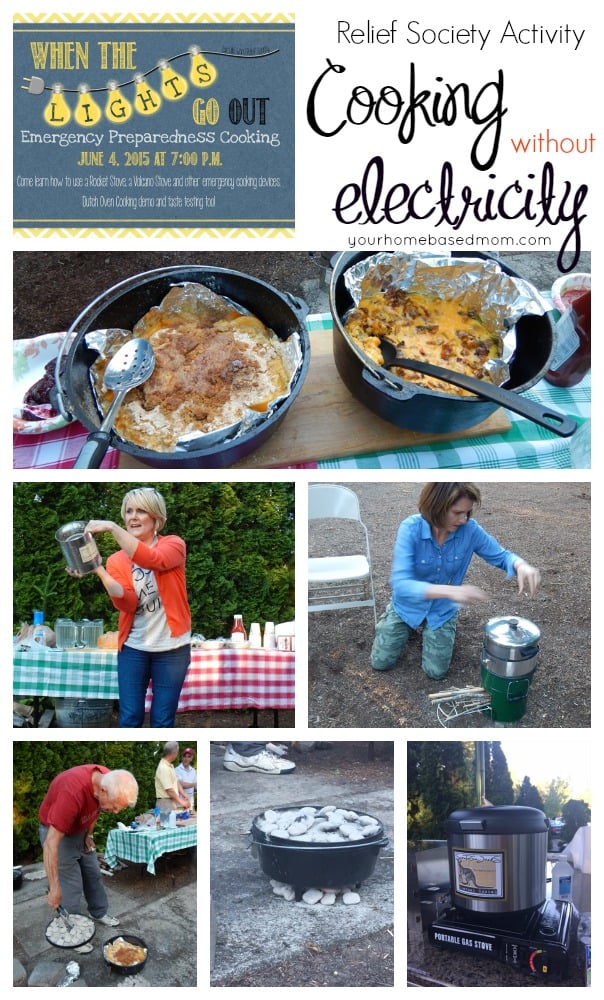 Cooking without Electricity may seen a bit daunting but with the right equipment it can be easy. Check out all the great way for cooking without electricity.
Have you ever had to cook without electricity? Chances are if you haven't, you will.
Last week we had an activity at church for the Relief Society (the women's organization) where we talked about what to do "When the Lights Go Out." We have all probably lost power at one time or another. Sometimes it only lasts a few minutes or hours but there are times when it can last days.
Do you have a way to cook if you had no electricity? Between 2002-2008 over 5 million people in the US lost power for 3 or more days! That's a long time!! It is recommended that you have at least 3 different ways to cook without electricity. How many do you have?? Cooking with out electricity can be a challenge and that is why we planned an activity at church to help us figure out how to do it.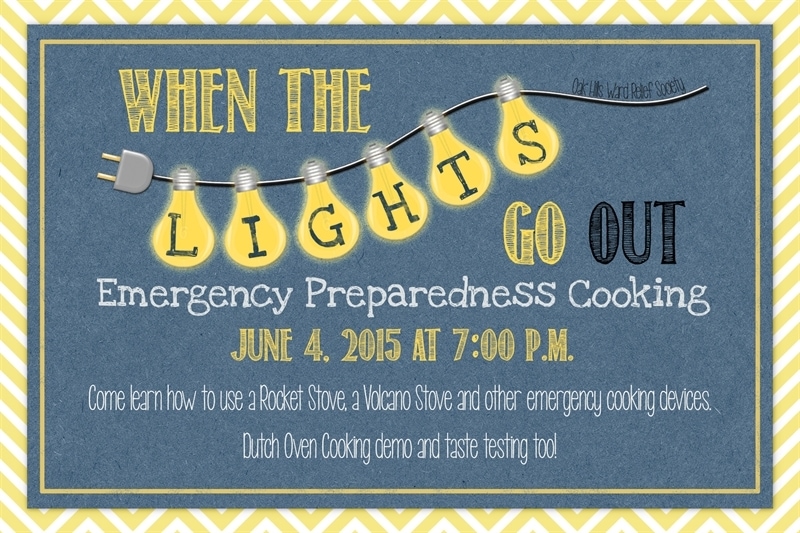 Our church is big on preparedness, storing food for emergencies etc. It is important to store food but you also have to have a way to cook that food because most likely, if you need to use the food in an emergency you probably won't have power either. For more information on storing food and being prepared I highly recommend you check out the Provident Living website.
Dutch Oven Cooking
We started out the evening with two of the men from our ward demonstrating dutch oven cooking. A dutch oven is a great way to cook without electricity. You just need some charcoal which is easy to store. Just make sure you store it in an airtight container.
They not only showed us how to cook it a dutch oven but also how to care for it and how to season it. One important thing is you never use soap on your cast iron!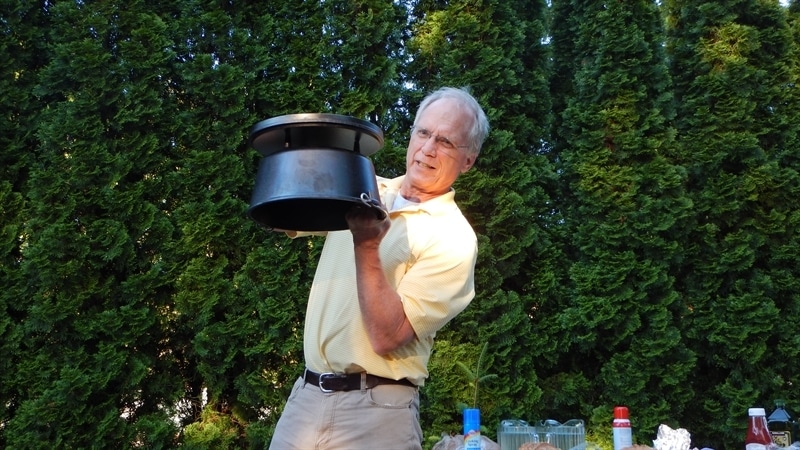 We were also instructed in the proper way to place our charcoal briquets – the one on the right is correct!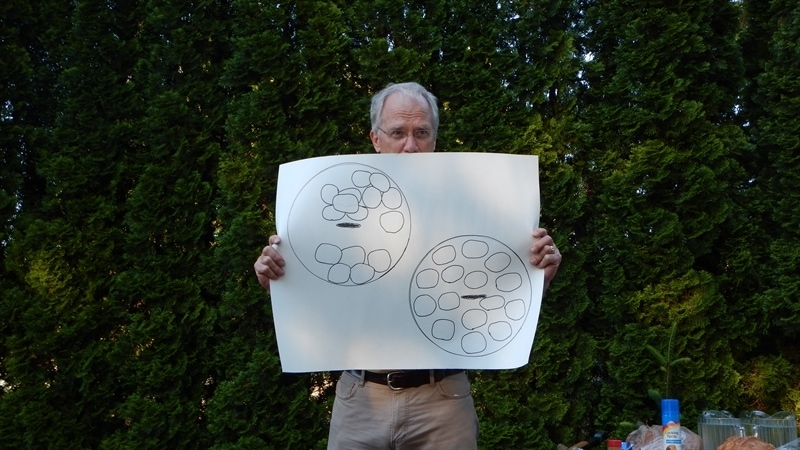 The best part was they made a peach cobber and a Mountain Man breakfast for us to sample.  The Mountain Man Breakfast is just a combo of eggs, potatoes, bacon or sausage and cheese.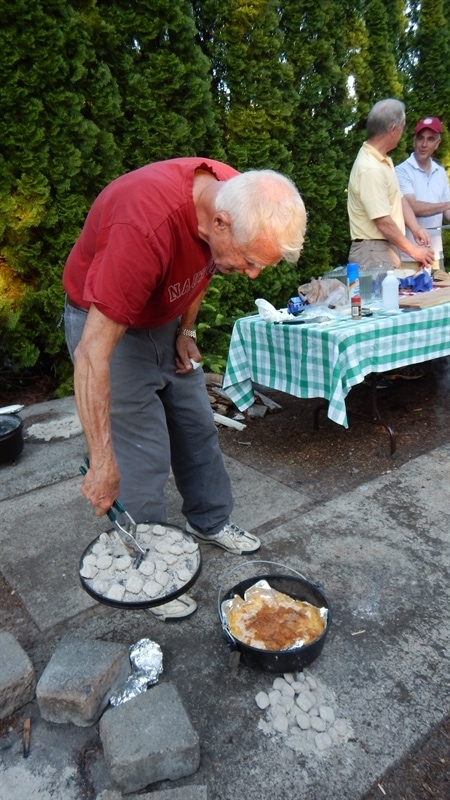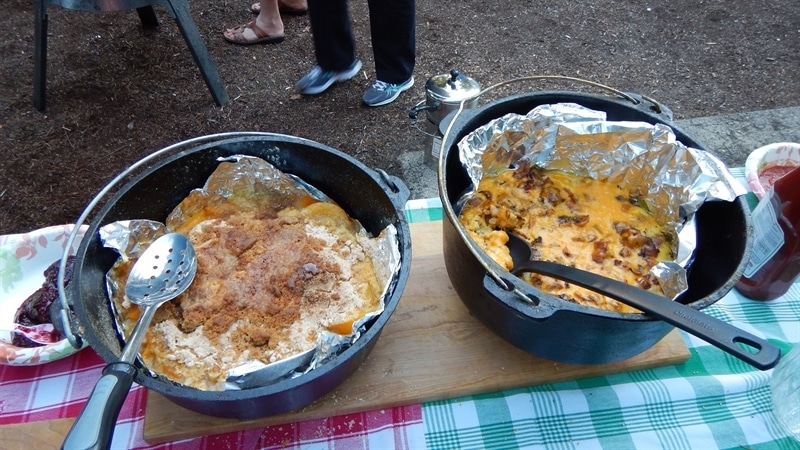 Gerry also did an experiment. He baked a loaf of bread in his oven and one in his dutch oven and we couldn't tell which was which.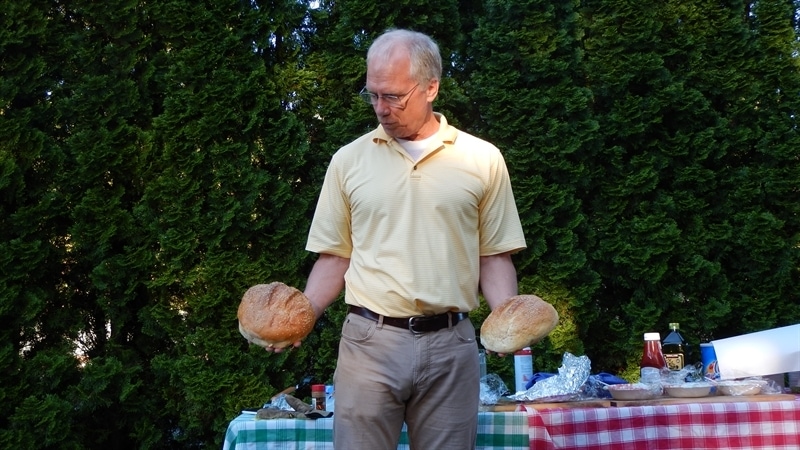 Rocket Stove
We then demonstrated the Rocket Stove which is a great little stove.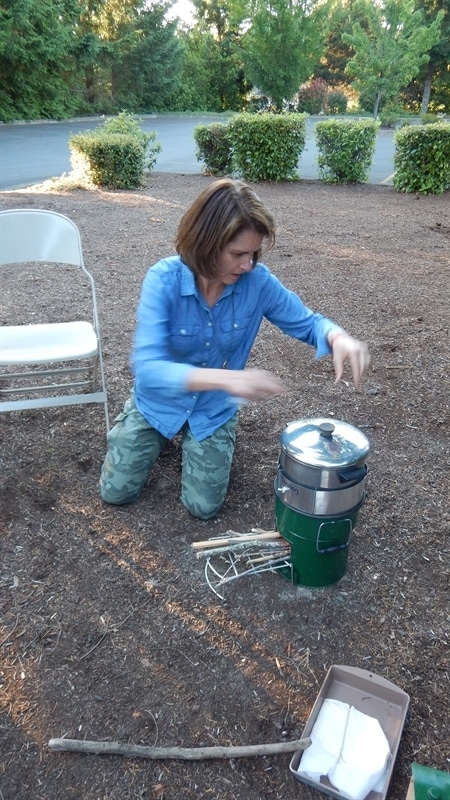 It uses sticks and twigs as fuel and boils water in just a few minutes. It is very energy efficient. You can place a pan right on top of it and cook in it. We made some flour tortillas on it in a few minutes.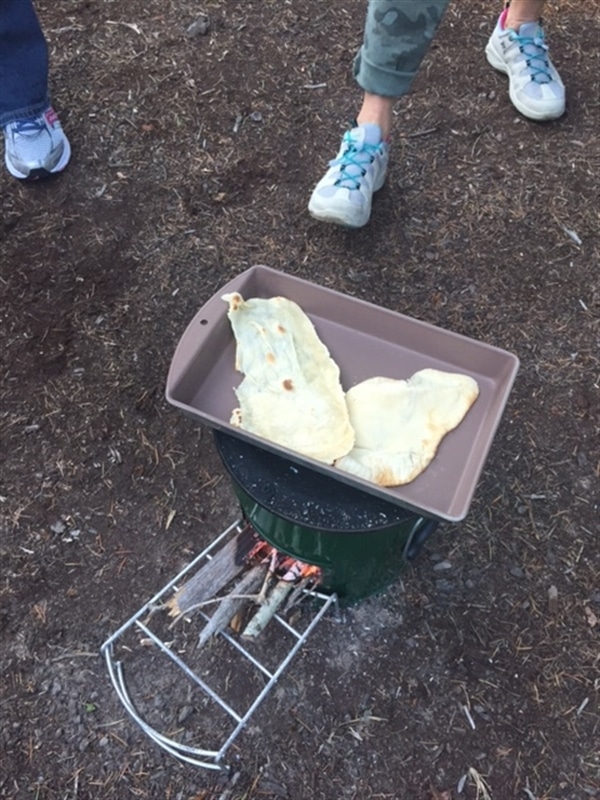 Volcano Stove
The next stove was the Volcano stove which can use wood, charcoal and some of them can use propane (mine doesn't) I used charcoal and lighter fluid. You can place your dutch oven on it to cook or add a grill and cook anything you want.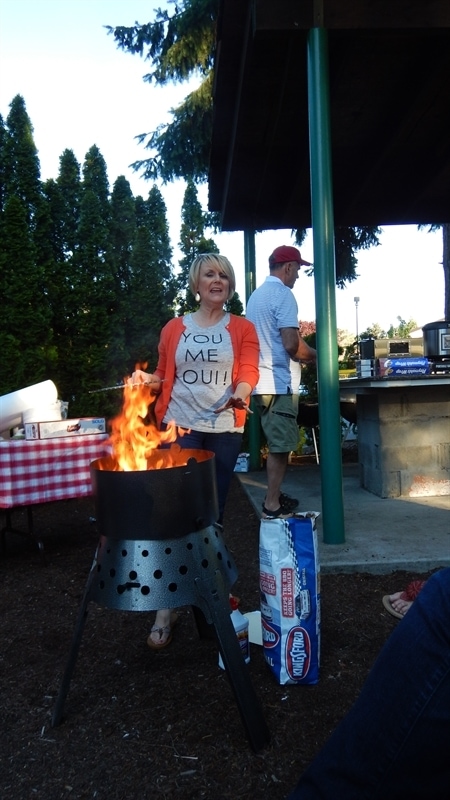 We grilled up a few hot dogs for demonstration purposes.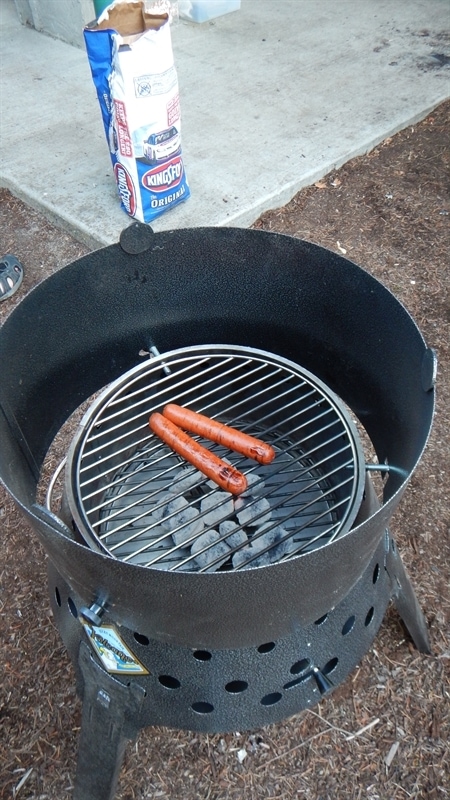 Thermal Cooker
Next up was the Saratoga Jack which is a thermal cooker. It is basically a cordless crockpot. Anything you cook in your crockpot can be cooked in a thermal cooker. All you have to do is bring the ingredients to a boil for about 4 minutes, put the lid on the pan and put it in the thermal cooker and let it cook for 6-8 hours and you have dinner. You only need four minutes worth of fuel!! It is great not only for emergencies but for travel, going to the beach and a tailgate party. So many options.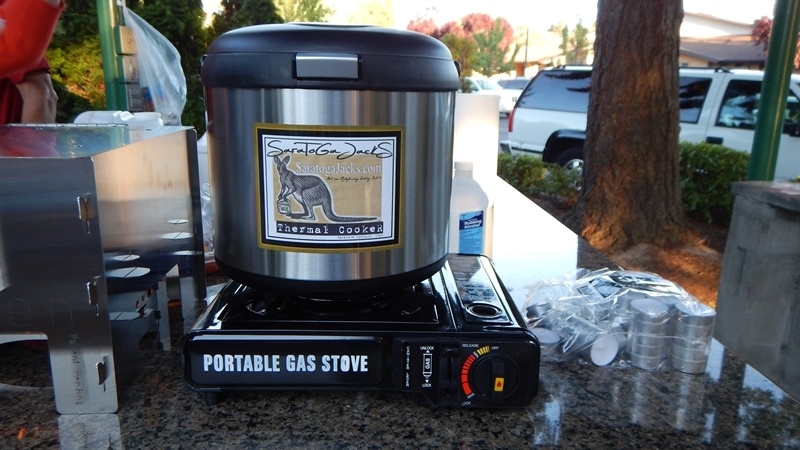 Butane Burner
In an emergency situation you will need a way to bring your food to a boil and this butane burner is perfect. I love this thing and if you are going to buy one thing, make it this. Butane can be used indoors unlike propane so in an emergency situation, if you are unable to be outside due to bad weather etc. and use your propane grill, this butane burner is perfect. It is also inexpensive – just over $20.00. You will also want to make sure you store butane.
HERC Tealight Oven
Probably my favorite cooking device, but also the most expensive is the HERC Tealight Oven. HERC stands for Home Emergency Radiant Cooking.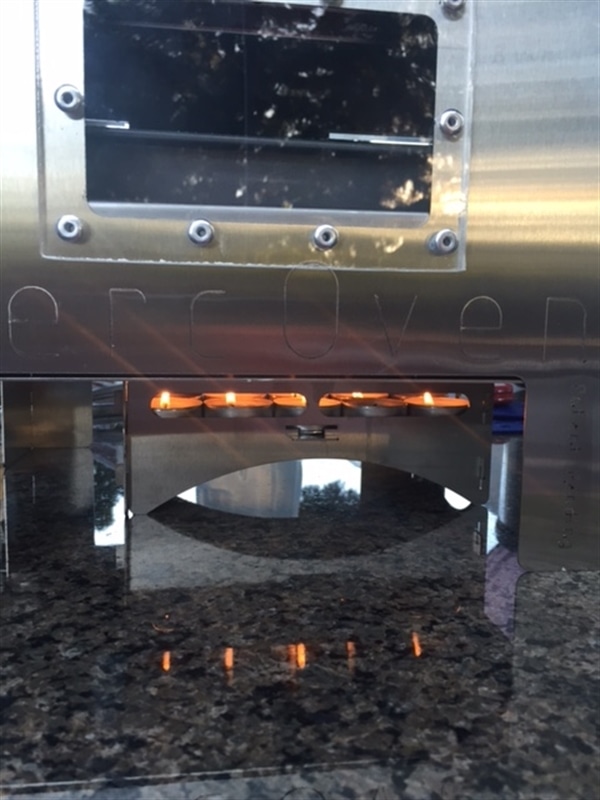 The large size oven which holds a 9 x 13 pan retails for about $389.00. I demonstrated the smaller size which sells for $189.00. The oven is run totally on tea lights. Ten for the smaller size and 20 for the larger size. It will bake anything you can bake in your oven, it just takes a bit longer. I baked some cookies in the oven and it only took about 10-12 minutes longer than the normal baking time. Here they are before baking in a 9 x 9 pan. I borrowed this oven from a friend but it is going on my Wish List.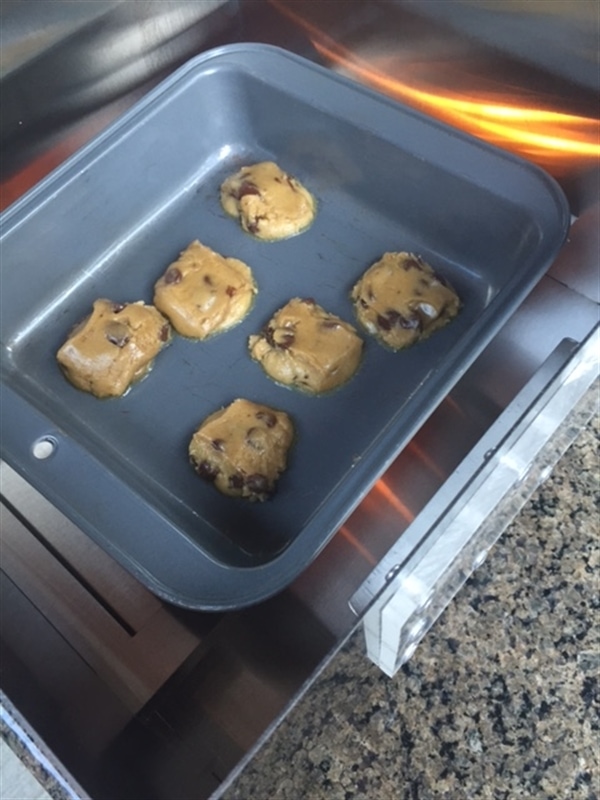 Finally we showed how to make your own cooking device out of a large #10 can. This little cooking device can be made for a few dollars and will do in a real emergency. For directions on how to make one go here.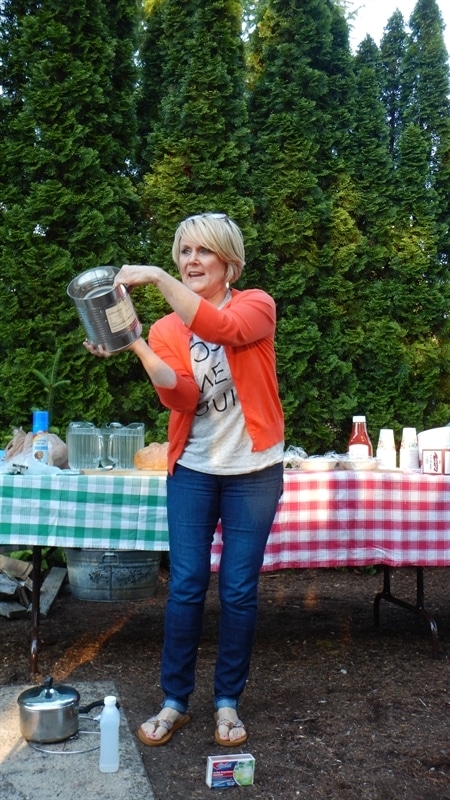 I picked up a little grill at Goodwill to place on top of my can for a cooking surface.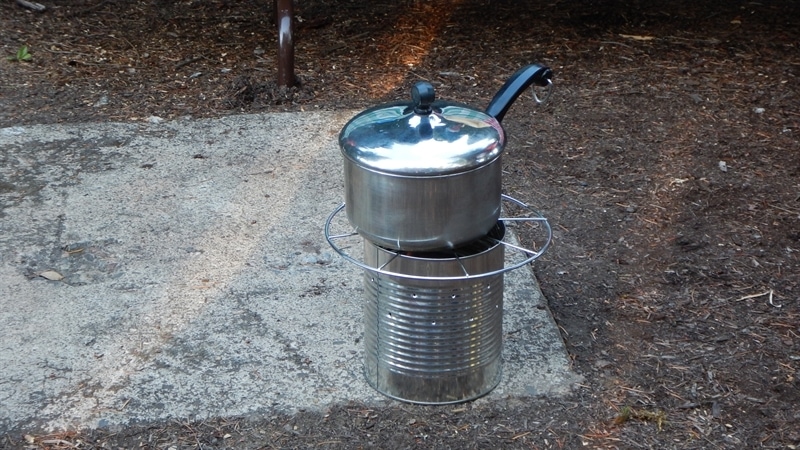 It was a fun evening and we all learned a lot about how to be more prepared and ready to cook when we have no electricity. If you would like more information , you can download thehandouts we gave out that evening with lots of great information: