Lemon bars are one of my favorite treats.  I have a couple of amazing lemon bar recipes.  One that our family has been making for 50 years. Now I have a gluten free lemon bars.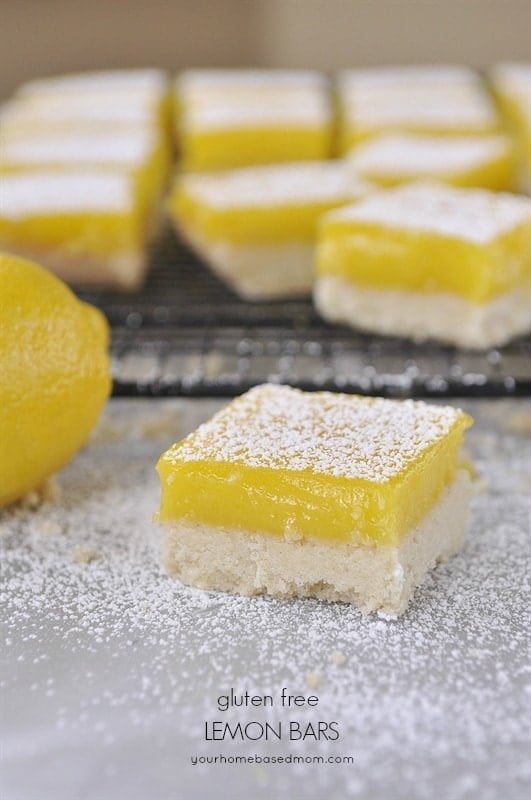 Let me tell you NO ONE will know these are gluten free unless you tell them. They are amazing and pack a powerful lemon punch, just the way a lemon bar should. Not too sweet and not too tart.
The gluten free people in your life are going to love you for this one. They may even get down and bow before you. They are that good.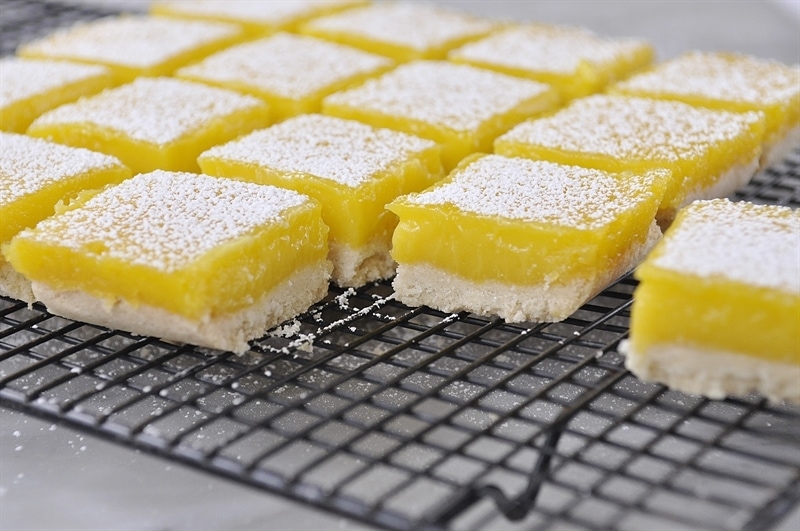 How To Make Gluten Free Lemon Bars
I used Bob's Red Mill Gluten Free 1 to 1 Baking Flour  which is my go to gluten free flour mix if I'm not using my own Gluten Free Flour Mix.   Place your crust mixture into an 8 x 8 glass pan that has been lined with a foil sling and sprayed with cooking spray.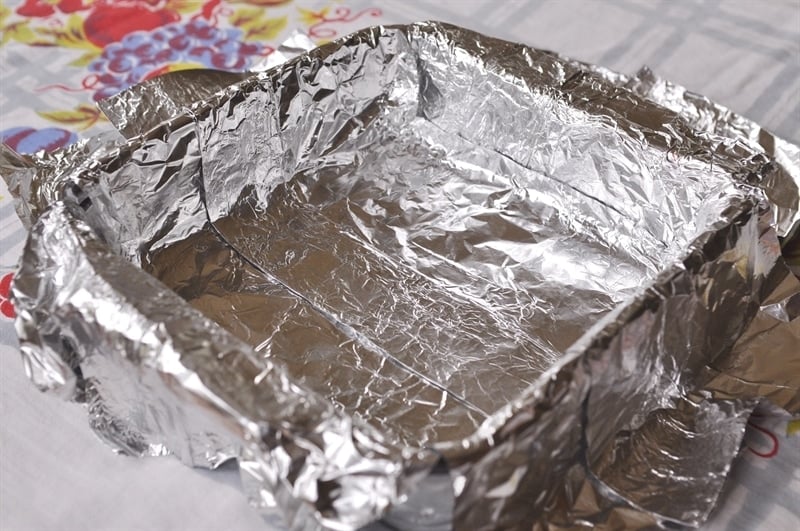 To get your bottom layer nice and even use the bottom of a measuring cut to press down on it.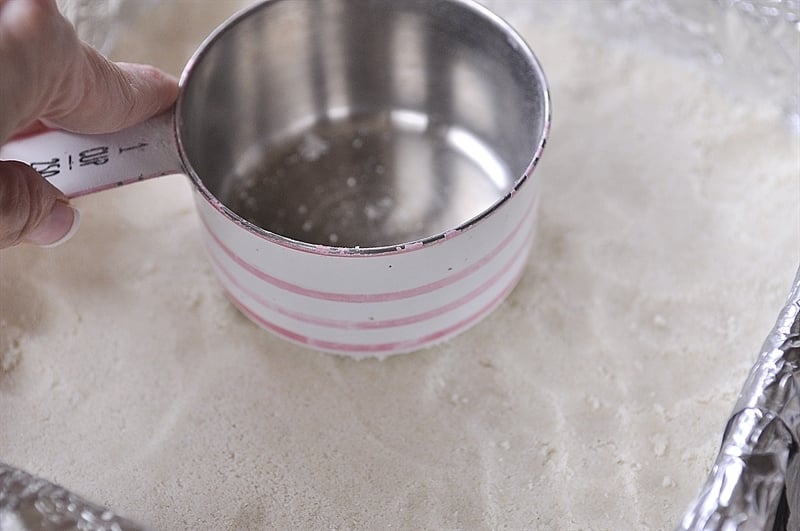 After it is baked you will add your lemon layer. It is made with eggs, sugar and lemon juice, lemon zest and a little whipping cream. No flour is added to this layer. It makes a nice soft and creamy layer.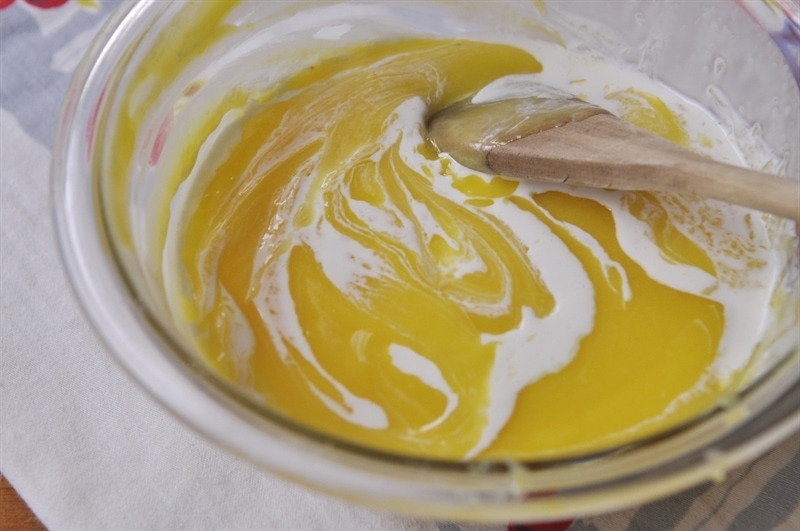 This lemon layer is cooked on the stove top and then put through a fine mesh strainer to remove any lumps. After pouring it over the bottom layer you bake it a bit longer until the lemon mixture sets up. It will jiggle just a bit in the middle. After it cools it is super easy to remove from the pan thanks to the foil sling you created.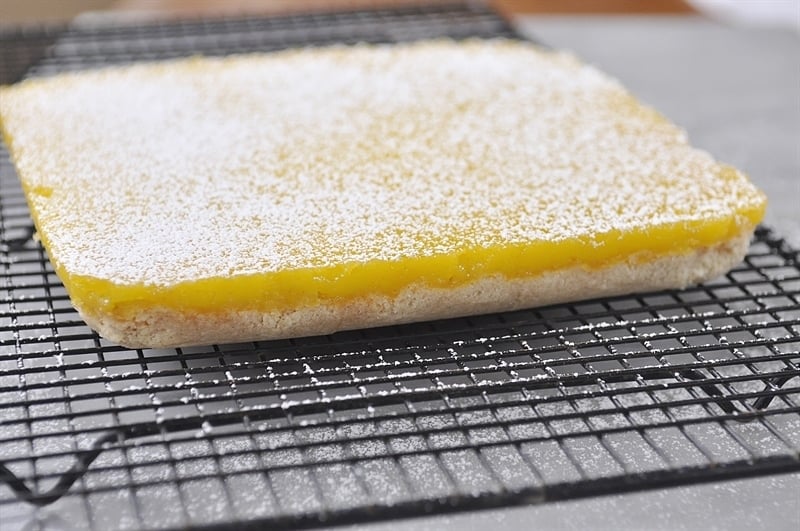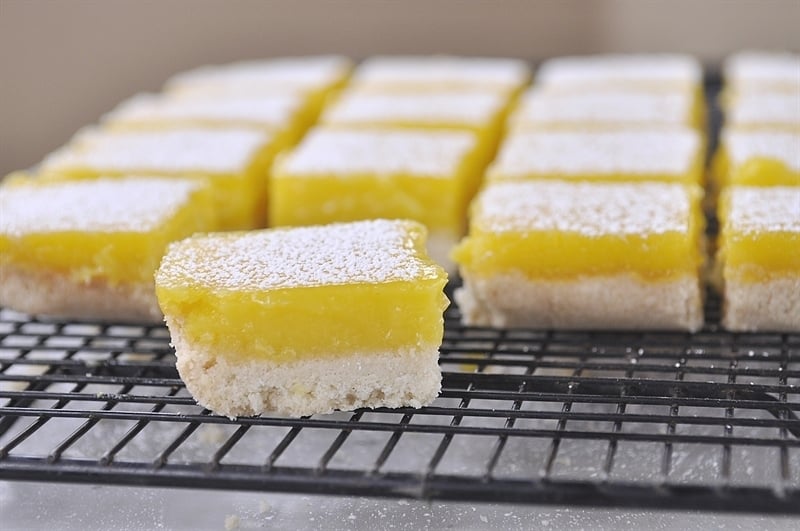 Let them cool for a few hours (if you can wait that long) and then slice them.
Then all you have to do is enjoy – take a nice big bite!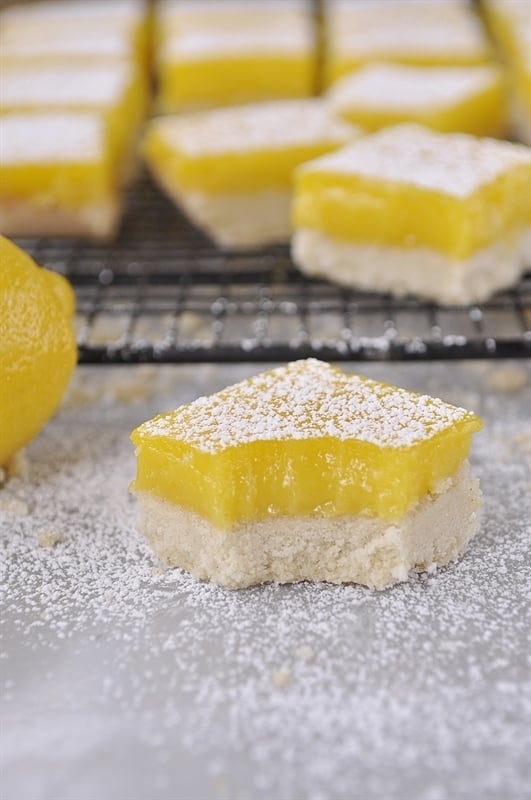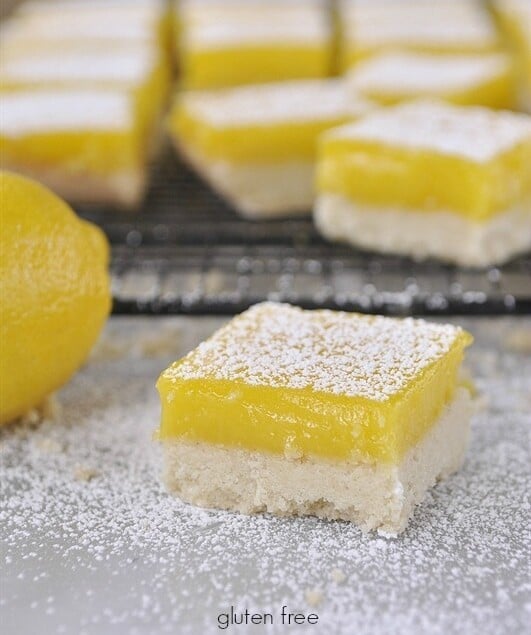 Gluten Free Lemon Bars
My favorite lemon bar recipe made gluten free.
Ingredients
1 1/3 C gluten free flour mix I use Bob's Red Mill Gluten Free 1 to 1 Baking Flour
1/3 C sugar
1/4 tsp salt
1/4 tsp xanthan gum
1/2 C butter cut into pieces and softened
Lemon Filling
2 large eggs
7 egg yolks
1 C sugar plus 2 Tbsp
1/4 C lemon zest
2/3 C lemon juice about 4 lemons
4 Tbsp butter cut into 4 pieces
3 Tbsp heavy cream
Powdered Sugar for sprinkling
Instructions
Preheat oven to 350 degrees F.

Make a foil sling for your 8 x 8 inch pan.

Take 2 long sheets of foil and fold them so they are 8 inches wide. Lay them in pan perpendicular to each other.

Push foil into corners and up sides of pan.

Spray with cooking spray.
Crust
In your mixer with the paddle mix together flour, sugar, salt and xanthan gum for a few seconds to incorporate.

Add in butter, one piece at a time and blend until butter is evenly distributed and mixture is fine crumbs.

Pour into prepared pan and using the bottom of a measuring cup press mixture into pan.

Bake for 25-30 minutes and turn pan halfway through baking.Crust should just begin to turn brown around the edges.

Cool 30 minutes before adding filling.
Filling
Mix together eggs and yolks in a saucepan.

Add in sugar and stir to combine.

Add in lemon zest and juice.

Add in butter and over medium heat stir until mixture thickens slightly, about 5 minutes.

Strain mixture and add in cream.

Pour filling over cooled crust.

Bake filling until it the center is slightly jiggly, about 15-20 minutes. Rotate pan halfway through baking.

Let bars cool completely before cutting, about 2 hours.

Using the foil lift bars out of pan, dust with powdered sugar and cut into bars.
Nutrition Facts:
Calories: 220kcal (11%) Carbohydrates: 25g (8%) Protein: 3g (6%) Fat: 13g (20%) Saturated Fat: 7g (44%) Polyunsaturated Fat: 1g Monounsaturated Fat: 4g Trans Fat: 1g Cholesterol: 133mg (44%) Sodium: 126mg (5%) Potassium: 34mg (1%) Fiber: 1g (4%) Sugar: 17g (19%) Vitamin A: 451IU (9%) Vitamin C: 6mg (7%) Calcium: 27mg (3%) Iron: 1mg (6%)
* Disclaimer: All nutrition information are estimates only. Read full disclosure here.