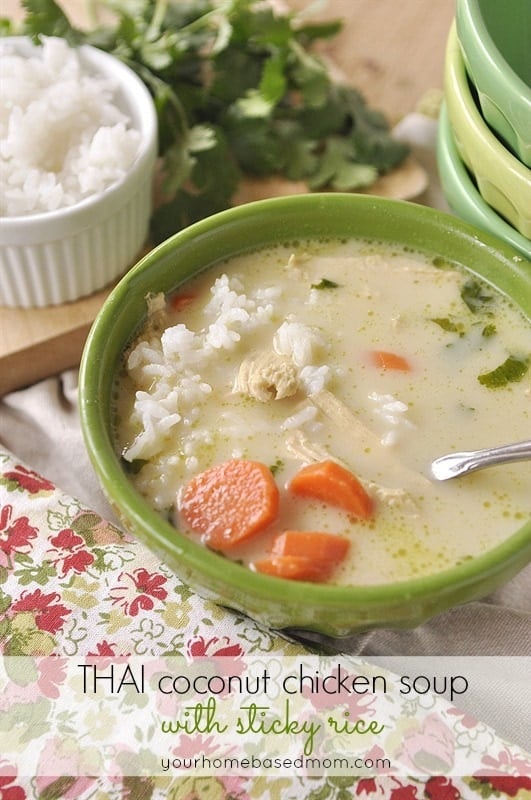 My kids love Thai food.  I usually play it pretty safe and order some type of chicken and cashew over rice dish but my children have a little more sophisticated taste than I do.  Tessa introduced me to one of her favorite Thai soups – a chicken coconut soup.  It was delicious!    I decided to try and recreate something similar at home.  I found a recipe for a Thai Coconut Chicken Soup in America's Test Kitchen Family Cookbook that I adapted  and Jim and I both loved the results.
As I was eating dinner I texted Tessa to tell her that I had just made a soup I thought she was going to love!  I can't wait for her to try it and see what she thinks.
This soup  is made with coconut milk which gives it amazing flavor but it also makes it so my dairy free daughter Cali can enjoy it too!  Be sure and buy coconut milk NOT coconut cream.  Coconut milk is not heavy.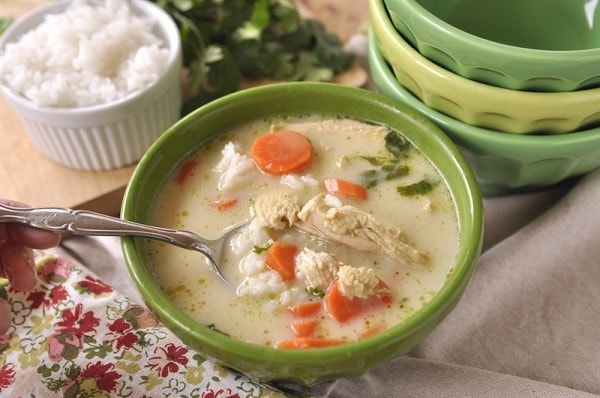 The soup calls for curry paste.  I used green curry paste and found it in the Asian aisle at the grocery store.  The soup has amazing flavor thanks to the curry paste, coconut milk, lime juice and some cilantro.
I added in carrots but the original recipe called for mushrooms but I'm not a big mushroom fan.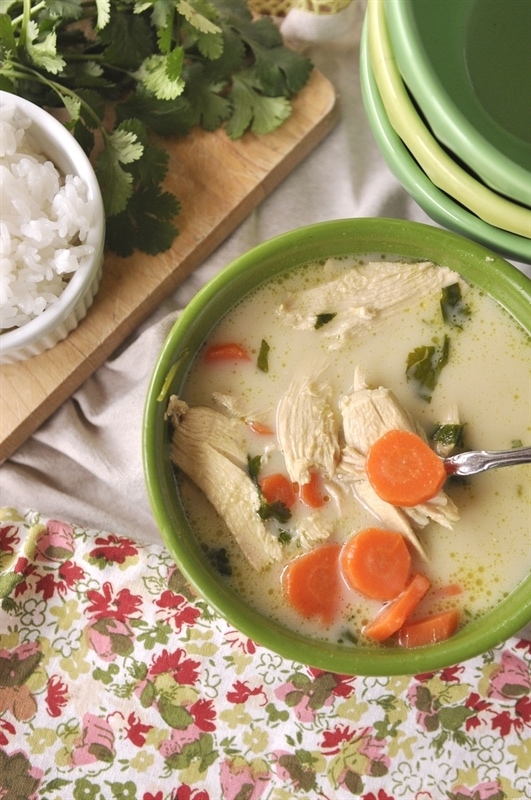 Tessa always orders a side of sticky rice when she has her favorite soup at the Thai restaurant so I decided to add it to this soup and I'm glad I did.  Making sticky rice is easy.  Use a short or medium grain white rice.  Rinse the rice in a strainer.  I cooked mine in a rice cooker but it could be done on the stove top too.  Put the rice into the water (2 cups rice to 3 cups water) in the pan or rice cooker and allow it to sit for 30 minutes before beginning to cook.  You end up with perfect sticky rice!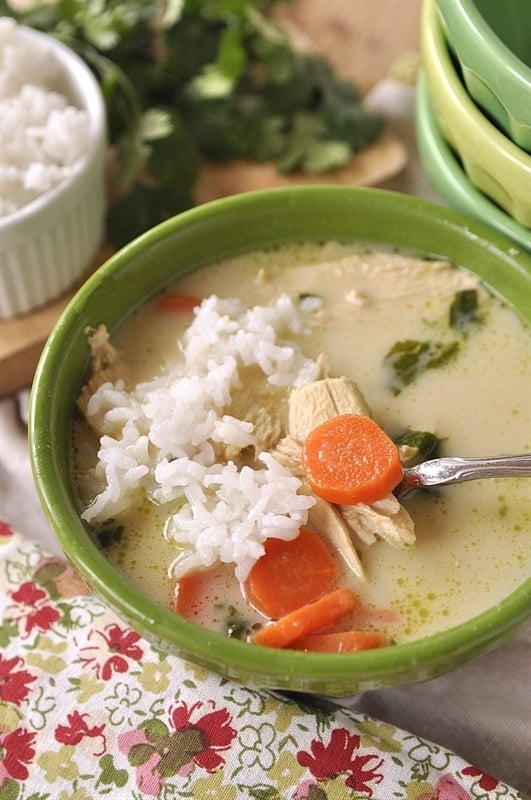 If you are looking for a delicious new soup to try with some fun new flavors Thai Coconut Chicken Soup is it.  Even if you think you don't like coconut, give it a try!  The flavor is lovely and subtle.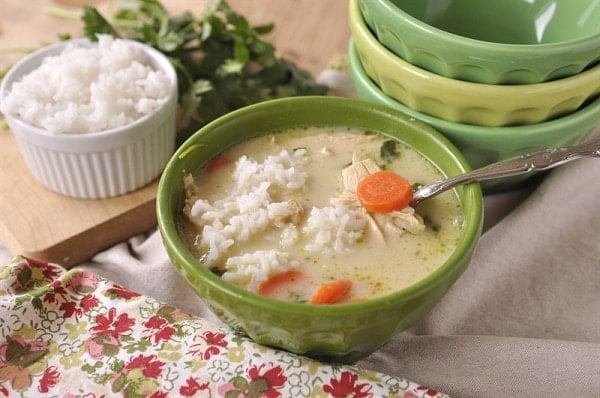 For some other delicious soups try these:
Italian Wedding Soup – Clam Chowder – Chicken Parmesan Soup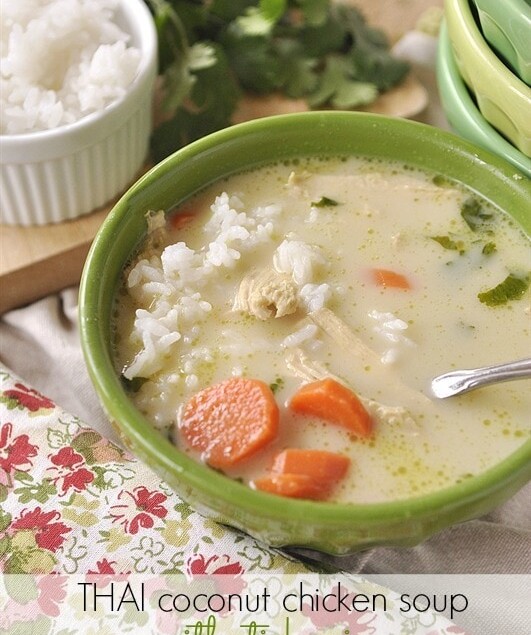 Thai Coconut Chicken Soup
Ingredients
1 Tbsp vegetable oil
1 Tbsp minced fresh ginger
5 Tbsp Thai green curry paste
6 C chicken broth
3 Tbsp soy sauce or fish sauce for gluten free version
1 Tbsp light brown sugar
2 14 oz. cans coconut milk
2 skinless boneless chicken breasts, cooked and thinly sliced into 1 inch strips
3 carrots peeled and sliced
1/2 lb. white mushrooms trimmed and sliced thin
3 Tbsp fresh lime juice
salt to taste
1/3 C chopped fresh cilantro leaves
2 C short or medium grain white rice
Instructions
Heat oil in pan.

Stir in ginger and curry paste and cook for 1 minute

Add in 1/2 C of chicken broth and stir until the curry paste has dissolved

Add in remaining broth, soy sauce and sugar.

Add in carrots and simmer until fork tender.

Add in coconut milk, chicken and mushrooms.

Simmer about 5 minutes.

Add in lime juice, season with salt and add in cilantro before serving.
Sticky Rice
Rinse rice in a strainer.

Place in pan or rice cooker in 3 C of water.

Allow to sit for 30 minutes

In a pan, bring to a boil and then reduce heat to simmer. Cook until rice is done (will be sticky)

Or cook in rice cooker.
 Enjoy!
Leigh Anne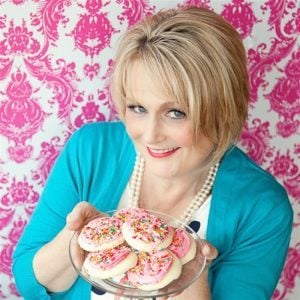 You can also visit me on Facebook, Pinterest, Twitter, Instagram
and Google+