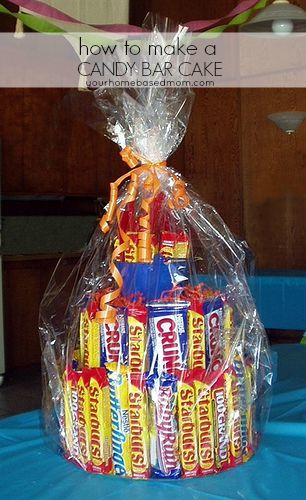 Thanks to my friend Laurie who sent me this amazing idea for a candy cake!
A cake made out of your favorite candy bars – who wouldn't love one!
I think it is the perfect gift for just about any chocolate/candy loving person in your life.  I know a few college age boys who would love one!!
Here's what Laurie has to say about her idea:
Here is an idea that I've used for years for our parties and gift-giving… Candy Cakes! It's been so much fun making them for family and friends. The "cakes" usually end up being the hit of the party. My daughters like making them for their friends and I love seeing their variations.
These Candy Cakes usually cost less than $10 to make and can be customized for any event. They can be made up well in advance since they don't get stale like real cakes. They can be assembled anywhere (even in a hotel room if you're traveling). I usually use round tins with solid colored sides (I discard the lids) but as you can see in my photo, other shapes work well too.
For the cake shown below Laurie found a 25-bar variety pack of candy bars at Target for $6.99 (did not use them all) plus a few smaller bars for the top tier. The tins were 50 cents at her local thrift shop (she runs them through the dishwasher first and I bet you could find some at the dollar store too).
Thanks to Laurie for the great step by step tutorial!
Step One:  Gather supplies.  candy bars, tins without lids, cardboard circle, foil, double sided tape, paper shred.
Step Two:  Cover cardboard circle with foil.  Attach several strips of tape to top edge of largest tin.
Step Three:  Place tin upside down (i.e. taped side down) in center of cardboard circle.
Step Four: Attach a smaller tin on top if desired using tape.
Step Five:  Using strips of double sided tape, attach candy bars around bottom tin.
Step Six:  Use several strips on each candy bar to make sure they adhere well.
Step Seven: Keep adding candy bars around tin.  Try not to eat any! 🙂
Step Eight: Finished with bottom tin.
Step Nine: Repeat on top tin with smaller candy bars.
Step Ten:  Add paper shred if desired.
Step Eleven:  Add a paper strip on top…
or a bow….
or a fun toy or even a tiny blue pail filled with even more candy.
Perfect for any occasion!
Wrap in cellophane for the finishing touch and easy transport.
Who are you going to make your first candy cake for??

Just think of all the possibilities!