Chicken Paprikash is an easy and flavorful dish that can be served over rice or noodles.  Your family will love this delicious hungarian chicken dish.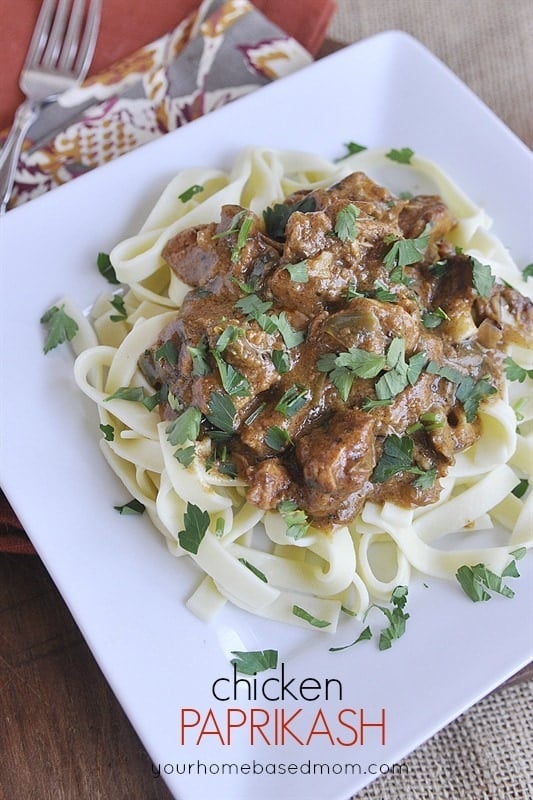 My husband is an Idaho boy and he grew up on a lot of meat, potatoes and gravy type of food.  Swiss Steak with gray, roast with gravy, etc.  I don't usually cook that way, but with this chicken paprikash recipe, I feel like I meet him halfway. He loved this dish!  In fact he ate it for leftovers several times during the week and each time he commented on how much he liked it.
Chicken Paprikish, also known as Paprika Chicken, is a Hungarian dish.  It is a delicious chicken dish with a sour cream "stroganoff" style sauce.  This is what gave it a gravy like sauce that my husband loved, without being too heavy or rich for my liking.  And this recipe was more flavorful than any stroganoff I have ever had.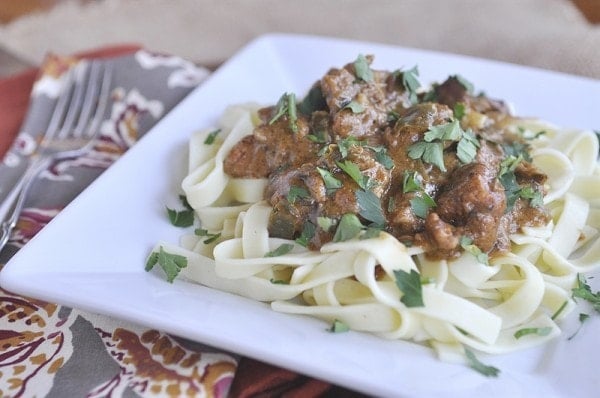 Chicken Paprikash is traditionally served with spaetzle, egg noodles or even rice.  You need something to soak up the yummy gravy that it makes.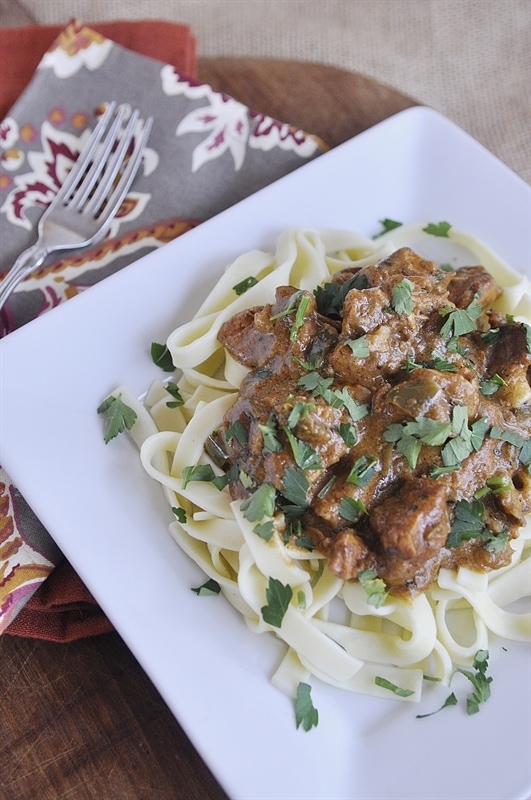 And it comes together so quickly, but still has deep, rich flavor.   I used chicken breasts and just regular Paprika, although I understand that Hungarian Paprika is better.  I'm going to have to look for it and try it next time.  Because there will definitely be a next time with this dish.
In addition to the green bell pepper and onion, this recipe has a little secret ingredient – bacon!  Just saute the three of them together.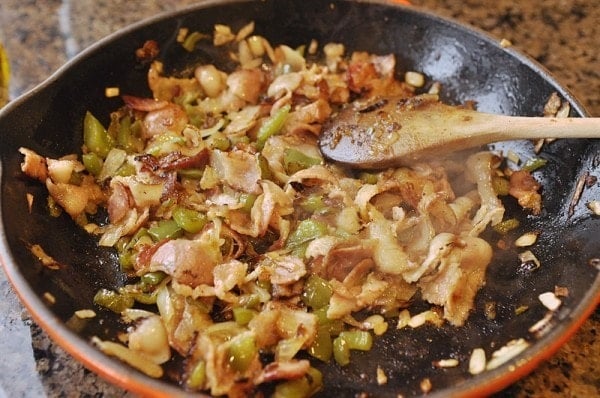 Paprikash
The chicken is coated in flour, paprika and marjoram and then cooked in a little olive oil until the chicken is browned, about 6 minutes.   Combine the chicken with the veggie mixture and add in some chicken broth and simmer until chicken is all the way cooked through.  All that is left to do is add in the sour cream and parsley and then let it simmer for a few more minutes.  Serve over rice, noodles or spaetzle.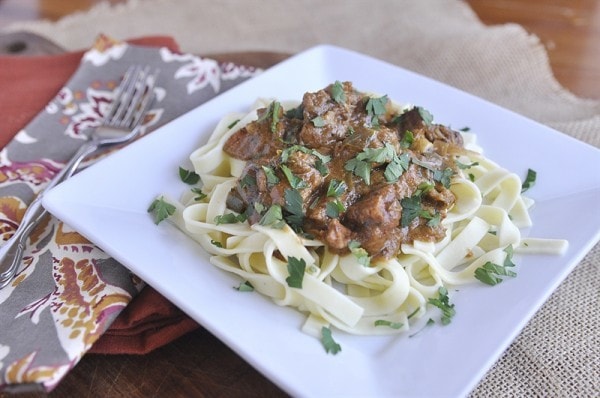 Garnish with a little fresh flat leaf parsley to dress it up a bit and add some nice color.
For some other chicken dishes try these:
Chicken Paprikash Recipe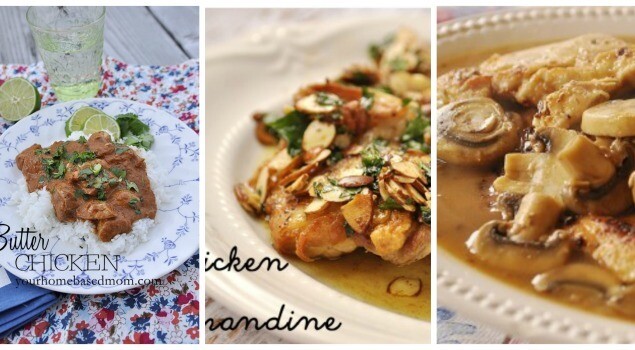 Chicken Paprikash
Ingredients
6 slices bacon diced
1 onion chopped
1 green bell pepper chopped
2 Tbsp olive oil
1/4 C all purpose flour
2 Tbsp paprika
1/2 tsp dried marjoram
1/2 tsp garlic powder
1/2 tsp salt
3 chicken breast boneless, skinless
2 C chicken broth
noodles rice or spaetzle
1/2 C sour cream
2 Tbsp chopped fresh parsley
Instructions
Cook bacon in a pan over medium heat for 4 minutes.

Add in onion and pepper. Cook for 3-4 more minutes.

Mix together flour, paprika, marjoram, salt and garlic in a plastic bag.

Add the cut up chicken and shake to coat chicken on all sides.

Cook the chicken in olive oil until chicken is browned, about 6 minutes.

Add in bacon mixture and cook for 2-3 more minutes.

Add in chicken broth and bring to a boil.

Stir and reduce heat and allow to simmer until chicken is cooked through. About 10 minutes

Prepare rice, noodles or spaetzle

Add sour cream and parsley to chicken mixture and reduce heat and simmer for 2-3 more minutes.

Garnish with additional parsley
Nutrition Facts:
Calories: 340kcal (17%) Carbohydrates: 9g (3%) Protein: 28g (56%) Fat: 20g (31%) Saturated Fat: 6g (38%) Cholesterol: 96mg (32%) Sodium: 775mg (34%) Potassium: 664mg (19%) Fiber: 1g (4%) Sugar: 2g (2%) Vitamin A: 1345IU (27%) Vitamin C: 24.3mg (29%) Calcium: 43mg (4%) Iron: 1.6mg (9%)
* Disclaimer: All nutrition information are estimates only. Read full disclosure here.