This Sundried Tomato Tortellini Soup is creamy, delicious and the perfect thing for a snowy day.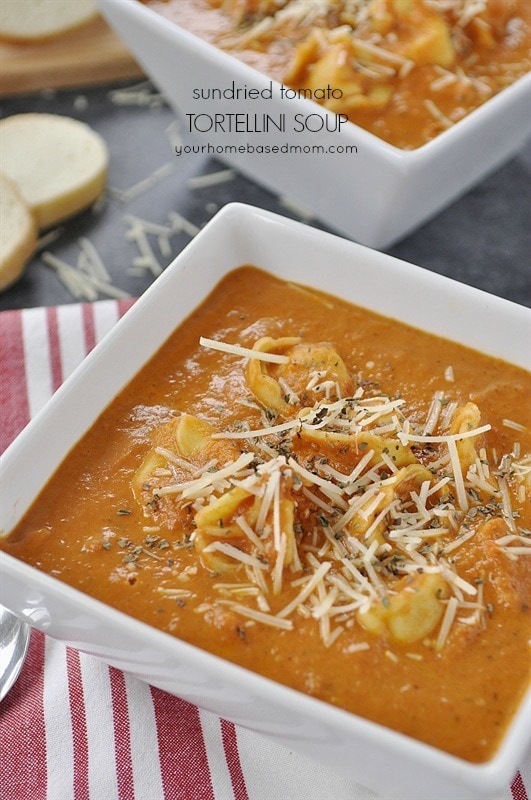 When you get stuck inside for two days because of snow and ice and you have to cancel your birthday plans guess what you do!?  You make soup.  More specifically, you make creamy, rich, real comfort food soup.  This Sundried Tomato Tortellini Soup fits the description perfectly.
Portland winter weather has been a little crazy this year.  We are on our third snow storm of the season which is highly unusual.  We usually get one every 3-4 years or so.  Because we get snow so rarely we aren't equipped to deal with it as a city so the entire city goes a little crazy.  And when the snow then turns to freezing rain that is another animal all together.  When that happens, you stay home!  Our cul de sac was pretty much an ice skating rink.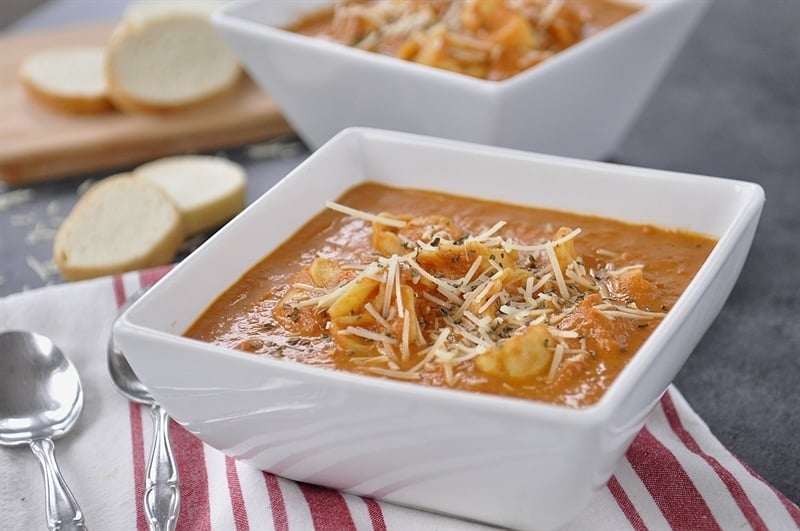 Fortunately for us I was prepared and had made that last minute run to the grocery store with the rest of the city so I could make this yummy soup to keep us warm and fed while we stayed inside our house for a few days.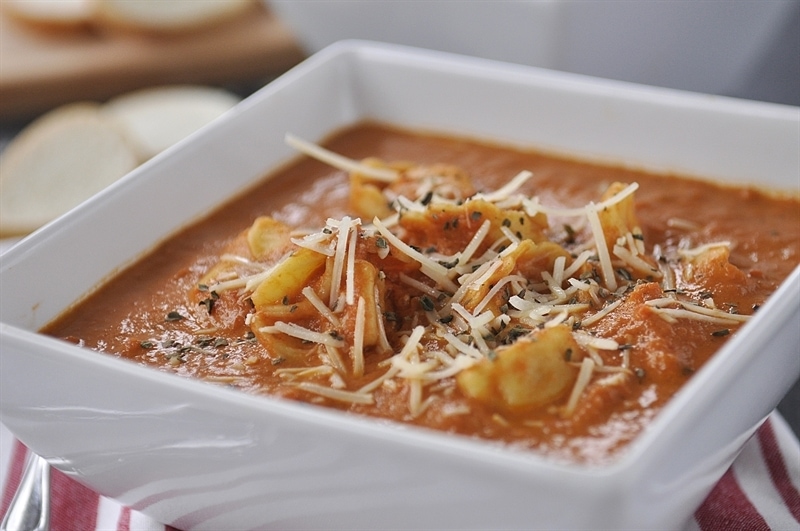 The base of this soup is a combination of sundried tomatoes, crushed tomatoes, onion, carrots and chicken stock. Blend that all together and add in some cheese tortellini and cream and all that is left is to top it off with some freshly grated Parmesan cheese and basil.  Now if I hadn't been iced in I would have gone to the store and gotten some fresh basil but since I couldn't, dried basil had to do!  Just imagine this soup is topped with freshly cut basil.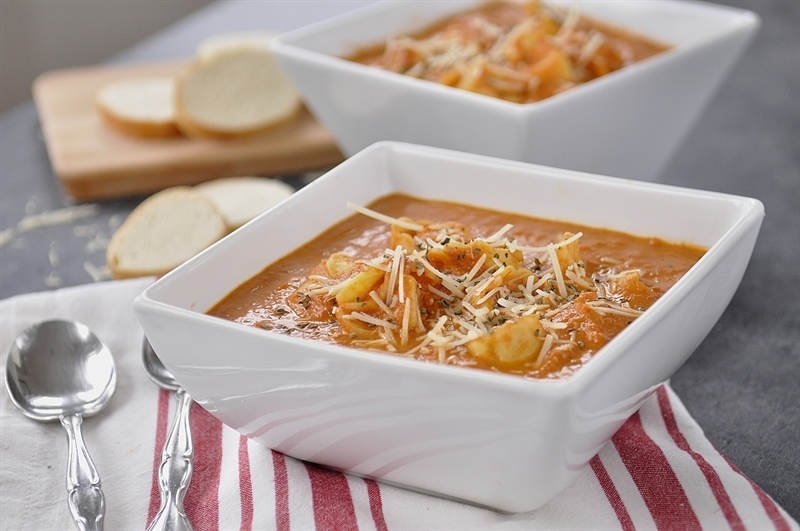 It's the perfect way to warm up on a cold winter's night and celebrate your birthday!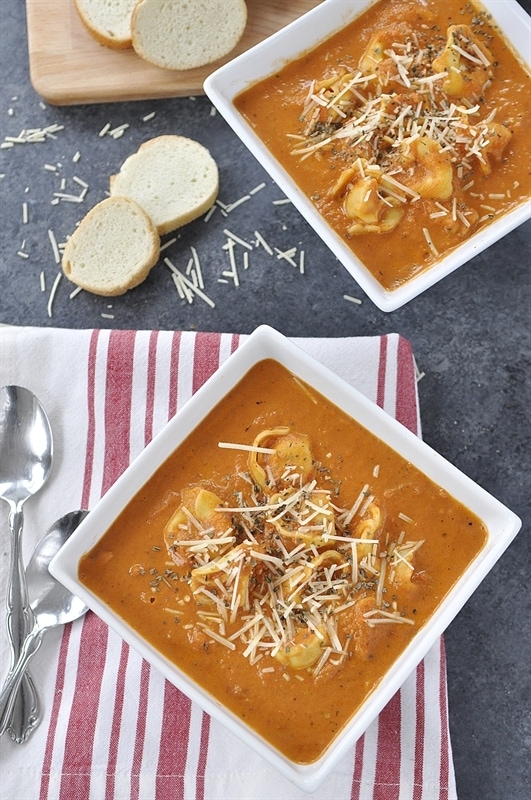 Sundried Tomato Tortellini Soup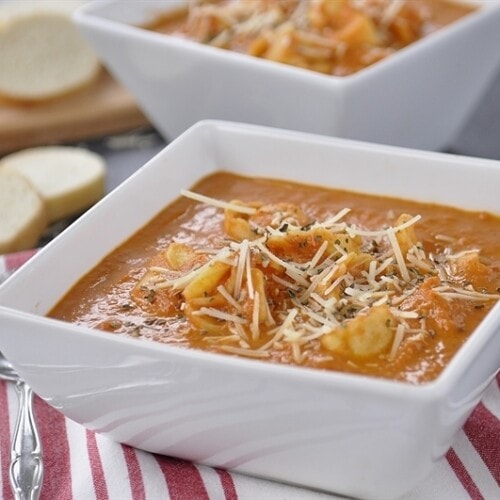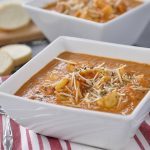 Print
Sundried Tomato Tortellini Soup
Ingredients
1/2

cup

chopped

sundried tomatoes packed in oil

2

Tbsp

tomato paste

1

tsp

garlic

minced

1/2

cup

onion

chopped

1

cup

carrot

diced small

1

tsp

sugar

5

cups

chicken broth

2

cups

crushed tomatoes

1

tsp

salt

1/2

tsp

pepper

8

oz.

cheese tortellini

1/2

cup

whipping cream

freshly grated Parmesan

fresh basil

sliced
Instructions
In a large pot, combine sun dried tomatoes with a little of the oil, tomato paste, garlic, onion and carrots. Saute for about 3 minutes. Add in sugar, chicken broth, crushed tomatotes, salt and pepper.

Bring to a boil and simmer for 15 minutes.

Puree soup with a hand immersion blender or a high speed blender (allow to cool somewhat)

Process until desired consistency is achieved.

Cook tortellini in some boiling water according to the directions on the package.

Add cream to soup and tortellini.

Garnish with parmesan and basil.

Serve.