This Spinach Artichoke Dip will be the first thing to disappear at the party and maybe one of my favorite appetizer of all times!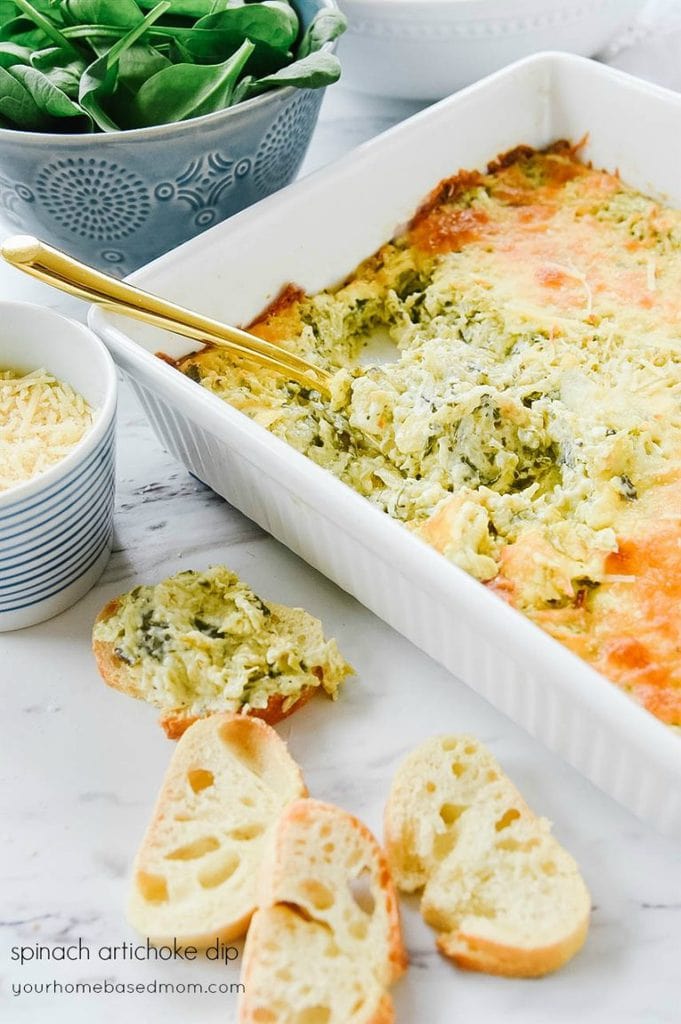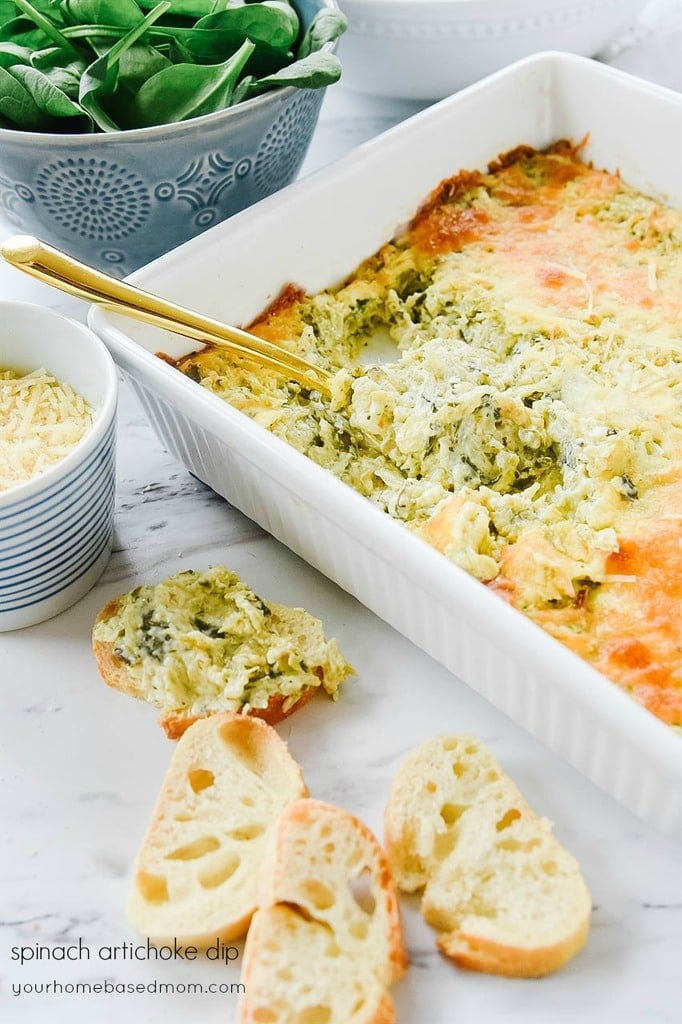 You know a recipe is a good one when you serve it at a party and almost every guest asks for the recipe! This Spinach Artichoke Dip is one of those.
I have a collection of favorite appetizer recipes. They are always my go to any time I am asked to bring an appetizer to a party. If I am given the choice of bringing a dessert or an appetizer, I always go for the appetizer. My usual, go to appetizer is this roasted garlic and artichoke dip that I have made for years. Everyone loves it and it is always one of the first things to disappear at a party. Recently though, I had a blog reader send me one of her favorite recipes, a recipe for spinach artichoke dip. I had a party coming up so was excited to try it out.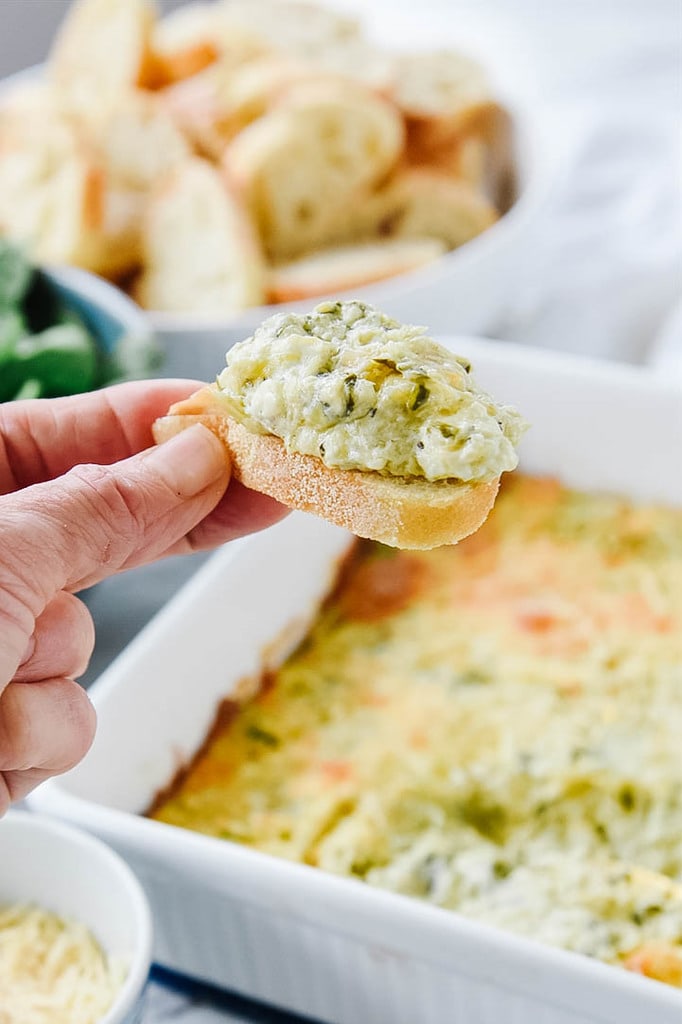 I may have a new favorite appetizer. It's really too close to call!! This recipe for Spinach Artichoke Dip is similar to my favorite one with a few differences.
How to Make Spinach Artichoke Dip
This recipe is a combination of cream cheese, mayo and a combination of Romano and Parmesan cheese. You can also use all Parmesan cheese if you like.
I buy the artichoke hearts that come in a jar, in liquid. Be sure and drain the liquid out. I then put them in my little food processor and chop them up. I don't like big pieces of artichoke in my dip.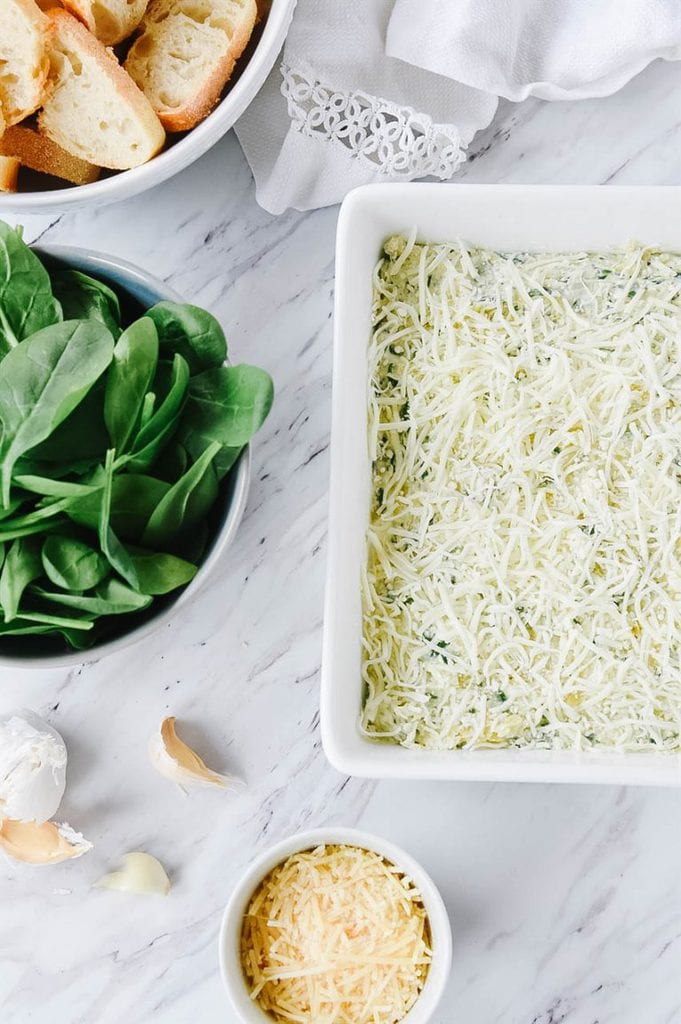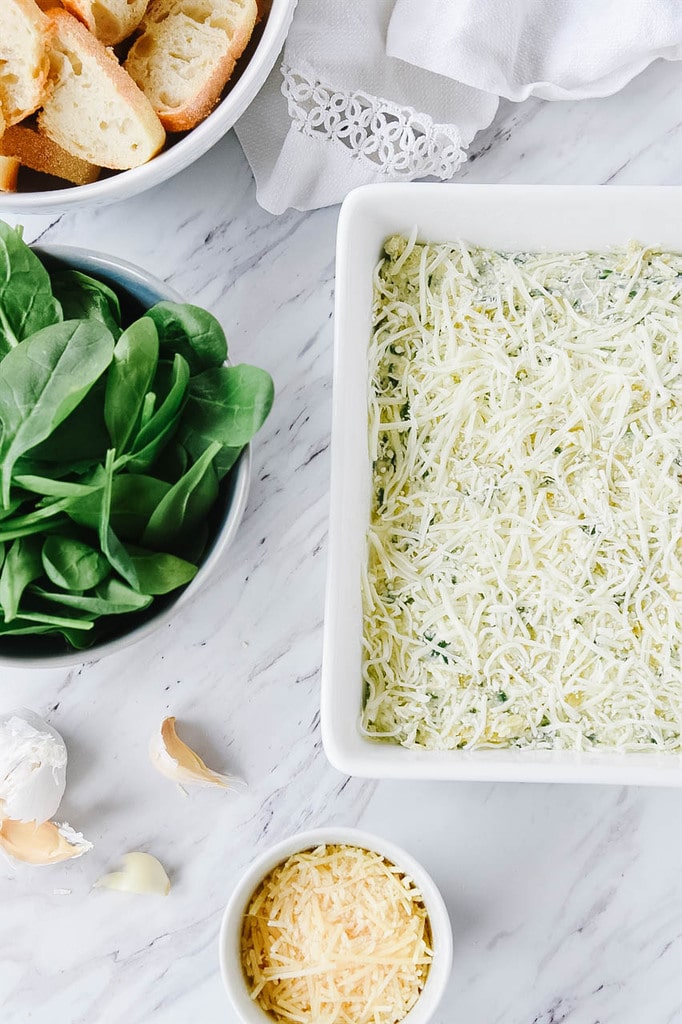 The original recipe called for frozen chopped spinach which I don't ever have on hand but I always have fresh baby spinach so I just chop that up and use it, about 2 handfuls.
The dip is finished off with a sprinkle of Mozzarella cheese on top! It is a great appetizer to make ahead and just keep in the refrigerator until you are ready to bake it. If I am taking it to a party I will often bake it at the host's house so that it is nice and warm. If it cools off too much and begins to set up, just pop it in the microwave for a couple of minutes to soften it up.
I love to serve in on a sliced baguette but it's great on some fresh veggies or crackers too.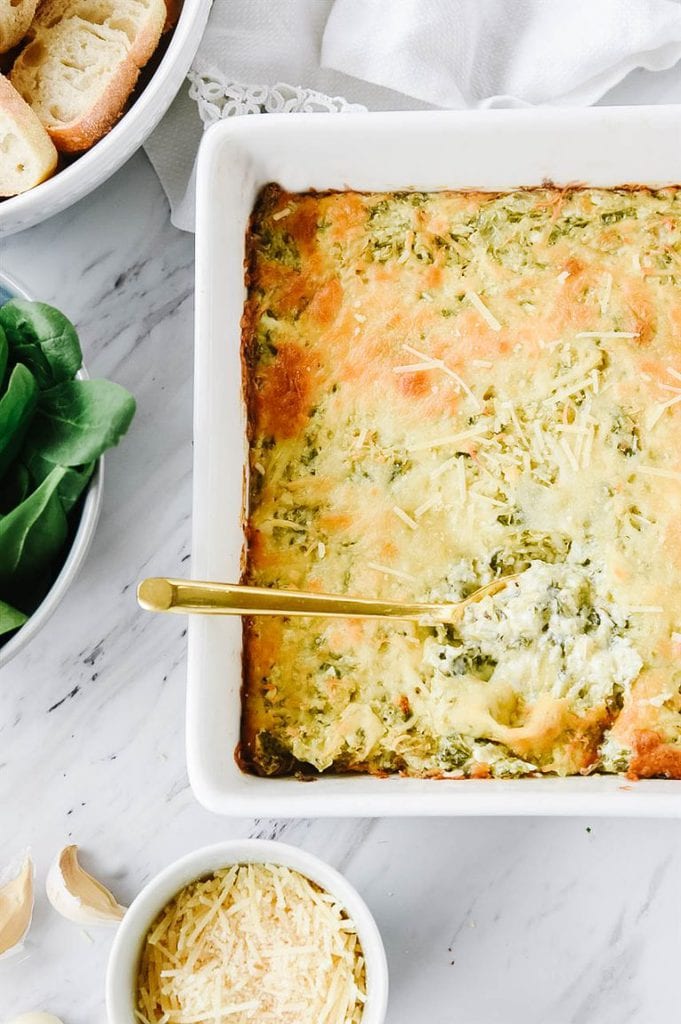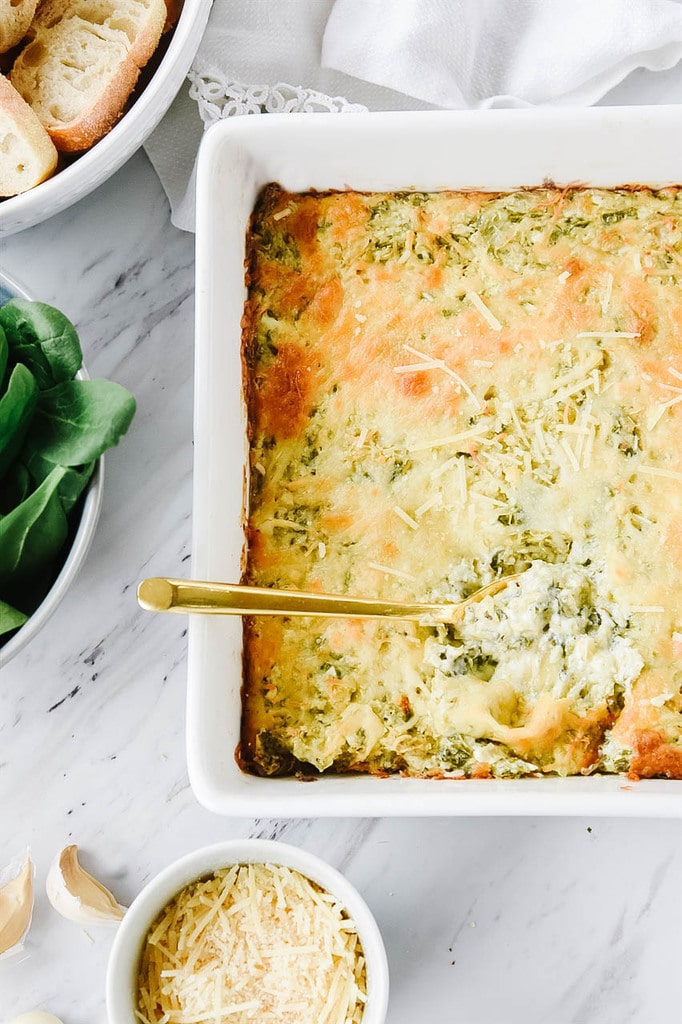 This stuff is so yummy I have been known to make a complete meal out of it! You might be tempted to just eat it by the spoonful. Forget the bread!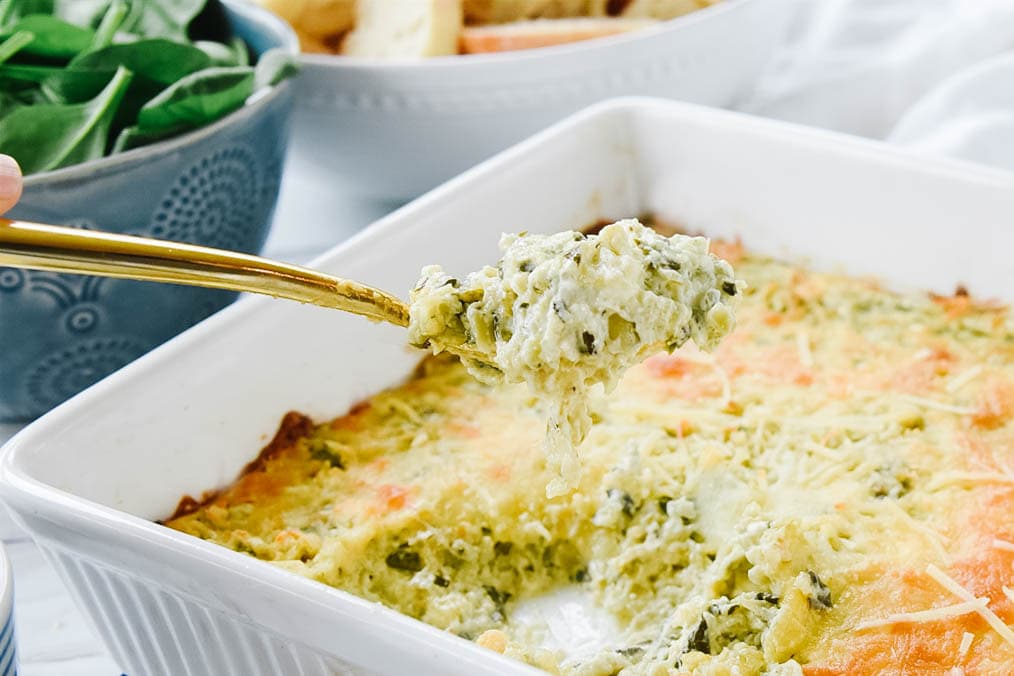 Check out more delicious dip recipes:
Spinach Artichoke Dip Recipe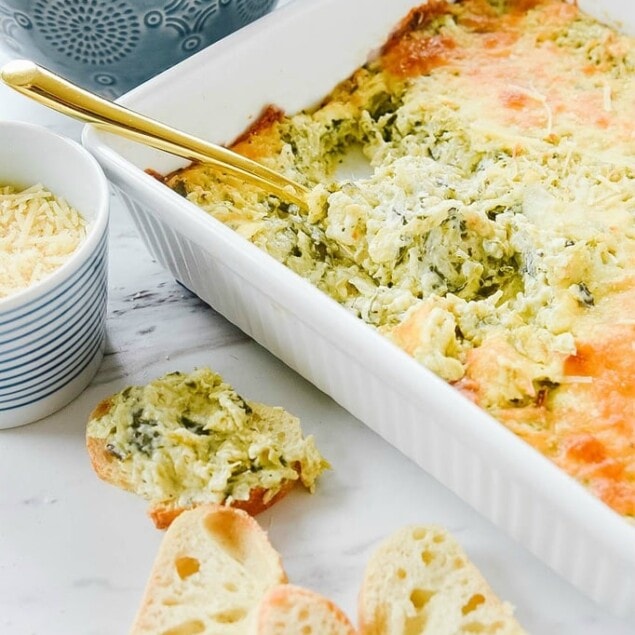 Spinach Artichoke Dip
This Spinach Artichoke Dip is always the first thing to disappear at the party and one of my favorite appetizer of all times!
Ingredients
1 8 oz. cream cheese softened
1/4 C mayonnaise
1/4 C grated Parmesan cheese
1/4 C grated Romano cheese
1 clove garlic peeled and minced
1/2 tsp dried basil
1/4 tsp garlic salt
salt and pepper to taste
1 14 oz. jar artichoke hearts drained, chopped
2 C baby spinach about 2 handfuls, chopped
1/4 C shredded mozzarella cheese
Instructions
Preheat oven to 350 degrees F (175 degrees C)

Lightly grease a small baking dish

In a medium bowl, mix together cream cheese, mayonnaise, Parmesan cheese, Romano cheese, garlic, basil, garlic salt, salt and pepper

Gently stir in artichoke hearts and spinach

Transfer the mixture to the prepared baking dish

Top with mozzarella cheese

Bake in the preheated oven 25 minutes, until bubbly and lightly browned
Nutrition Facts:
Calories: 49kcal (2%) Protein: 1g (2%) Fat: 4g (6%) Saturated Fat: 1g (6%) Cholesterol: 5mg (2%) Sodium: 128mg (6%) Potassium: 27mg (1%) Vitamin A: 505IU (10%) Vitamin C: 1.5mg (2%) Calcium: 40mg (4%) Iron: 0.2mg (1%)
* Disclaimer: All nutrition information are estimates only. Read full disclosure here.