These light and fluffy small batch dinner rolls are the perfect addition to any meal and you only need to make four rolls instead of two dozen!.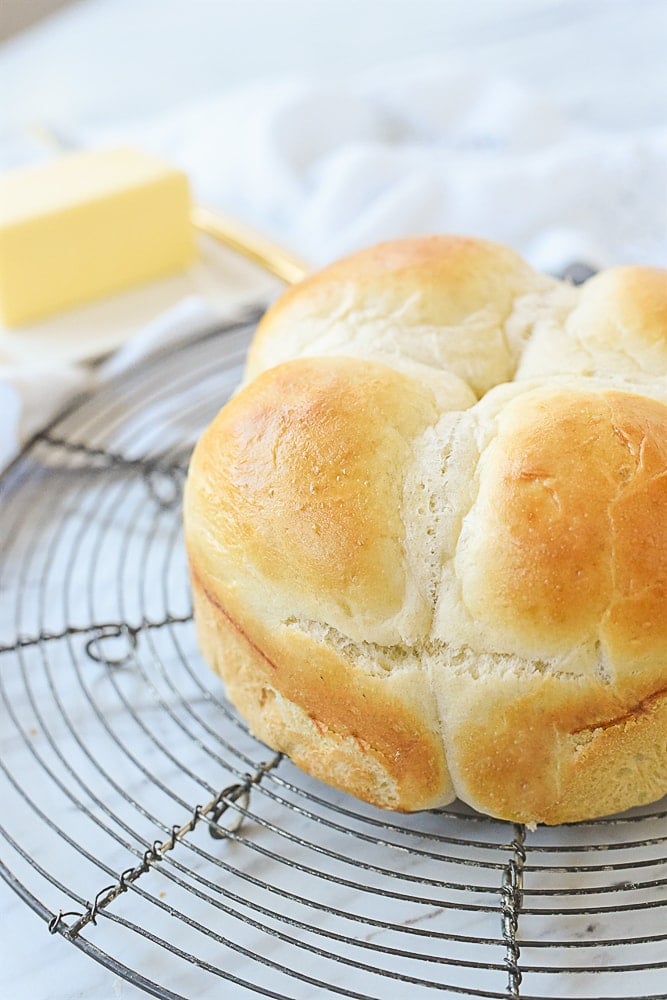 Dinner Rolls for Two
Being able to make only four rolls at a time is life changing, I make them so much more often because I don't end up with dozens of leftover rolls! As an empty nester, a traditional roll recipe that makes two dozen rolls is just way too many. I end up with too many leftover rolls and I eat too many rolls!
Thanks to this recipe I no longer have to reserve roll making to a big holiday dinner with friends and family. I can enjoy homemade rolls with any weeknight meal. They are perfect with a plate of pasta or a bowl of soup, or just about anything.
You don't have to be an empty nester to enjoy this recipe though. The recipe makes four large rolls but you can easily make 6 smaller rolls if you are needing to feed more people.
It takes under an hour to make these dinner rolls. Just start them at the beginning of dinner prep and by the time dinner is ready, your rolls will be too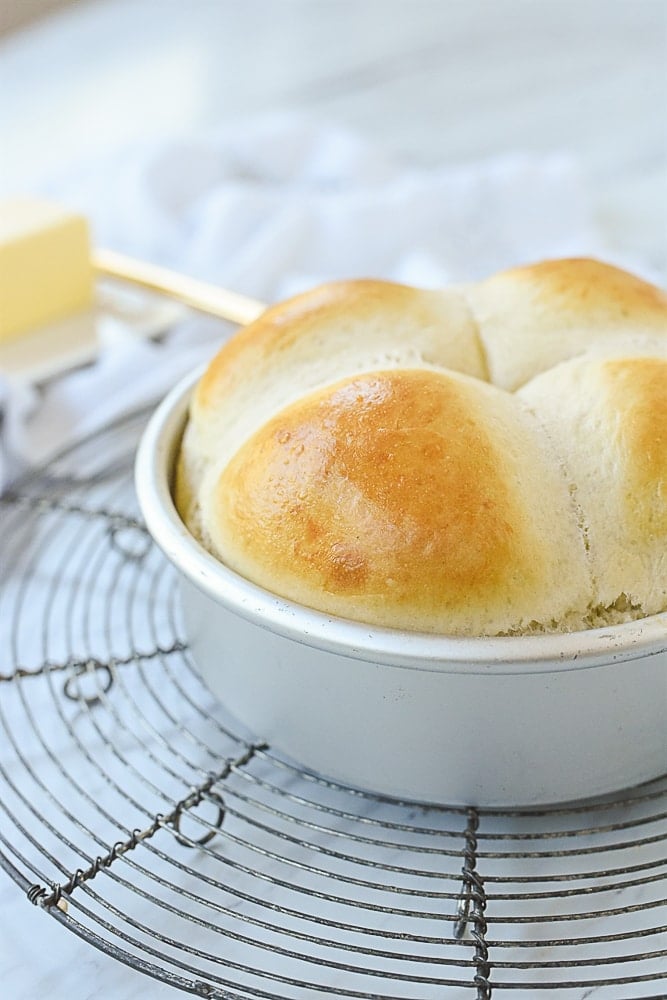 How to Make Small Batch Yeast Rolls
I usually make these rolls with milk but you can use water if you prefer. Heat your liquid to 105-115 degrees F. before adding in your yeast.
Add your honey and olive oil into the yeast mixture and let it sit for about 10 minutes until it is nice and foamy and bubbly. Cover the top of your bowl or cup of yeast with a plate to create a nice warm environment for the yeast to proof. If you have questions about working with yeast be sure and check out my post with all my best tips and tricks.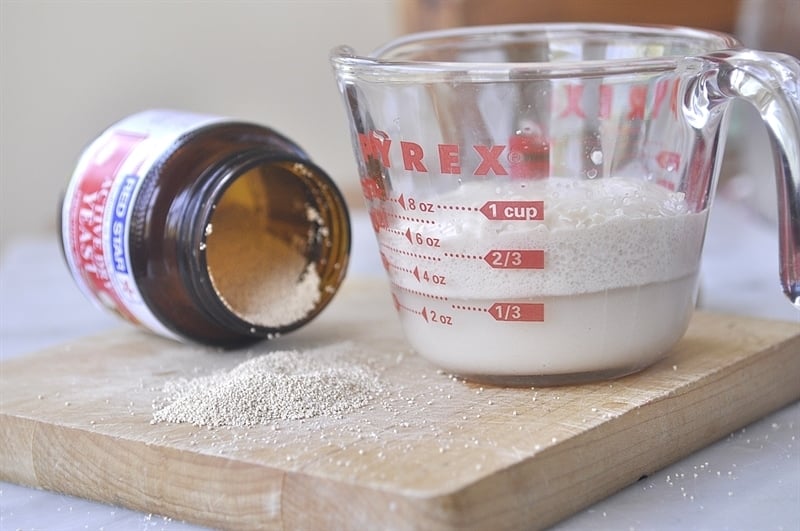 After the yeast has proofed, mix together your flour, salt and yeast mixture. Knead until smooth and soft. I use my stand mixer with the dough hook but this can also be done by hand. Place the dough in a greased bowl and allow to rise for 30 minutes or until doubled in size.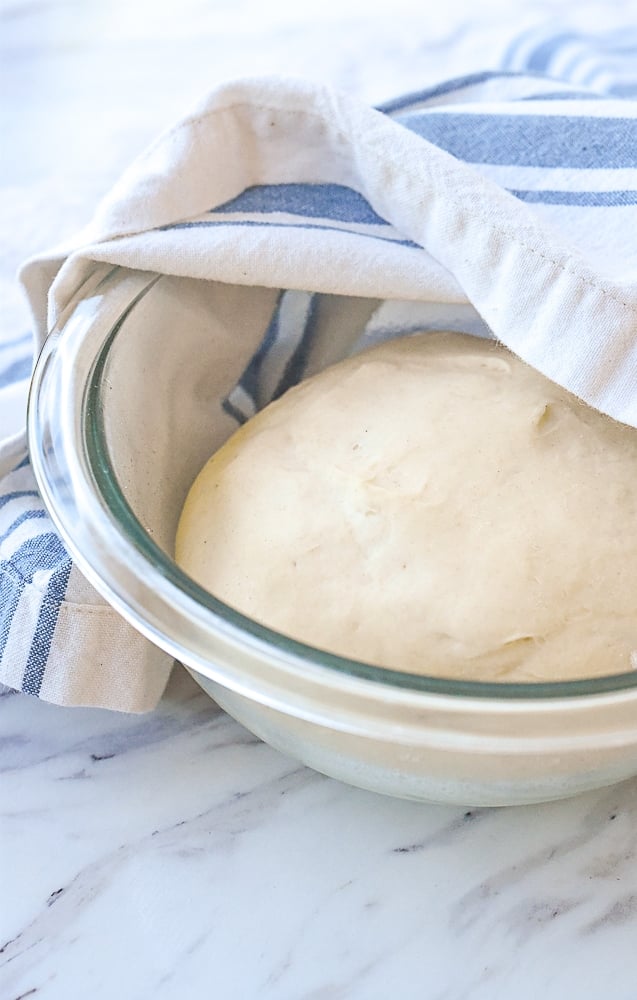 Helping Dough Rise
To create a nice warm place for my dough to rise in turn your oven onto it's lowest temperature, 100-150 degrees F. Once the oven preheats, turn the oven off. Place your covered bowl of dough into the oven and let it rise.
Once the dough has doubled, divide it into four equal size pieces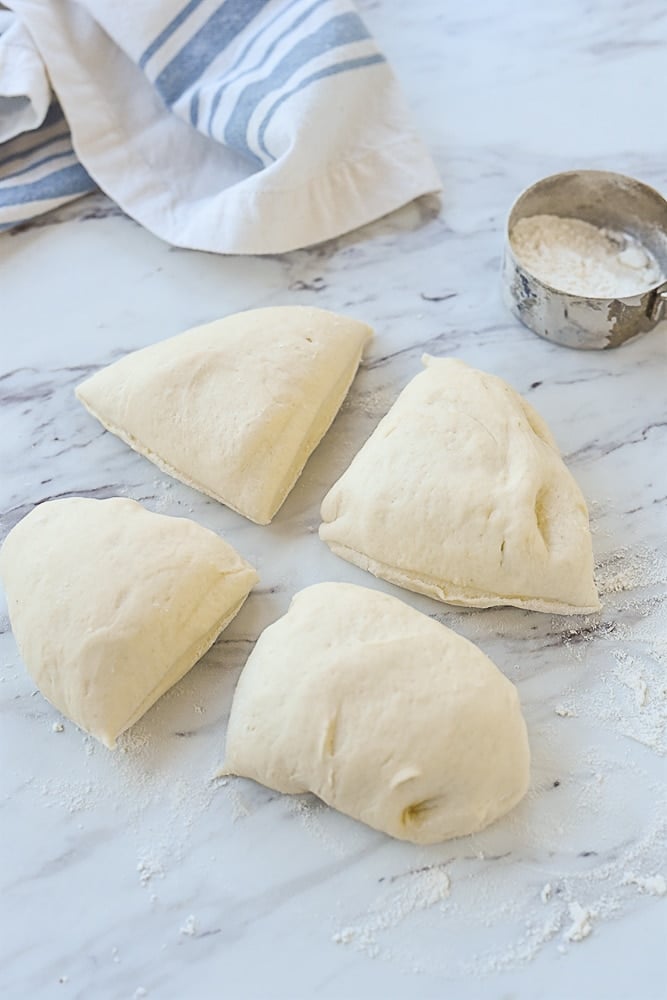 Roll each piece of dough into a ball and placed into a greased pan (use butter or non stick baking spray). I use a 6 inch cake pan. You can also use a muffin tin.
Cover and let the dough rise for 20 minutes. Preheat your oven to 400 degrees F.
Before baking I like to brush the rolls with an egg wash to give the rolls a deeper golden color. This is purely aesthetic.
Bake for 12-14 minutes or until rolls are golden brown and cooked through. Allow to cool in the pan for a few minutes and then remove.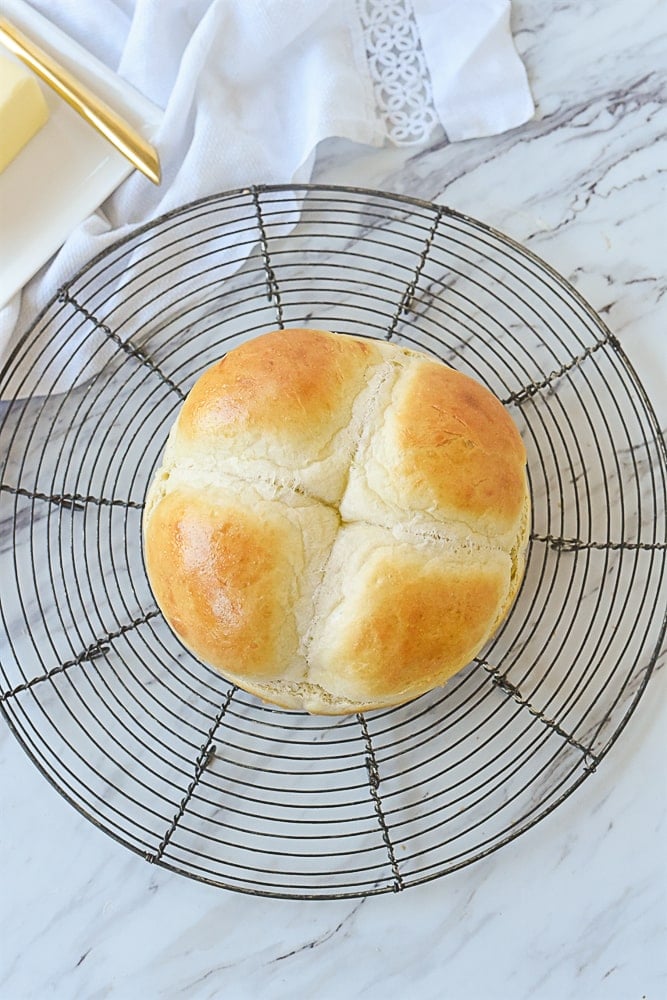 I'm a firm believer that a homemade dinner roll should be eaten warm out of the oven and slathered in butter!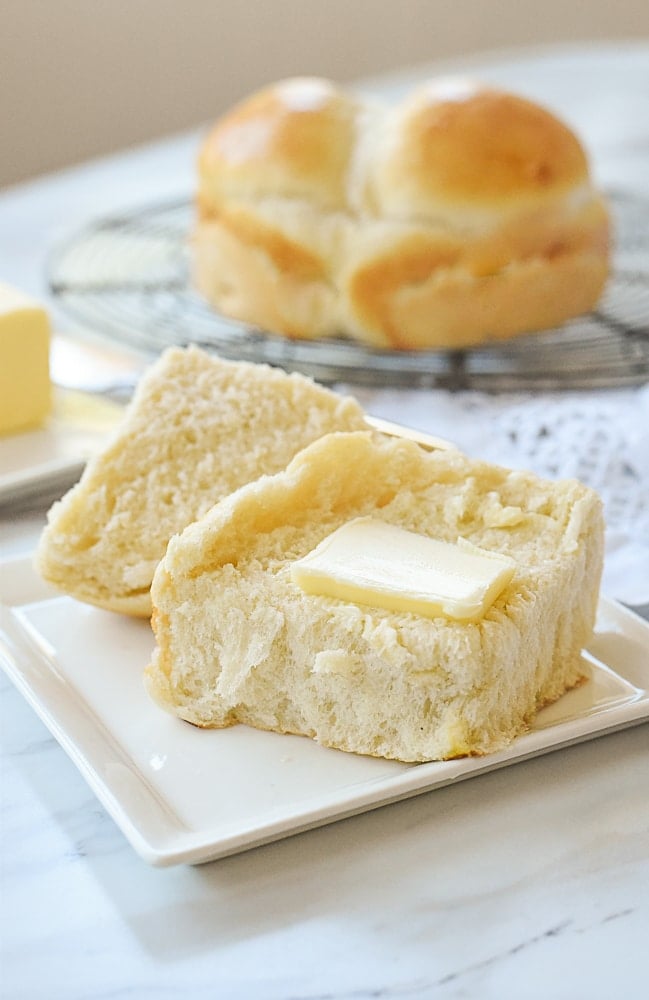 For more small batch bread recipes try these:
Check out some of my favorite recipes that you can serve with homemade rolls: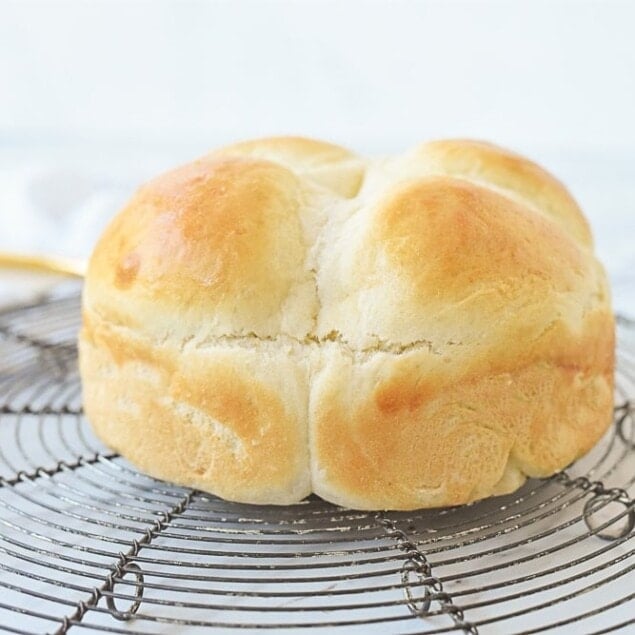 Small Batch Dinner Rolls
These light and fluffy small batch dinner rolls are the perfect addition to any meal and you only need to make four rolls instead of two dozen!
Ingredients
1/2 cup warm milk 105-115 degrees f
2 Tbsp olive oil
1 Tbsp honey
1/2 Tbsp active dry yeast
1/2 tsp salt
1 1/2 cups all purpose flour
1 egg beaten, for egg wash
Instructions
Preheat oven to 400 degrees F.

Add oil, honey, and yeast into warm milk. Stir and let rest for 15 minutes until it begins to bubble and get foamy.

Add in salt and flour to yeast mixture and put in a stand mixer. Using the dough hook, mix until the dough comes together and is slightly sticky but not sticking to the sides of the bowl.If the dough is too sticky add some additional flour a Tablespoon at a time. Knead for 5 minutes until soft and smooth

Cover and let rise for 20 minutes

Divide dough into four pieces and form into balls. Place into a greased pan (I use a 6 inch cake pan) and cover. Let rise for 15 minutes.

Brush rolls with beaten egg for an egg wash.

Bake for 12-14 minutes or until rolls are golden brown and baked through.
Nutrition Facts:
Calories: 269kcal (13%) Carbohydrates: 41g (14%) Protein: 7g (14%) Fat: 9g (14%) Saturated Fat: 1g (6%) Cholesterol: 41mg (14%) Sodium: 308mg (13%) Potassium: 80mg (2%) Fiber: 2g (8%) Sugar: 4g (4%) Vitamin A: 59IU (1%) Calcium: 13mg (1%) Iron: 2mg (11%)
* Disclaimer: All nutrition information are estimates only. Read full disclosure here.