Roasted Broccoli with Parmesan Cheese and Pine Nuts is the perfect side dish for any dinner.
I have to admit broccoli is one of those vegetables that I have learned to eat in my adult years.    I was not a big vegetable eater as a kid and basically the only vegetable I would eat was green beans out of a can!
When my kids were young we had a rule that there had to be something green on your plate and you had to eat it!  For my second son that was a bit more of a challenge than with the other kids as he decided he didn't like anything green – except broccoli.  So we had a lot of broccoli!!  I discovered if I covered it in cheese he would eat it.  Roasted Broccoli with parmesan and pine nuts is the adult version of covering your broccoli with cheese.
Toast the Pine Nuts to Bring out the Flavor
To begin, I start by toasting my own pine nuts  Pine nuts are expensive, so you do not want to burn them.  I buy mine in the bulk section of my grocery store and toast them in the microwave.  I just place them on a plate and microwave them for about three minutes, or  until they begin to turn golden brown.  Stir them once through the process so they don't burn.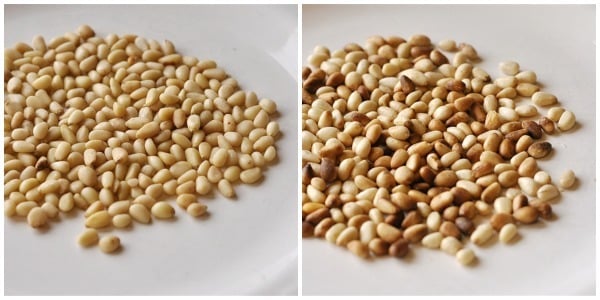 How to Roast Broccoli
To make roasted broccoli, just place cut up broccoli on a cookie sheet and drizzle with olive oil.  Mix together to coat evenly.  Then Sprinkle with salt.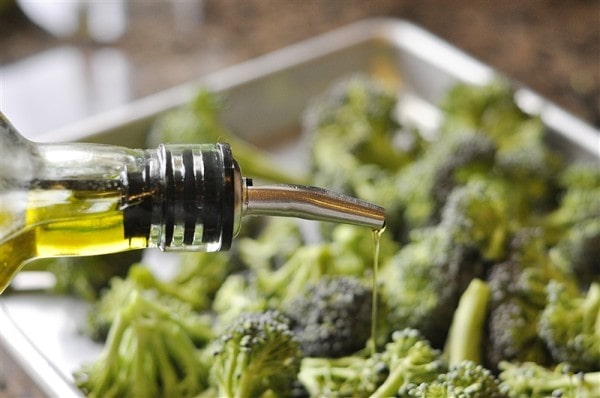 Then, sprinkle with some fresh minced garlic and stir to distribute.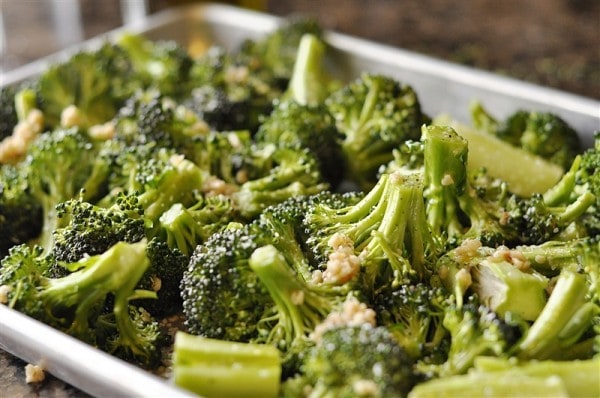 Place in the oven at 425 degrees for 20 -25 minutes.  Stir to turn once half way through time.  Broccoli should be tender crisp and the florets will begin to brown.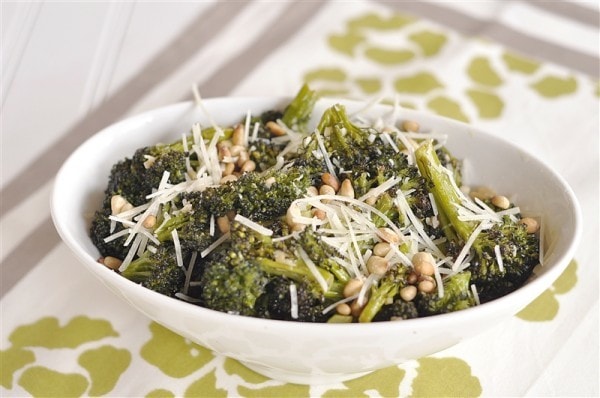 After it is roasted sprinkle it with freshly grated Parmesan cheese and pine nuts.  Also give it a squeeze of lemon juice too!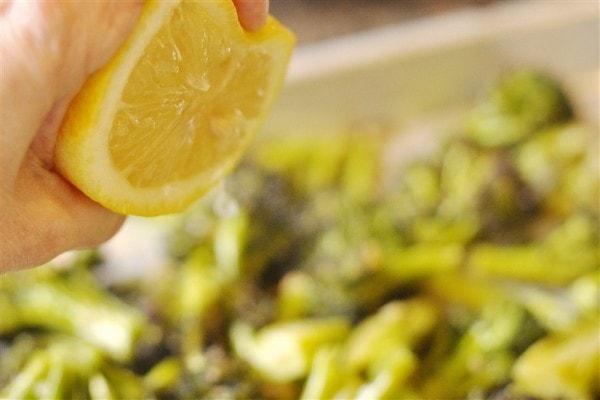 This roasted broccoli would be a perfect addition to your Easter dinner or any dinner.  I think we have had it at least once a week for the past couple of months!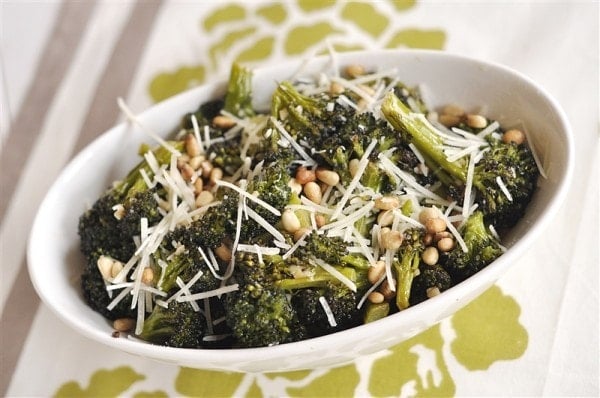 Check out these other delicious vegetable side dishes:
My favorite kitchen tools I use to make ROASTED BROCCOLI:
LEMON JUICE SQUEEZER – this is one of my most used kitchen tools.  Nothing beats fresh squeezed lemon juice and this guy makes it so easy.
REDMOND REAL SALT – this is my favorite, daily use salt.  It's unrefined, unprocessed, just the way nature made it!
SHEET PAN – I have at least six of these in my kitchen.  I use them everyday. The 13 x 18 size is perfect and I use them for everything!
Roasted Broccoli Recipe
Print
Parmesan Roasted Broccoli with Pine Nuts
Roasted broccoli topped with parmesan and pine cuts.
Ingredients
4 to 5

pounds

broccoli

4

garlic cloves

peeled and thinly sliced

olive oil

1 1/2

teaspoons

kosher salt

1/2

teaspoon

freshly ground black pepper

2

tablespoons

freshly squeezed lemon juice

3

tablespoons

pine nuts

toasted

1/3

cup

freshly grated Parmesan cheese
Instructions
Preheat the oven to 425 degrees F.

Cut the broccoli into florets leaving on part of the stalk. Cut into bite size pieces.

You should have about 8 cups of florets.

Place the broccoli on a sheet pan large enough to hold them in a single layer. Toss the garlic on the broccoli and drizzle with olive oil. Sprinkle with the salt and pepper. Toss to coat.

Roast for 20 to 25 minutes, until crisp-tender and the tips of some of the florets are browned. Toss half way through.

Drizzle for lemon juice.

Sprinkle with parmesan cheese and pine nuts
Nutrition
Calories:
37
kcal
|
Carbohydrates:
1
g
|
Protein:
1
g
|
Fat:
3
g
|
Cholesterol:
2
mg
|
Sodium:
400
mg
|
Potassium:
26
mg
|
Vitamin A:
30
IU
|
Vitamin C:
1.6
mg
|
Calcium:
39
mg
|
Iron:
0.2
mg