Pan seared green beans are an easy and delicious way to enjoy fresh green beans.  Coated with seasoning and paired with a spicy dipping sauce all you have to do is dip away!
You may also enjoy these vegetable side dish recipes which include Lemon Roasted Brussels Sprouts, Parmesan Roasted Carrots, and Roasted Asparagus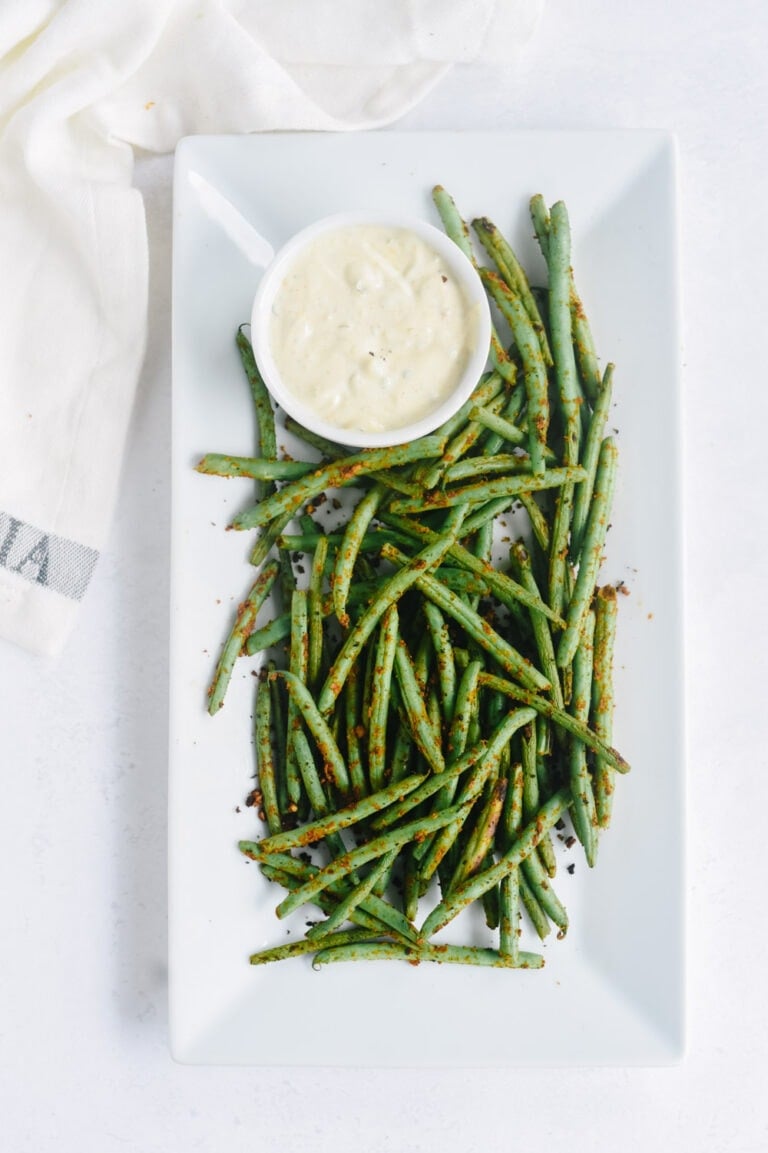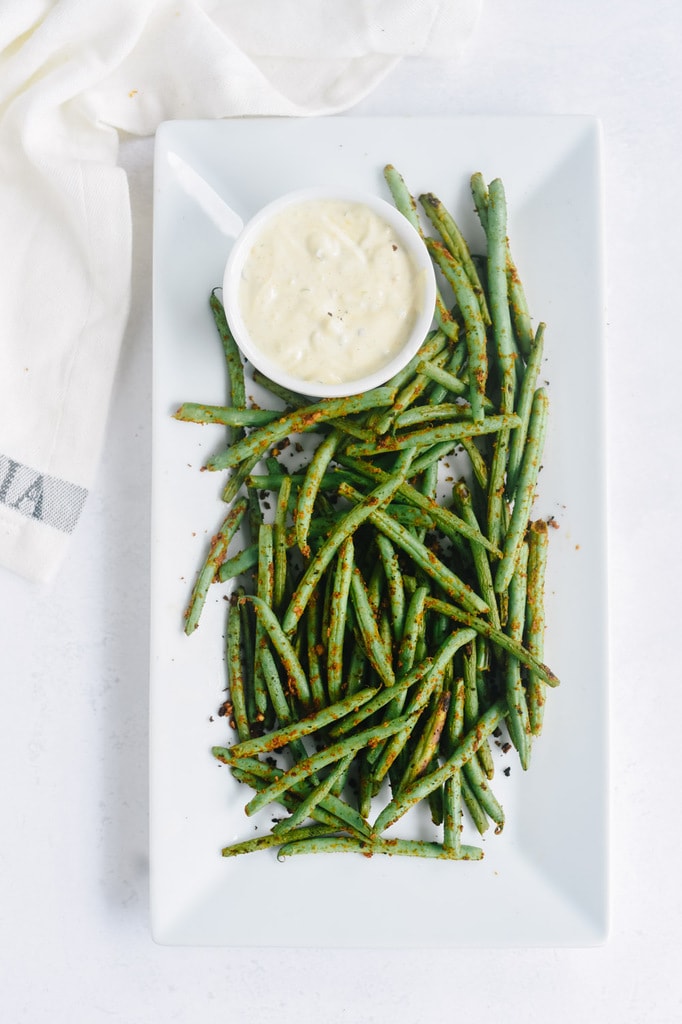 We have had a bumper crop of green beans this summer so I am always looking for new ways to prepare them. We attended a potluck party several weeks ago and one of the dishes that was brought were these yummy charred, spice-crusted green beans. I couldn't wait to make them again.
The great thing about this dish is it's suppose to be eaten with your fingers and makes a great appetizer as well as a side dish. Not only is it fun to eat it is also fun to make. You will want to serve them soon after cooking and I promise they won't hang around long! They will be gobbled up.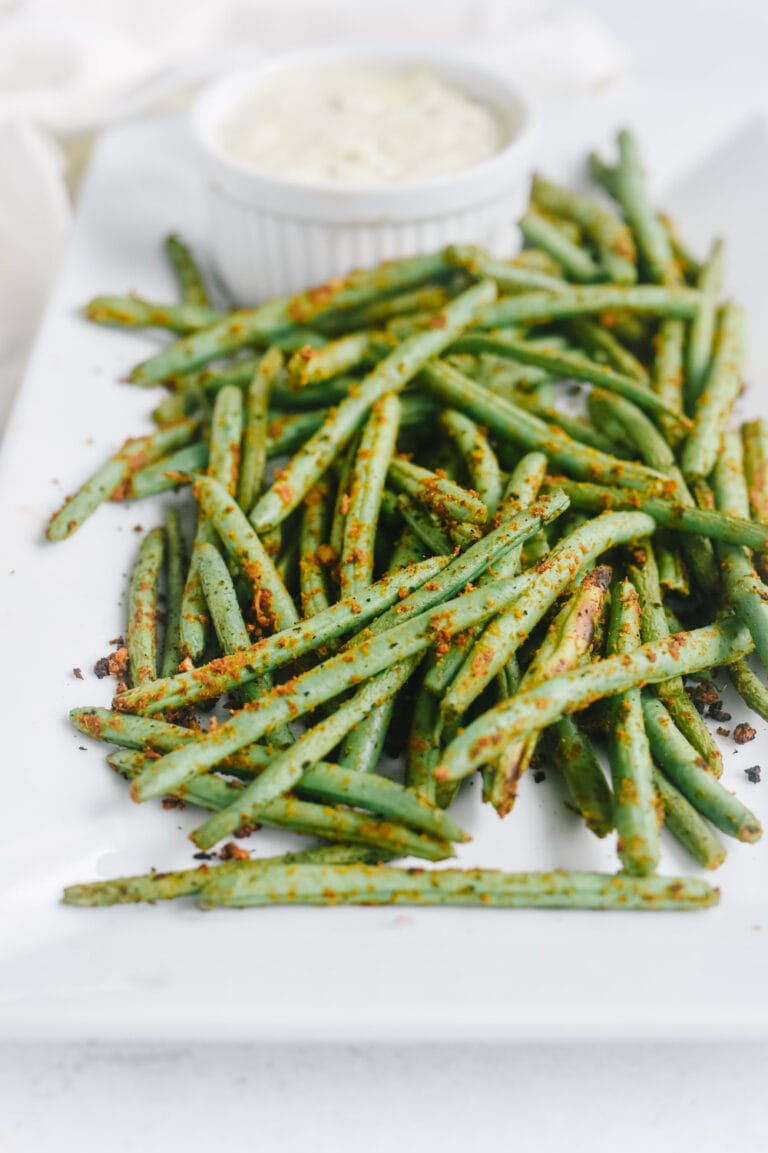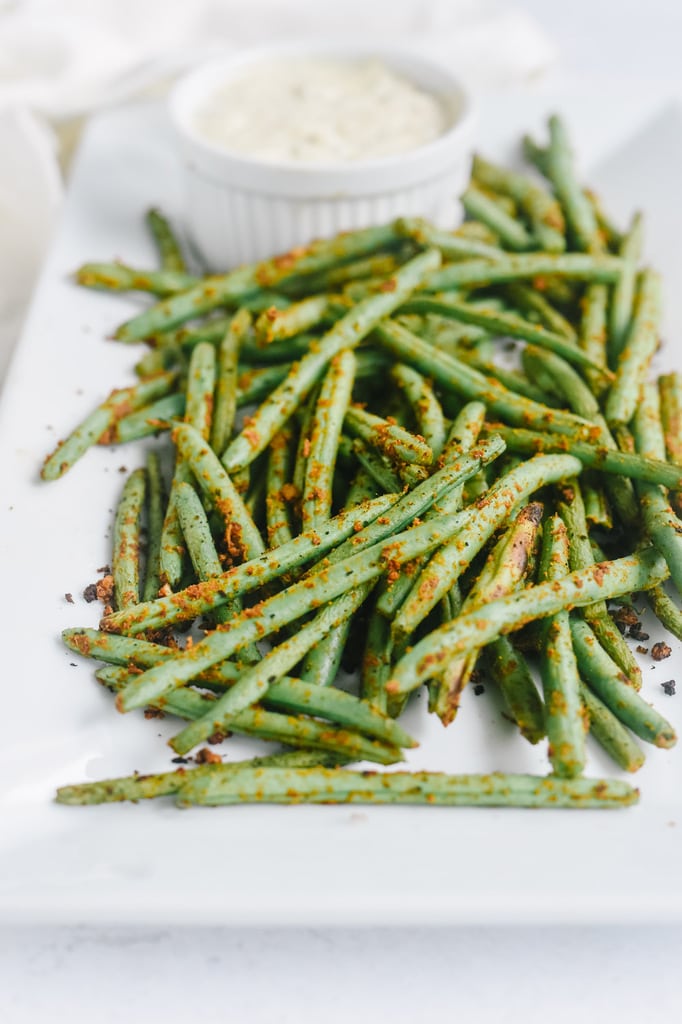 How do I Prepare Fresh Green Beans?
Snap off the stem end of the green beans. This is the end that was attached to the vine.  This is the perfect job for any little hands you might have in your kitchen.  You can also line up the beans on your cutting board and cut off the ends, all at one time if that is easier.  You do not need to remove the other end of the bean but you can if you prefer.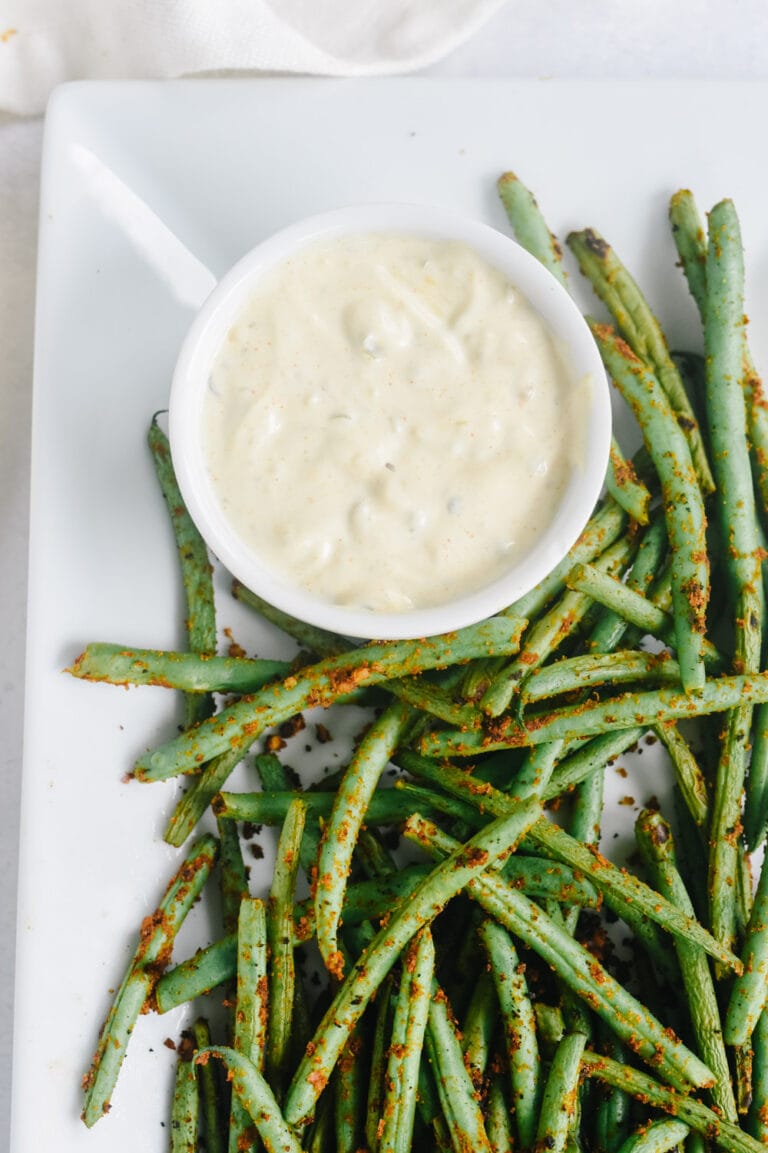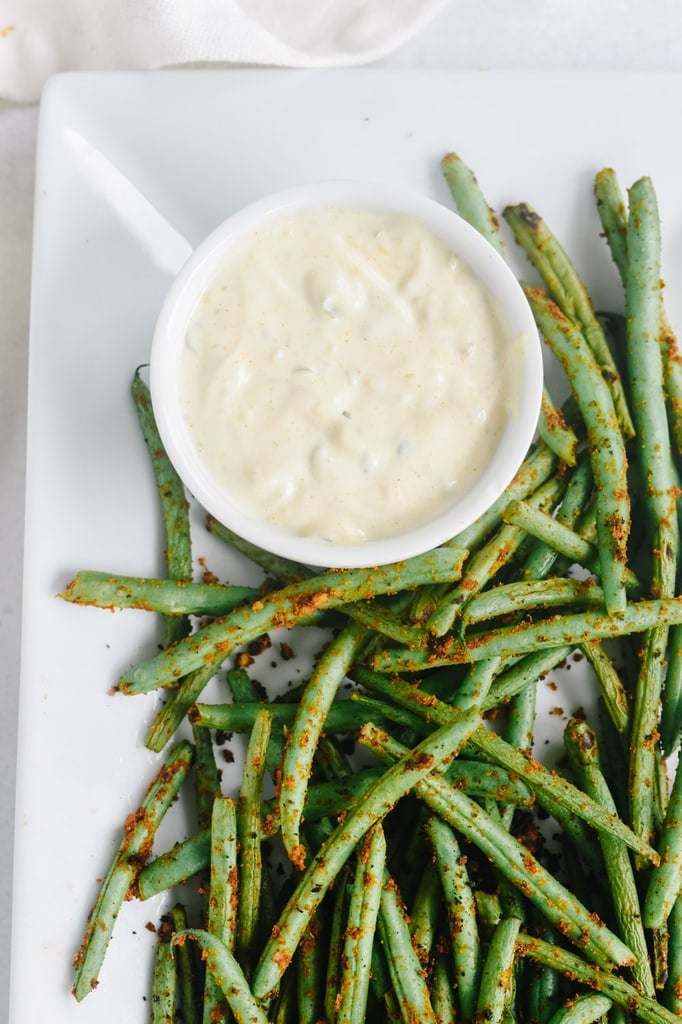 How to Make Pan Seared Green Beans
The only way you can ruin these beans is to NOT almost burn them! I prepared them using my cast iron skillet on my outdoor grill. They can also be made inside but be sure to have your windows open and good ventilation or you will set of your smoke alarm!
Par Boil the Beans – boiling the green beans for a few minutes first helps them cook faster and more evenly. Bring a pot of water, large enough to hold all the beans, to a boil. Add in the beans and let them boil for 2-3 minutes (depending on how thin or thick the beans are).  You just want the beans to blanch so that they turn bright green and soften slightly.  Do not cook them through or they will become overcooked when you sear them in the pan.  You don't want them mushy.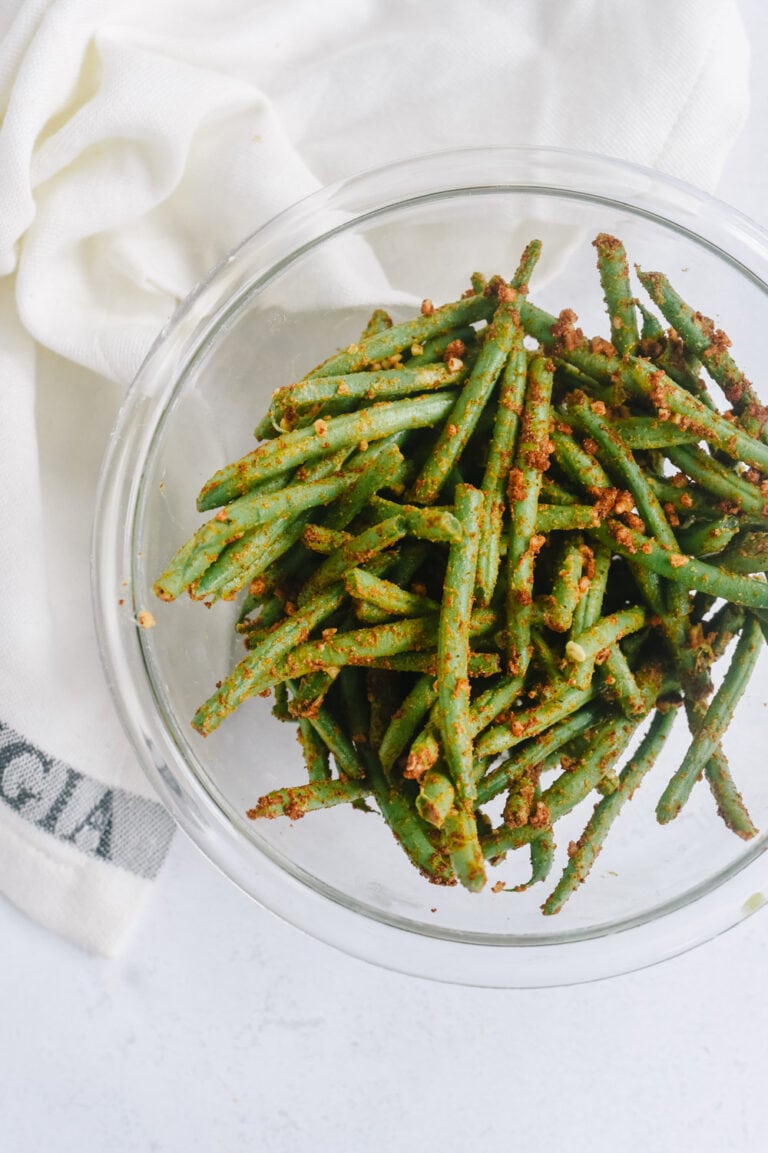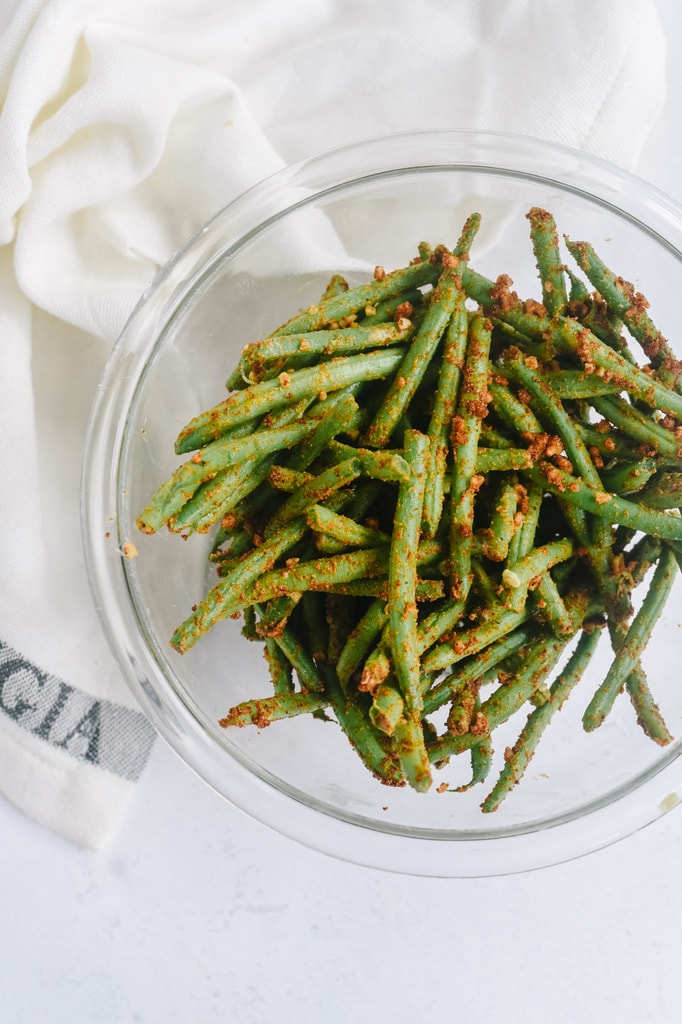 Drain the Beans – After draining you can pan sear them or you keep them refrigerated until you are about ready to serve them. If you do refrigerate them, let the beans sit at room temperature for 20 minutes or so before doing the final cooking.
Coat the Beans – Mix together the mustard, cayenne, paprika, cumin, chili powder, garlic and salt.  Toss the green beans in with the mixture and stir to coat beans.
Heat up your Pan – I have always seared my beans in a cast iron pan.  If you don't have one, use your heaviest pan. I put the pan right on the grate of my grill and turn my grill up high and hot.  Heat up the pan, you want it hot and then add in your green beans.
Cook in Batches – Depending on the size of your pan, you will probably need to sear your beans in batches.  You don't want to overcrowd the pan or the beans won't cook properly.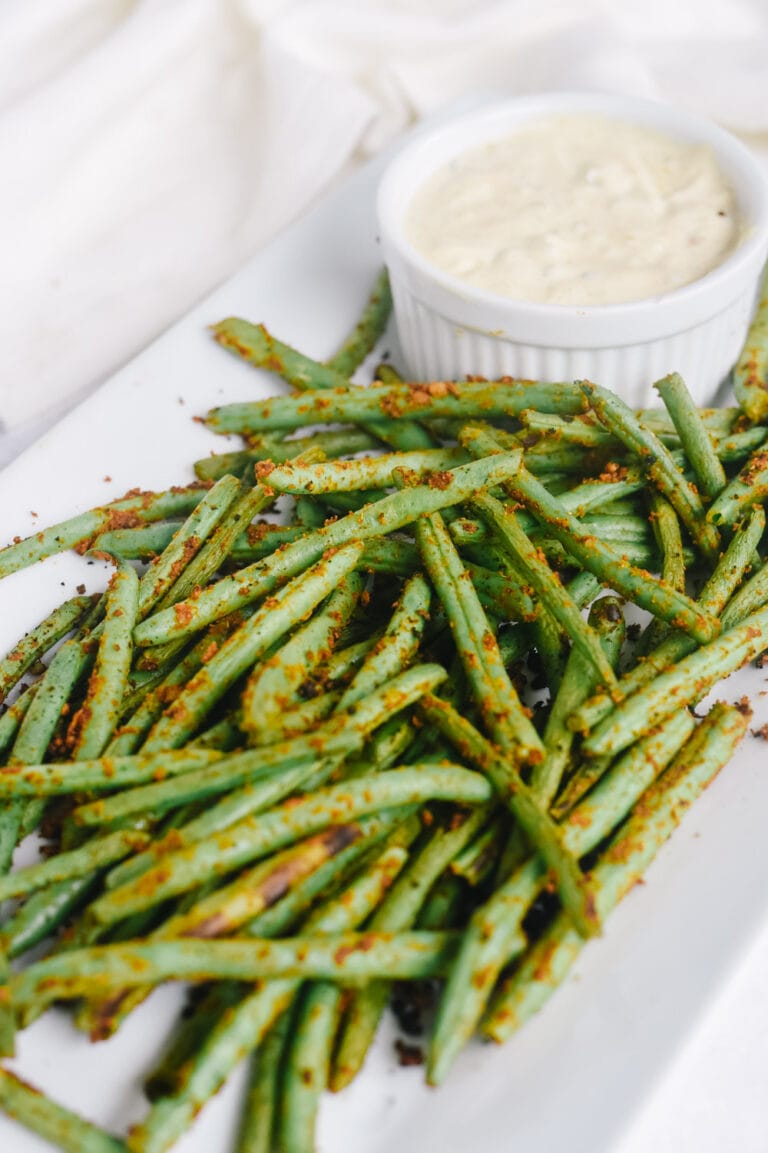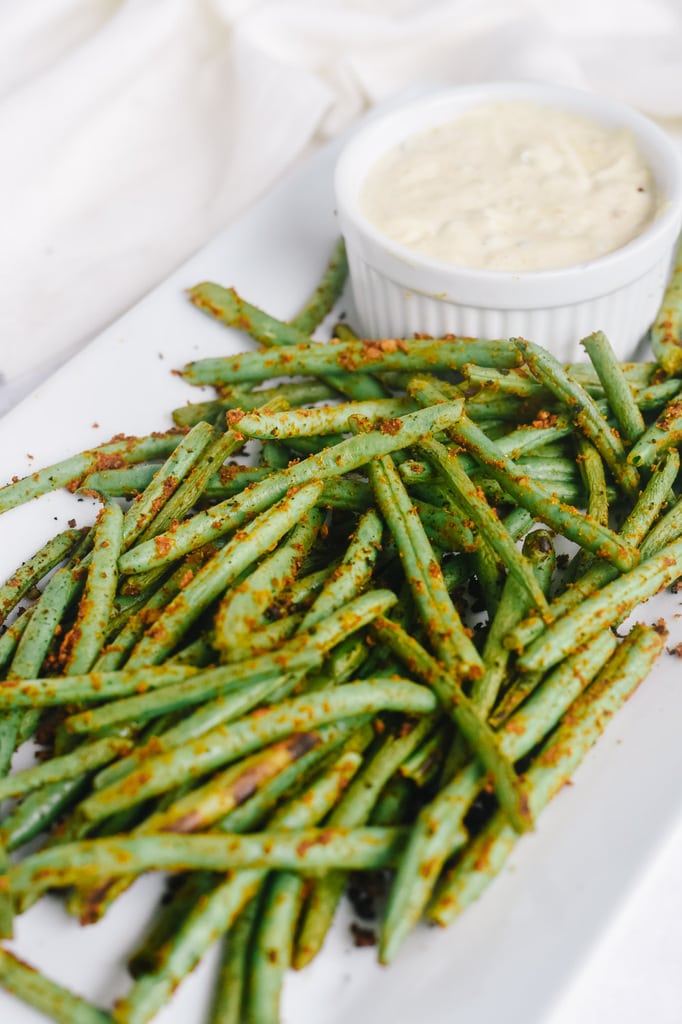 The beans are delicious served just by themselves but they are even better when served with a yummy, spicy remoulade. Just dip and eat! And yes, you can use your fingers!
What is a Remoulade?
Remoulade is a French mayonnaise based condiment. This spicy version contains capers as well as cayenne, mustard, garlic, lemon juice and fresh parsley.   Capers may not be a normal item in your pantry but they are worth purchasing. You will find them near the pickles. The capers help give the Remoulade a great flavor and this sauce is the perfect thing to dip those pan seared green beans into.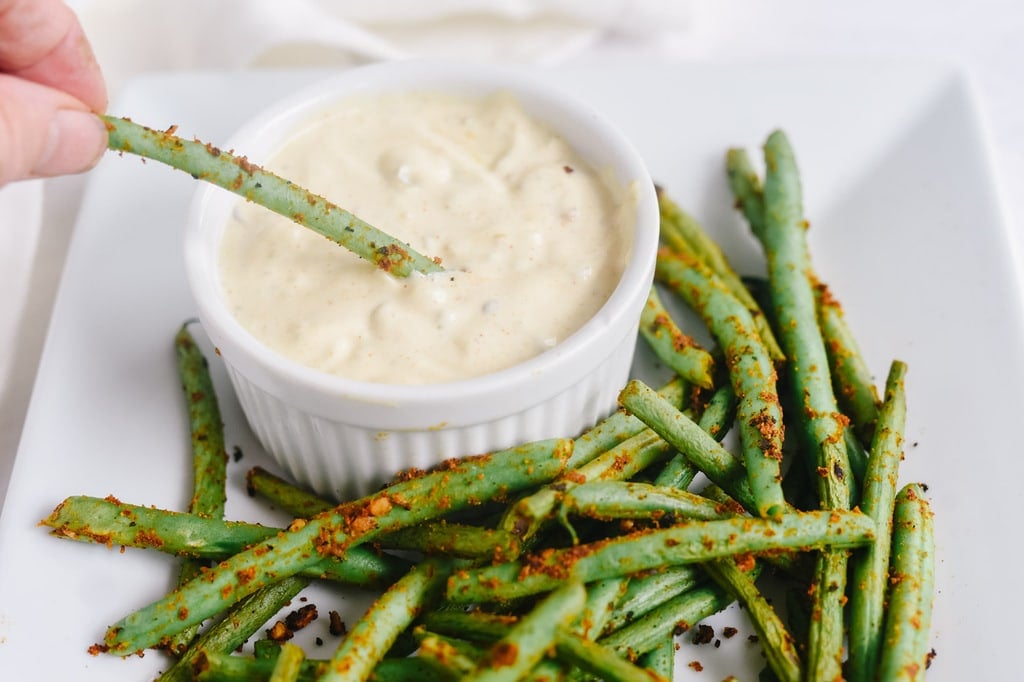 For all my other favorite kitchen products and tools visit my Amazon Store.
Did you know I wrote a cookbook?  Check out the Holiday Slow Cooker Cookbook for 100 delicious recipes.
Be sure and follow  me over on You Tube for weekly cooking demos
Pan Seared Green Bean Recipe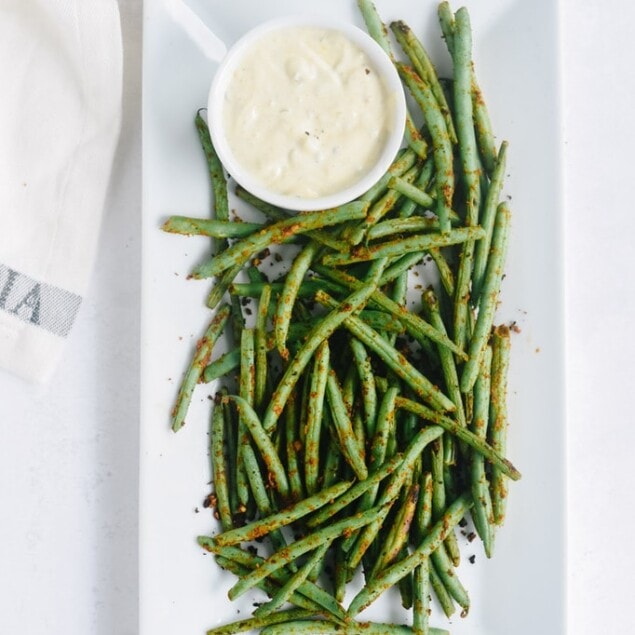 Pan Seared Green Beans
Pan seared green beans is an easy and delicious way to enjoy fresh green beans.  Pair them with a spicy dipping sauce and dip away!


Ingredients
1 pound green beans trimmed
1 Tbsp Dijon mustard
1/4 tsp cayenne pepper
1/2 tsp paprika
1 tsp ground cumin
1 tsp chili powder
1 clove garlic minced
1/2 tsp salt
Spicy Remoulade
1/2 cup mayonnaise
1/8 tsp cayenne pepper
2 tsp Dijon mustard
1 tsp capers rinsed, drained and finely chopped
1/2 clove garlic minced
1 tsp minced fresh parsley
2 tsp freshly squeezed lemon juice
Instructions
In a large bowl combine green beans, mustard, cayenne pepper, paprika, cumin, chili powder, garlic and salt; toss to coat beans

Heat in a large skillet (preferably cast iron) over high heat until smoking

Add the beans, being careful not to crowd the pan too much (cook in two batches, if necessary). Cook beans, without disturbing, until charred patches appear, about 5 minutes.

Toss beans and cook 5 minutes or more.

Transfer to a bowl or plate and serve immediately with Spicy Remoulade.
Spicy Remoulade
Mix mayonnaise, cayenne pepper, mustard, capers, garlic, parsley and lemon juice until combined

Cover and refrigerate until serving time
Nutrition Facts:
Calories: 158kcal (8%) Carbohydrates: 7g (2%) Protein: 2g (4%) Fat: 15g (23%) Saturated Fat: 2g (13%) Cholesterol: 8mg (3%) Sodium: 382mg (17%) Potassium: 174mg (5%) Fiber: 2g (8%) Sugar: 3g (3%) Vitamin A: 808IU (16%) Vitamin C: 10mg (12%) Calcium: 31mg (3%) Iron: 1mg (6%)
* Disclaimer: All nutrition information are estimates only. Read full disclosure here.
Recipe originally posted September 5, 2008