These Pumpkin Nutella Walnut Bars are a perfect collaboration of flavor and texture.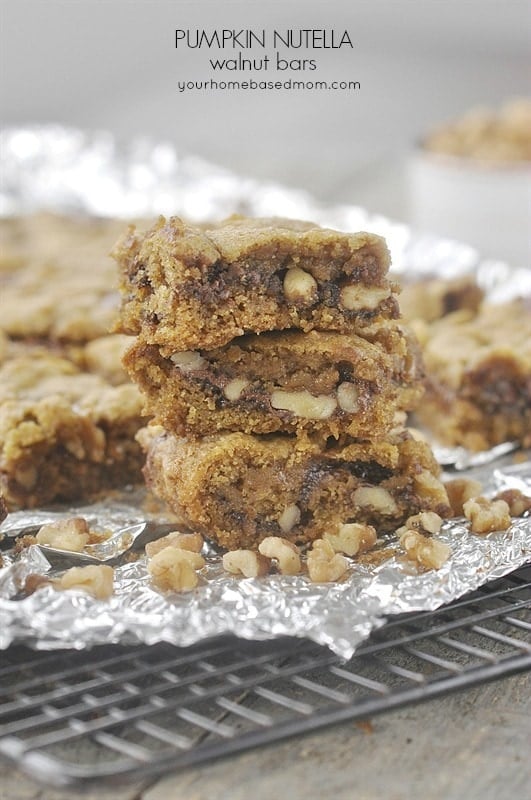 My two boys were home this weekend for their annual "Wilkes Men Football Weekend."  Each year they travel somewhere for a football game with their dad.   This year they decided to watch the Oregon Ducks play at home.  I was pretty excited about this because it meant that I got to see the boys too and crash part of their boys weekend.
Is also meant that I got to cook for them.  With all the cookbook recipe testing I've been doing (did you know I am writing a cookbook!) there was plenty of food around and I made sure there was something sweet for them too.  These Pumpkin Nutella Walnut bars were the perfect sweet treat.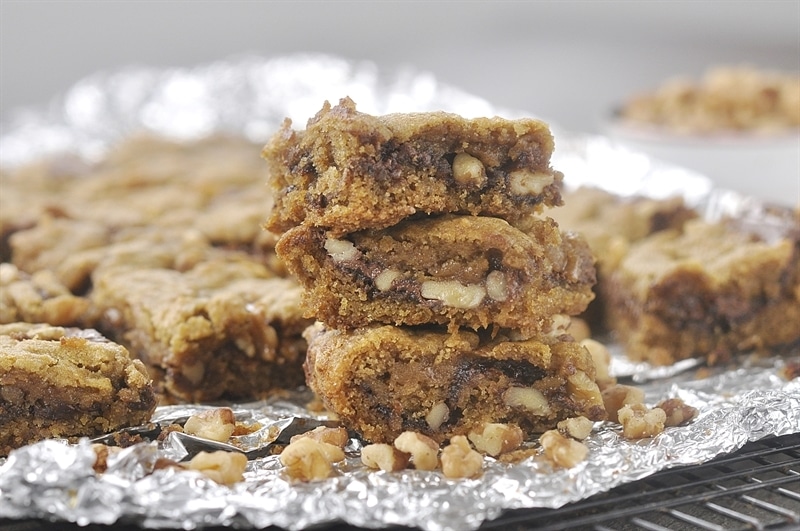 The combination of pumpkin and nutella is pretty magical.  I added in some chopped walnuts to give the ooey, gooey bars a little crunch and even more flavor.  I used my favorite blondie recipe and dressed it up a bit. This recipe is a great starting place and over the years I've dressed it up a lot of different ways.  Check out salted caramel blondies,  white chocolate & toffee bondies, and malted milk ball blondies.
I added 1/3 cup of pumpkin puree and some pumpkin spice into the basic recipe and layered half of it on the bottom of a foil lined 9 x 13 pan and bake it for about 8 minutes.  Then you layer the Nutella on top, sprinkle with walnuts and put the remaining blondie batter on top and bake some more!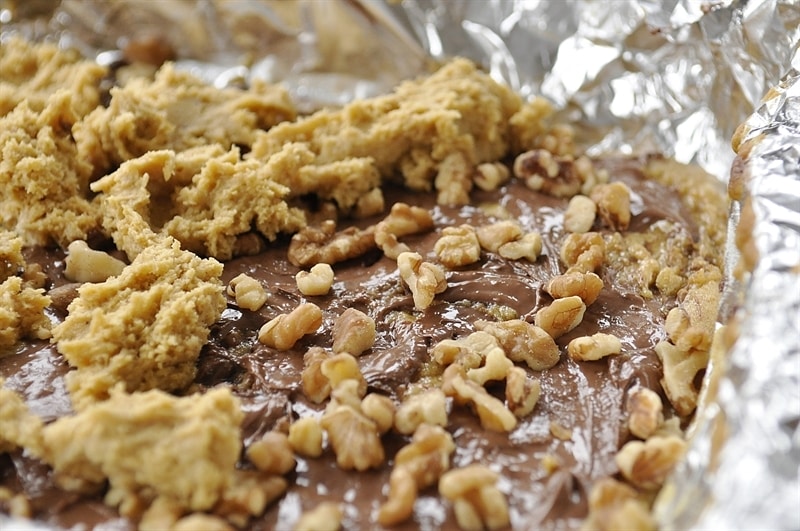 Then let them cool and slice them up!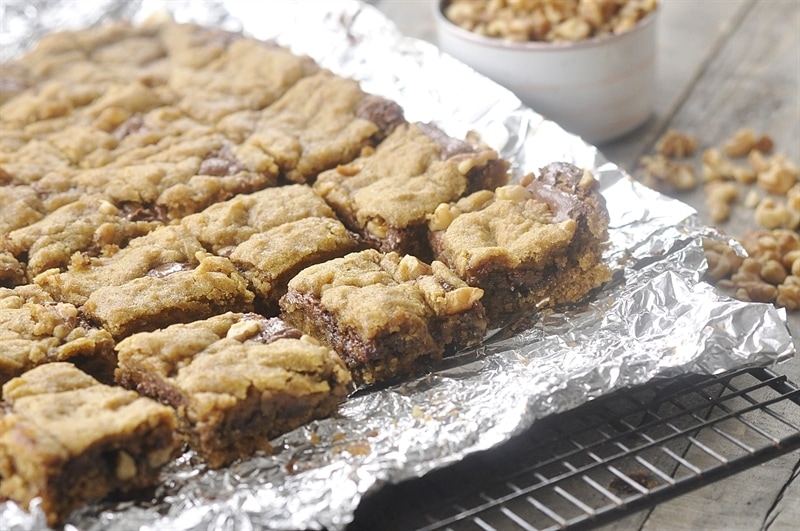 The Ducks didn't win their game this weekend (they got slatered!) but this pumpkin and Nutella is definitely a winner!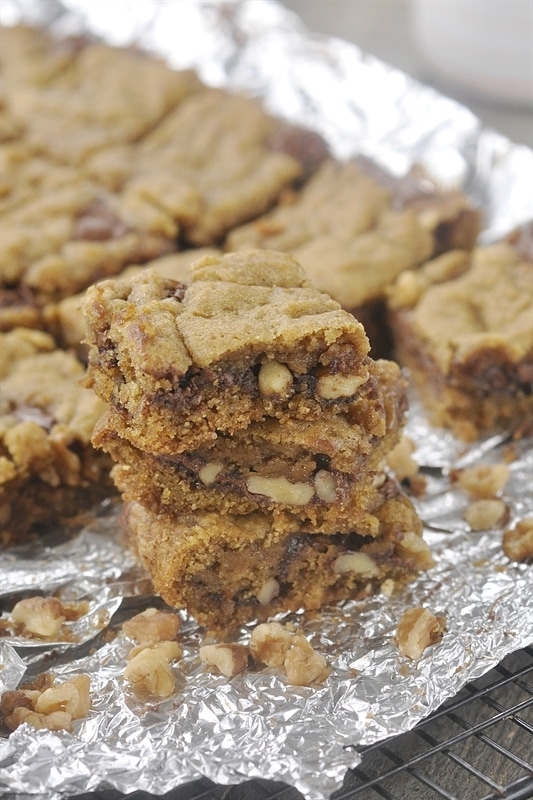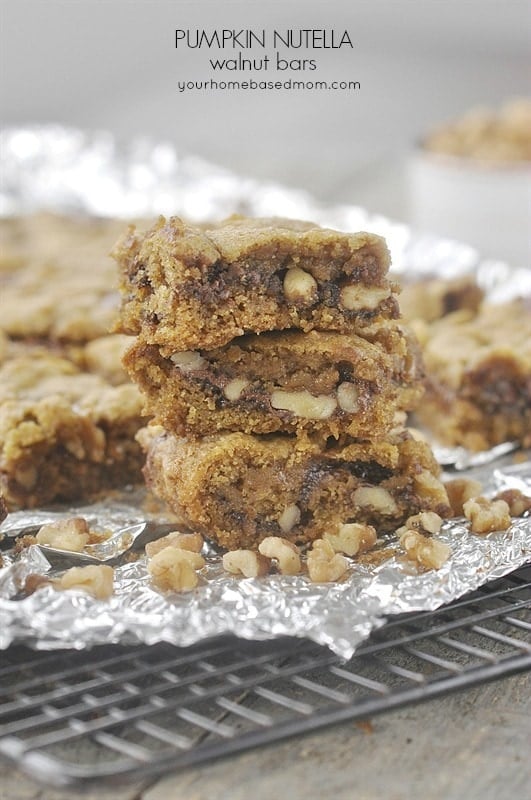 Pumpkin Nutella Walnut Bars
Ingredients
¾

cup

butter

softened

¾

cup

packed light brown sugar

½

cup

granulated sugar

2

eggs

2

cups

all purpose flour

1

tsp.

baking soda

½

tsp.

salt

1/3

cup

pumpkin puree

2

tsp

pumpkin pie spice

1

tsp

vanilla

3/4

cup

nutella

softened

1/2

cup

walnuts

coarsley chopped
Instructions
Preheat oven to 350 degrees

Grease 13 x 9 pan

Beat butter, brown sugar and granulated sugar in large bowl until creamy

Add pumpkin, pumpkin pie spice, eggs and vanilla and beat well

Stir together flour, baking soda and salt; gradually add to butter mixture, blending well

Layer half of mixture into prepared pan and bake for 8 minutes.

Spread Nutella over the top of baked mixture, carefully so as not to lift the bottom layer.

Sprinkle with nuts.

Top with remaining batter, will not cover the entire surface but it will expand as it bakes.Spread into prepared pan

Bake an additional 20 minutes or until top is set and edges are golden brown.

Do not over bake.

Cool completely in pan on wire rack

Cut into bars
Stay Updated!
Need more recipes and creative ideas? Sign up and get a FREE copy of my ebook! Do you think your friends would love this too? Please share my blog with them. Thanks!