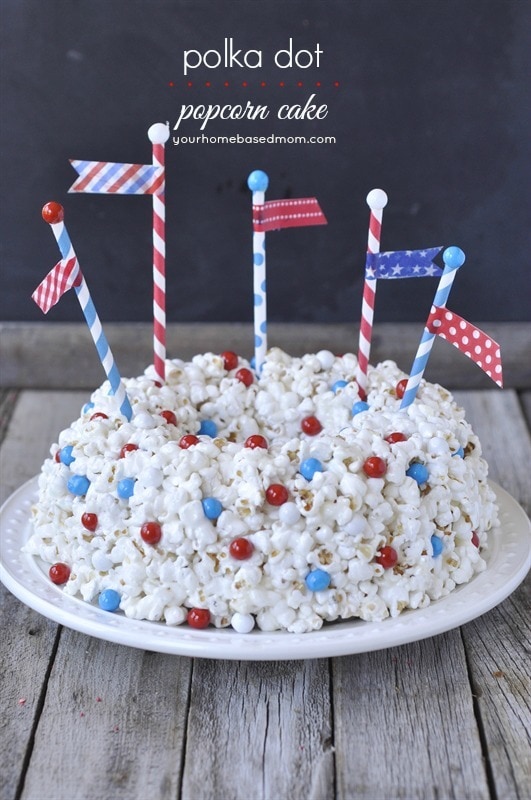 It's the 10th of June which means another fabulous themed roundup from this talented bunch of bloggers! This month's theme is POLKA DOTS! Who doesn't love polka dots, right? So fun, playful and classic. Each month I love seeing how each blogger takes the theme and runs with it… and this month is no different. Such amazing projects! You can see my Polka Dot Popcorn Cake below and then be sure to go and see what everyone else is sharing as well! Lots of pinworthy fun!
1. Summer Punch Card from Thirty Handmade Days
2. Popcorn Cake from Your Homebased Mom
3. Polka Dot Jewelry Boxes from eighteen25
4. Polka Dot Photo Booth Background from Kristen Duke
5. Framed Polka Dot Dry Erase Board from Lolly Jane
6. Polka Dot 4th of July Mantel from Landeelu
7. Polka Dot Surprise Cake from Or So She Says
8. Polka Dot and Striped Flag from Simply Kierste
9. Summer Printable from Two Twenty One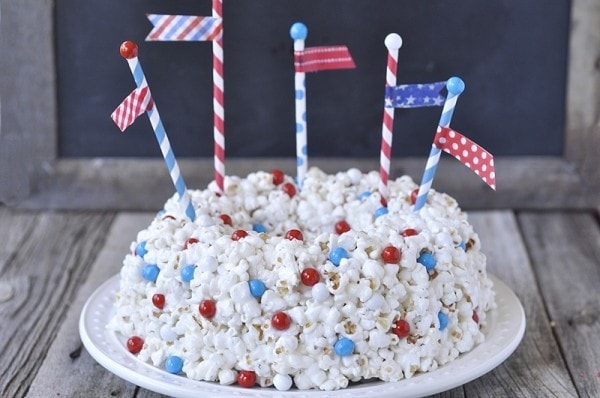 My mother has fond memories of when she was a child and receiving popcorn cakes in the mail from her grandmother.  I grew up hearing about these popcorn cakes and have always been intrigued by the idea.  A cake made out of popcorn?  How could that be anything but delicious!  I have always wanted to make one.
When the theme for the month was polka dots I decided I wanted to do a recipe incorporating polka dots.  One of my favorite candy since I was a kid has been Sixlets.  They are the little round balls of chocolate that usually came in a plastic tube and you just popped them into your mouth right out of the tube.  Now Sixlets are available in lots of fun colors and I thought they were the perfect polka dots for my popcorn cake.  My great grandmother's version used gum drops but I loved the idea of adding in a bit of chocolate!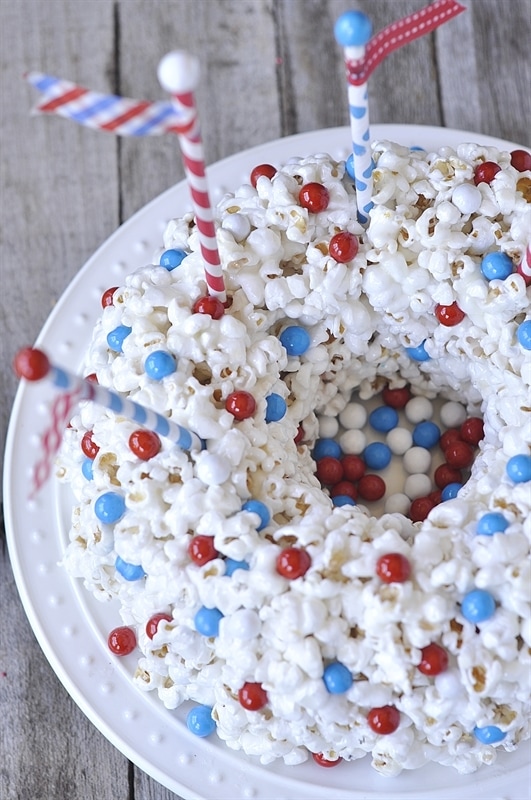 So with the upcoming 4th of July holiday I decided to combine my desire to make a popcorn cake, my favorite polka dot shaped candy and the 4th of July in a patriotic polka dot popcorn cake!
The popcorn cake is basically one great big popcorn ball!
You cook up a mixture of marshmallows, sugar, butter and corn syrup.  It is cooked until it comes to a boil and then poured over the popped popcorn.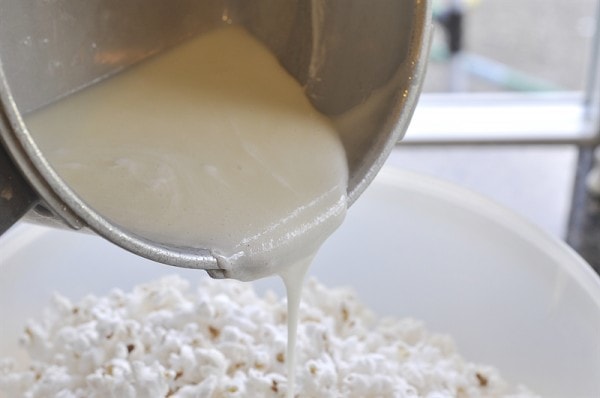 Stir to coat the popcorn and then press the popcorn into a buttered bundt pan.  I sprinkle the  polka dot candy into the popcorn as I go.  If you stir it into the popcorn the chocolate will begin to melt and the colors bleed into the popcorn so I prefer to just place them into the pan as I add the popcorn.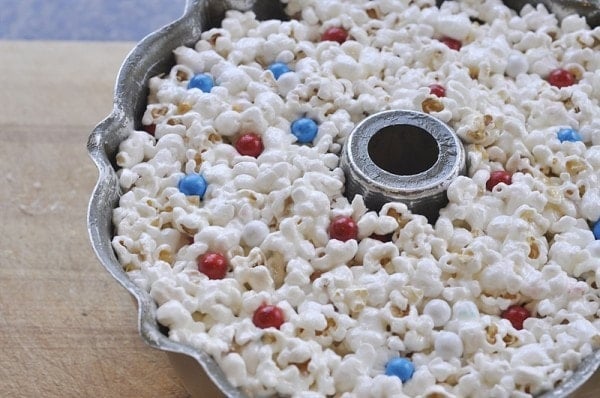 Since the popcorn is warm, use a piece of waxpaper and your hand to press the popcorn down into the pan so you have a nice compact layer.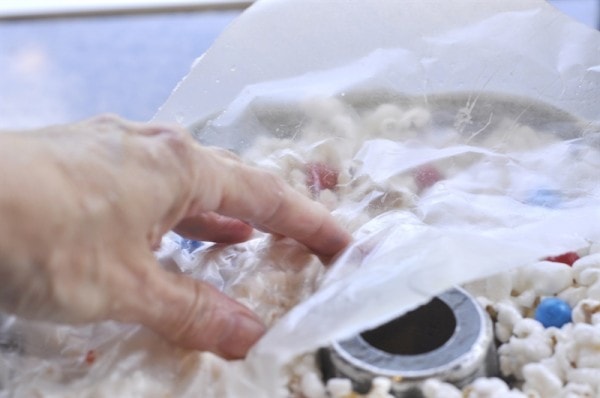 Place the pan into the refrigerator or freezer for awhile to allow it to cool and set up.  It will be easier to remove from the pan this way.  After removing from the pan I push more of the candy into the top and sides of the cake.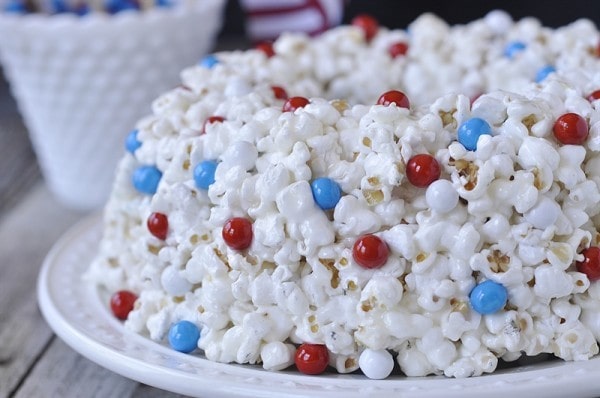 To make the cake a little more patriotic and festive I added some little washi tape flags using straws.  I glued some more of the round polka dot candy to the top of the straws using my glue gun.
By changing out the color of your candy and your flags you could make this popcorn cake for any holiday or celebration.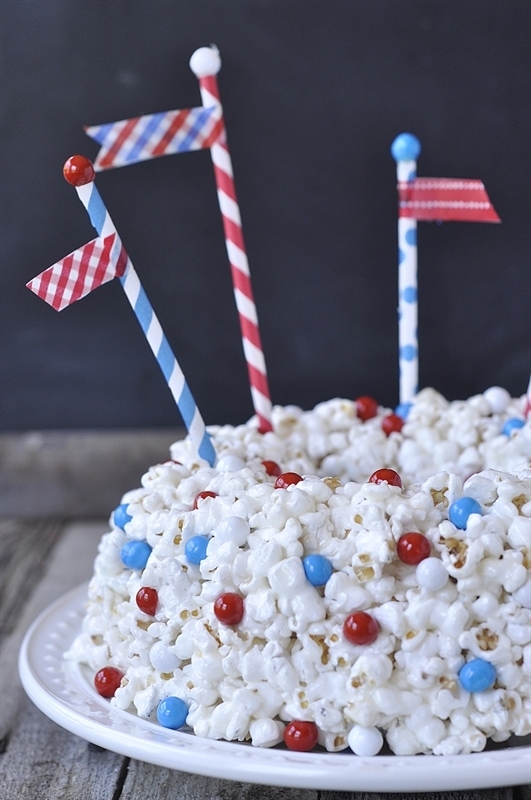 For other yummy popcorn treats try these:
White Chocolate Popcorn Crunch – Caramel Corn in the Microwave – Nutty Popcorn Snack Mix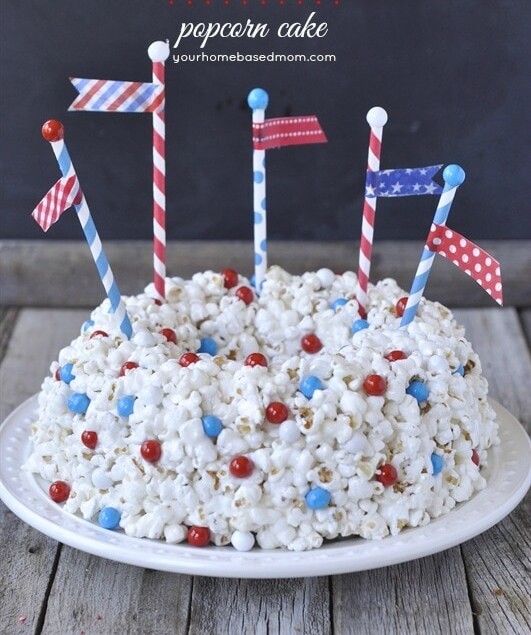 Popcorn Cake
Ingredients
3/4 C light corn syrup
1/4 C butter
2 tsp cold water
2 3/4 C powdered sugar
1 C mini Marshmallows
1 tsp vanilla
20 C plain popped popcorn
1 - 1 1/2 C candy
Instructions
In a pan, over medmium heat, combine corn syrup, butter, water, sugar and marshmallows. Heat and stir until it comes to a boil.

Add in vanilla.

Pour over popped popcorn and stir until thoroughly coated

Grease a bundt pan

Pour popcorn into pan and layer with candy (push down the sides of pan too) until pan is full.

With a piece of wax paper press down on the top of the popcorn to push it down into pan for a compact layer of popcorn

Place pan in refrigerator to cool and make it easier to remove from pan

After removing from pan push more candy into the sides and top of the cake for desired effect.
Enjoy!
Leigh Anne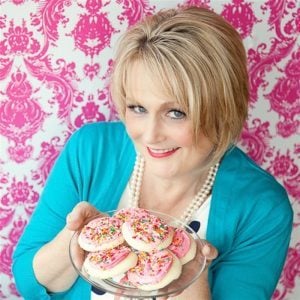 You can also visit me on Facebook, Pinterest, Twitter or Instagram.