This week is green week here on the blog.
Each post is going to feature a green food.  You'll totally be ready for St. Patrick's Day.
I wasn't much of a green food eater as a child.  In fact, I think the only green food I would eat was green beans – out of a can.  Mom, you can confirm this.
I have since learned the value and the yumminess of green food but as pay back I have a non-green eating child too.  He's 25 and I'm hoping that one day he too will convert to eating green food.
When the kids were young we use to have one rule at the dinner table.  There had to be something green on everyone's plate.  And you had to eat at least part of it.
I guarantee you are going to want to eat the green food I'll be featuring during Green Week.  There will be sweet and savory.
One of my favorite green foods is pesto. We are going to start the week out with my favorite pesto recipe and then it will be followed with recipes for a few different ways I like to use pesto.
Pesto is usually made with a combination of fresh basil, olive oil, Parmesan cheese and pine nuts.  But I prefer to use walnuts in mine.  Not only do I prefer the taste but walnuts are a lot less expensive than pine nuts.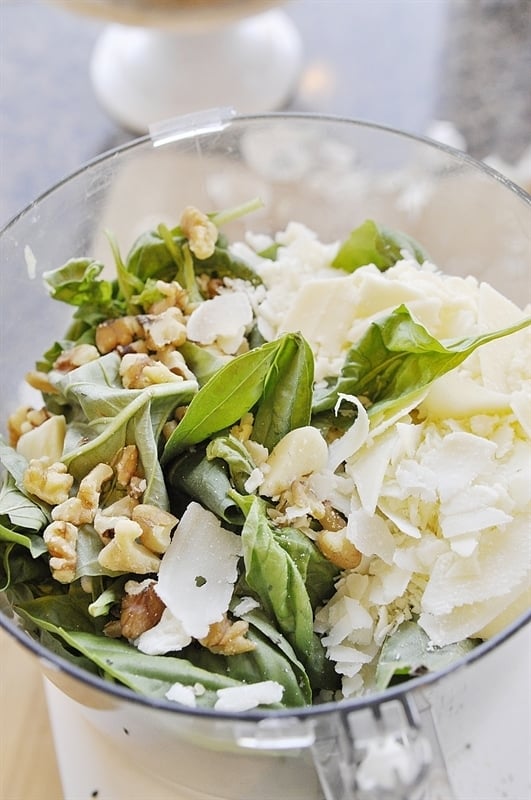 You can always buy your pesto at the store but it is so easy to make and fresher is always better.
I purchase my fresh basil at Trader Joes but you can find it in the produce section of most grocery stores.  I just throw everything together into the food processor and then hit pulse!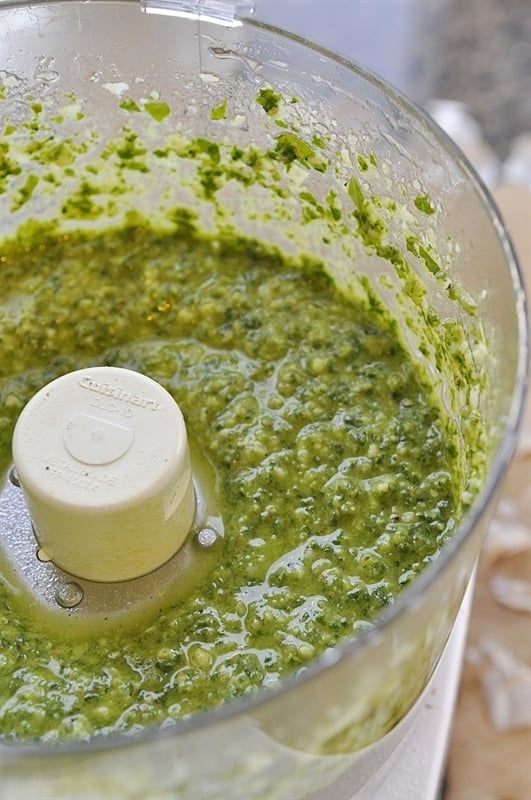 It is that quick and easy.  It is then ready to use on all kinds of fun things.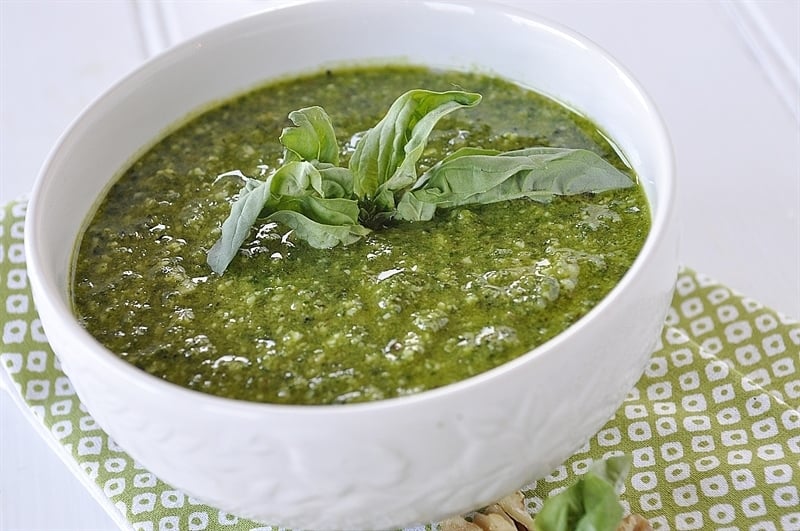 Some of the favorites I have shared here on the blog before are Pesto Chicken,  Pesto Chicken Pizza, Tomato Pesto and Mozzarella Tart, Sundried Tomato and Pesto Flatbread, Baked Ziti with Spinach and Sausage, Basil Tomato Tart and Pasta with Pesto and Sundried Tomatotes.  Just a few recipes to get you started!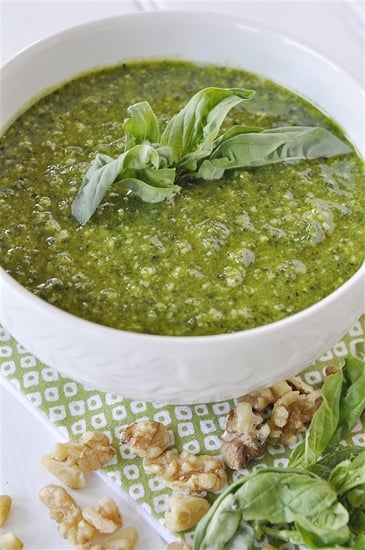 Pesto
Ingredients
2

C

fresh basil leaves

removed from steams

1/2

tsp

freshly ground pepper

1/2

C

walnuts

1- 1/2

C

olive oil

1/2

C

grated Parmesan cheese

1/2

tsp

salt
Instructions
Combine all ingredients in blender except olive oil and blend on high until smooth.

Add in olive oil until the pesto is the right consistency. Should run off spatula.

It if is too thick add some extra olive oil.
If you don't use all the pesto up right away a great way to save it for future use is to fill up an ice cube tray with the pesto, freeze it and then pop the cubes out and into a freezer bag.  You can then just use them later in soup, pasta or any of the other recipes I just listed.

What's your favorite green food!
Stay Updated!
Need more recipes and creative ideas? Sign up and get a FREE copy of my ebook! Do you think your friends would love this too? Please share my blog with them. Thanks!