Ooey Gooey Cake Ice Cream is the combination of two favorite treats – ooey gooey cake and vanilla ice cream!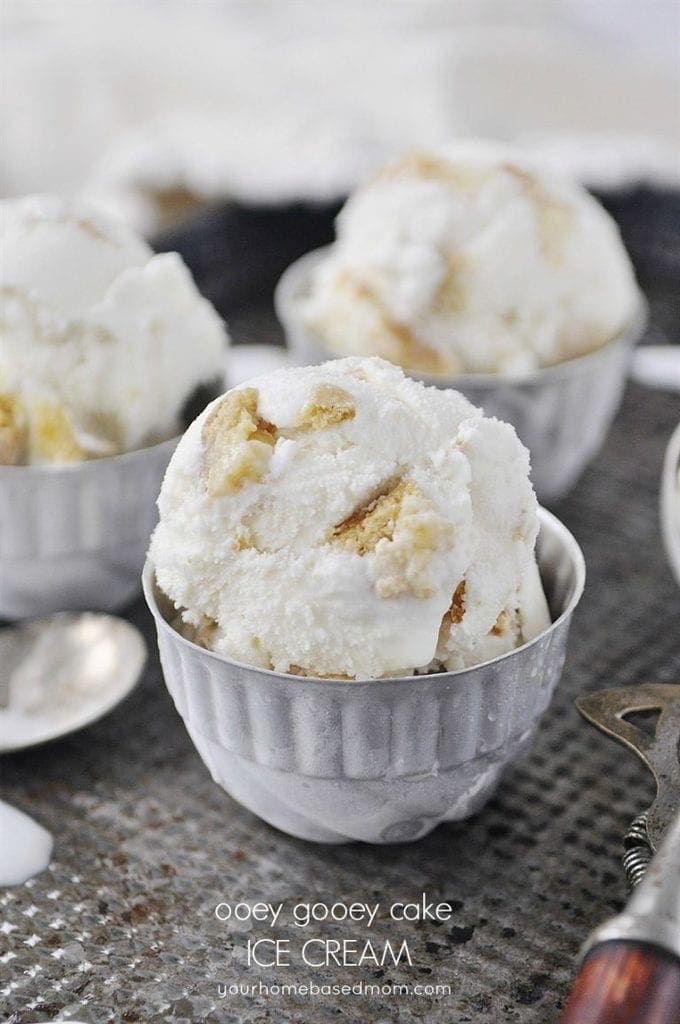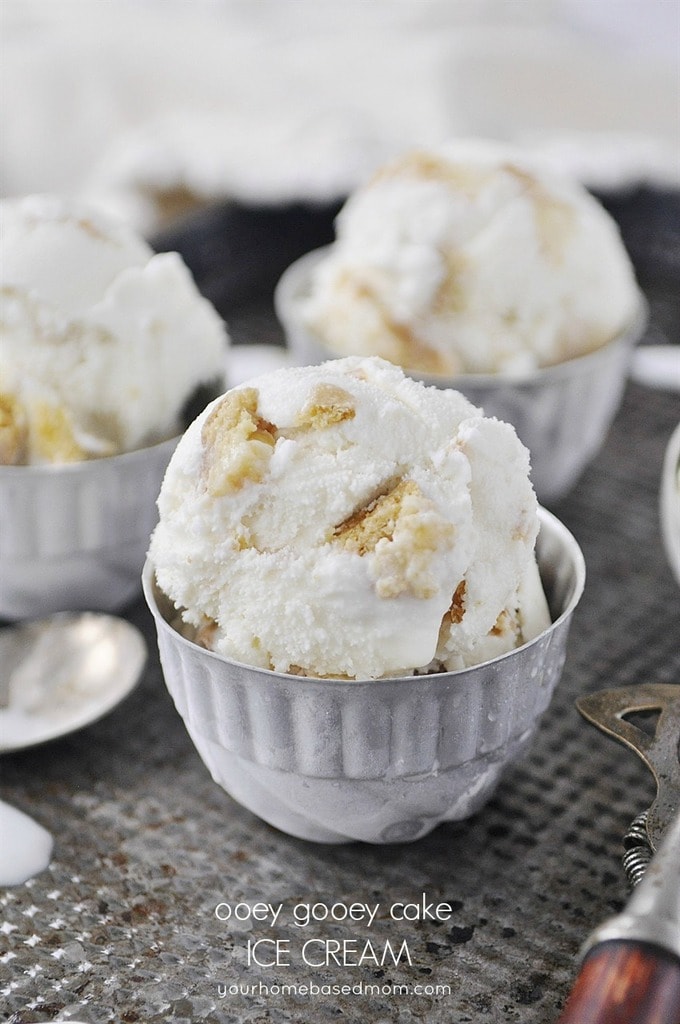 Ooey Gooey Cake Ice Cream was inspired by my ice cream crawl through New York City last year!  My youngest daughter lives in Manhatten and I take every chance I can to go visit.  In fact, I'm headed there in less than two weeks so watch for some more NYC posts.  You can check out all my favorite places for ice cream in NYC here.  I've got some new ice cream places to check out on this next visit.
This delicious banana ice cream was inspired by a previous trip too.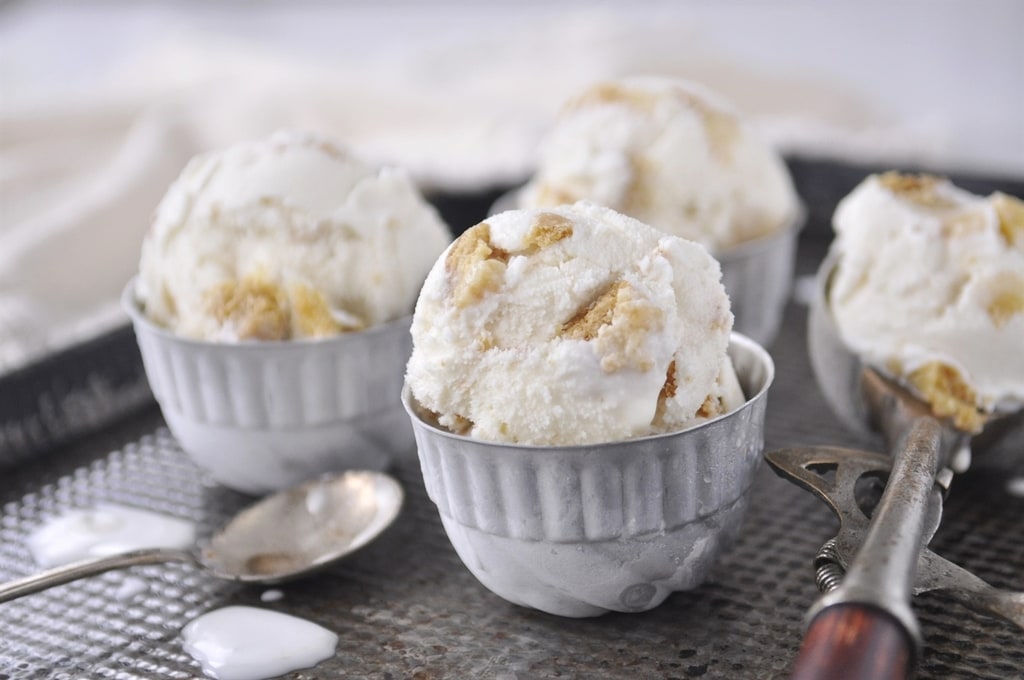 One of the ice cream places I like to visit while in NYC is Ample Hills Creamery.  It's been voted New York's top ice cream.  They have so many fun, creative flavor combinations.  One of my favorites is The Munchies, I've got a great copy cat recipe for it.
Today's recipe for Ooey Gooey Cake Ice Cream was another fun flavor I tried at Ample Hills and it combines two favorite treats.  Ooey Gooey Cake and vanilla ice cream.  If you've never had ooey gooey cake, you really should.  You can find my recipe for it here.  We love it in the summer with fresh berries on top.  For the recipe I made an ooey gooey cake following the directions on that post and then cut it into bite size pieces.  You won't need the whole cake for the ice cream so you'll have cake leftover to share or eat by itself.
I popped the cut up pieces into the freezer for about 20-30 minutes to harden them up so they didn't fall apart when I mixed them into the ice cream.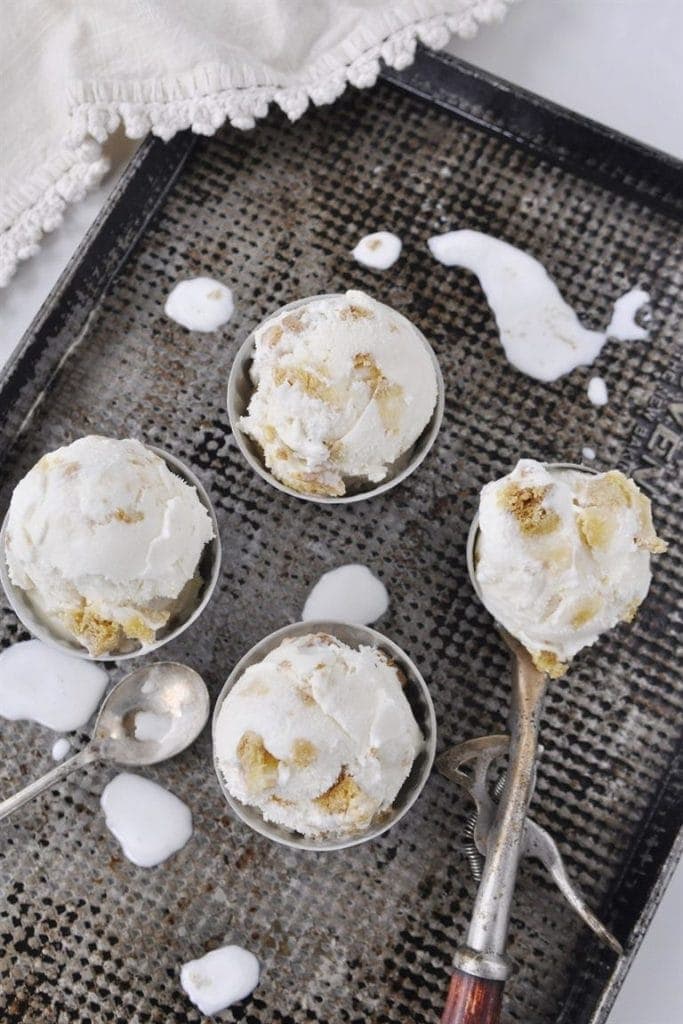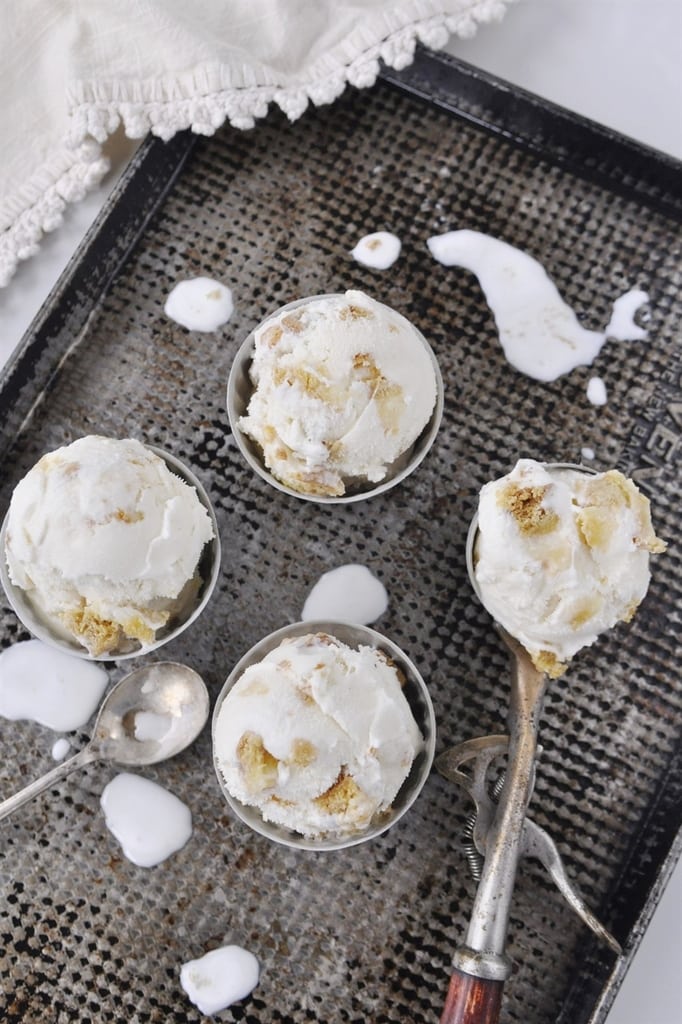 For the ice cream part, I used my favorite homemade vanilla ice cream recipe.  It's the best and I use it as my starting point for lots of my ice cream recipes.  I've heard from many of you how much you love it too.
I use my favorite 2 qt. Cuisinart ice cream maker and when the ice cream is almost finished, I put the chilled bits of cake into the ice cream maker and let them churn right it.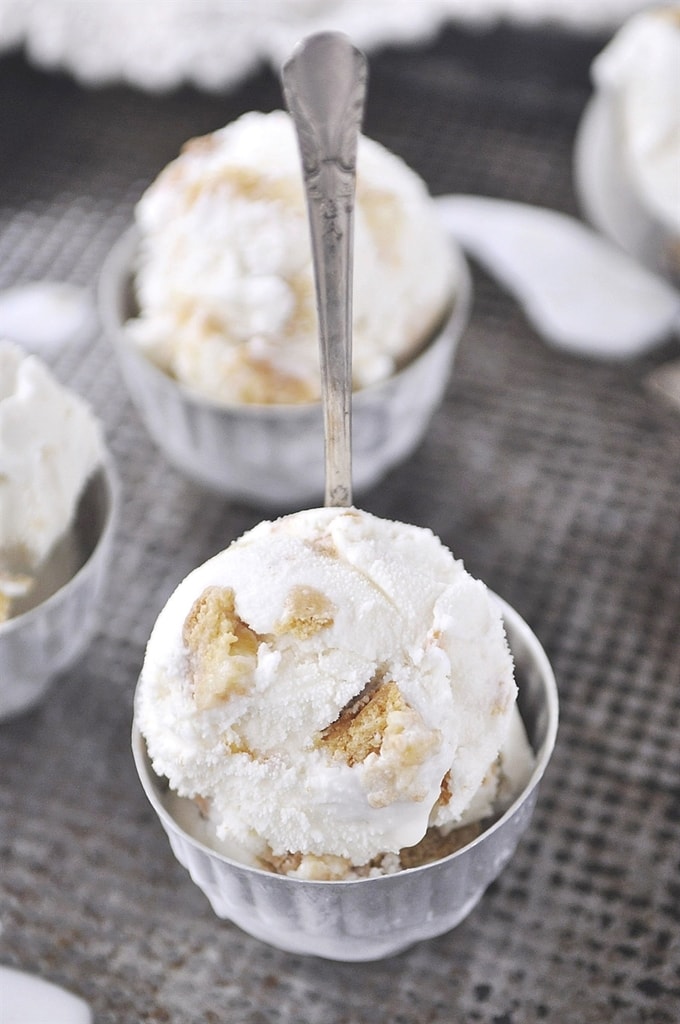 Then I put the ice cream into my Tovolo Ice Cream Tub, I love this thing.  It keeps ice cream at just the right texture and temperature.  I always sprinkle a few more pieces of cake on top for good measure.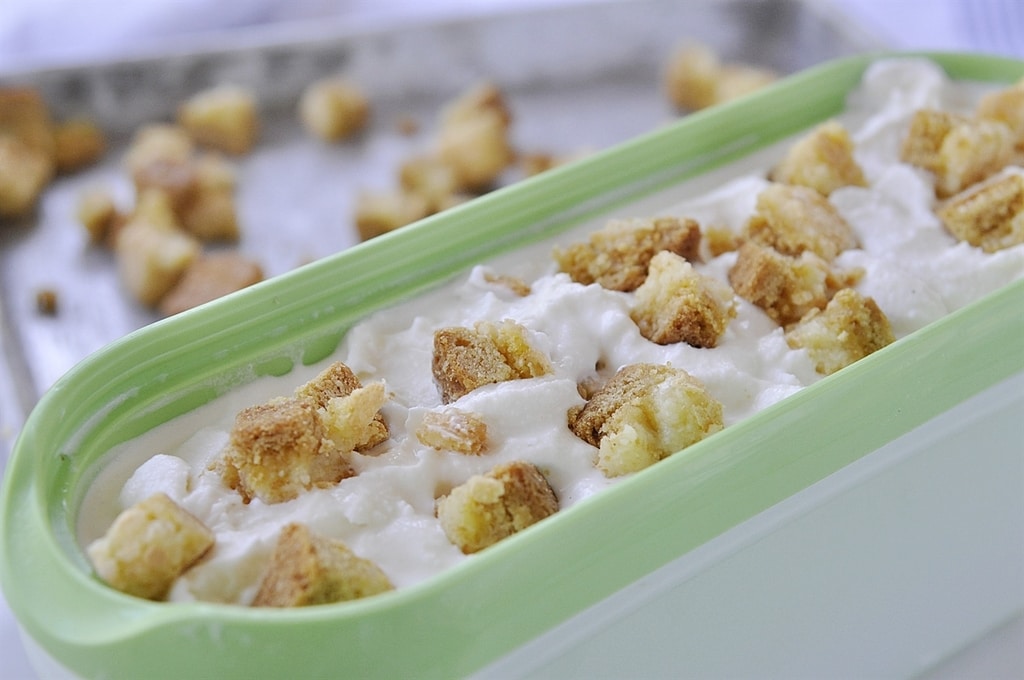 After the ice cream is set up, just scoop away!  I love the chunks of ooey gooey cake throughout the vanilla ice cream.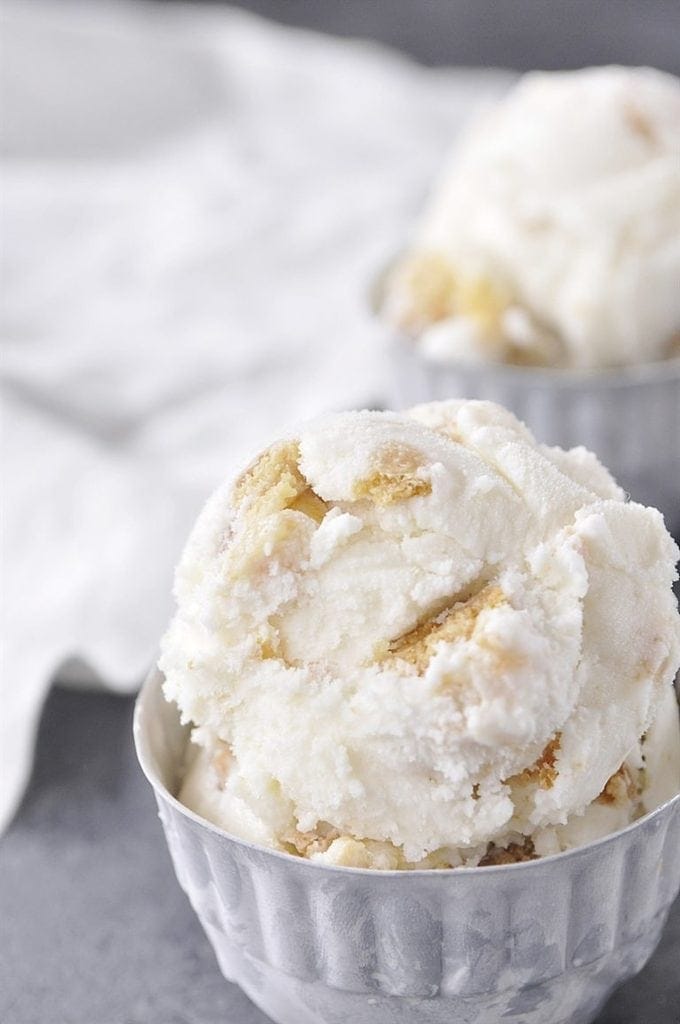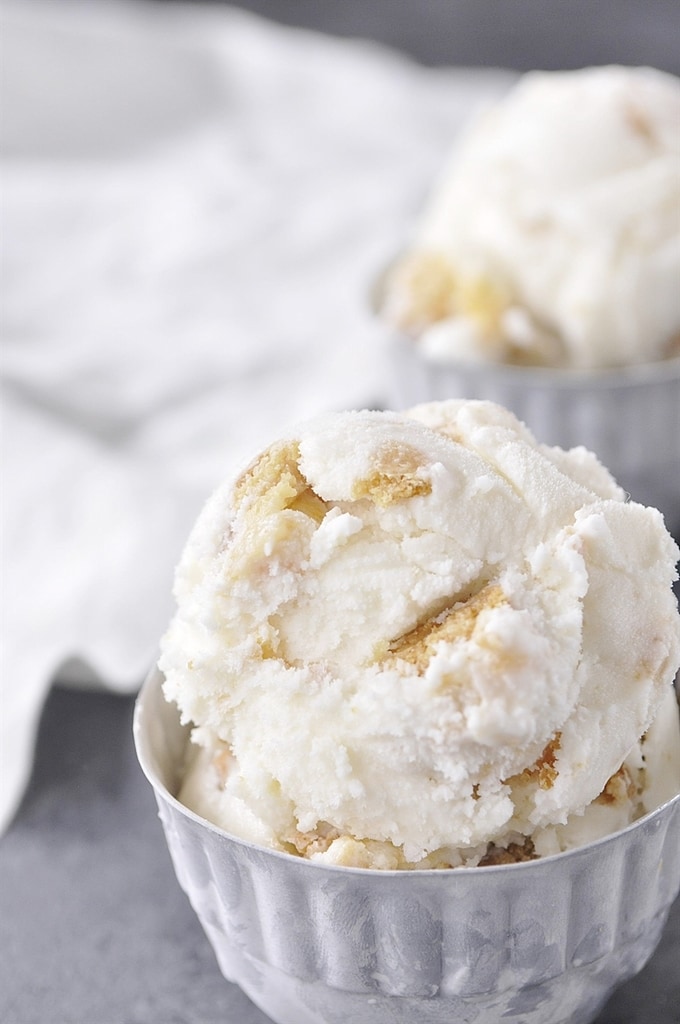 I can't wait to discover some fun new ice cream flavors on my upcoming trip.  If you have any NYC ice cream must try ideas for me, leave me a comment and let me know!
For some of my other favorite things to do, see and eat in NYC: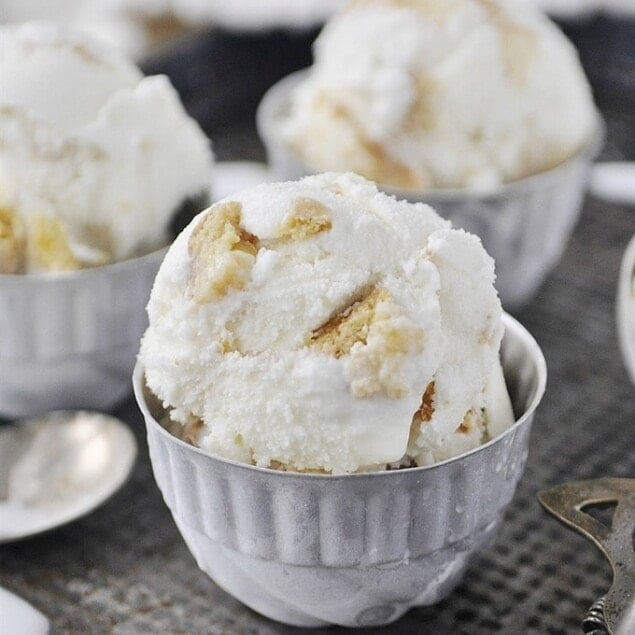 Ooey Gooey Cake Ice Cream
A delicious combination of two favorite treats - Ooey Gooey Cake and Ice Cream. A perfect combination.
Ingredients
Vanilla Ice Cream
1½ C whole milk
1½ C sugar
¼ tsp salt
1½ C half & half
1½ Tbsp pure vanilla use the good stuff
2 C whipping cream
For variations: add in 1 c mini chocolate chips or 1 c crushed Oreo cookie
Ooey Gooey Cake
1 packaged yellow cake mix
½ cup melted butter 1 stick
1 egg
1 8 oz. cream cheese, softened
2 eggs
3¾ cup powdered sugar
Instructions
Make Ooey Gooey Cake (directions below)

Cut into bite size pieces and chill on a baking sheet in freezer for 20-30 minutes.

When the ice cream is almost done, add in 1-2 cups of ooey gooey cake bites and let them churn in.
Vanilla Ice Cream
Mix together all ingredients and pour into 2 qt. ice cream maker.

Follow manufacturer's directions.
Ooey Gooey Cake
Grease and flour one 13 x 9 pan

Preheat oven to 350 degrees

Mix together cake mix (DO NOT add the things it tells you on the back of the box - you are using just the dry cake mix.), melted butter and 1 egg

Press into prepared pan

In separate bowl mix cream cheese, 2 eggs and powdered sugar

Pour over the first layer

Bake at 350 degrees for 40 minute