Today we welcome Jenny from The Melrose Family to the blog.  I have never met Jenny in person but she is one of my favorite online friends!  She and I are in several blogging groups together and I appreciate how willing she shares her ideas and expertise with me.  And I'm loving the idea of the Grinch Munch she shared today!  So fun!!  She shared a fun a fun Melted Snowman Popcorn last year, be sure to check it out too.  In addition to all the Bake ideas here on the blog my friends Mique will be sharing Craft ideas and Cindy will be sharing Sew ideas and Mallory and Savannah at Classy Clutter will be sharing decorate ideas!    Exciting right!?  Be sure to check out all the ideas they are sharing each day as part of Bake Craft Sew Decorate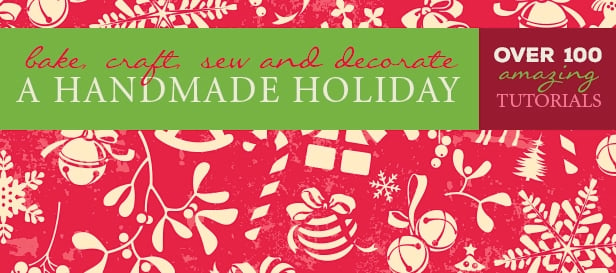 One of my favorite holiday movies over at The Melrose Family is the Grinch who Stole Christmas. My girls are just at an age where they both enjoy movies and I can't wait to sit them down to watch the Grinch. Our Grinch Munch is definitely the perfect snack to celebrate with!
Grinch Munch
My popcorn recipes are quick and easy and they are the perfect salty and sweet combinations. They use minimal ingredients and they come together within minutes. Plus, they are easy to throw together so that you're not spending all day in the kitchen Instead, you get to spend more time with the cuties in your life.
My favorite scene from The Grinch Who Stole Christmas is of course when his heart grows three times the size. The red candy hearts in the Grinch Munch makes me smile every time. I'm hoping that my girls will notice the message that is being portrayed in the movie. I want my girls to understand that there's more to Christmas than just the presents.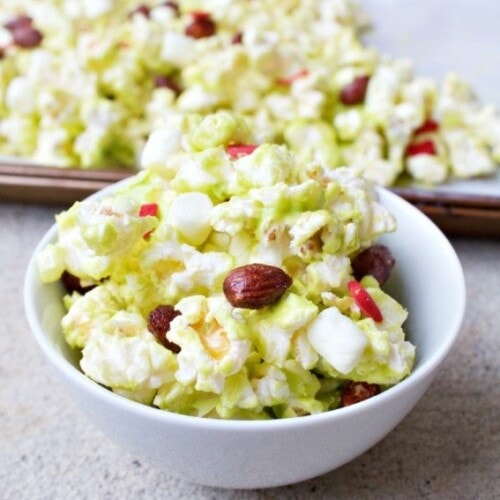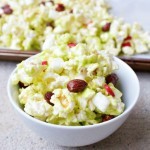 Print
Grinch Munch
Ingredients
1

Bag of microwave popcorn popped

1/2

cup

raspberry glazed almonds

1/2

cup

mini marshmallows

2

tablespoons

red candy hearts

1

bag of Wilton's vibrant green candy melts
Instructions
Pop the microwave popcorn according to the package instructions.

Line a cookie sheet with parchment paper and pour the popped popcorn onto it. Take out any unpinned kernels.

Add the raspberry glazed almonds and mini marshmallows to the popcorn on the parchment paper.

Melt the candy melts according to the package instructions and pour over the popcorn mix.

With your hands mix the popcorn mixture so that the green candy melt coats the popcorn.

Sprinkle on the red heart candies and let the mixture sit to set.
You may also like…