These Chocolate Peppermint Drops are like sweet little pillows of goodness. They melt in your mouth.
It is cookie time!
I love meringue, in any shape or form.  Light, sugary, melt in your mouth meringue.  That is exactly what today's cookies do – they melt in your mouth leaving a light peppermint and chocolate taste behind.
If you have never made meringue before this is a great way to start.
Meringue is basically a combination of egg whites, sugar, cream of tarter with a little vanilla thrown in.
You beat the egg whites to a soft peak and then add in the other ingredients and beat until stiff.  Sometimes your meringue doesn't get stiff.  There are a lot of things that can cause it not to get stiff.  One is the weather.  Meringue does not like humidity or moisture in the air so as you can imagine finding a  dry day in Oregon is a bit of a challenge.
The other thing meringue doesn't like is any type of grease in the bowl so make sure you start with a nice clean bowl.
Today my meringue did not get very stiff so the cookies are a little flatter than normal but they still taste great and melted in my mouth.
I used mini chocolate chips and Andes Peppermint  Crunch Baking Chips which you can now find at the holidays.
To make them a little prettier I decided to drizzle some melted milk chocolate over the top.
I am not a very good drizzler so I'm not sure I made them any prettier but a little extra chocolate is always a good thing.
So I am thinking these cookies may even be gluten free?  Am I right gluten free readers?  Cali is going on a gluten free diet this week so I have gluten free on the brain!
Don't you think Santa would like to find a plate of these waiting for him underneath the Christmas tree??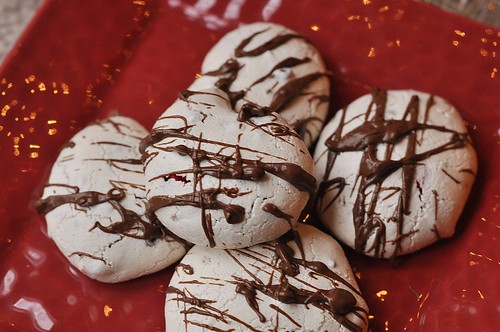 Chocolate Peppermint Drops
Peppermint meringue drizzled with chocolate.
Ingredients
2 egg whites
dash of salt
1/8 tsp cream of tarter
3/4 C sugar
1/2 tsp vanilla
1/2 C mini chocolate chips
1/2 C Andes Peppermint Crunch Baking Chips
Instructions
Beat egg whites until foamy, add salt and cream of tarter

Beat until soft peaks form

Gradually add sugar and beat until stiff

Mix in vanilla, chocolate chips and peppermint chips

Line cookie sheet with parchment paper

Drop batter by teaspoons onto paper

Bake for 15-20 minutes at 300 degrees

Store in an airtight container - remember they don't like moisture!
Nutrition Facts:
Calories: 45kcal (2%) Carbohydrates: 9g (3%) Protein: 1g (2%) Fat: 1g (2%) Saturated Fat: 1g (6%) Cholesterol: 1mg Sodium: 7mg Potassium: 7mg Fiber: 1g (4%) Sugar: 9g (10%) Vitamin A: 8IU Calcium: 4mg Iron: 1mg (6%)
* Disclaimer: All nutrition information are estimates only. Read full disclosure here.