Chicken and dumplings is classic American comfort food. A rich chicken broth filled with veggies chicken and topped with light and fluffy dumplings!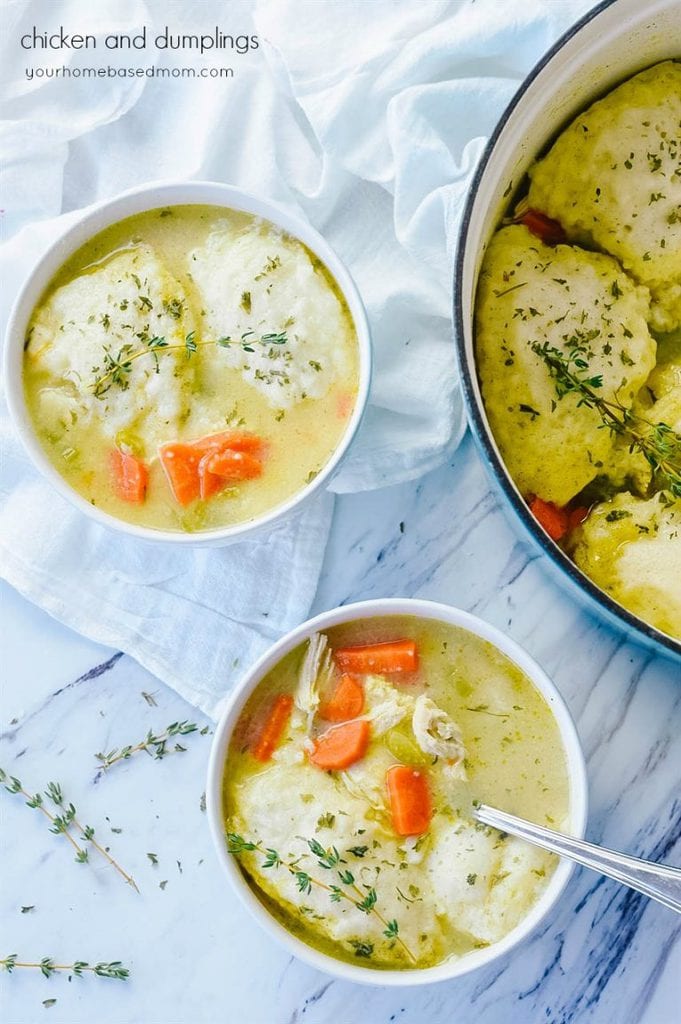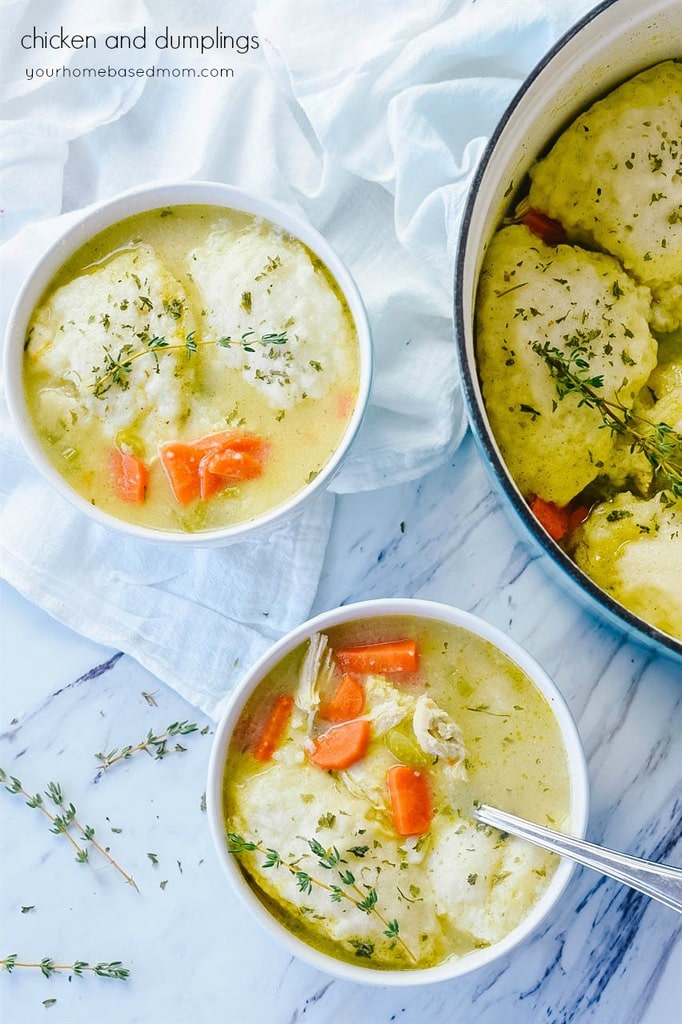 It snowed here in Portland last week, it was gone by noon but we had snow!  They are forcasting more snow next week and I'm keeping my fingers crossed.  I love a good snow day.  I grew up in Wisconsin and don't want that kind of snow again but a few days of snow each winter seems to satisfy my snow craving! Snow always puts me in the mood for some good old comfort food.  There is something about staying inside on a cold, snowy day and enjoying some pure comfort food.
Today I am sharing one of my favorite comfort foods, chicken and dumplings!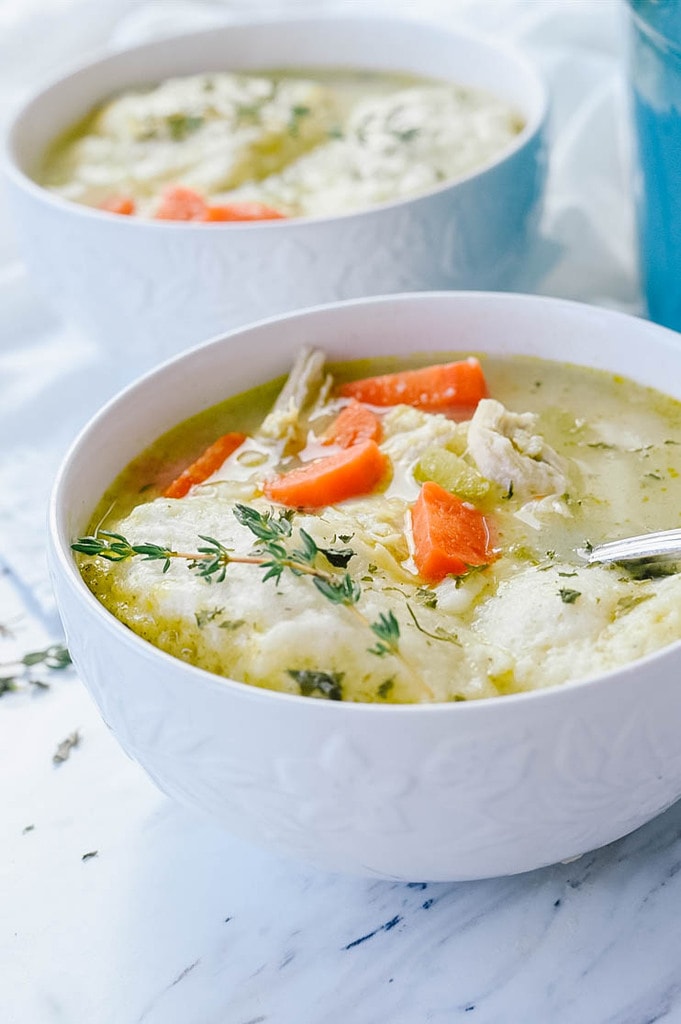 I never had chicken and dumplings as a child.  It wasn't until I was an adult and we were visiting a friend in California that I had my first taste of chicken and dumplings.  My friend made a great big pot of it for dinner and I fell in love right there. For me, the best part was the big, fluffy, light dumplings. I pretty much make and eat chicken and dumplings now so that I can have those dumplings!!  Fortunately for me, my friend shared with me her secret.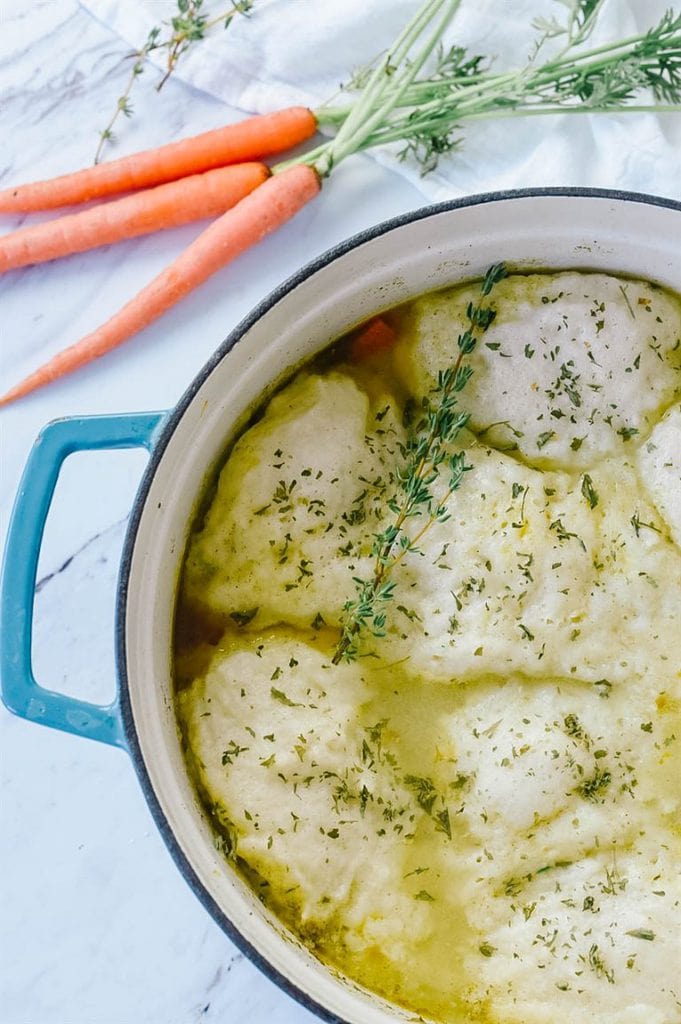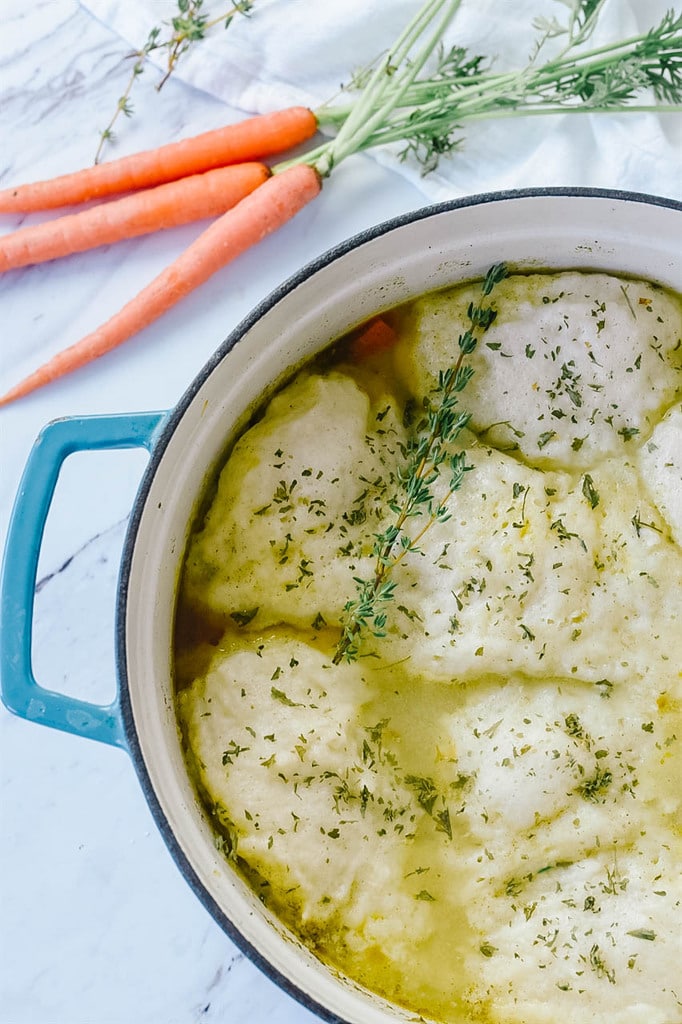 How to Make Chicken and Dumplings
My friend graciously shared her secret for those amazing dumplings and the secret ingredient she used to get them so light and fluffy! The secret ingredient is sour cream. The sour cream makes the dumplings perfection!
Chicken and Dumplings starts with veggies. You can get creative with whatever vegetables you would like to add in but our family likes fresh carrots and celery but my friend used a bag of frozen vegetables that contained peas, carrots and corn.  After you have sauteed the vegetables, added the broth, chicken and seasonings.
Mix together the dumpling ingredients, including that secret ingredient. Be sure that your liquid is hot.  The dumpling batter is very wet and you just plop spoonfuls of the batter onto of the simmering broth. The more biscuits the better as far as I'm concerned.  The hot chicken broth helps cook the dumplings.  Then put the top on the pot and let it simmer (don't peek). The steam will cause the dumplings to be nice and light and fluffy!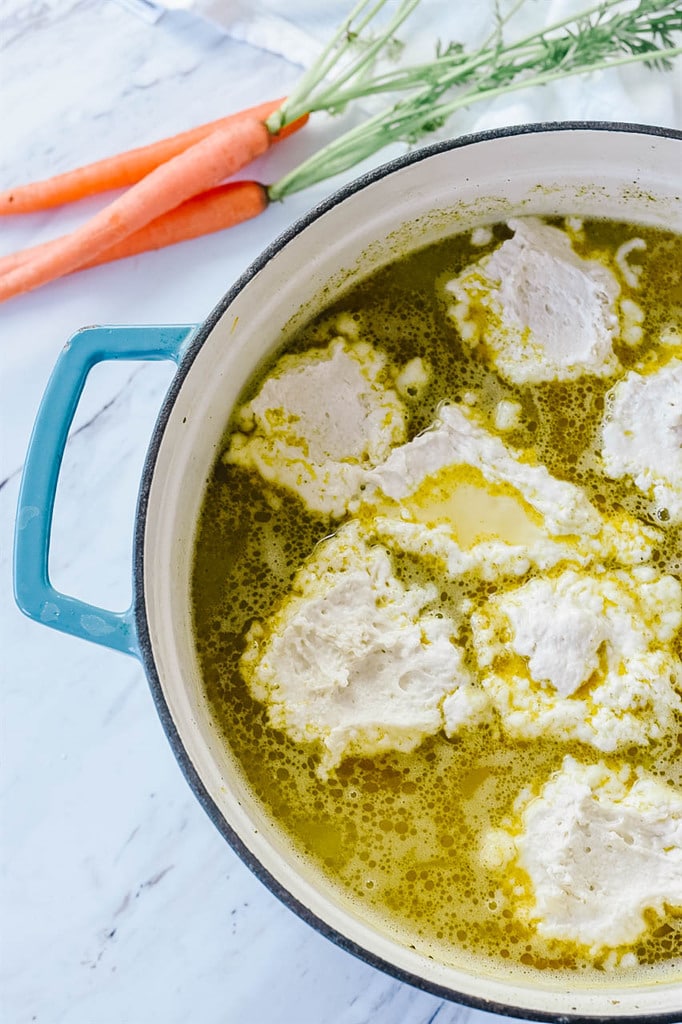 Just a few words of caution. The chicken and dumplings  will be hot, very hot and you will want to eat it right away but trust me, let it cool a bit or at least blow on it!   At first, it may seem like there is too much broth but you will soon discover that as you begin eating and cutting into the dumplings they will start to dissolve a bit and mix in with the broth and it will thicken up the broth.
Chicken and Dumplings is the perfect solution when only comfort food will do.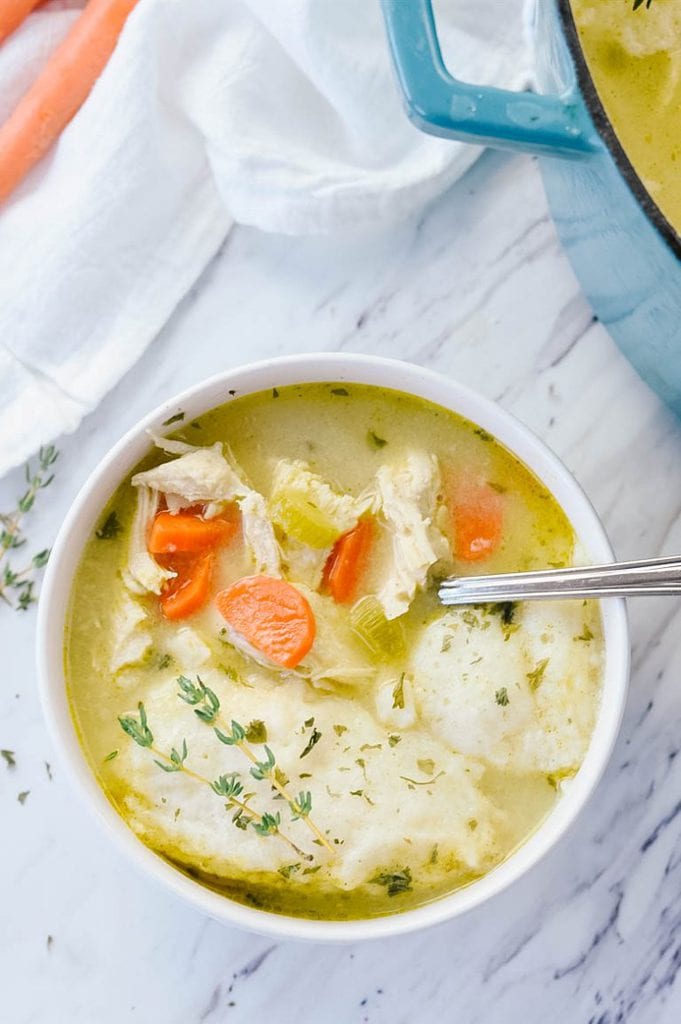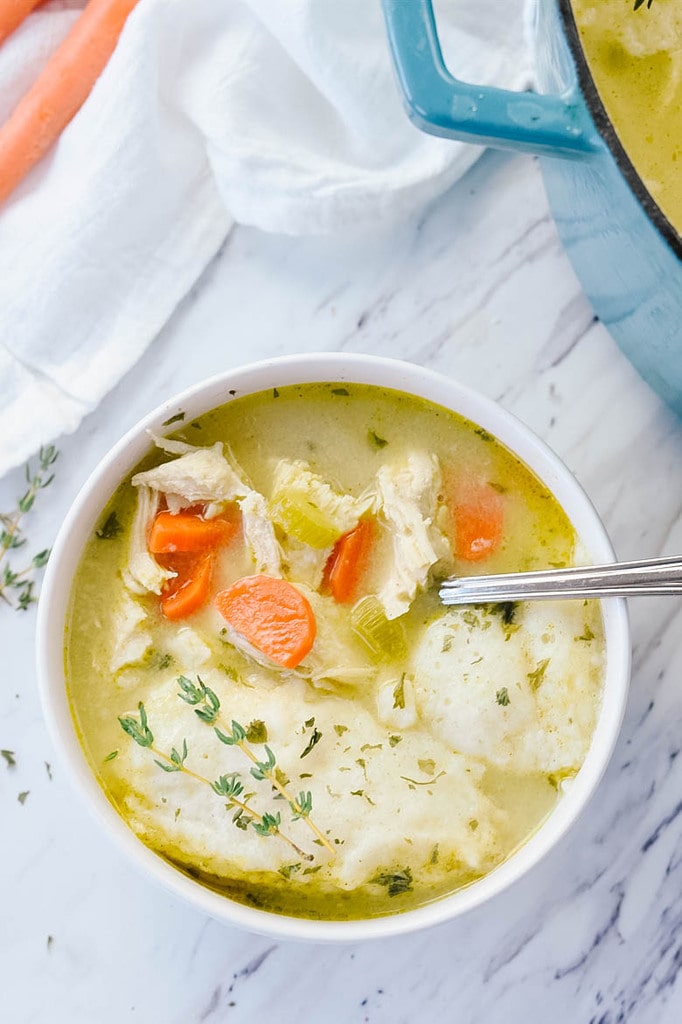 If you enjoy this recipe be sure and check out these recipes too:
Chicken and Dumplings Recipe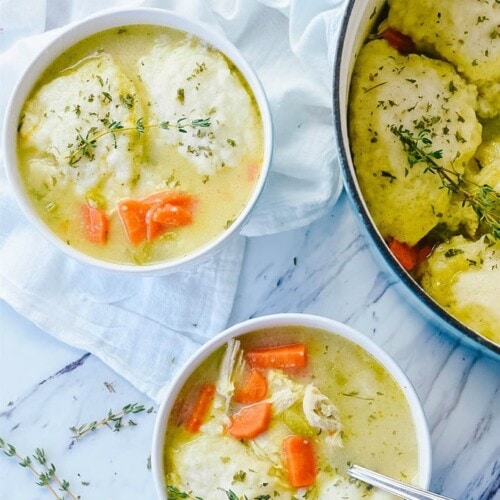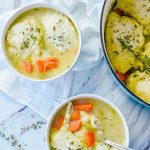 Print
Chicken and Dumplings
Chicken and dumplings is classic American comfort food. A rich chicken broth filled with veggies chicken and topped with light and fluffy dumplings!
Ingredients
1

Tbsp

butter

1

cup

celery

chopped

1 1/2

cups

carrots

peeled and sliced

8

cups

of chicken broth

1

tsp

poultry seasoning

1/4

tsp

pepper

2

cups

chicken

cooked and cubed

1 1/2

cups

Bisquick

1/3

cup

sour cream

1/2

cup

milk
Instructions
In a large, heavy pan saute celery and carrots in butter for about 5 minutes

Add in the broth and seasonings and bring to a boil

Reduce heat and simmer for 5-10 minutes

Add in chicken

Make dumplings: Combine Bisquick, milk and sour cream

Drop dumplings by the spoonful onto simmering broth

Cover pan and simmer for 10-15 minutes or until the dumplings are cooked through (insert a toothpick)

Do not lift cover while cooking
Nutrition
Calories:
295
kcal
|
Carbohydrates:
25
g
|
Protein:
12
g
|
Fat:
16
g
|
Saturated Fat:
5
g
|
Cholesterol:
42
mg
|
Sodium:
1627
mg
|
Potassium:
561
mg
|
Fiber:
1
g
|
Sugar:
6
g
|
Vitamin A:
5645
IU
|
Vitamin C:
24.9
mg
|
Calcium:
133
mg
|
Iron:
2
mg
Originally posted  Feb.17, 2011
Need some help figuring out what's for dinner tonight?
Come join our Facebook Group!  Join hundreds of others who love sharing dinner time ideas.  You don't want to miss out on the fun!

You'll find lots of ideas for dinner from all our awesome members and you can share your ideas too!  Join the Family Dinner Table today.