Buttermilk cake is light, tender and delicious when topped with fresh berries and whipped cream. Serve it with your favorite fruit or just by itself.
Strawberries make any dessert better and some of our other favorite ways to enjoy strawberries on in this Strawberry Cream Pie! Strawberry Pizza is always a crowd pleaser and disappears fast! And one of the simplest and most delicious ways to enjoy a strawberry is with a little Sour Cream and Brown Sugar.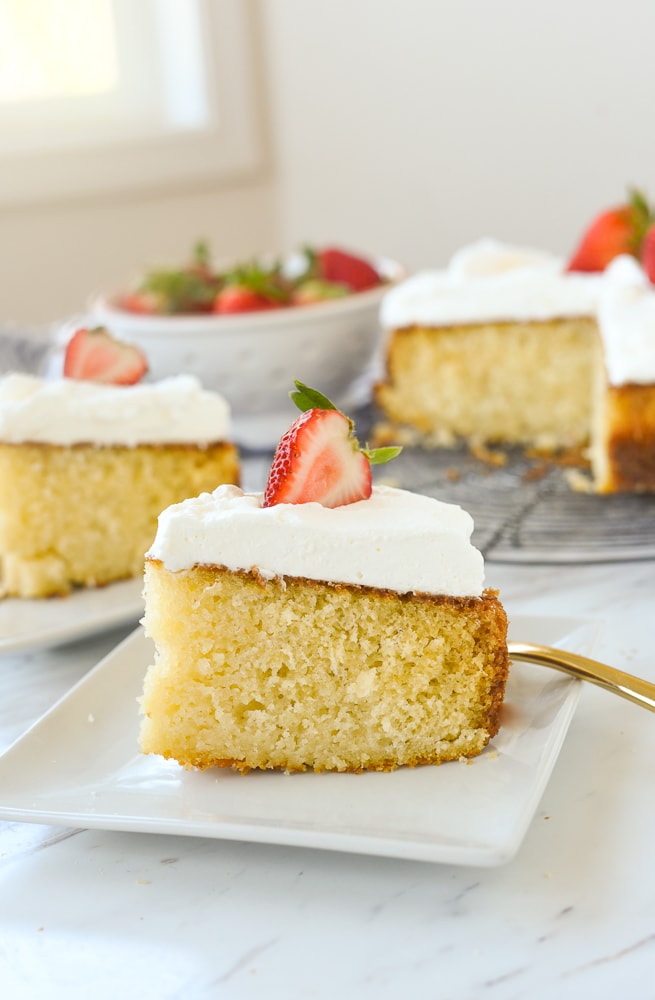 Strawberry Shortcake Alternative
When you think of strawberries and dessert I bet the first thing that comes to mind is strawberry shortcake. A very worthy use of strawberries but I have to admit not my favorite. May I suggest an alternative to shortcake, buttermilk cake! I find strawberry shortcake to be highly overrated, it's usually a little to try for my tastes. I much prefer this delicious, tender, light buttermilk cake. It is perfect with whipped cream and strawberries or whatever fruit you choose. It's even delicious all by itself!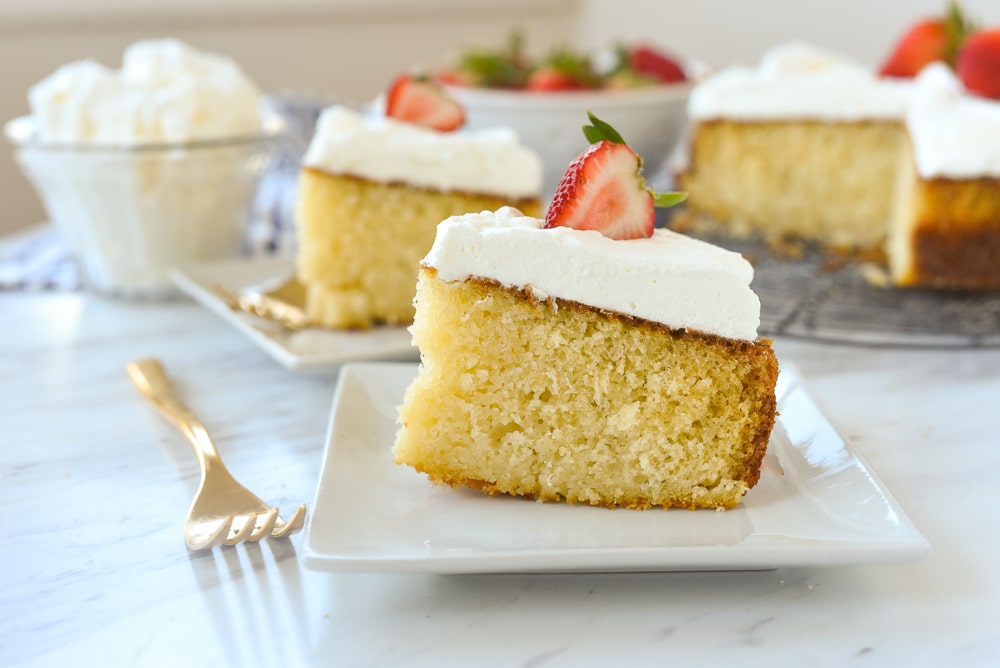 Best Buttermilk Cake Recipe
Buttermilk cake is a nice light, moist cake with a whip cream frosting. Whether eaten just as is or topped with fresh fruit you have a delicious dessert. The addition of buttermilk to this cake makes for a softer texture. The acidic ingredient tenderizes the gluten in the flour and gives your cake more body and a better texture.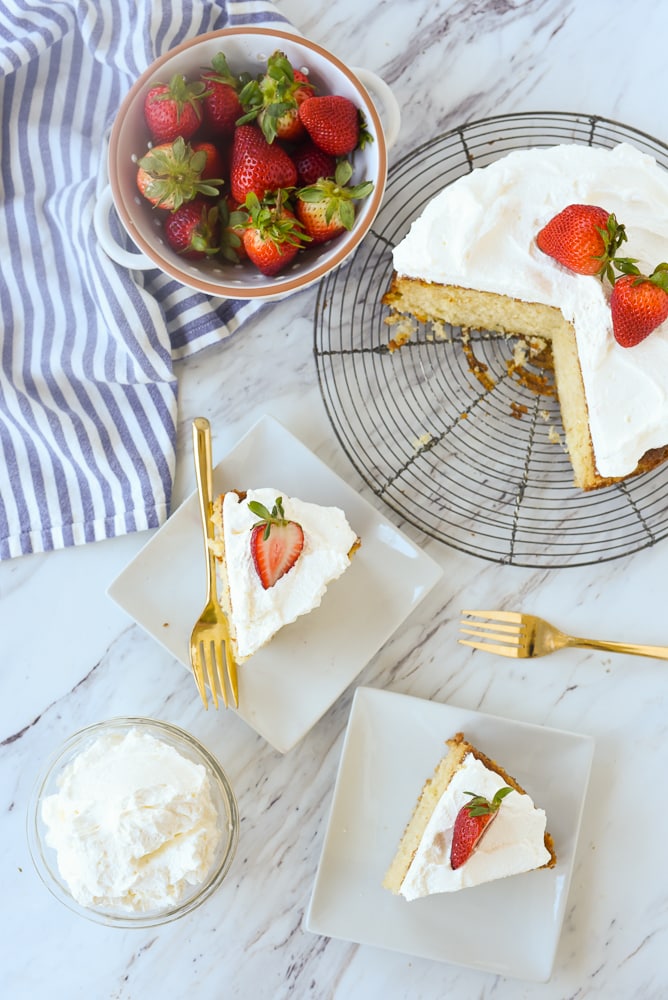 How to Make Buttermilk Cake
Springform Pan. Using a springform pan means there is no need to mess with layers and filling in between. It also makes for easier removal of the cake. If you don't have a springform pan use a regular cake pan but just make sure to grease and flour it well so the cake comes out easily. This is my favorite non stick baking spray.
Cake Flour. The recipe calls for cake flour which makes for a nice light cake but it also gives a cake a tendency to fall. I didn't have that problem with this cake but have had in the past. If the cake does fall just fill in the hole with lots of the whip cream frosting, yum! Cake flour makes a cake more tender. If you don't have any you can always use all purpose flour.
One tip to prevent a cake from falling is DO NOT open the oven during baking!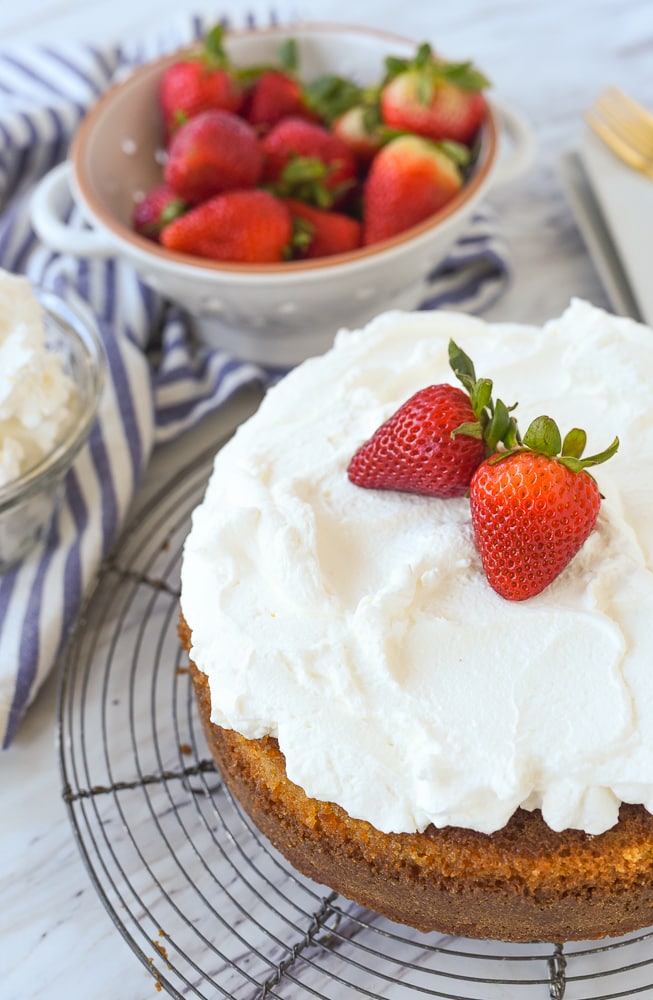 What is Simple Syrup?
Simple Syrup is a mixture of sugar and water that has been brought to a boil and then cooled. It is made with one part water and one part sugar. Simple syrup is liquefied sugar.
Poke Holes. After you remove the cake from the oven you will poke holes in the cake (I used a bamboo skewer), be sure and poke lots of holes. You want the simple syrup to have lots of places to ooze down into, the more the better! The syrup is what makes the cake so nice and moist. Be sure and poke holes around the outside edges too and be sure the cake is warm when you pour the syrup over the holes. Let the cake sit for a few minutes after pouring the liquid before removing from the pan so that it has plenty of time to be absorbed into the cake.
Whipped Cream. After removing the cake from the pan and allowing the cake to cool, top with freshly whipped cream and fresh berries. The cake is best eaten immediately after adding the whipped cream but it will keep in the refrigerator for several hours to overnight.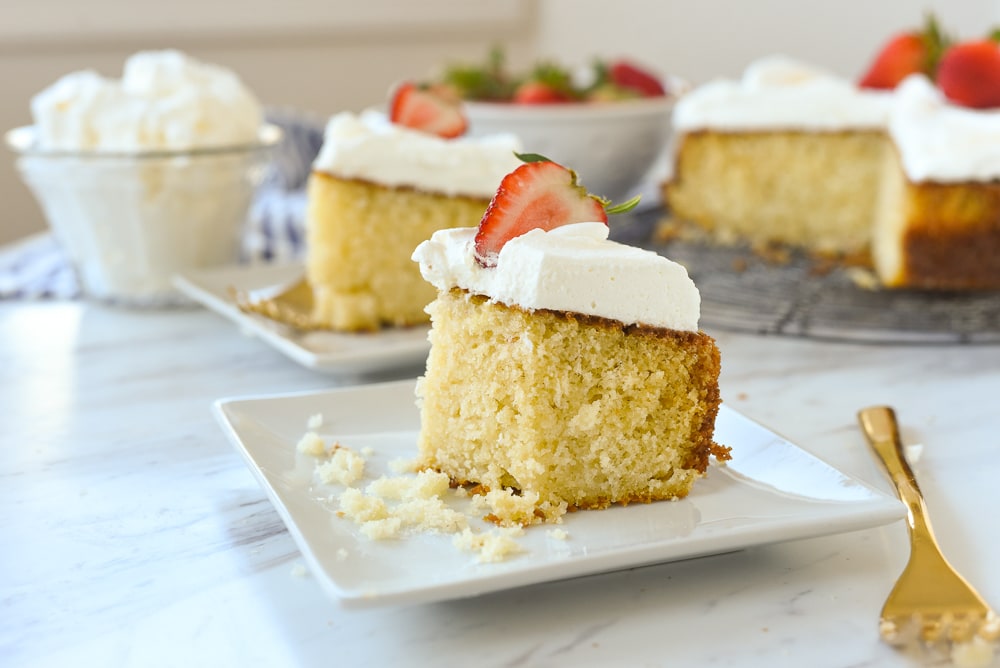 For all of my other favorite kitchen products and tools visit my Amazon Store.
Did you know I wrote a cookbook? Check out the Holiday Slow Cooker Cookbook for 100 delicious recipes.
Other delicious cake recipes include: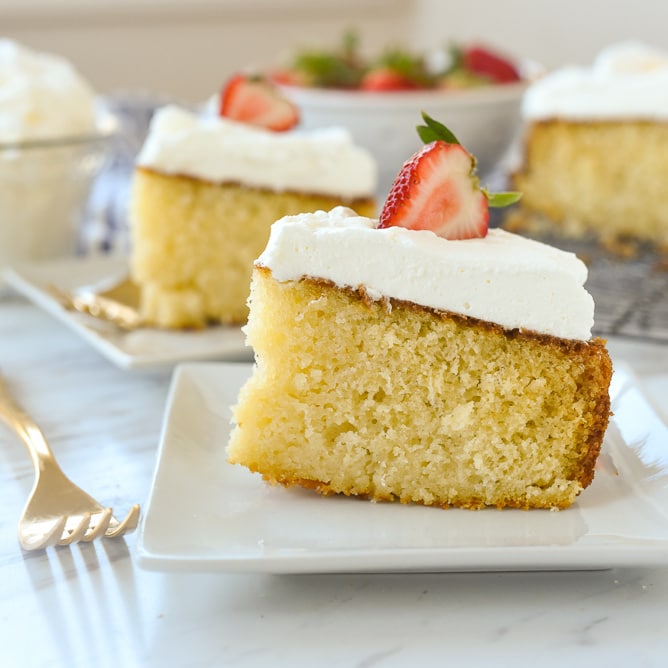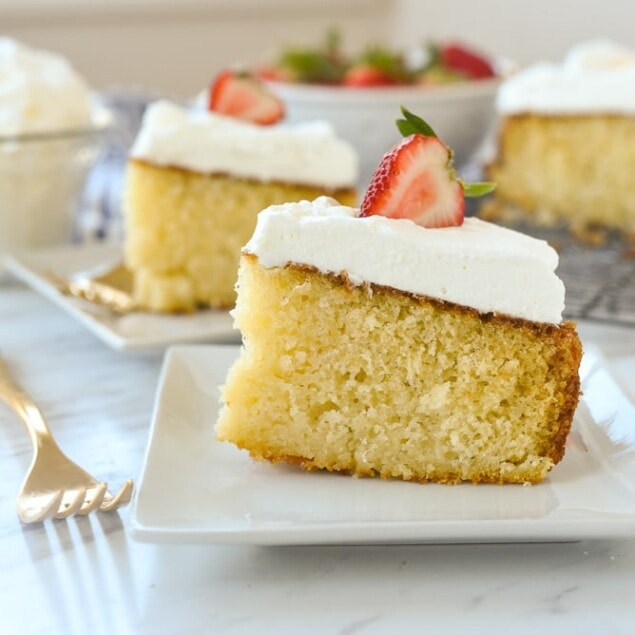 Buttermilk Cake Recipe
Buttermilk cake is light and moist and delicious when topped with fresh berries and whipped cream frosting.
Ingredients
2 cups cake flour
1 tsp baking powder
1 tsp baking soda
3/4 tsp salt
1/2 cups butter softened
1 cup sugar
1 tsp vanilla extract
2 eggs
1 cup buttermilk
Simple syrup:
1/2 cup water
1/2 cup sugar
Whipped Cream
2 cups heavy whipping cream
1/2 cup powdered sugar
Instructions
Turn oven to 350 degrees.

Spray a 9 inch spring form pan or regular cake pan. Spray with non-stick spray.

Line the bottom with a 9 inch round of parchment paper. Spray the paper.

In a medium bowl sift together flour, baking powder, baking soda and salt.

Set aside. In a another medium bowl, beat together butter and sugar until light and fluffy.

Add in vanilla.

Add eggs, one at a time, beating well after each addition.

Add the flour mixture in three additions, alternating with the buttermilk ending with flour.

Pour batter into the prepared pan and smooth the top.

Bake until golden, about 40-45 minutes. Cool in the pan on a cooling rack for 20 minutes.

With the cake still in the pan, poke holes all over the top with a toothpick or bamboo skewer. Slowly and evenly pour the simple syrup over the top of the cake.

Let cake sit for an additional 20 minutes to be sure all the syrup gets soaked in.

Remove cake from pan and invert onto a cake plate.

Spread whipped cream all over the top of the cake. Refrigerate until serving time.
For the simple syrup:
In a small saucepan over high heat, combine water and sugar. Bring to a boil and remove from heat. Sugar should be dissolved. Pour clear syrup into a small pitcher and set aside to cool completely.
For the whipped cream:
In a large bowl, pour in heavy cream. With mixer on medium high, beat cream until frothy.Add in powdered sugar and continue to beat until cream is thickened and holds a stiff peak. Spread whipped cream on top of the cake. Keep refrigerated until serving.
Nutrition Facts:
Calories: 420kcal (21%) Carbohydrates: 47g (16%) Protein: 5g (10%) Fat: 24g (37%) Saturated Fat: 15g (94%) Cholesterol: 104mg (35%) Sodium: 366mg (16%) Potassium: 130mg (4%) Fiber: 1g (4%) Sugar: 31g (34%) Vitamin A: 892IU (18%) Vitamin C: 1mg (1%) Calcium: 76mg (8%) Iron: 1mg (6%)
* Disclaimer: All nutrition information are estimates only. Read full disclosure here.