This blackberry balsamic herbed pork tenderloin is an amazing combination of flavors and the perfect way to dress up your dinner table.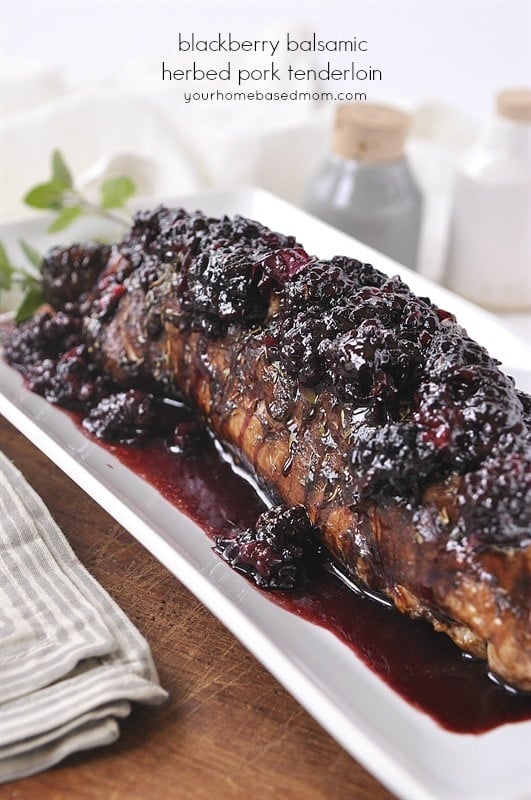 This post is sponsored by  Oregon Berry Commission but all opinions are my own.
As you may know, I live in the beautiful Pacific NW, specifically Oregon.  I love so many things about the place I live,  I could go on and on but one of the things at the top of my list is the amazing berries that are grown in Oregon.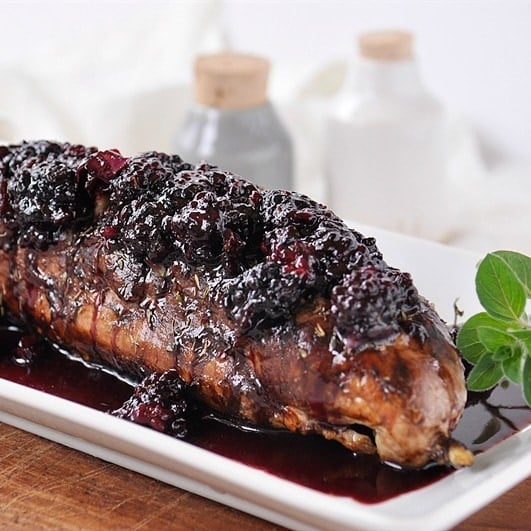 Many people think that berries are just for a snack or for dessert but I love to use berries in my savory dishes as well.  Today's recipe for Blackberry Balsamic Herbed Pork Tenderloin is the perfect thing to showcase some delicious Oregon berries. Now, you may be thinking, that's all fine and good Leigh Anne but I don't live in Oregon!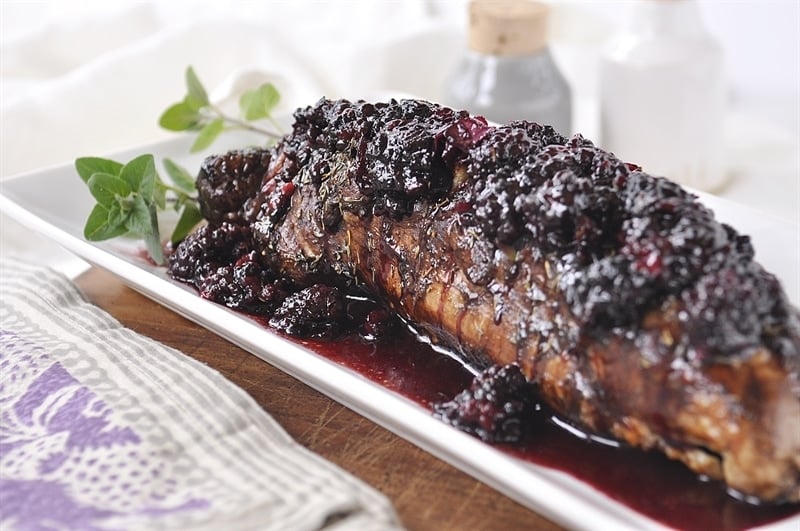 The great thing is, even if you don't live in Oregon, you have access to delicious Oregon berries in your freezer section of the grocery store.  This last weekend I was in Utah visiting my family and my son and his wife cooked me Sunday dinner.  For dinner he fixed a delicious berry cobbler and he used a bag of frozen Oregon grown berries out of his freezer to make the cobbler!  You probably have them in your freezer section too.
More than 90% of the berries  grown in Oregon are flash frozen within hours of being picked at the peak of ripeness, locking in maximum nutrition, taste and color.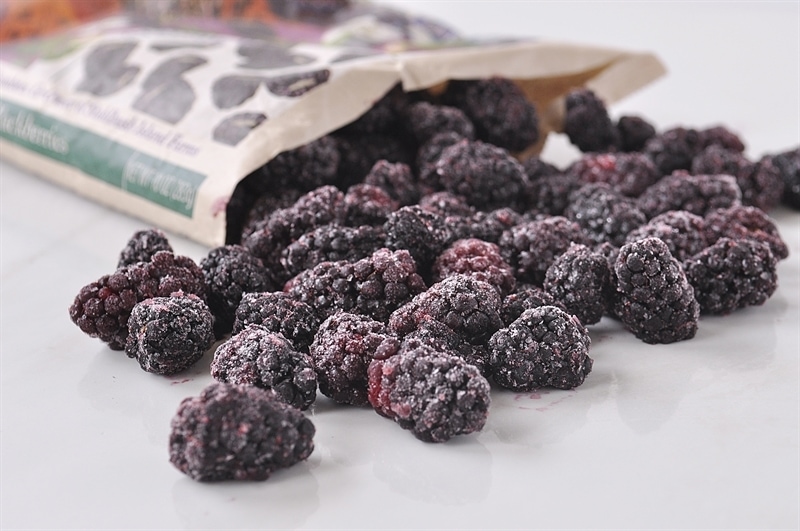 Frozen Oregon berries should be available at a premium grocery store near you such as Whole Foods or at a Natural grocer. Look for brands like Stahlbush Island Farms, Scenic Fruit or Willamette Valley Fruit Co
I used frozen blackberries to create a sweet and savory sauce for my herbed pork tenderloin. I first placed the pork on a foil covered baking sheet and then cut slits in the tenderloin and inserted pieces of fresh garlic.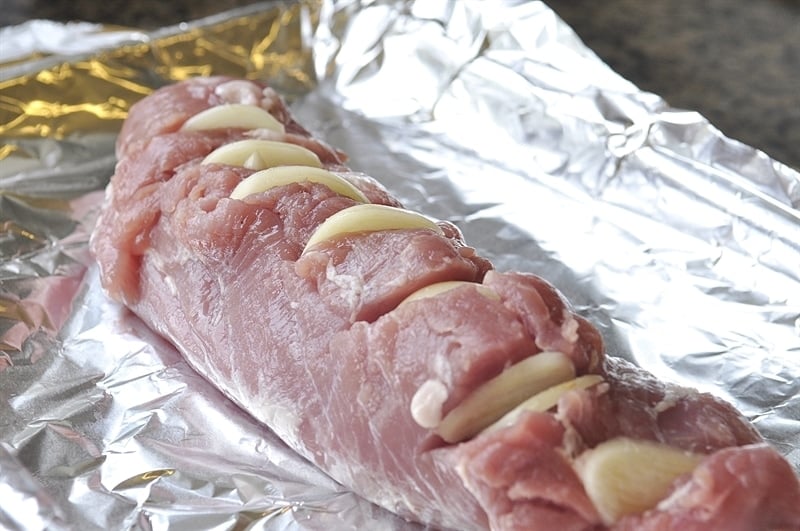 Then I coated it with balsamic vinegar, olive oil, salt and pepper and some dried thyme.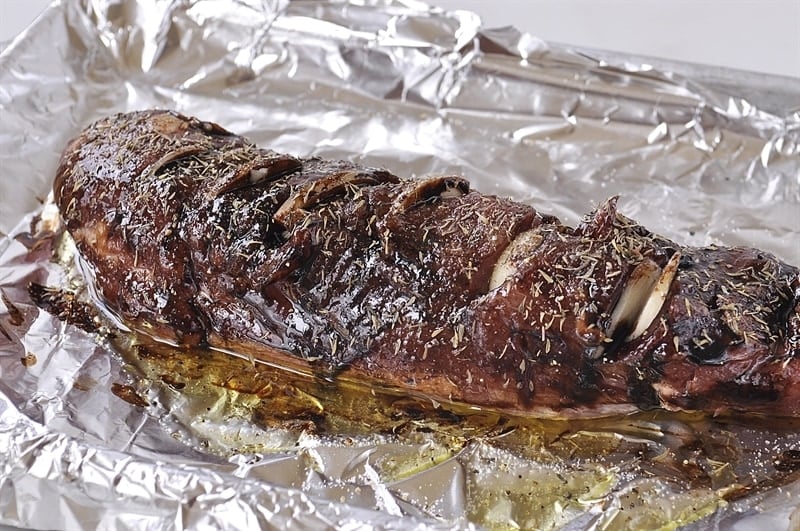 Bake it at 450 degrees F for about 20 minutes or until meat reaches 1450-160 degrees F.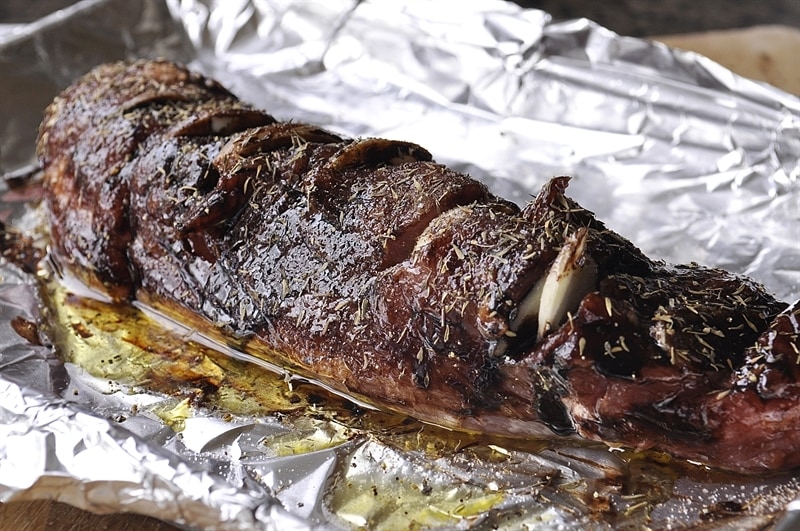 While it is cooking make your blackberry balsamic sauce by cooking some shallots in olive oil until soft and lightly caramelized – about 5 minutes.  Add in frozen blackberries and stir for 1 minute and then add in balsamic vinegar, honey and salt and pepper to taste.  Simmer for about 10 minutes or until berries collapse and reduce a bit.
Then pour your sauce over your pork and serve!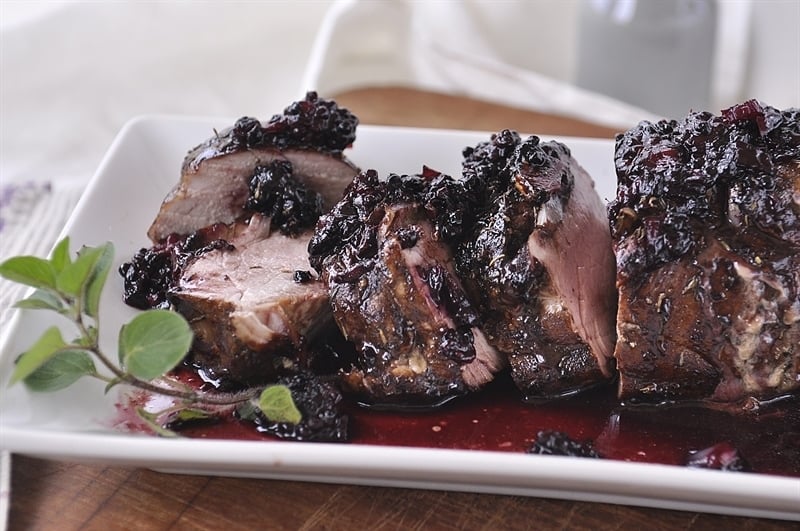 The blackberry balsamic sauce dresses up your pork and adds a delicious sweet and savory taste to the dish.  I love to serve it with roasted potatoes or rice pilaf.  Don't forget to use Oregon berries!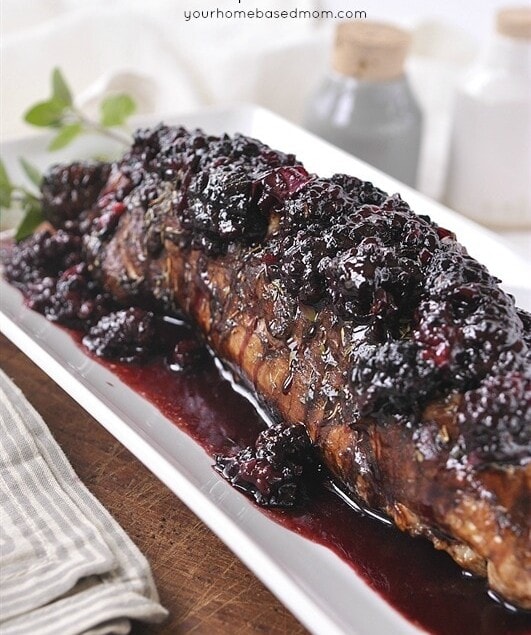 Blackberry Balsamic Herbed Pork Tenderloin
Ingredients
2.5 lb. pork tenderloin
2 Tbsp Balsamic Vinegar
2 Tbsp olive oil
2 cloves garlic sliced thinly
1 tsp dried thyme
salt and pepper to taste
Berry Sauce
1 Tbsp olive oil
1 shallot thinly sliced or minced
2 C Oregon Blackberries
1/2 C balsamic vinegar
1/3 C honey
1 tsp garlic minced
Instructions
Preheat oven to 450 degrees F

Place pork on a foil covered baking sheet

Cut slits into meet and insert sliced garlic

Drizzle with olive oil and balsamic vinegar, rub to coat meat

Sprinkle with dried thyme and salt and pepper

Bake in oven for 20 minutes or until meat reaches 145-160 degrees F.

Let meat rest and then cover with berry sauce and slice.
Berry Sauce
Saute shallots in olive oil until soft and lightly caramelized, about 5 minutes

Add in blackberries and stir for 1 minute

Add in balsamic vinegary, honey, garlic and salt and pepper to taste

Simmer for about 10 minutes until berries break down and it begins to reduce