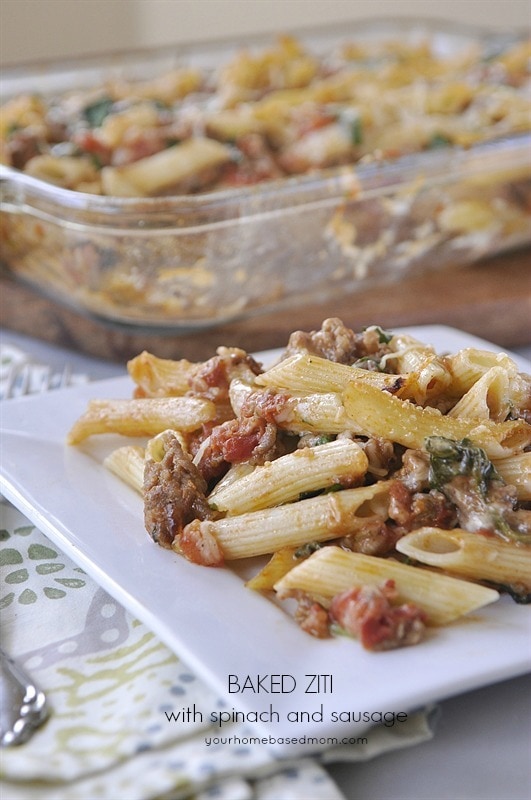 This recipe was originally published in November, 2009 and has been updated.
Today's recipe is always a family favorite.  I have taken this dish into lots of family's when someone was sick or had a new baby and it is always a hit.  The recipe is always requested.  It is also a great dish to make for company or when you are feeding two hungry 19 year old boys.
As part of the Mormon faith we have a missionary program.  Our young men and women give up 18 months to 2 years of their life to serve as missionaries.  Both of my boys served missions, in Argentina and Chile.   I love feeding the missionaries and am grateful for all the women that fed my boys when they were serving their missions.   Having a lot of food on hand when I feed the missionaries is always a requirement!
At church there is a calendar that is passed around and people sign up to feed the missionaries each night.  I had told the Elders that if they ever had a hole in the calendar and no where to go for dinner to let me know!  They had an open invitation at our house.
Sunday after church I saw them in the hall and they said they had no where to go for Sunday dinner.  Of course I invited them to join us!
Fortunately for me I haven't gotten use to cooking for our reduced sized family so there was plenty of food to share.
We were having a yummy baked ziti with spinach and sausage.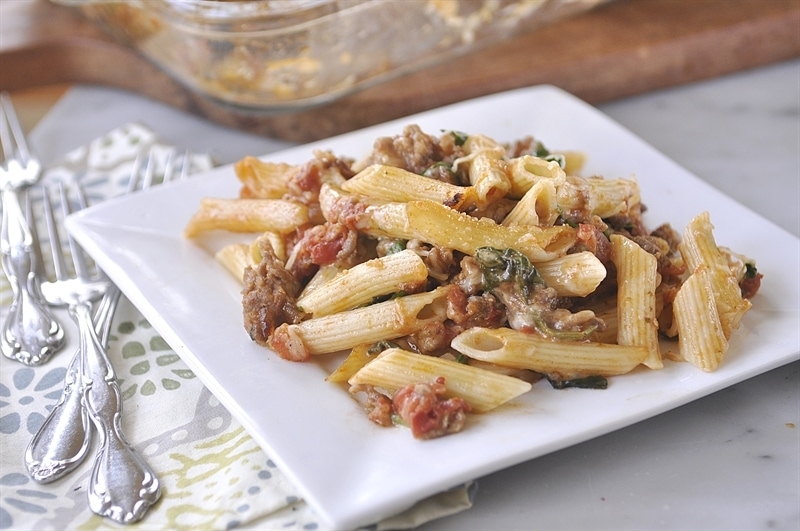 Since we were having guests I decided to kick it up a notch and mixed up a batch of Melanie's amazing Divine Breadsticks and a batch of chocolate chip cookies.
Since I had a few too many things that needed to be baked at the same time I borrowed my neighbor's oven – I do that a lot.  How I dream of one day having double ovens….
I baked the breadsticks next door.
After the breadsticks were baked and back at our house there was a knock at the door.  There were three of my cute neighbor boys wondering if they could have one of my homemade bread sticks.  Who could resist this face?!
There were plenty to share and I sent the 3 boys off with their breadsticks!  Katie – if you are reading this post don't be upset with "D".  I loved that he felt comfortable enough to come to my door to ask!
Dinner was a success and yummy.  A quick and easy dish to prepare.  It would also make a great dish when you need to take dinner to someone else.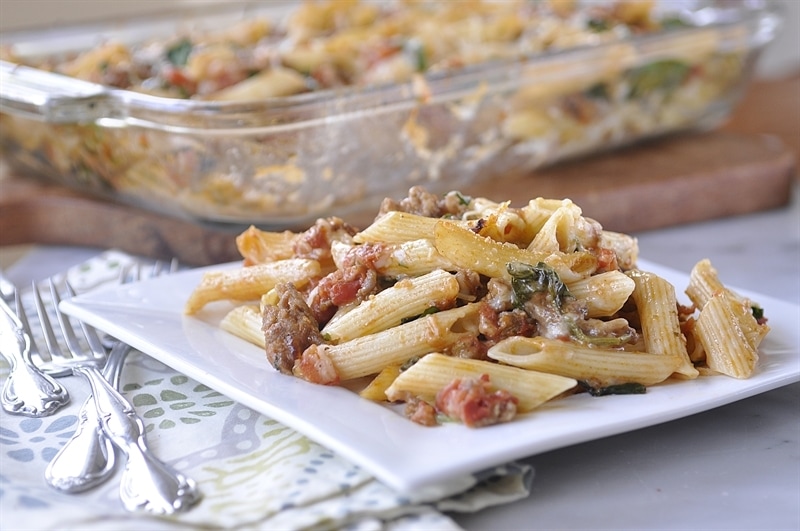 The addition of spinach and pesto makes this a little unique as far as baked ziti dishes go.  The pesto gives it a wonderful flavor and I was able to use some of the pesto I had made and frozen this summer!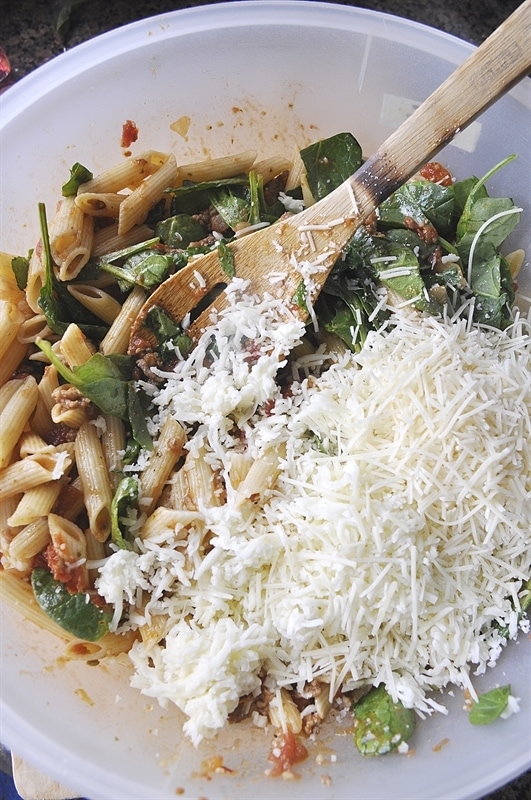 The recipe makes a full 9 x 13 pan and thanks to our two dinner guests there wasn't much left.  I was grateful they were there to help so we didn't have to eat it for leftovers all week!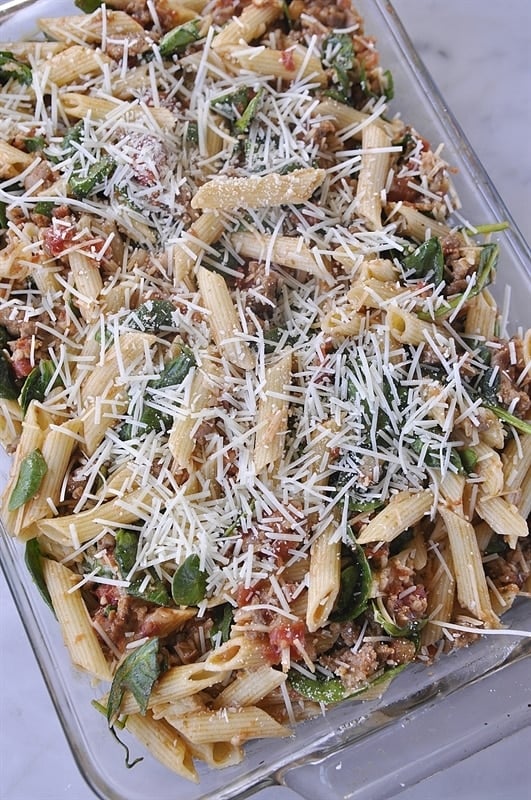 After it is all mixed up and put in the pan just pop it in to bake.  It is always a hit and is a perfect dish to make when you are taking dinner into a family.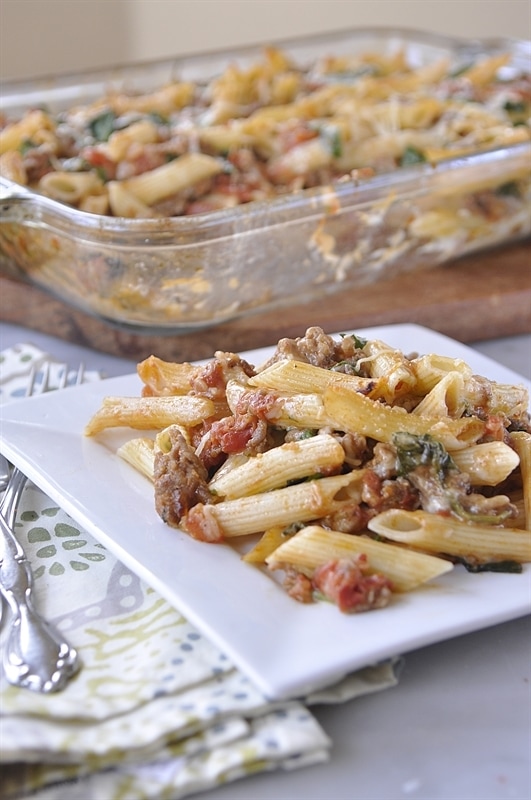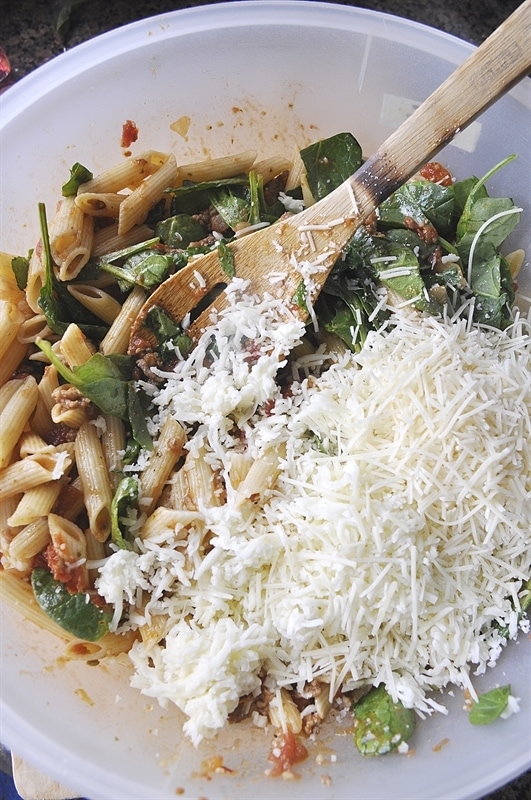 Baked Ziti with Spinach and Sausage
Ingredients
1

pound

sweet or hot Italian sausages

1/2

C

chopped onion

3

large garlic cloves

chopped

1 28-

ounce

can diced peeled tomatoes

1/4

C

pesto

10

ounces

ziti or penne pasta

about 3 cups, freshly cooked

4

cups

or hand fulls of baby spinach leaves

6

ounces

grated or cubed mozzarella cheese

1

Cup

grated Parmesan cheese
Instructions
Cook sausage, onion and garlic until sausage is cooked through

Add tomatoes with juices

Simmer until sauce thickens slightly, stirring occasionally, about 10 minutes

Add pesto

Season sauce with salt and pepper

You can prepare up to this point a day ahead and refrigerate

Bring mixture back to simmer before continuing

Preheat oven to 375° F.

Lightly oil 13 x 9-inch glass baking dish.

Combine pasta, spinach, mozzarella and 1/3 cup Parmesan cheese in large bowl.

Stir in warm hot tomato mixture.

Place in prepared baking dish

Sprinkle remaining 2/3 cup Parmesan cheese over

Bake until sauce bubbles and cheeses melt, about 30 minutes

Inspired by Epciurious

Stay Updated!
Need more recipes and creative ideas? Sign up and get a FREE copy of my ebook! Do you think your friends would love this too? Please share my blog with them. Thanks!