Delicious, warm, gooey cinnamon rolls in just an hour. It is possible and delicious! These quick cinnamon rolls are fast and easy to make!!
I love a good cinnamon roll and have tried lots of different recipes. These Amish Cinnamon Rolls with Caramel Frosting are so tender and delicious and if I need to start the night before I always makes these Overnight Cinnamon Rolls. If you need a Small Batch Cinnamon Roll Recipe try these!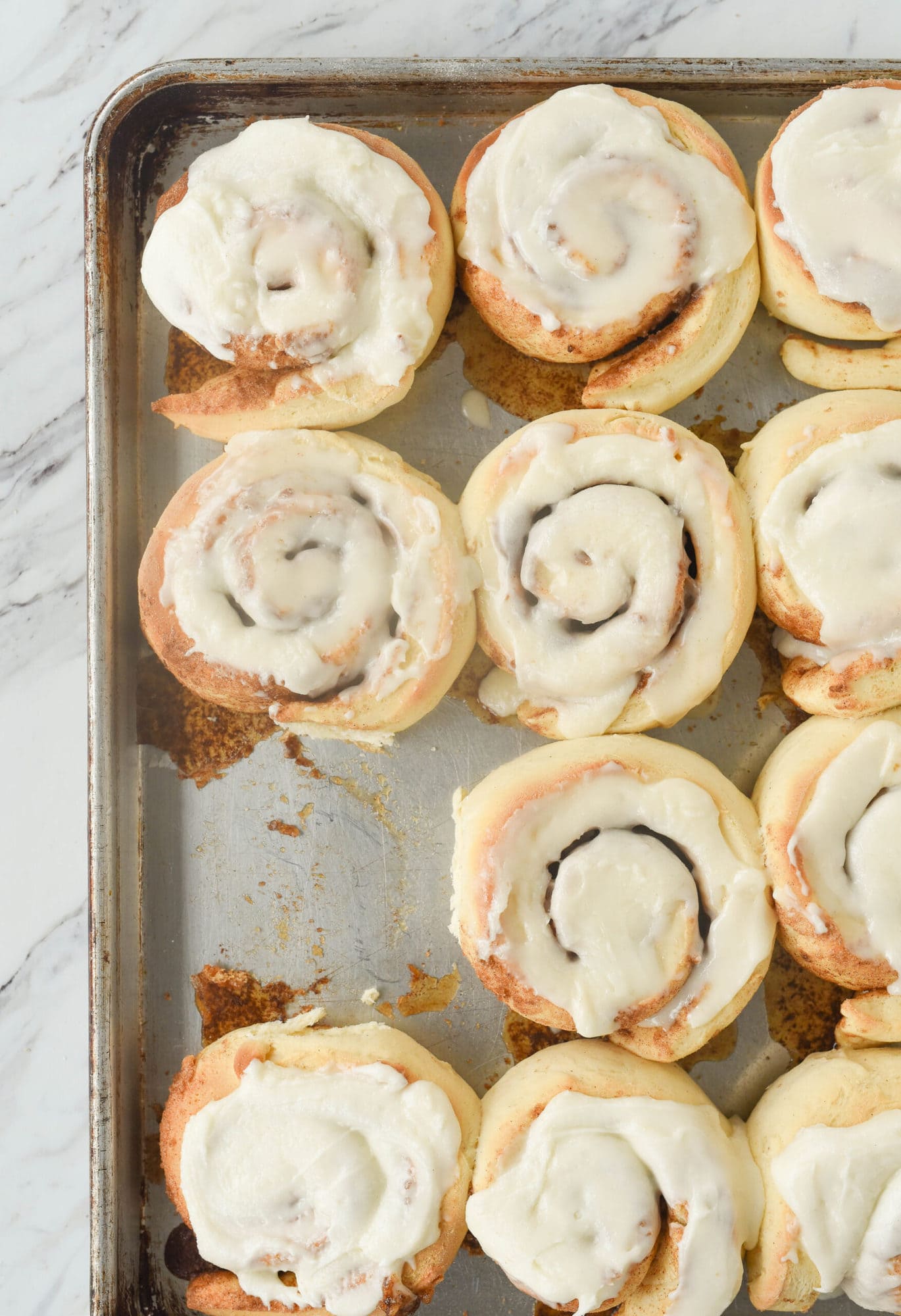 Quick Cinnamon Rolls
These super quick cinnamon rolls are ready to go in the oven in just one hour! Believe it or not!! And the results are amazingly good cinnamon rolls!!!
I love homemade cinnamon rolls. What I don't like is how long they take to make. I especially love them for breakfast but who wants to get up 2-3 hours before breakfast in order to have hot, fresh out of the oven cinnamon rolls?? Not me.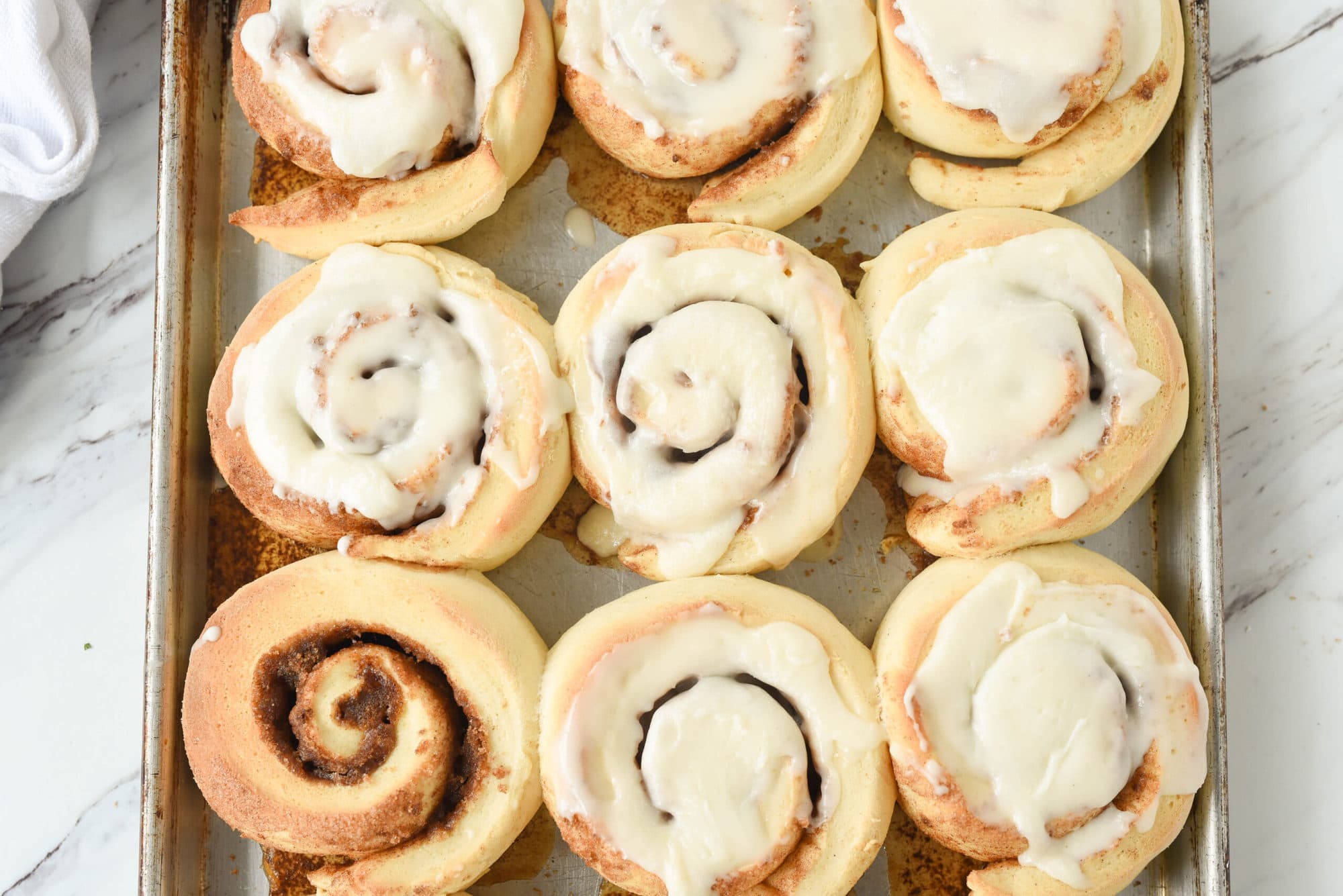 I decided to see if I could use my basic cinnamon roll recipe and do it with a few tweaks in an hour. I did and they were just as delicious as when I spend 2-3 hours making cinnamon rolls!!
Gather your ingredients together before hand so everything is ready when you need it. I used bread flour in my cinnamon rolls but regular all purpose flour works well too.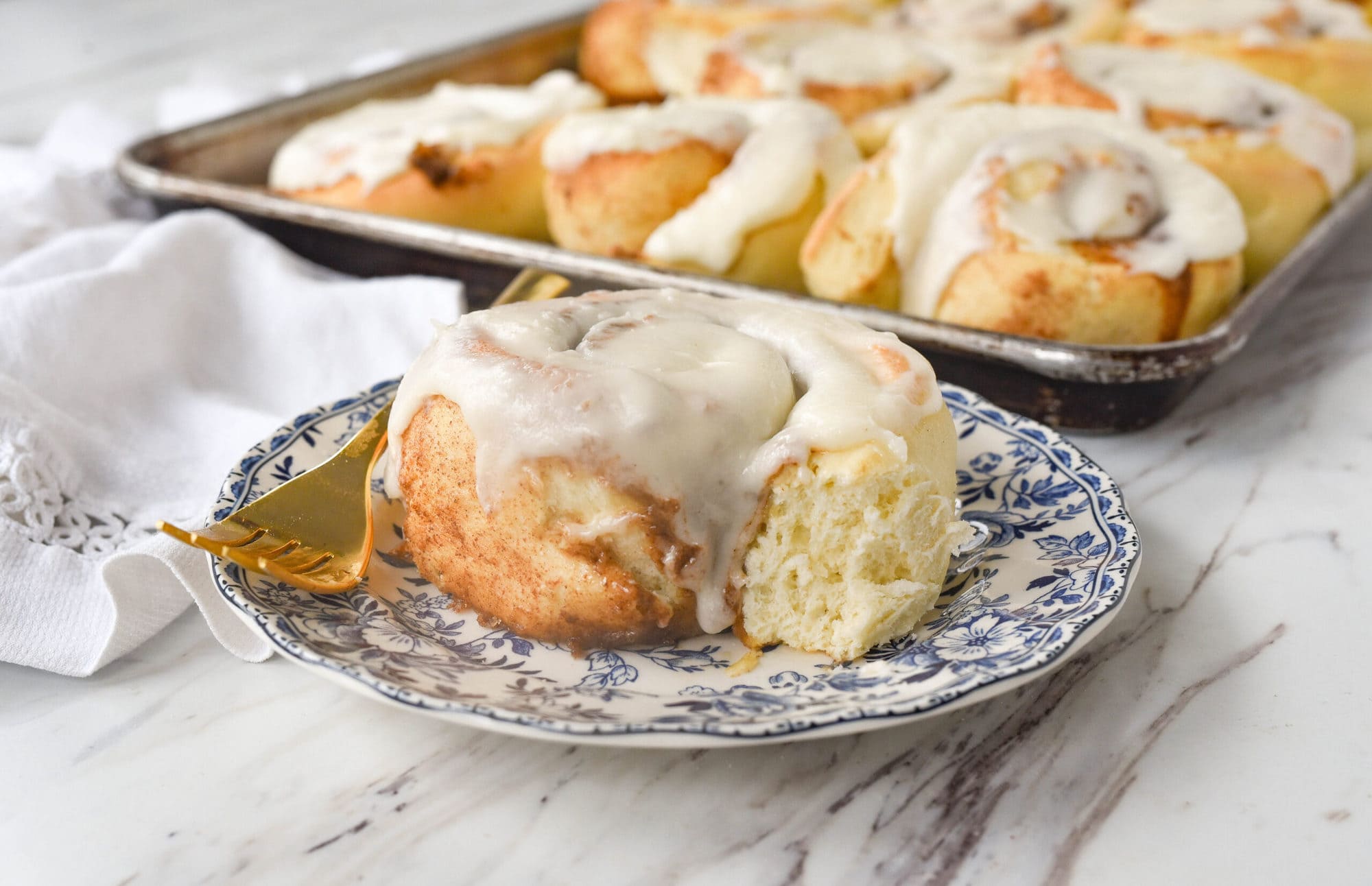 What Kind Of Yeast Do I Use?
You use a lot of yeast in this recipe but that is what makes them rise so fast. I didn't find that it affected the flavor at all using so much yeast. You use dry active yeast, NOT rapid rise yeast.
How to Make Quick Cinnamon Rolls
Mix together your warm water (105-110 degrees F), buttermilk, sugar, melted butter and yeast. To get your buttermilk to room temperature quickly just pop it in the microwave for 15 seconds or so. The important thing here is that all your liquids except your water be room temperature and not cold. Let this sit for 15 minutes.
Add yeast mixture to your dry ingredients and eggs. Mix dough for 10 minutes using the bread hook of your mixer or by hand. If your mixer seems to be working too hard to knead the dough, do it by hand.
Cover dough and allow to rest for 10 minutes. We are at 35 minutes and counting.
How to Make One Hour Cinnamon Rolls
Mix up filling while dough is rising. Combine sugar, brown sugar, butter and cinnamon. Mix together until it resembles wet sand.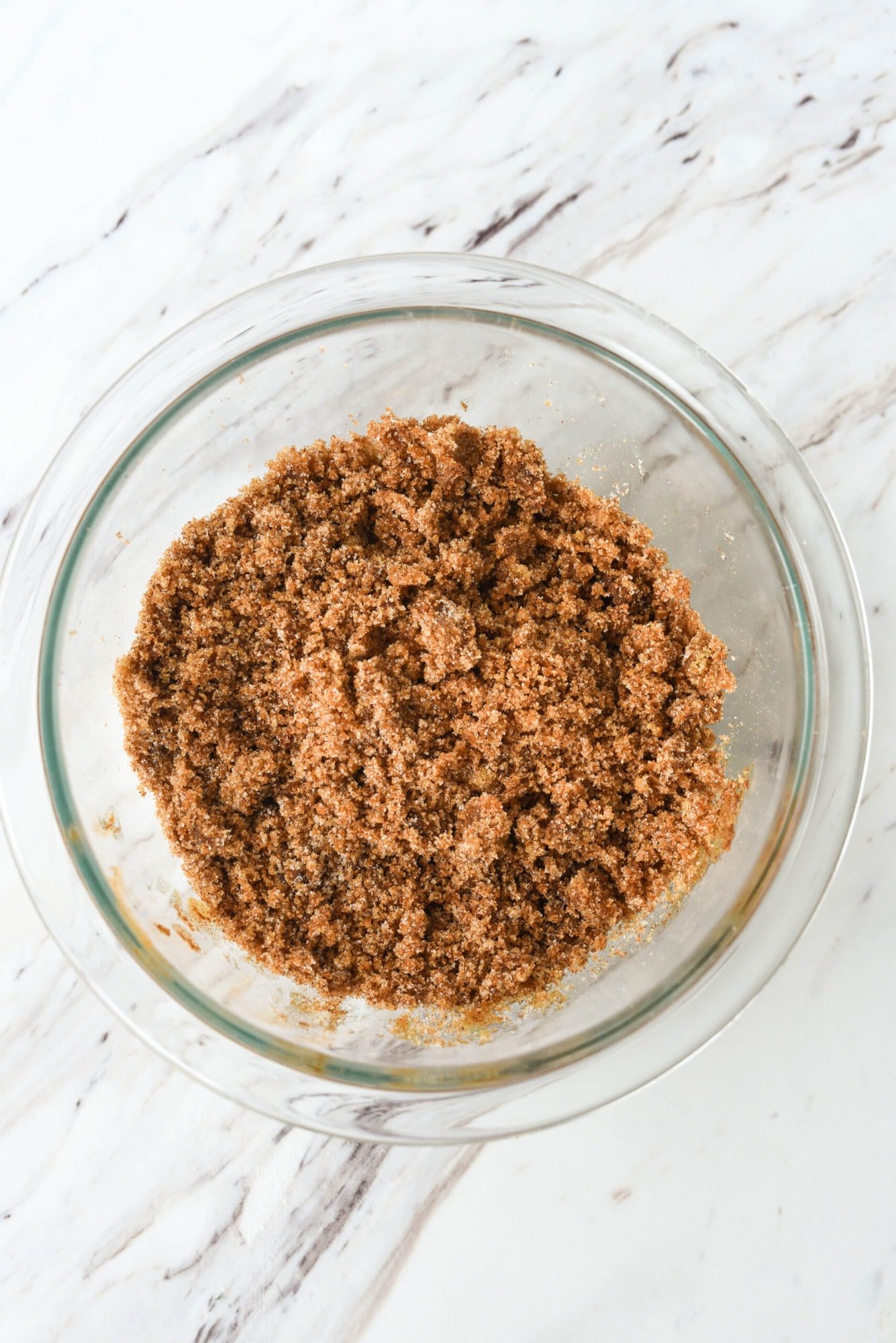 Flour your work space and roll out dough. Roll into a 12 x 16 inch triangle.
Sprinkle with filling.

Roll dough up into a log, starting at long edge. Place seam on bottom.

Cut dough into 12 large rolls using a piece of thread or unflavored dental floss.
Place the rolls on a cookie sheet that is sprayed with baking spray or lined with parchment paper.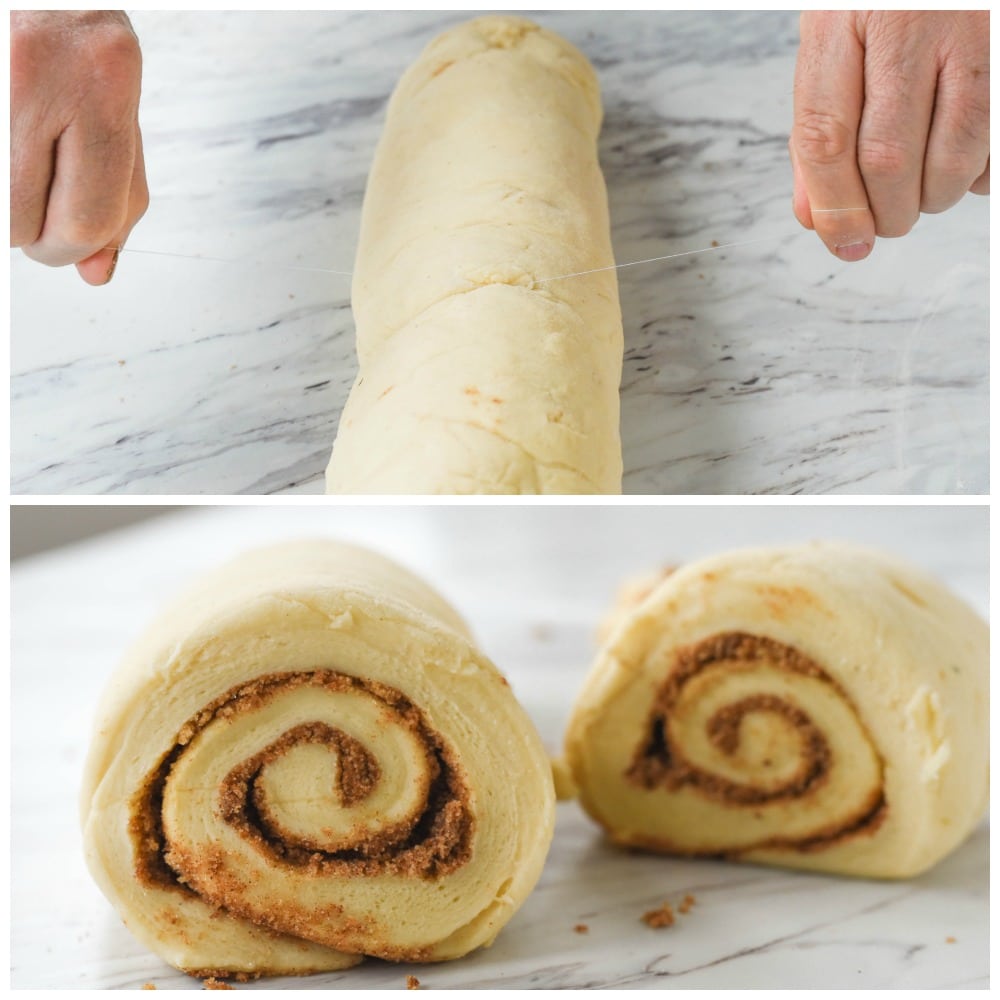 Your time should be at about 45 minutes.
Let them rise for 15 minutes which will put you at one hour. They don't rise much but don't worry they will in the oven.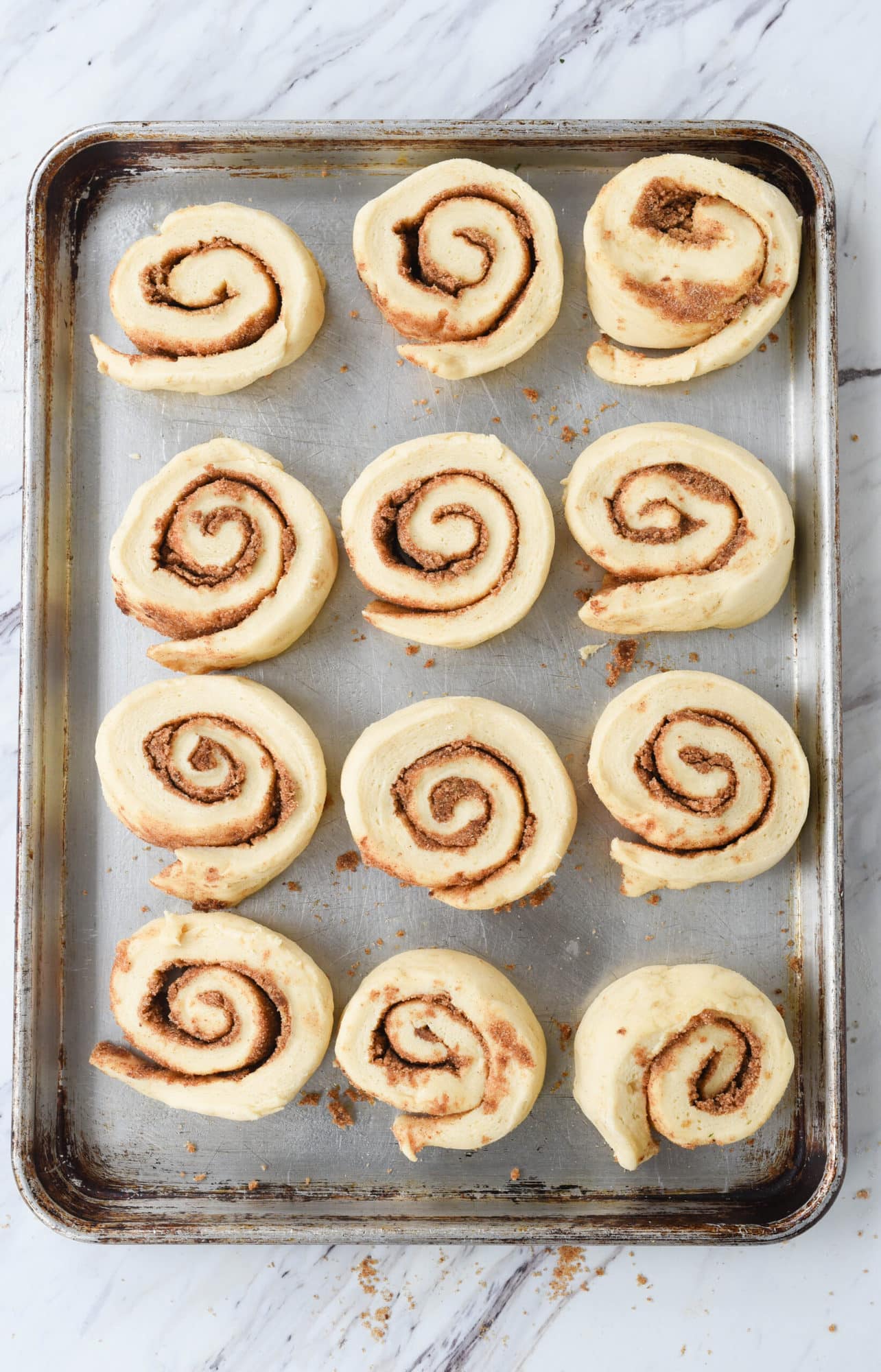 Cinnamon Roll Frosting
Mix up frosting while rolls are rising and baking.
Combine softened butter, vanilla, powdered sugar and half and half or milk.
Add in just enough milk to make it the right consistency for you.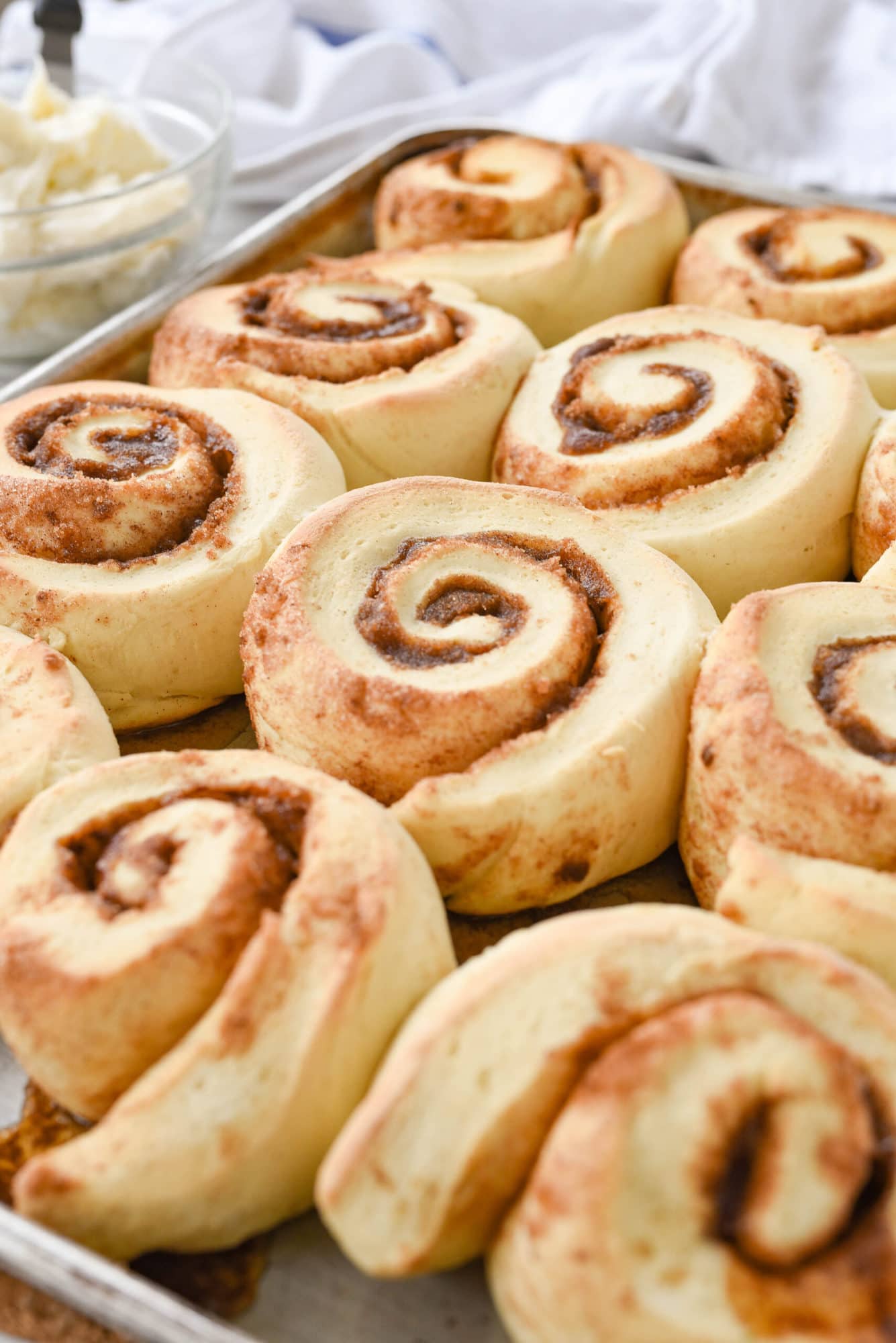 At the hour mark, put them into the oven to bake. They bake in about about 12-15 minutes. So technically they are 72 minute cinnamon rolls but One Hour Cinnamon Rolls just sounds better!
Frost Cinnamon Rolls. If you like the frosting to melt into the cinnamon roll, frost them while they are still warm. If you prefer the frosting to sit on top of the cinnamon roll, allow them to cool. Whichever way you choose, slather those babies with the frosting and enjoy!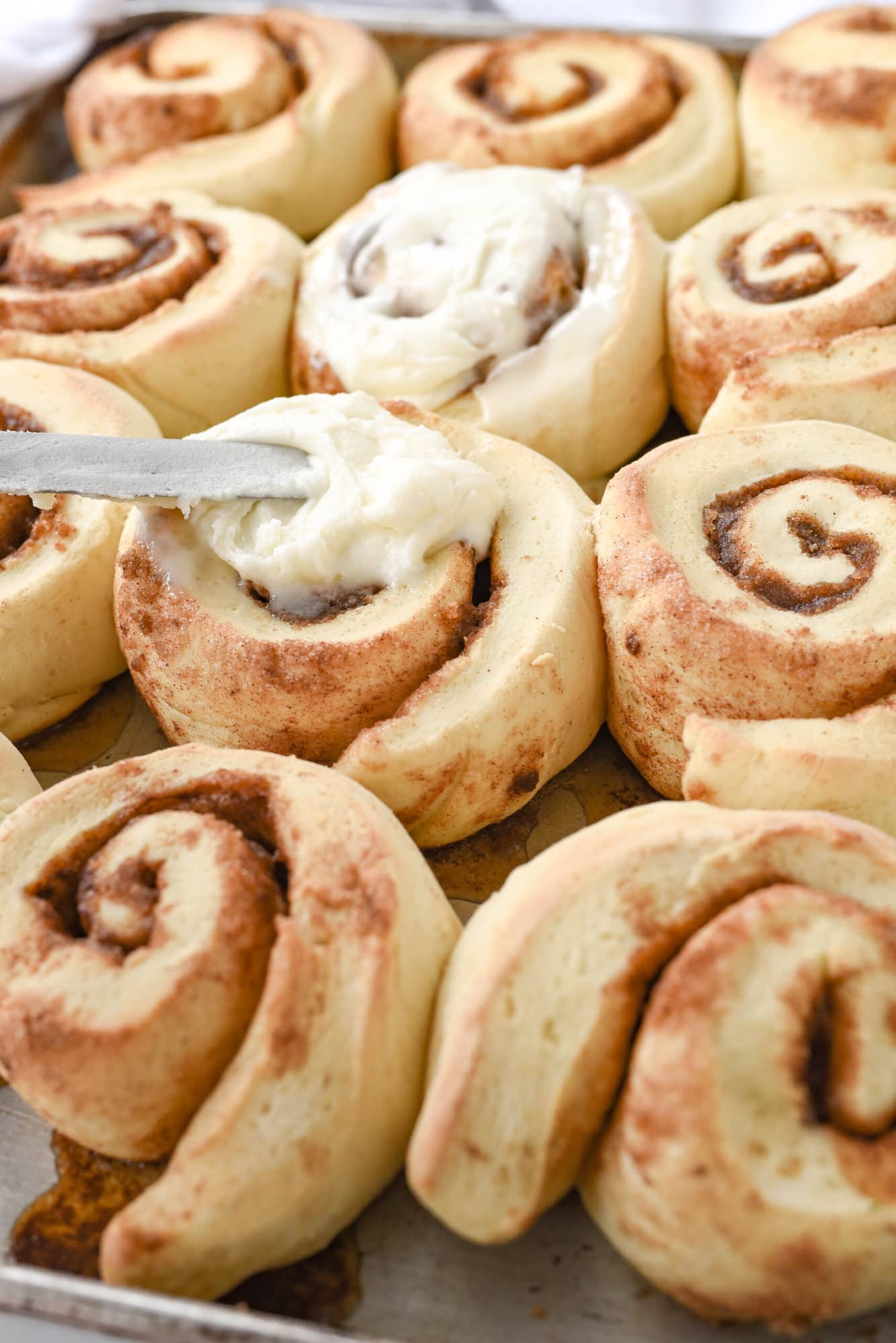 Delicious cinnamon rolls in an hour, o.k., 72 minutes! How amazing is that. The only bad part is, they are so easy and so fast you may want to make them everyday!!!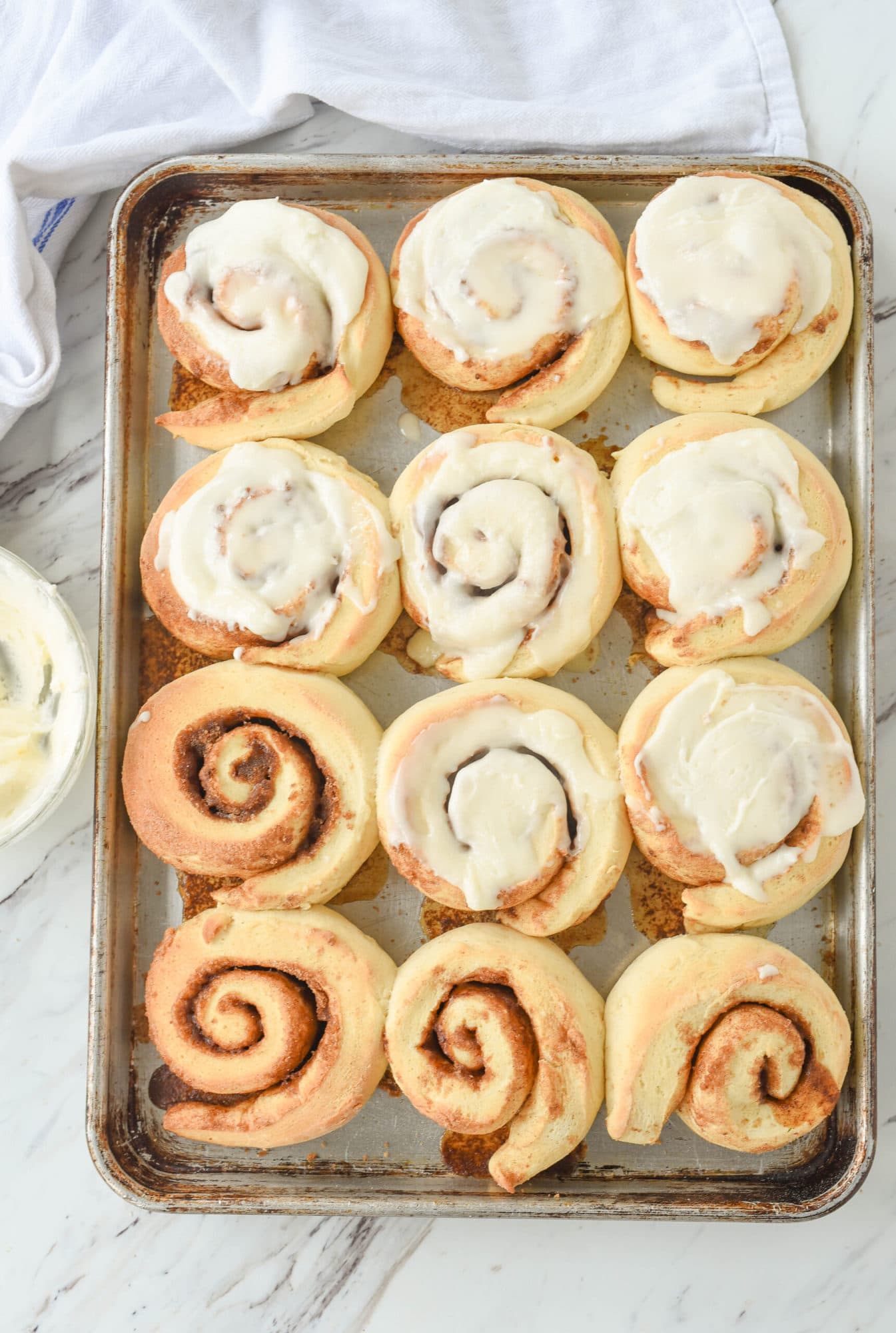 Can I Freeze Cinnamon Rolls?
Place the cinnamon rolls, individually, on a baking sheet in the freezer and flash freeze. Wrap each cinnamon rolls individually in plastic wrap and a layer of foil to protect against freezer burn. When you are ready to enjoy one, remove from the freezer and unwrap from foil and plastic. Let it thaw at room temperature and them rewarm briefly in the microwave (too long and it will get soggy) or wrap in foil and reheat in oven after it has thawed at 300 degrees F.
Cinnamon rolls will last in the freezer for up to two months.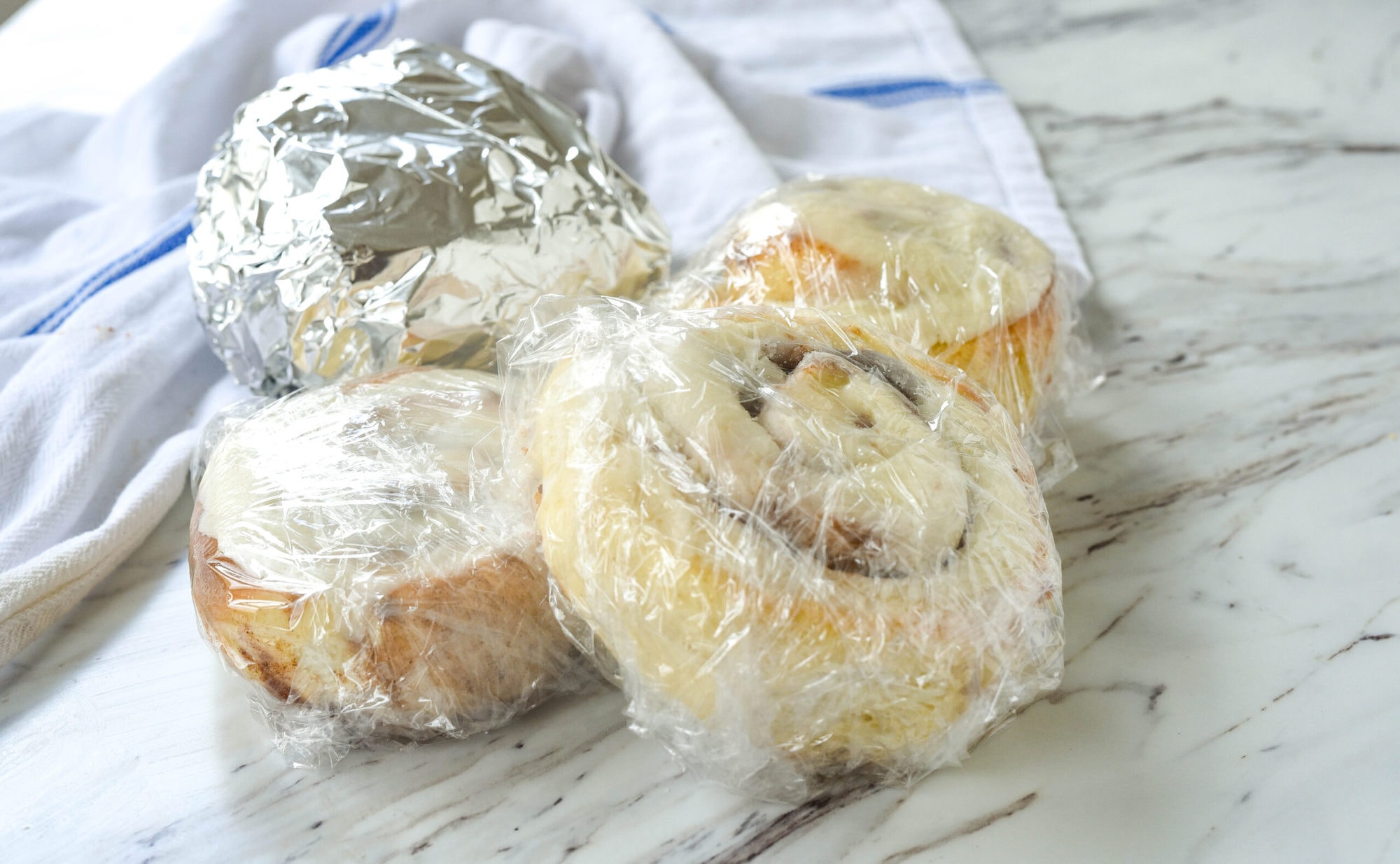 Check out more delicious sweet roll recipes:
And check out all of my favorite kitchen products and tools in my Amazon Store.
Did you know I wrote a cookbook?  Check out the Holiday Slow Cooker Cookbook for 100 delicious recipes.
Quick Cinnamon Roll Recipe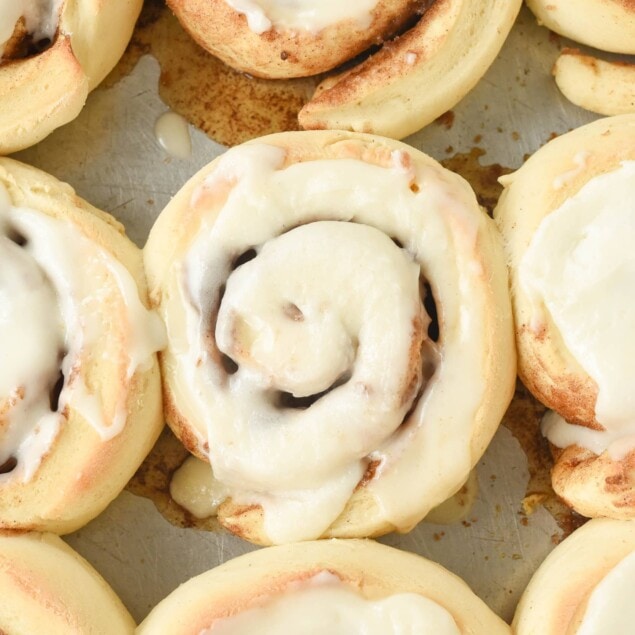 1 Hour Cinnamon Rolls
These delicious quick cinnamon rolls are ready for the oven in just one hour!
Ingredients
1 cup water warm (105-110 degrees F)
3/4 cup buttermilk room temperature
1/2 cup sugar
1/4 cup butter melted but not hot
3 Tbsp yeast regular
1/2 Tbsp salt
2 eggs
5-6 cups bread flour can all use all purpose flour
Filling
2 Tbsp butter melted
1/2 cup brown sugar
1/2 cup sugar
2 Tbsp cinnamon
Frosting
1/4 cup butter softened
3 cups powdered sugar
1 tsp vanilla
enough milk or half and half to make it spreading consistency.
Instructions
Mix together water, buttermilk, sugar, melted butter and yeast in a bowl. Allow to sit for 15 minutes.

Add in salt, eggs and flour and mix for 10 minutes.

Allow to sit for 10 minutes.

While resting prepare your filling

Mix together 2 Tbsp melted butter, brown sugar, sugar and cinnamo0n.

Roll dough out on to greased countertop into a 12 x 16 inch rectangle.

Sprinkle with filling and roll up. Cut into 12 large rolls using thread or dental floss.

Place rolls on a cookie sheet covered with a silpat or parchment paper.

Let rise for 15 minutes

Bake at 400 for 12-15 minutes.

Mix together frosting and spread on warm rolls.
Nutrition Facts:
Calories: 503kcal (25%) Carbohydrates: 94g (31%) Protein: 7g (14%) Fat: 11g (17%) Saturated Fat: 6g (38%) Cholesterol: 52mg (17%) Sodium: 391mg (17%) Potassium: 79mg (2%) Fiber: 1g (4%) Sugar: 55g (61%) Vitamin A: 335IU (7%) Calcium: 35mg (4%) Iron: 0.8mg (4%)
* Disclaimer: All nutrition information are estimates only. Read full disclosure here.
Originally posted October 8, 2012