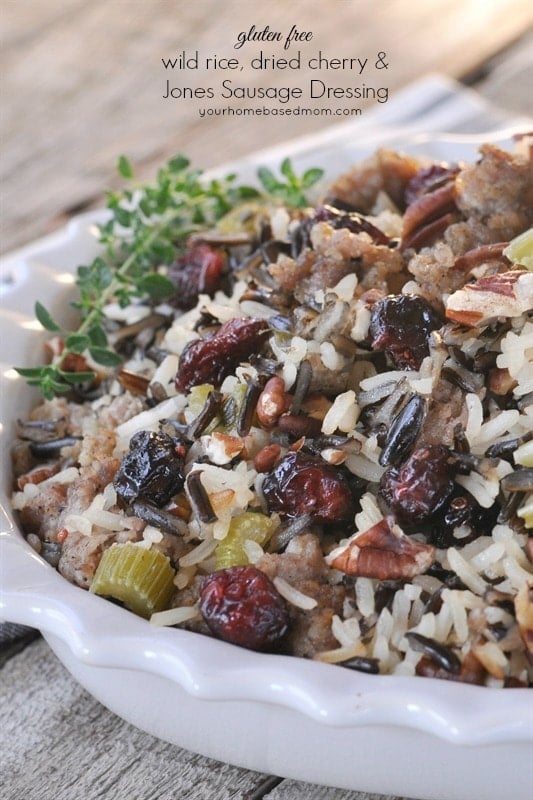 I love Thanksgiving.  It probably gets the award for the most cheated holiday though.  In the retail world it seems like we go right from Halloween to Christmas and Thanksgiving just gets skipped right over and cheated out of it's time in the holiday limelight. I always look forward to Thanksgiving.  Usually for our family it means a trip to Utah to enjoy the holiday with our extended family and our own kids who were all going to school in Utah.
This year, though, I am even more excited because we will be celebrating at home here in Portland and all of my children will be coming home for Thanksgiving. They no longer all live in Utah and are beginning to scatter across the west coast so the times I get to be with all of them, at one time, doesn't happen very often! Thanksgiving dinner though can be a bit of a challenge at our house as we have two gluten free eaters.  I never want them to feel cheated because there were things they couldn't eat.  I love finding delicious substitutes for the traditional Thanksgiving dishes which are usually gluten free.
The big one at our house is dressing.  Obviously dressing is made with bread.  Bread of course contains gluten.  There are gluten free breads available but they are expensive and it's just not quite the same. So this year I am excited to be able to serve my gluten free eaters  Wild Rice, Dried Cherry & Jones Sausage Dressing.  It is delicious and in fact I am sure my non gluten free eaters aren't going to be able to resist it either.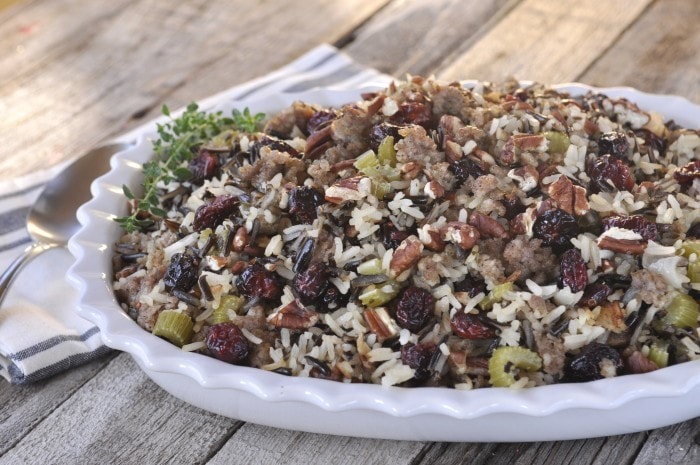 It is full of lots of delicious flavors and great texture.  The base of the dish is a combination of wild rice and brown rice.  Add in onions, celery, dried cherries and pecans and you've got some great texture.   The thing that really gives this dressing great flavor though is the addition of Jones Dairy Sausage.  The addition of the sausage to dressing takes it from just a side dish to a main dish.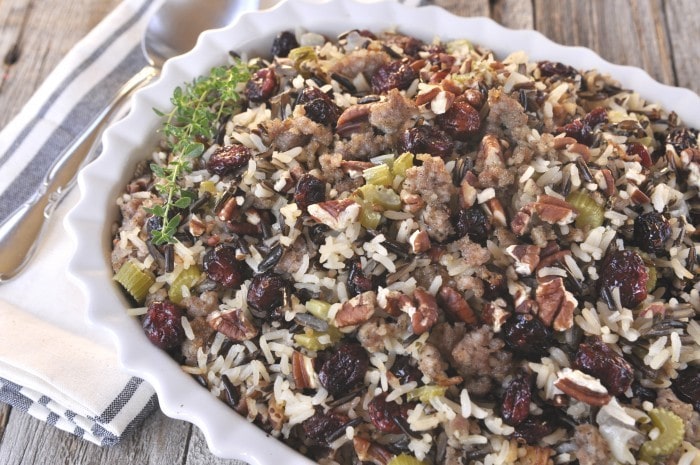 Jones Dairy Sausage is delicious and it is also gluten free.  In fact, all of their products are gluten free.  Jones Dairy Farm is a sixth generation family business that has been around for more than 125 years and they are dedicated to all natural sausage products just like their grandmother use to make.
Jones Dairy Farm has a new site dedicated to stuffing, StuffingandMore.  You  will find this recipe and more than 25 unique stuffing recipes to choose from for your Thanksgiving menu.  You will also find cooking tips and have the opportunity to participate in a stuffing vs. dressing poll!   You will also find a $1.00 off  your next sausage purchase on the site.
Be sure and check out Jones Dairy Farm and follow them on Facebook and Twitter. For the recipe for the Wild Rice, Dried Cherry, Jones Sausage Dressing head over and check out their new stuffing site.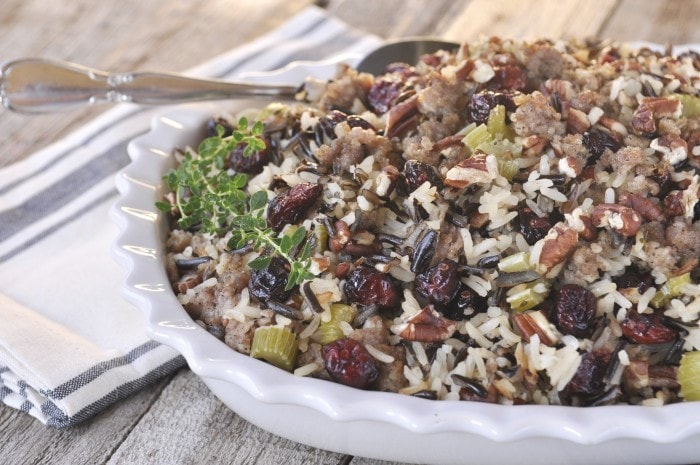 For the recipe you will need to visit Stuffingandmore.com
Get my Weekly Menu Plan for FREE!
Receive my FREE "What's for Dinner?" Meal Planning Course, a copy of my FREE ebook that includes my most popular recipes and my FREE weekly Meal Plan.