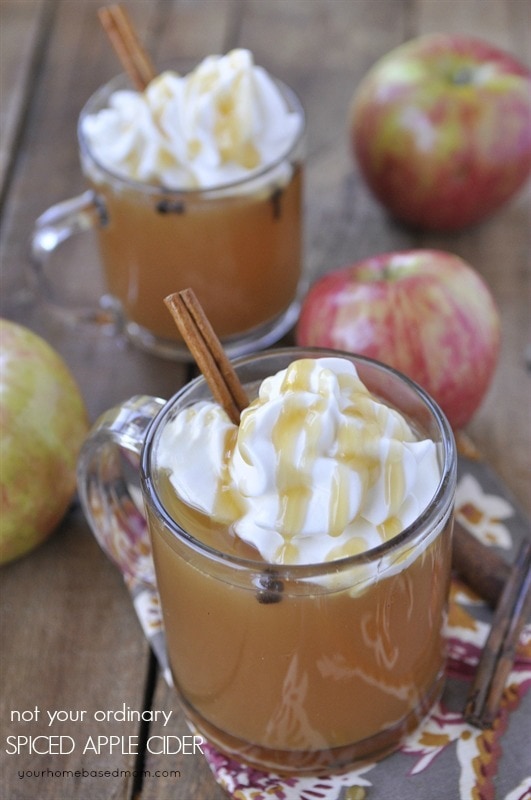 I asked on Facebook what your favorite taste of fall was the other day. One of mine is spiced apple cider. I have been making this recipe for years and for all those years people have been asking me for the recipe. For many years I served it at a holiday open house I held and each year when people would RSVP for the event they would ask me if I was serving my spiced apple cider. My kids have all called home to ask for this recipe while they were away at college so they could make it for their friends. I originally shared it back in 2008 but it is time to share it again with new and improved photos. In fact the first time I shared it there were no photos.
Fall is off to a good start here in the Northwest – the leaves are beginning to turn. I am sure the rains are on their way but we're enjoying the amazing 70 degree, sunny blue sky Fall days while we can. Halloween is coming so I'm sure the rains are too.
I grew up in Wisconsin and often went trick or treating in the snow – it would make me so mad because I'd have to wear my winter coat over my costume and no one could even see how cute I was!!
Here in the Northwest we have to do the same thing – although it's not snow but rain we are dealing with. When we plan costumes you always plan for wearing warm clothes underneath or a coat over the top!
I always had a pot of hot Spiced Apple Cider on the stove when those cold and possibly wet tricker or treaters came home.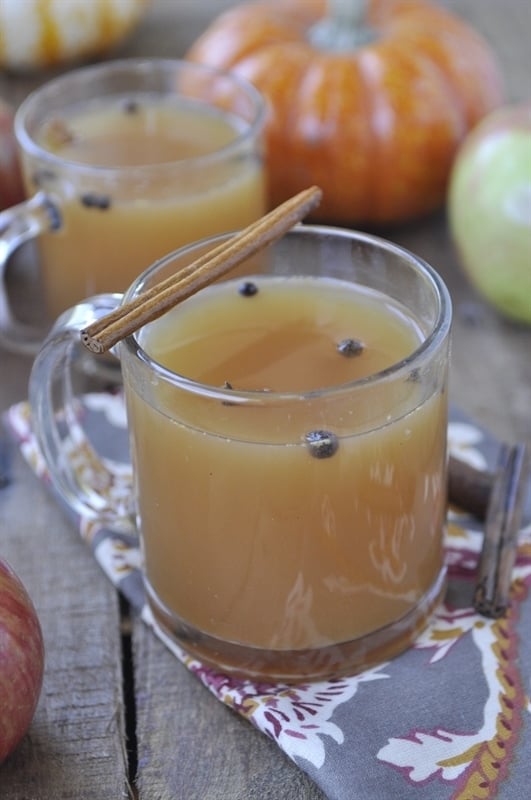 I think this may be one of my most requested recipes by my family and friends. It is so good. The trick I have found to really good spiced apple cider is to let it brew for as long as possible. The longer it brews the deeper the flavor. I use a combination of whole cloves, allspice and cinnamon sticks but then I add in a few other secret ingredients. Brown sugar and orange juice. When I made it this week for a girls craft night I was hosting I realized I didn't have any orange juice but I did have pineapple juice so I used that instead and it was still wonderful!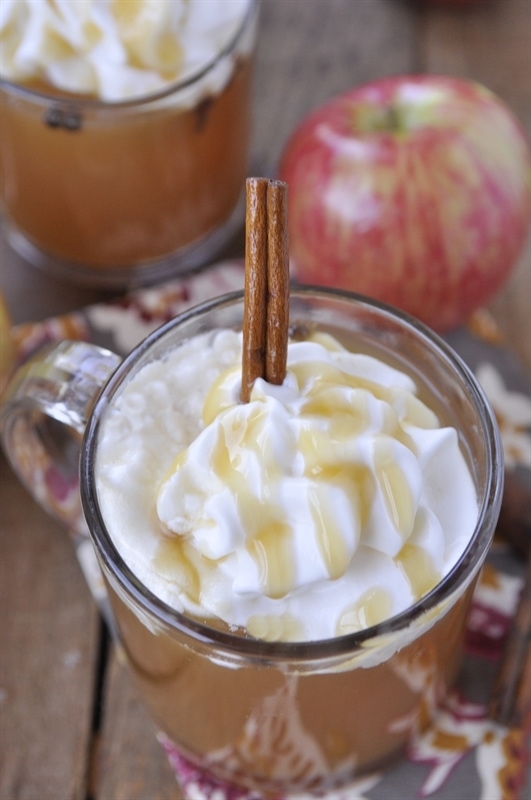 Of course you can dress it up a bit more with some whipped cream and a drizzle of caramel sauce. I just used some caramel ice cream topping I had in the fridge already. I think it's better than the Starbuck version!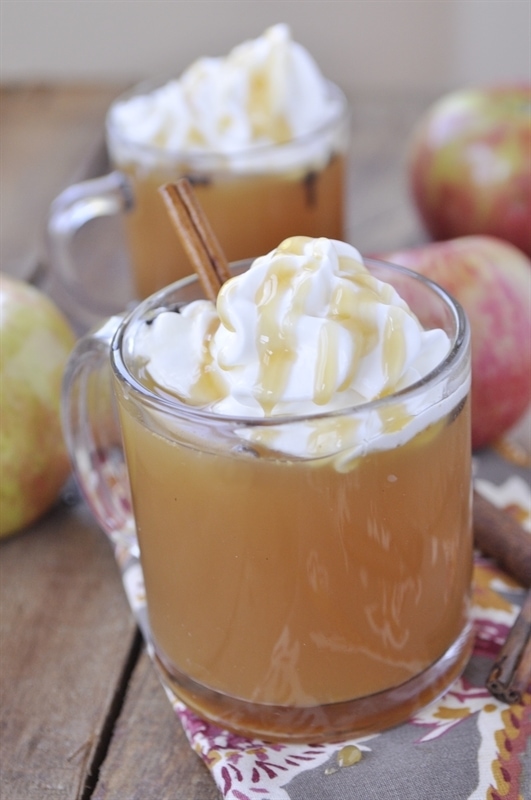 Like I said, the longer it brews the better it tastes. It can get a big "sludgy" after it has simmered for quite a while. If that happens I just add in some more of the apple cider to dilute it a bit and make it go farther.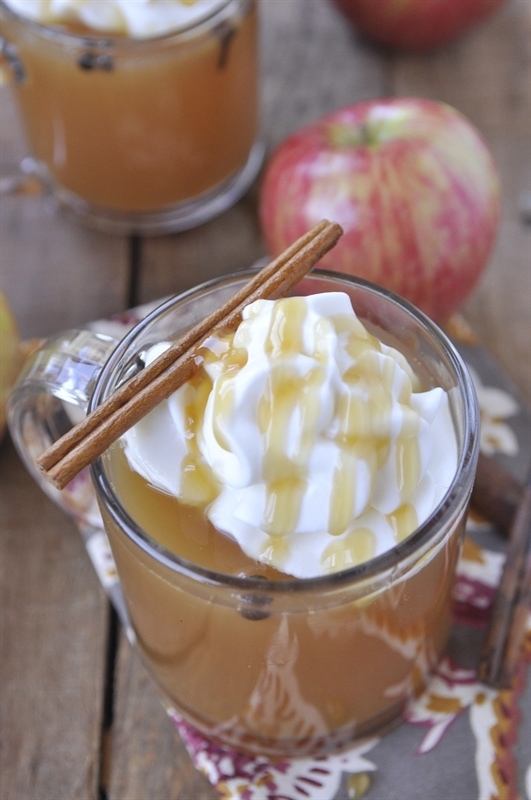 Welcome fall with some yummy spiced apple cider.
For other yummy hot drinks try these:
Candy Corn Hot Chocolate on a Stick – Thin Mint Hot Chocolate – Halloween Hot Chocolate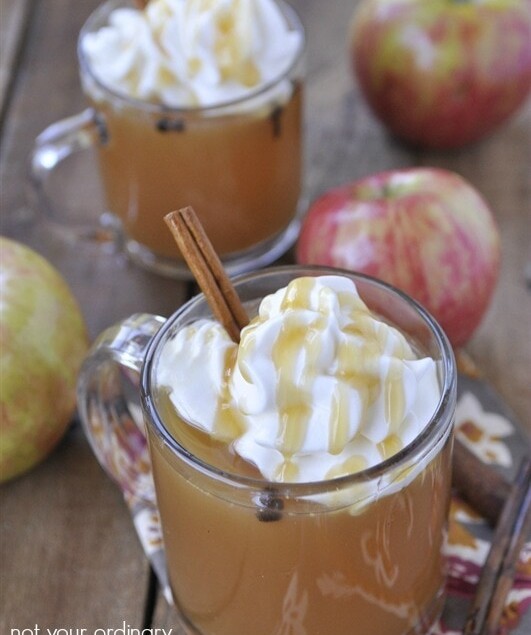 Spiced Apple Cider
Ingredients
1 gallon apple cider
1 1/2 C orange juice
1/2 C brown sugar
6 cinnamon sicks
12 whole cloves
12 whole allspice
Instructions
Mix together and bring to a boil

Simmer at least 30 minutes

The longer it simmers, the better it gets

As it brews longer it will form a "sludge" at the bottom of the pan - I just add more cider, let it brew a while longer and you are good to go!