A S'mores Bar is the perfect way to entertain in the summer, all you need to add is a fire! Whether you are feeding a crowd or a small group I've got you covered with tips and ideas.
Another favorite way to entertain is with a Popcorn Bar, it's perfect for a movie night. An Ice Cream Bar and an Ice Cream Soda Bar are always a huge hit with kids and adults in the summer.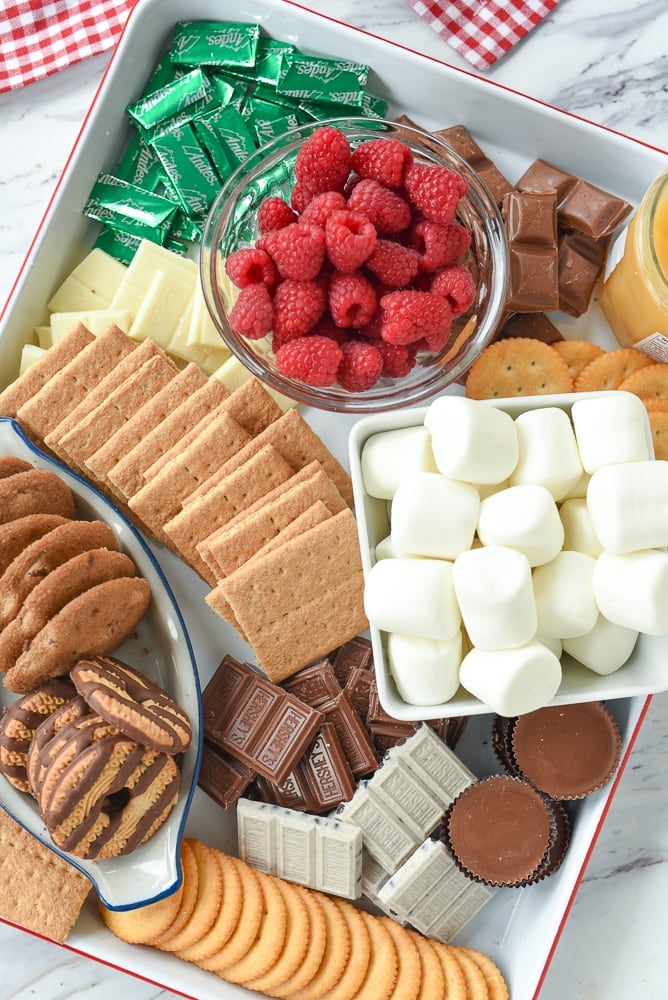 S'mores season is in full swing and when I went to the grocery store to buy some graham crackers for the Fourth of July weekend I found there had been a run on them. I had to visit three stores to find my graham crackers! You can't have a s'mores bar without graham crackers! Fortunately my husband found some at Costco.
S'mores Bar Set Up
I have done a s'mores bar two different ways. It is one of my most favorite things to do at a summer party or graduation party. It would also be perfect for an outdoor wedding reception. The key to a good s'mores bar is variety!
What Do I Need for a S'mores Bar?
Marshmallows. An assortment of marshmallow flavors, sizes and shapes is the key. I am a collector of marshmallows and whenever I find a fun new flavor marshmallow I buy it!
Chocolate. A large and variety selection of chocolate is also important. I use regular Hershey chocolate, white chocolate, Cookies & Cream, Hershey's with Almonds, Carmello, Reeses and Andes Mints. Have the chocolate already broken up into serving size pieces to make things easier.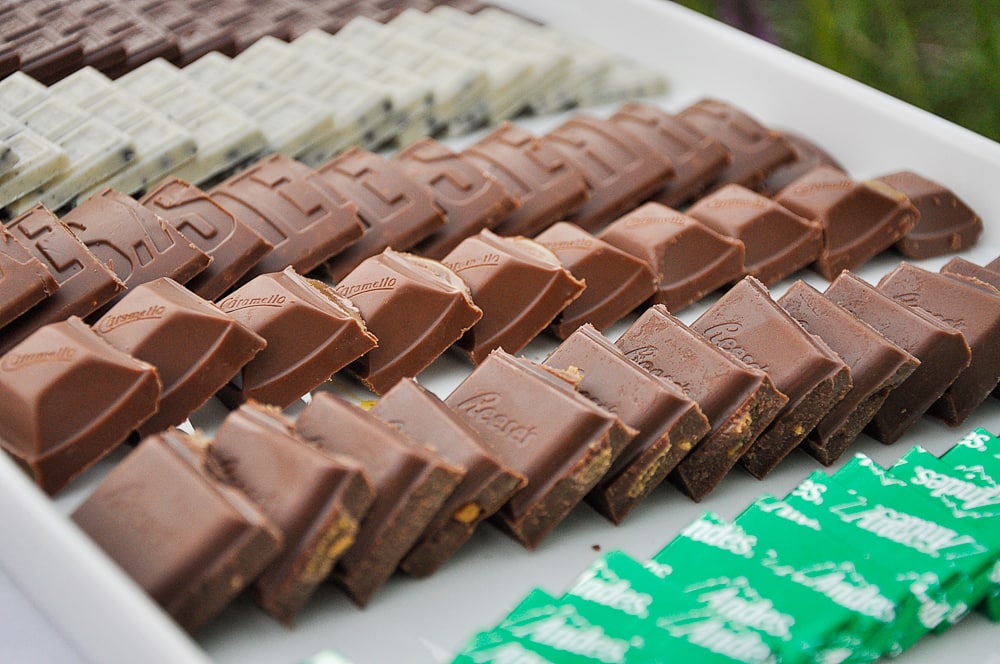 Graham crackers and cookies. For the large event s'mores bar I had a selection of different flavors of graham crackers, regular, chocolate and cinnamon as well as chocolate covered graham crackers.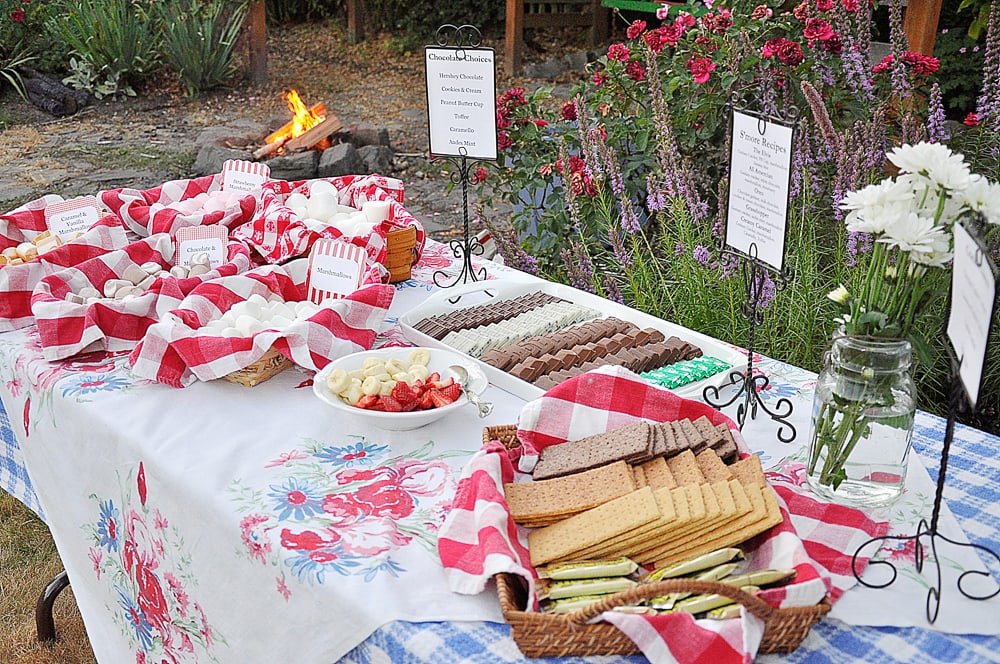 I also like to include some fruit as part of the selection. Bananas, strawberries and raspberries work well. It is fun to type up a menu of possible S'more flavor combinations to get your guests creative juices flowing.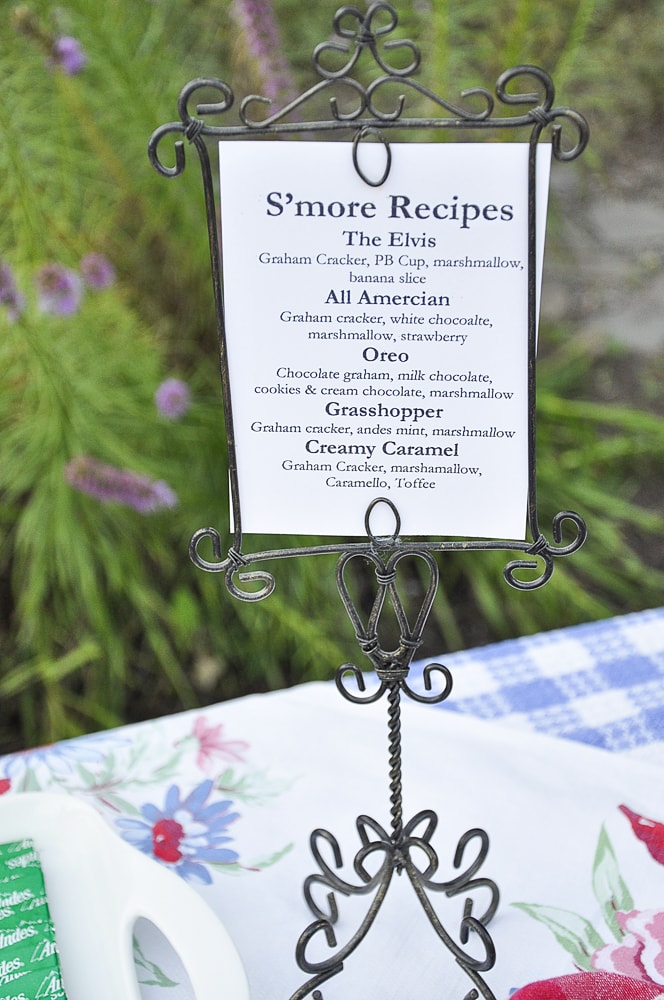 S'mores Snack Board
If I am feeding a smaller crowd I will often just put together a S'mores Snack Board with all the ingredients on a tray. The Snack Board is a fun family activity.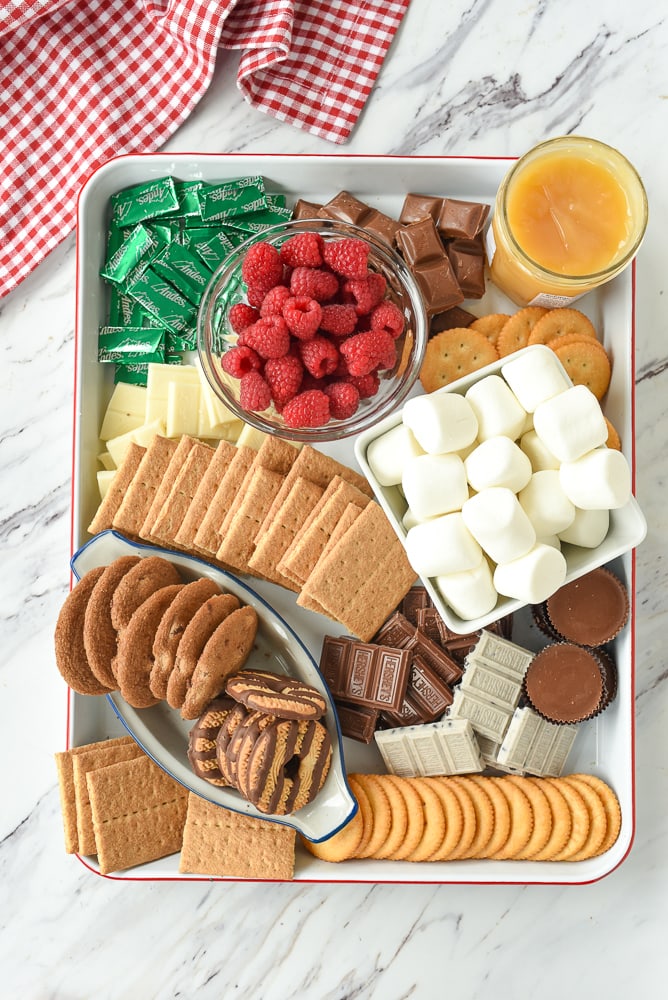 In addition to graham crackers I love to use a variety of different crackers and cookies for the base of the s'mores. There must always be graham crackers but I love adding in things like chocolate chip cookies and those fudge striped cookies work great too. One of my favorite things is a Ritz cracker. The saltiness of the cracker is the perfect combination with the sweetness of the marshmallow and the chocolate!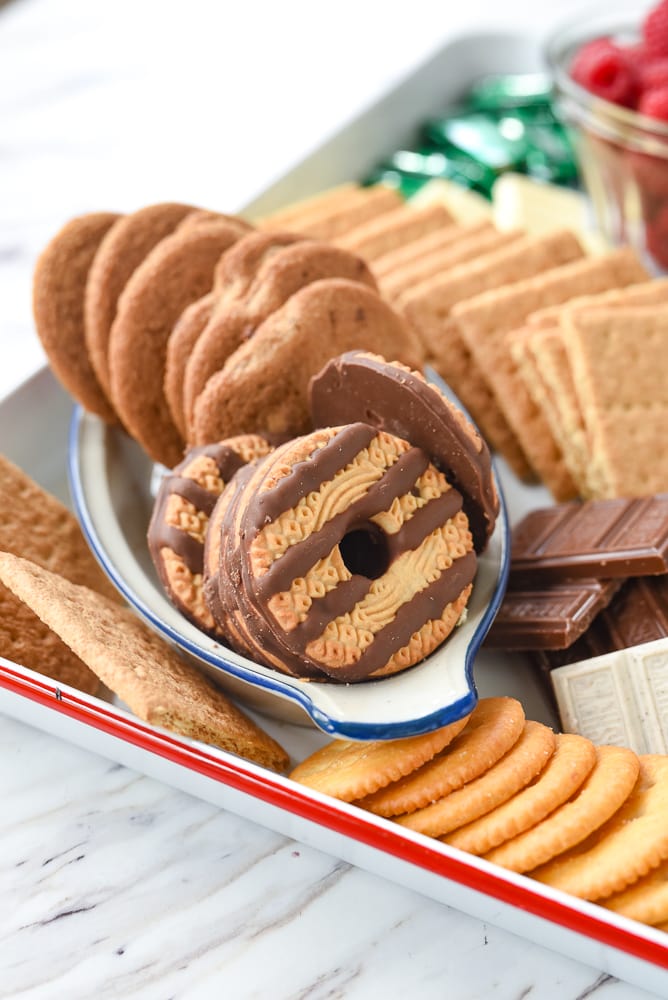 I also like to include some fruit as part of the selection. Bananas, strawberries and raspberries work well. One of my personal favorites to include on my s'mores snack board is lemon curd. It's amazing on a Ritz cracker and a raspberry on top too!! So good!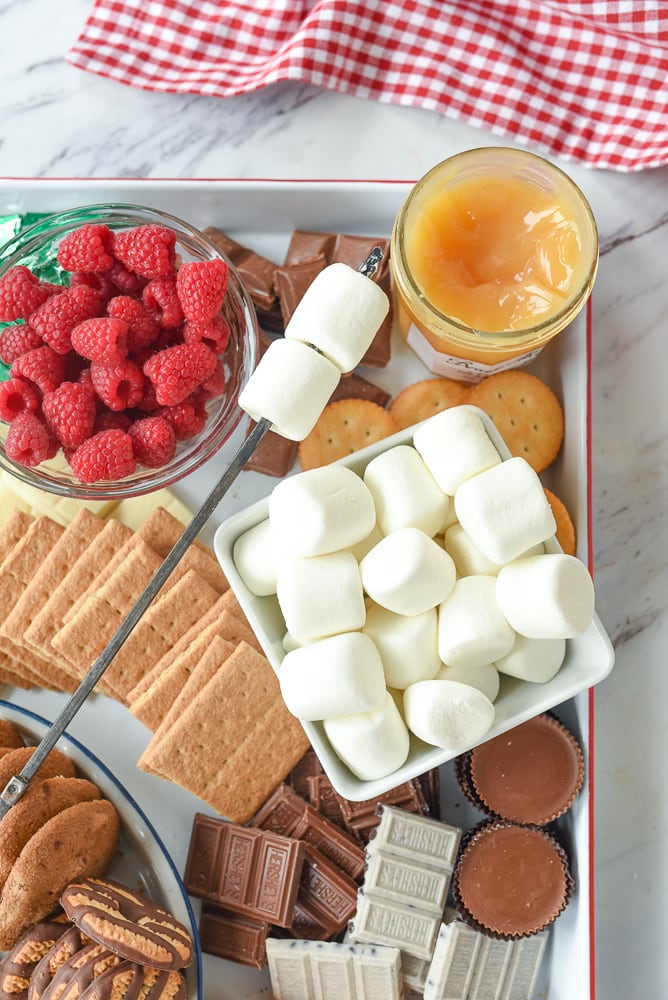 It is so fun to see the different flavor combinations people come up with. Trust me on the Ritz cracker combo – it's so good!!
What would your favorite s'mores combo be???
S'mores Bar Ingredients
Marshmallows – variety of flavors
Chocolate – milk chocolate, white chocolate, dark chocolate, cookies & cream, peanut butter cups, Andes mints, Carmellos, Symphony Bars.
Cookies – graham crackers, chocolate chip cookies, chocolate striped cookies, Ritz crackers
Fruit – strawberries, bananas, raspberries and lemon curd
Here's to s'more fun!
For some other of our favorite S'mores flavored treats check these out: