Salted Caramel Dark Chocolate Pecan Pie is not your average pecan pie!  The flavor and texture combination is amazing!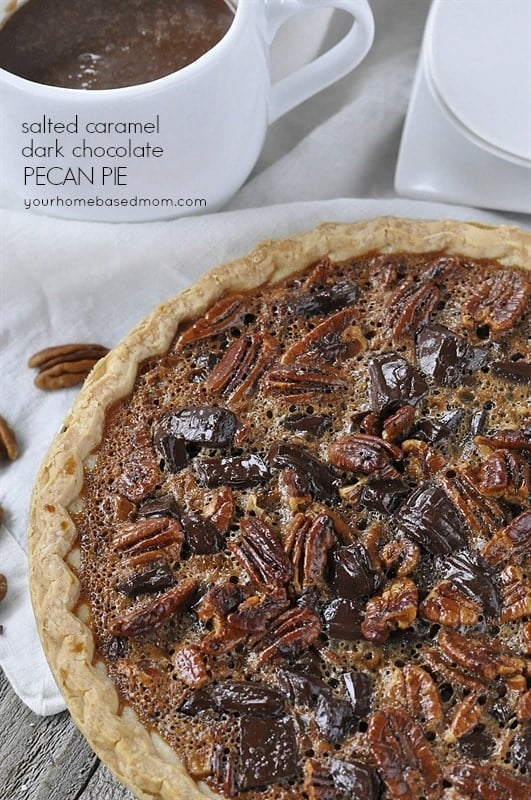 This is one of those recipes I meant to get posted before Christmas but it didn't happen.  But this pie is too good to wait any longer.  Why not ring in the new year with a delicious Salted Caramel Dark Chocolate Pecan Pie.  Sounds like a plan to me!  If pie isn't part of your menu, be sure and pin this recipe so next time you need a pie you'll know where to find it.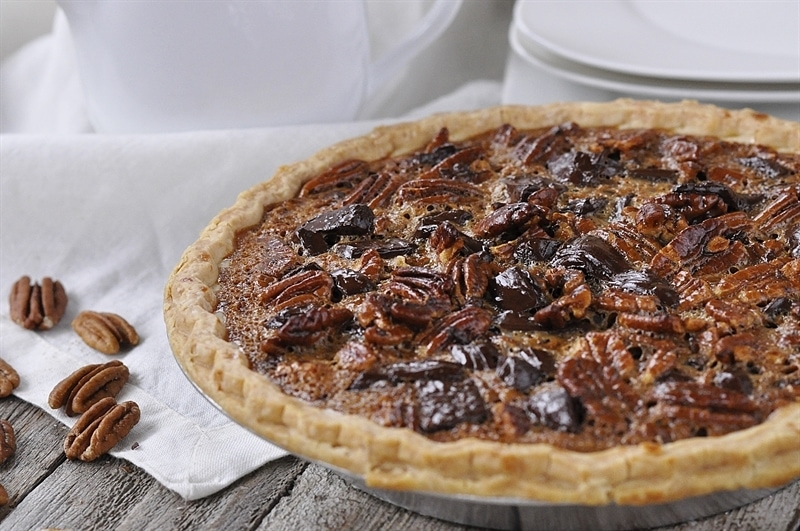 I made this buy for a church Christmas party and dinner several weeks ago.  It was a dessert potluck and I knew there would be a lot of brownies and cookies.  There always is so I decided to make something different – a pie!  My husband is a big pecan pie fan so I decided to dress up a pecan pie with some salted caramel and dark chocolate.  All I can say is it looks good and tastes good on a pecan pie!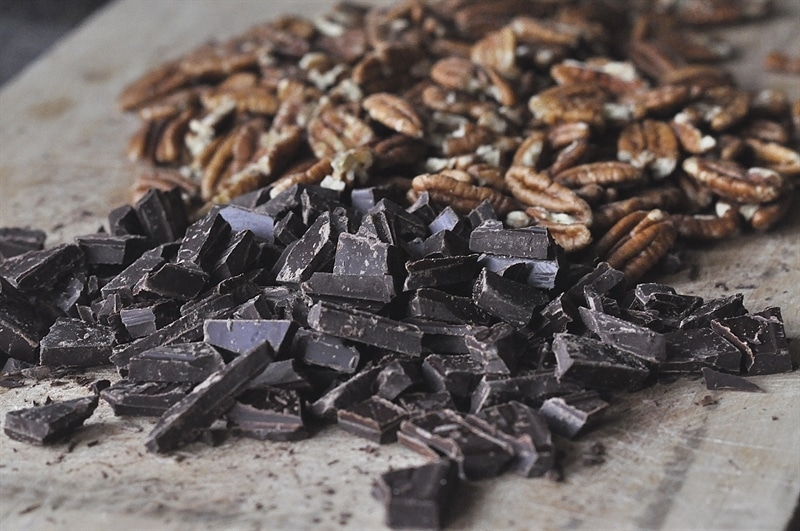 The first step is to make a yummy salted caramel sauce which is what holds your pie together and is used to drizzle over the top of the baked pie when serving.  This salted caramel sauce combined with pecans and dark chocolate makes for an amazing pie. Use a fine texture sea salt for your caramel sauce.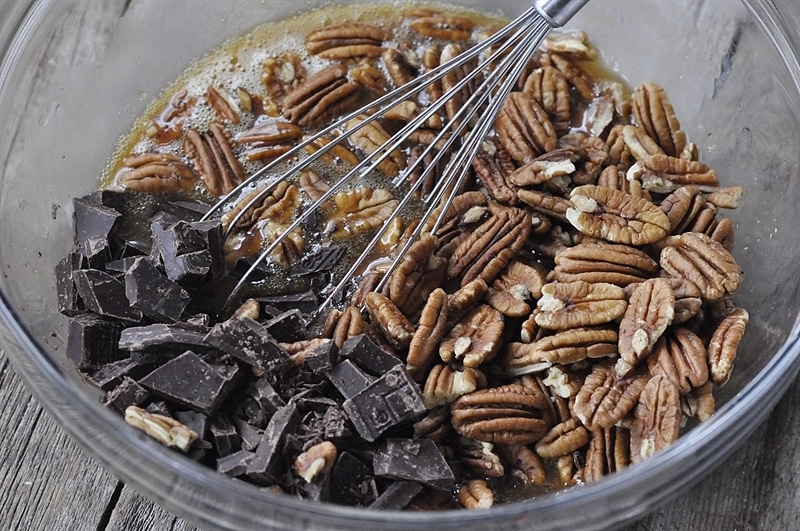 I was in a little bit of a time crunch so I used a store bought pie crust but making your own would be so much better.  I've got a great perfect pie crust tutorial for you to follow.  It really does make a perfect pie crust every time!  You'll want to use a 9″ pie pan.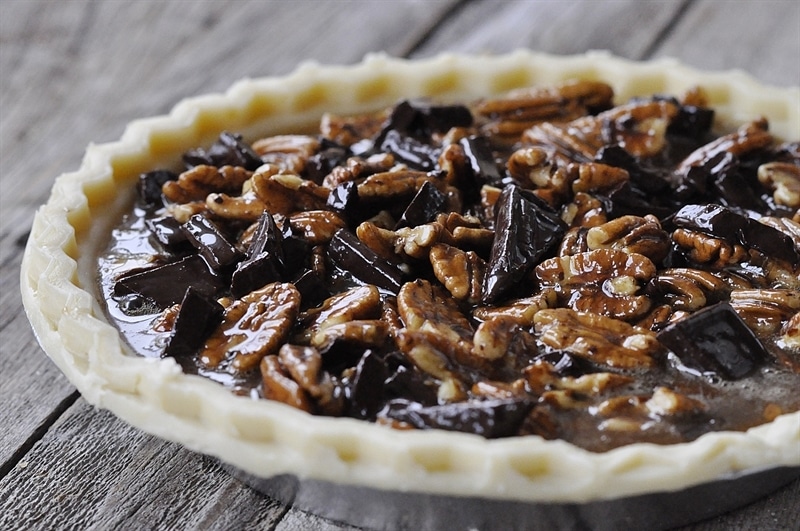 Be sure to cover the edges of your crust with foil or a pie crust shield to prevent the edges of your crust from burning.  I remove the pie crust shield  half way through the baking process so it can brown up.
Let the pie cool on a cooling rack.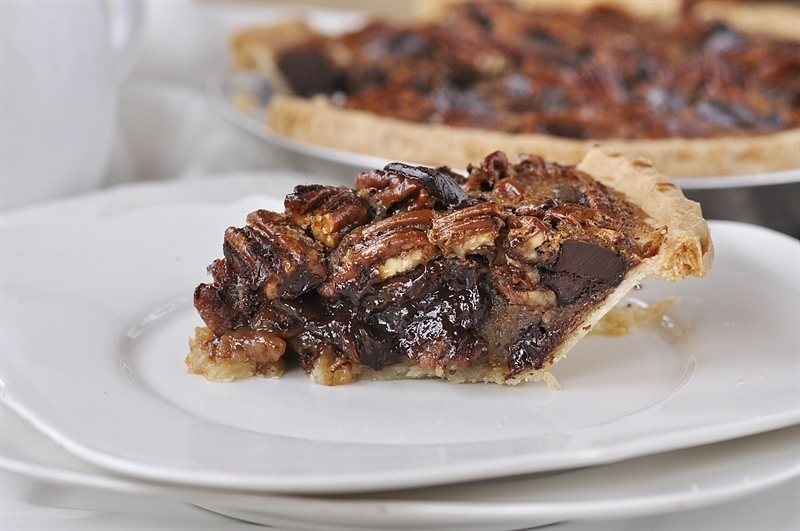 Then cut yourself a nice slice of pie, drizzle it with some additional salted caramel sauce.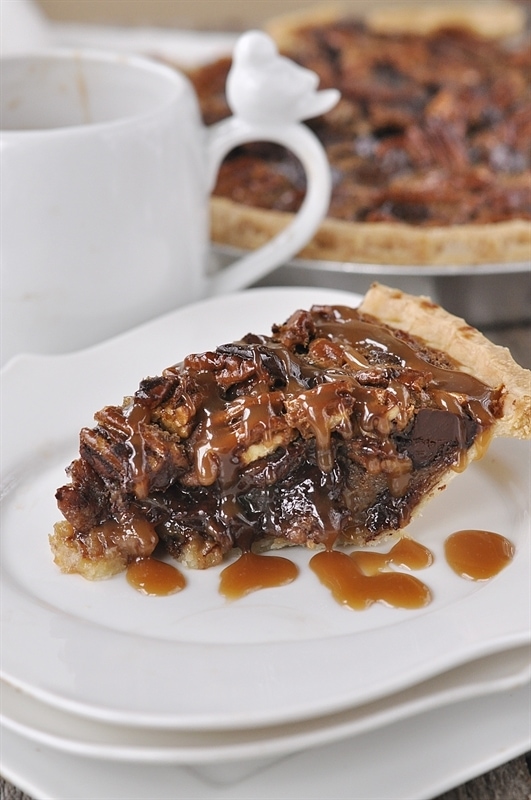 and then just add a fork!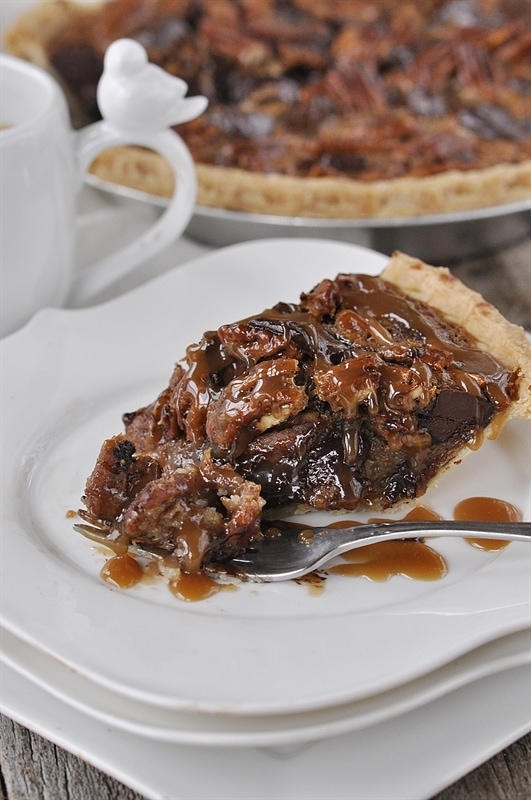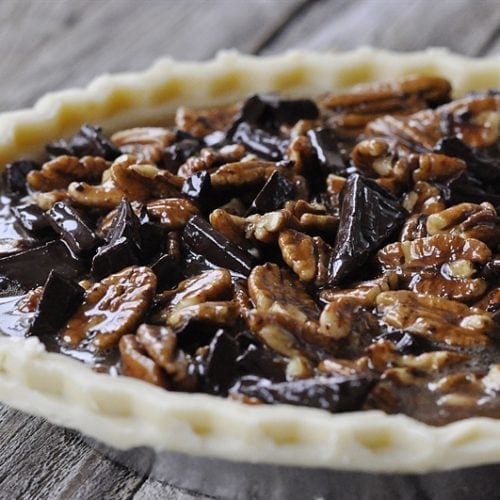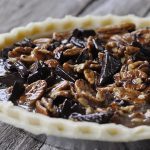 Print
Salted Caramel Dark Chocolate Pecan Pie
Ingredients
1/2

C

butter

3/4

C

light corn syrup

2/3

C

granulated sugar

2/3

C

brown sugar

2

Tbsp

water

1/2

tsp

fine texture sea salt

1

C

heavy cream

2

tsp

vanilla

1

9" single crust pastry

homemade or storebought

3

eggs

lightly beaten

2 1/2

C

pecan halves

6

oz.

dark chocolate

coarsley chopped
Instructions
Caramel Sauce
In a medium pan, melt butter over low heat.

Add in corn syrup, granulated sugar, brown sugar, water and 1/2 tsp sea salt.

Bring to a boil, stirring often and reduce heat.

Boil gently, uncovered for about 30 minutes or until reduced to 1 3/4 cups. Stir frequently.

Remove from heat and add in heavy cream and vanilla.

Cool for 30 minutes.

Preheat oven to 350 degrees F.

Prepare pastry crust.

Put 1 1/4 c of caramel sauce into a bowl. Stir in eggs.

Stir in pecans and chocolate.

Pour filling into unbaked pastry shell.

Cover edges of pie with foil or pie crust shield.

Bake for 25 minutes, remove foil and bake for another 20 minutes or until filling is set.

Cool on a wire rack.

Drizzle with remaining caramel sauce.