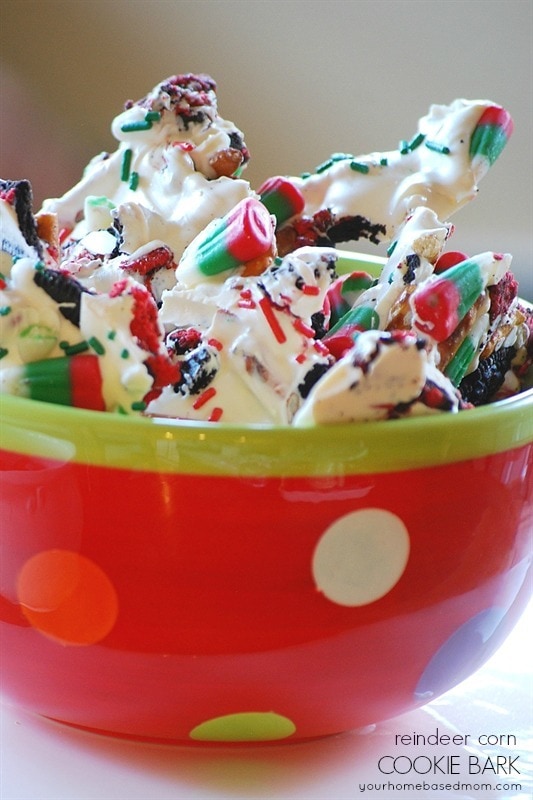 Remember that yummy, fun Candy Corn Cookie Bark I made at Halloween???  Well if you don't, you will want to remember it next Halloween because it is so good!
It was so good I decided we needed a Christmas version – thus was born Reindeer Corn Cookie Bark.  Who knew there was Reindeer Corn?  I didn't until I was perusing the bulk food bins at the grocery store the other day and there it was!  Red, green and white candy corn!  Love it!!
I picked up a bag of holiday Oreos with red filling, some pretzels, almond bark  and red and green sprinkles and I was good to go!
The process is still the same.  Crush and chop up the oreos and pretzels and spread them along with 3/4 of the reindeer corn on a wax paper lined cookie sheet.
Melt the 1 pound package of white almond bark in the microwave and pour over the top of the broken up goodness.
I then push the sides of everything in to make it a little more compact.
Sprinkle the remaining reindeer corn and red and green sprinkles on top before the almond bark sets up too much.
Let it harden up at room temperature or if you are in a hurry like I usually am pop it in the refrigerator for a bit.
After it hardens break it into pieces and enjoy!  I found this cute little holiday polka dot bowl at Home Goods which makes the perfect container.
Isn't it pretty enough to eat!

I bet Rudolph would love a bowl of Reindeer Corn Bark left out for him on Christmas Eve along with Santa's cookies – much better than a carrot!
I've been going a little candy bark crazy the last few days and I have a couple more fun combinations to share with you in the next couple of days so be sure and check back tomorrow!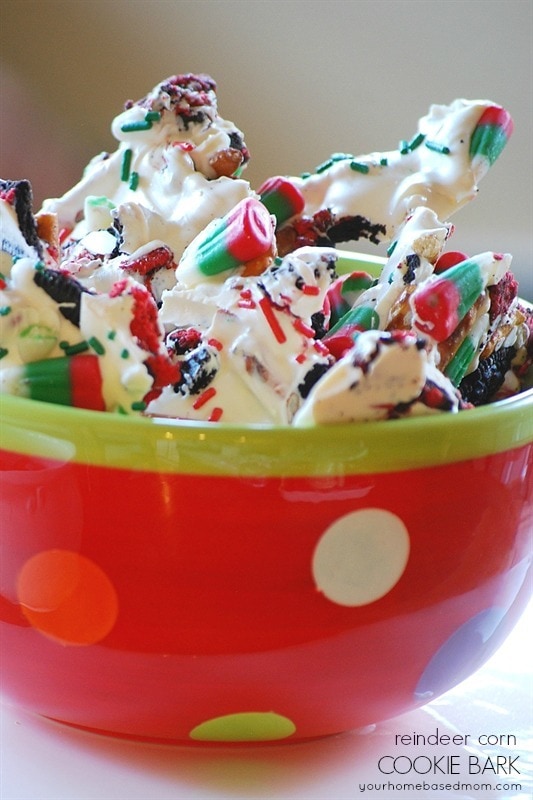 Reindeer Corn Cookie Bark
Ingredients
14

whole Oreos

broken up. I used the holiday ones with the red filling but regular will work fine

1 1/2

C

pretzels

broken into pieces. I used the small stick pretzels

1

lb.

white chocolate

almond bark or melts found in the bulk food section

1

C

reindeer corn

red and green colored sprinkles
Instructions
Cover a large cookie sheet with wax paper

Spread broken cookes, pretzels and about 3/4 C of the candy corn onto the waxed paper

Place white chocolate in a container and microwave for 1 1/2 minutes

Stir and then microwave for another 30 seconds until melted and smooth

White chocolate melts faster and burns easier than chocolate

Drizzle the melted chocolate over the cookie mixture, spreading with spatula if needed to coat evenly

Sprinkle remaining candy corn and colored sprinkles over the chocolate while it is still wet

Do not let it harden

Place cookie tray into refrigerator until set and firm

Remove and gently break bark into small pieces

Store in air tight container
Stay Updated!
Need more recipes and creative ideas? Sign up and get a FREE copy of my ebook! Do you think your friends would love this too? Please share my blog with them. Thanks!