Migas is a traditional Spanish dish and means "crumbs" because it was traditionally made with leftover bread crumbs.  In this case we use tortilla chips.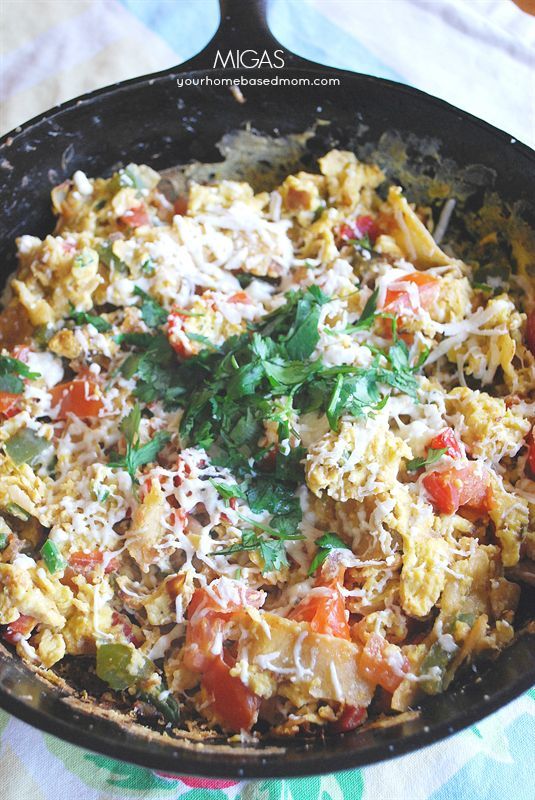 When my husband is in charge of cooking at our house (which isn't very often) it is usually some form of eggs or a piece of meat on the grill.
His cooking repertoire is fairly limited.One of my favorite dishes he makes is his version of scrambled eggs.  He usually cleans out the refrigerator in the process, using whatever he finds – cheese, green peppers, red peppers, onions, salsa etc.  He usually throws in a handful of tortilla chips too if we have them.  I love the crunch that they give the eggs.
Little did we know he was making his own version of Migas.  Migas, a Spanish word, translates into "crumbs."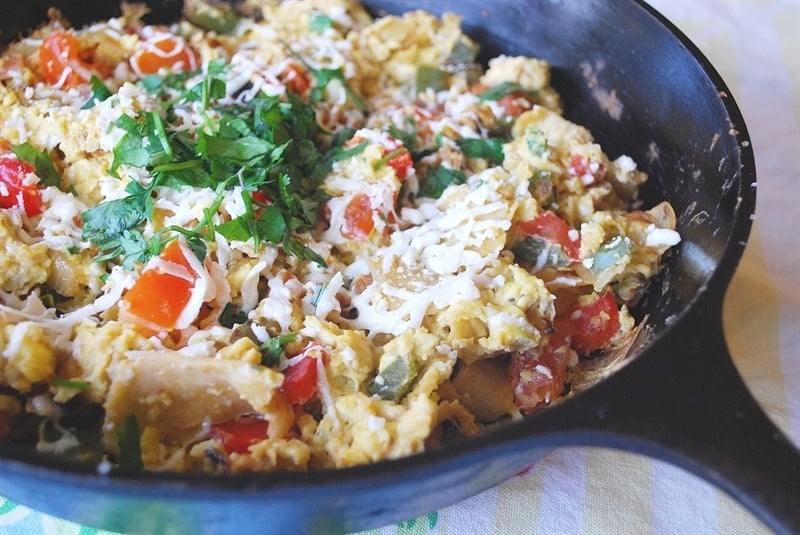 Traditionally migas uses leftover bread or tortillas – thus the  name "crumbs."
Migas was originally served as a breakfast dish but can be found on the lunch and dinner menus of many restaurants.  We enjoy them for breakfast and dinner!
Pioneer Women has her own version of Migas too so this last week while we were practicing being empty nesters I made it for dinner one night.
I did fry up some corn tortillas as PW instructs but I think I like my husbands version better – just throwing in a handful of tortilla chips.  Not only is it easier but I like the crunch it gives the dish.
I love recipes that start out with pretty ingredients.
Since there was just the two of us I halved the recipe and we had some leftovers.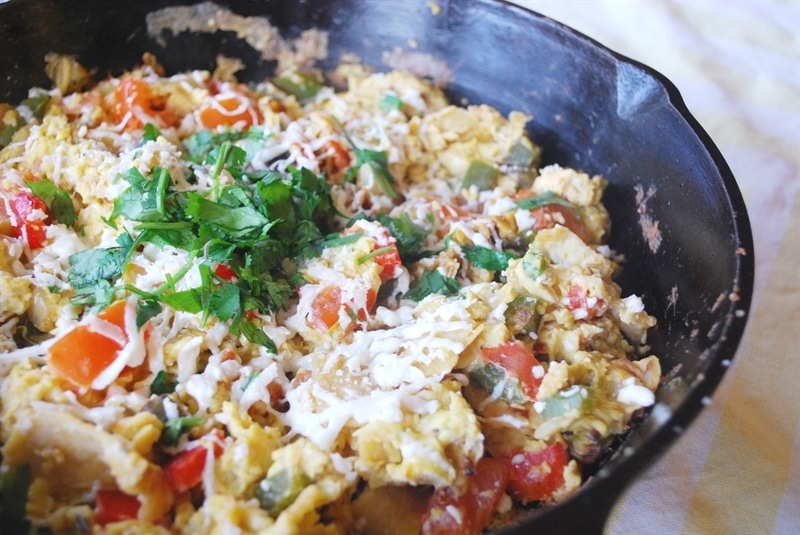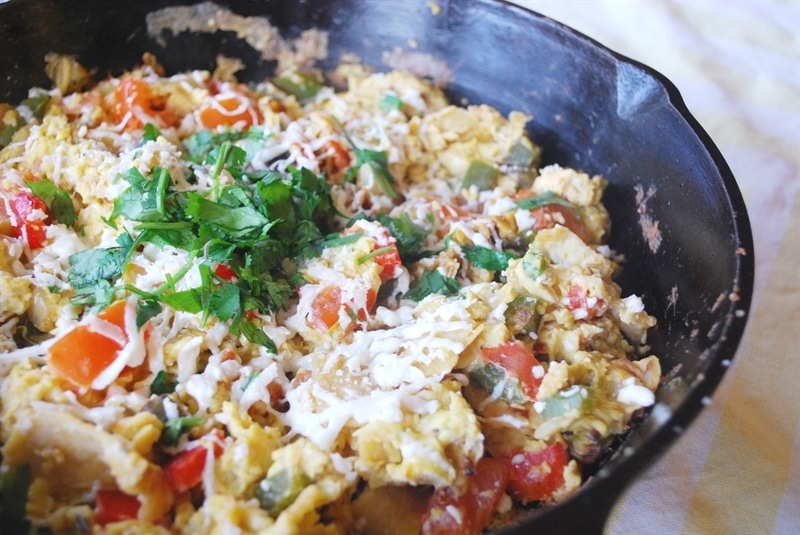 Migas
Ingredients
4

whole Corn Tortillas

1

whole Jalapeno

Seeds And Membranes Removed, Finely Diced

4

whole Plum Tomatoes

Roughly Chopped

1

whole Green Pepper

Roughly Chopped

1

whole Red Bell Pepper

Roughly Chopped

1

whole Medium Onion

Chopped

12

whole Large Eggs

¼

liters

Cotija Cheese

Grated (may Use Cheddar, Monterey Jack, Etc.)

⅓

cups

Cilantro

Chopped

1

Tablespoon

Butter

1

Tablespoon

Olive Oil

¼

cups

Half-and-half
Instructions
In a bowl, whisk together eggs and half & half. Salt and pepper eggs, then set aside.

In a small skillet over medium heat, heat oil and fry each corn tortilla just until crisp

Remove to a paper towel-lined plate to drain

Chop tortillas and set aside

In a large skillet over medium-high heat, melt the olive oil with the butter

Add onions and bell peppers and cook until starting to turn brown/black, about 3 to 4 minutes

Add in diced jalapenos and stir to combine

Add tomatoes to the skillet and stir around, then add tortilla pieces, stirring gently to combine

Reduce heat to low

When the heat has decreased, pour egg mixture into skillet

Stir gently to cook with the peppers, folding mixture very gently as it cooks

Add in grated cheese and chopped cilantro, and stir to combine
Get my Weekly Menu Plan for FREE!
Receive my FREE "What's for Dinner?" Meal Planning Course, a copy of my FREE ebook that includes my most popular recipes and my FREE weekly Meal Plan.