Cowboy Calzone is the perfect meal on the go and are filled with a delicious meat and cheese mixture that is sure to satisfy the cowboys in your life!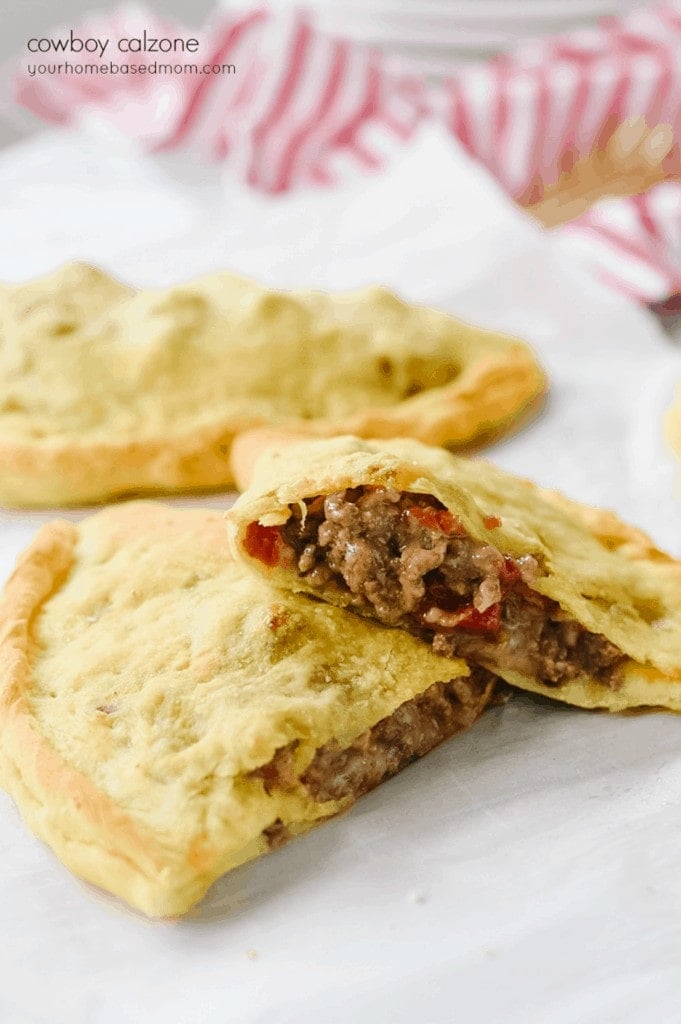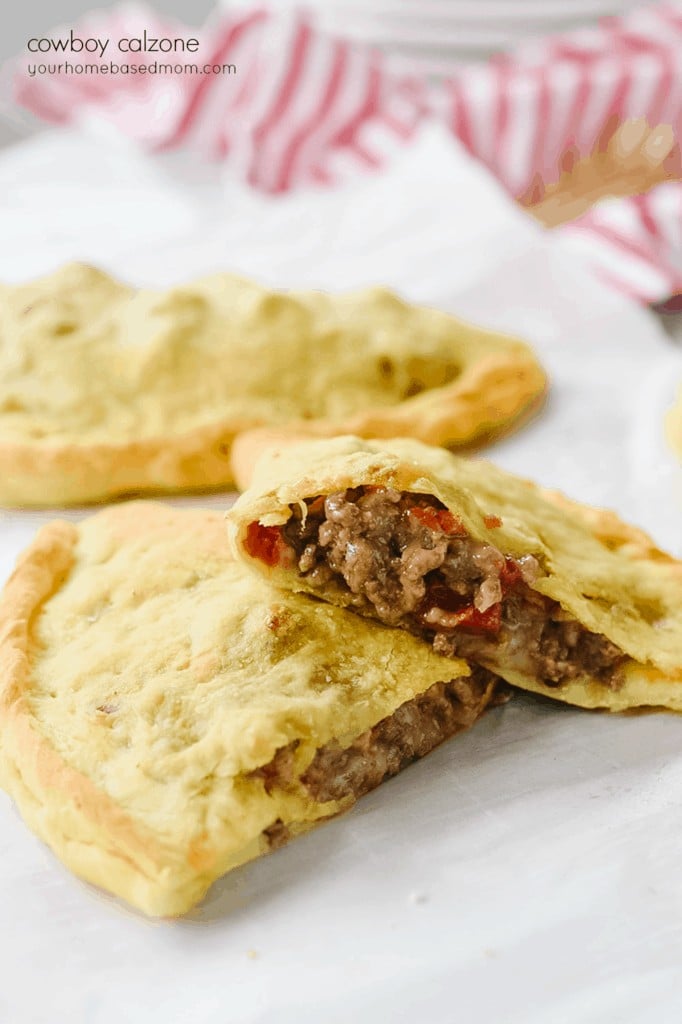 Cowboys may like calzone because they are quick and easy to eat on the run but so do us regular folk , especially busy regular folk!!
What is a calzone?
A calzone is like a pizza pocket or turnover. In Italian it actually means "stocking" or "trouser". Not really sure how it resembles a stocking or trouser but oh well!
The great thing about calzone is they can be eaten out of hand or with a knife and fork. They freeze well so they are perfect for a quick snack or lunch for someone.
Calzone Filling
The inside is filled with a mixture of hamburger, Italian sausage, tomato and two kinds of cheese – yum. You could get creative with your filling even using leftover chicken, pepperoni or vegetables. Whatever you like to eat on pizza! We've already made these twice at our house and I'm sure we'll be making them again, next time I will experiment with the fillings a little bit!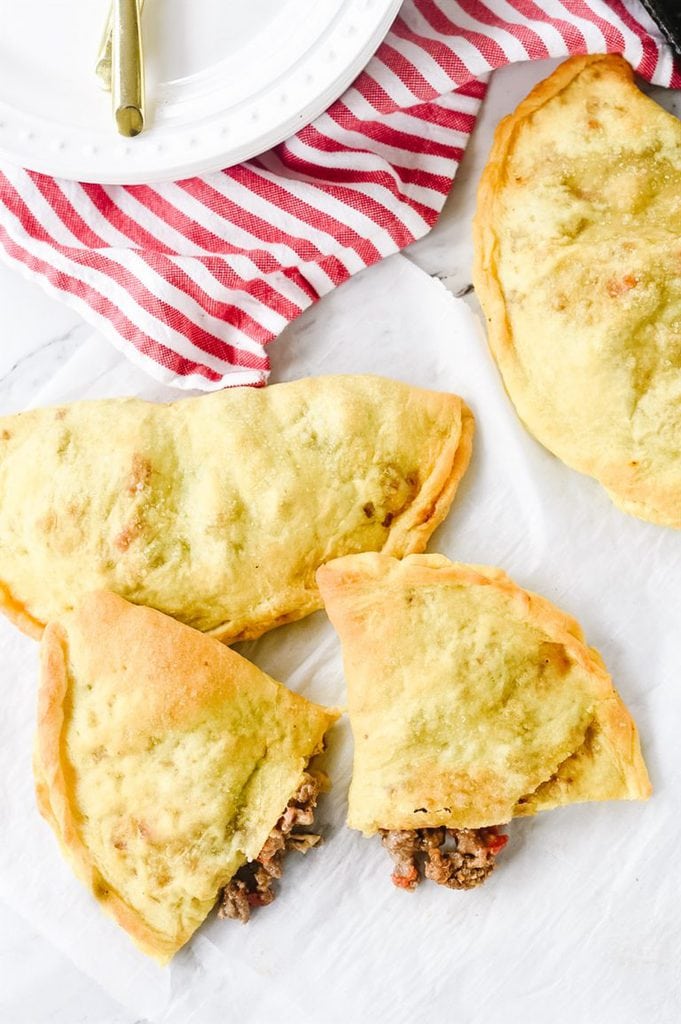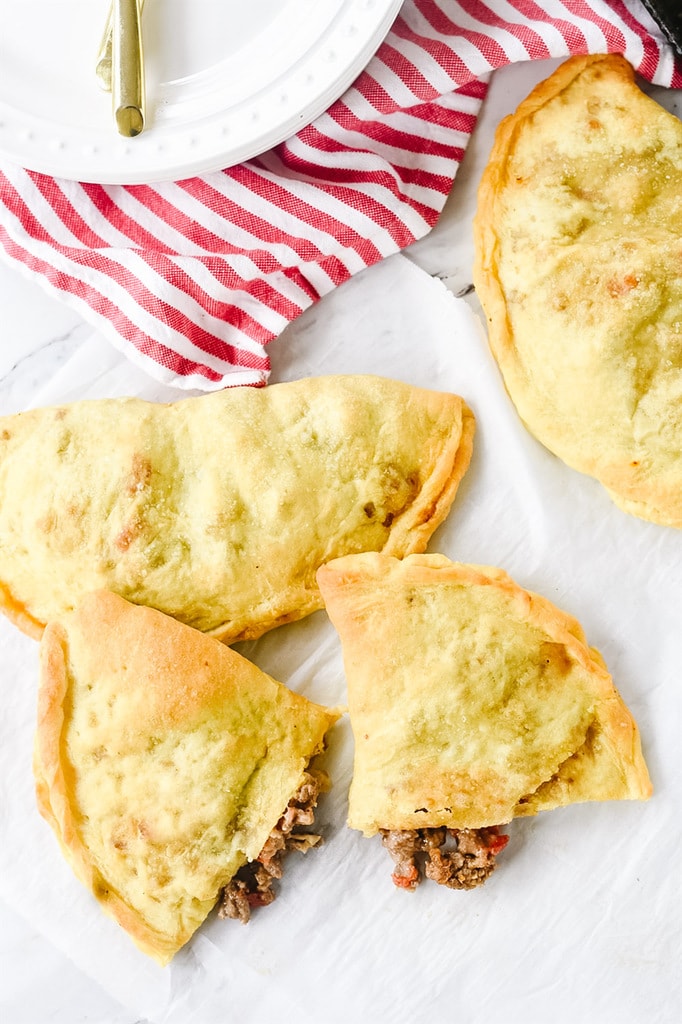 How to Make Cowboy Calzone
Mix up one batch of pizza dough and let it rise according to the directions, about one hour.
Use a combination of hamburger and mild Italian sausage for the meat filling. You can use all hamburger if you prefer. You can also use any leftover meat you may have in the fridge. Shredded chicken or shredded beef both work great. I used a combination of Monterey Jack and Mozzarella cheese but you can get creative with your cheeses too.
Divide the dough into eight pieces and roll each piece out into a circle.
Place 1/8 of the meat and cheese mixture onto half of the dough. You can really pile it up!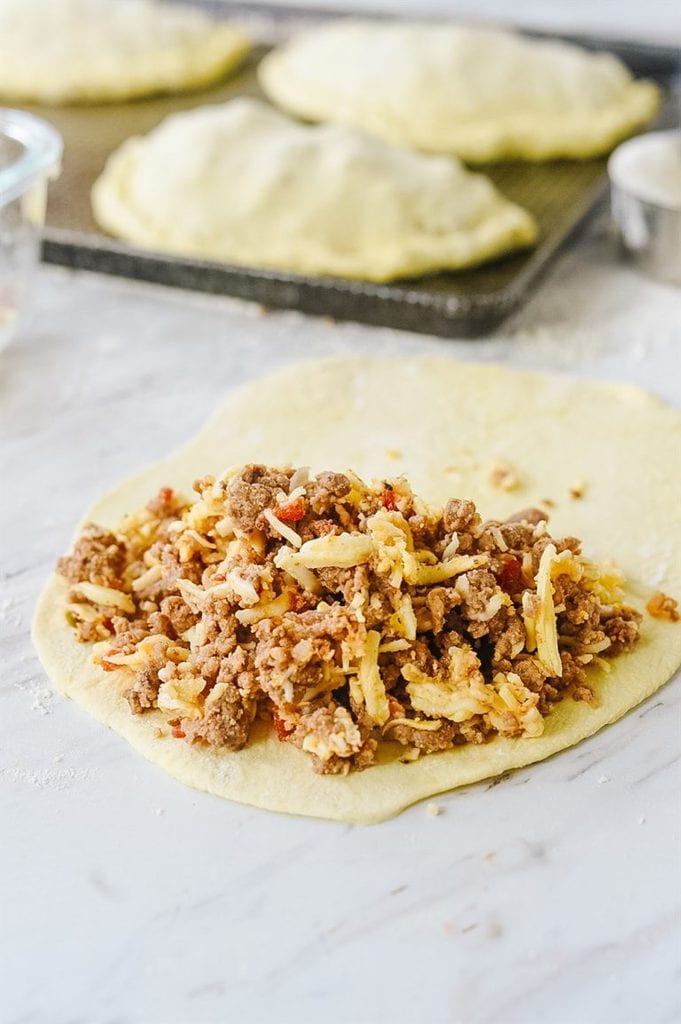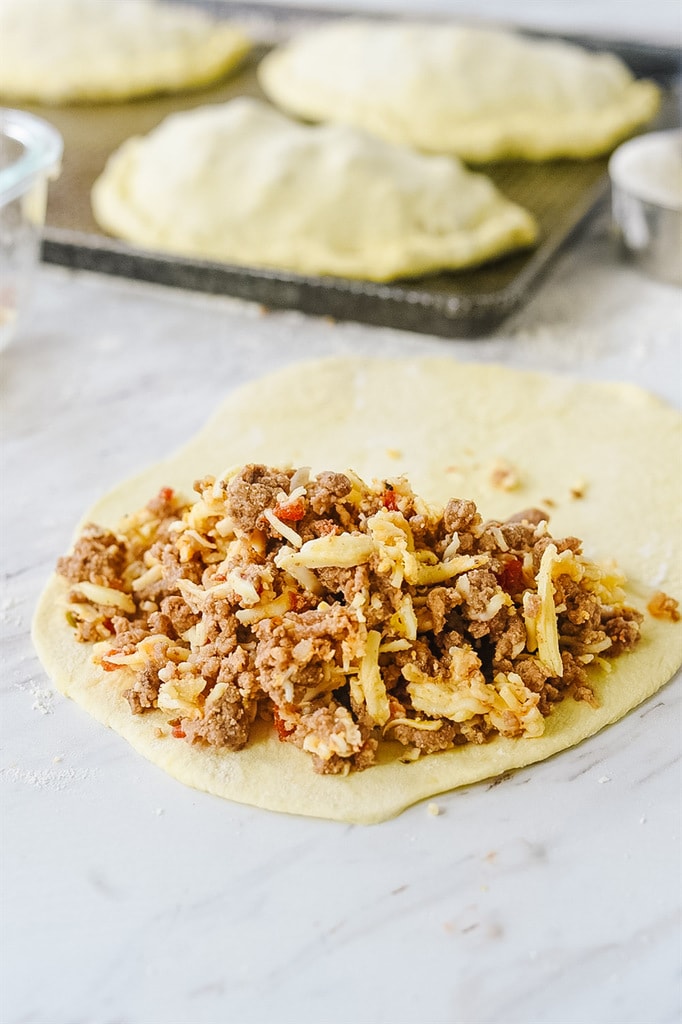 Fold the other half of the dough over the top of the meat mixture so that your edges line up.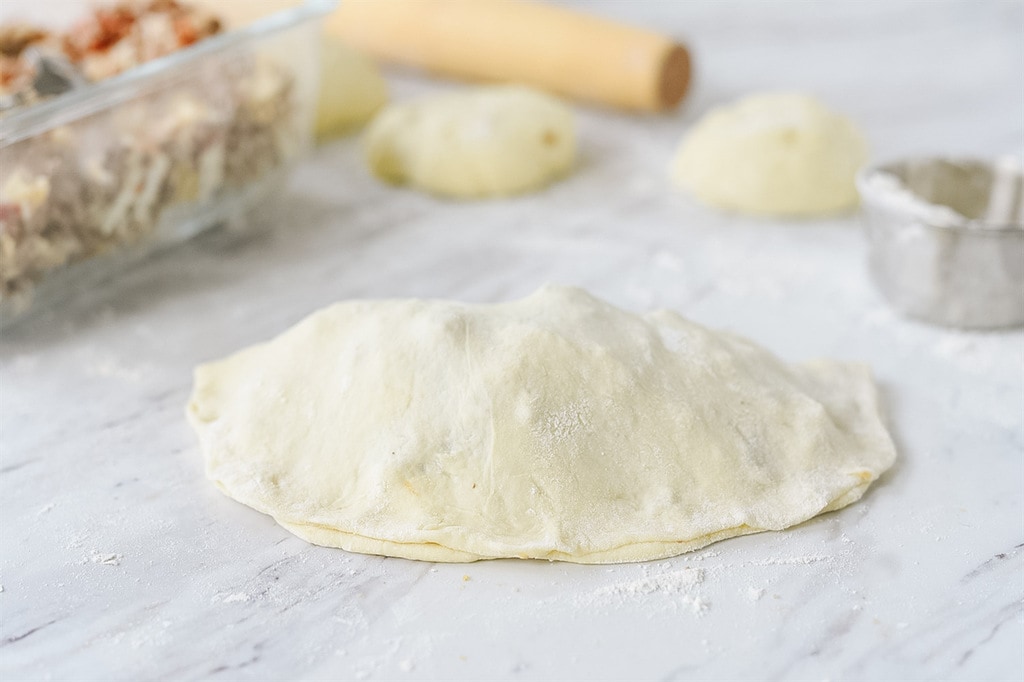 Roll the edges together or use a fork to press into the edges of the dough to close the calzone.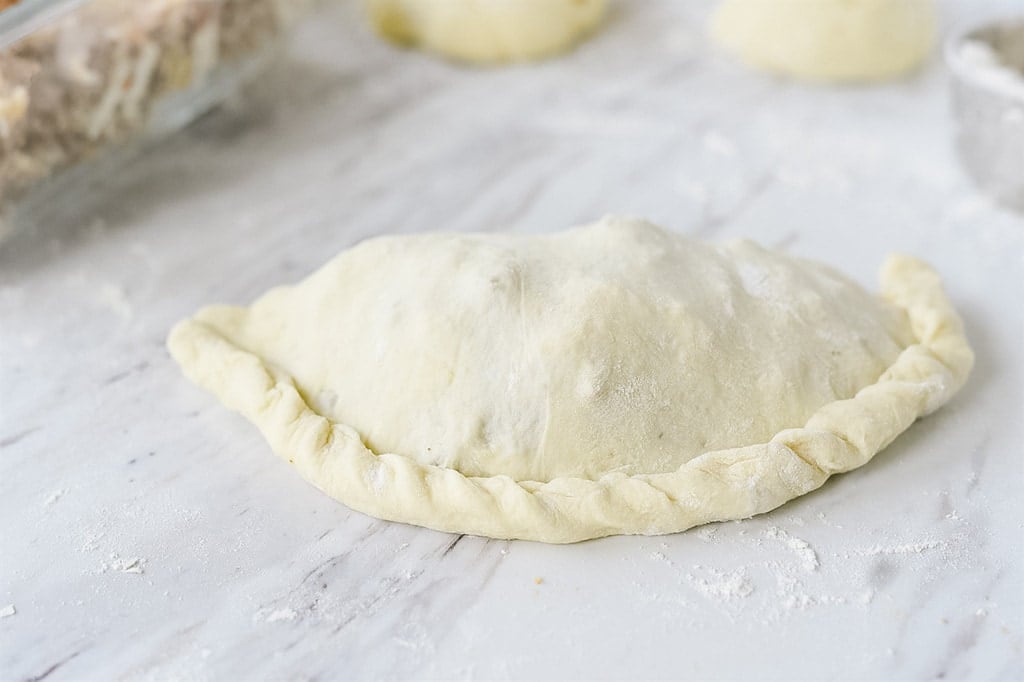 Give them a light coat of olive oil and a sprinkle of coarse salt for extra flavor before baking.
Preheat oven to 450 degrees F and place the calzones on a baking sheet. Bake for about 12 minutes or until golden brown.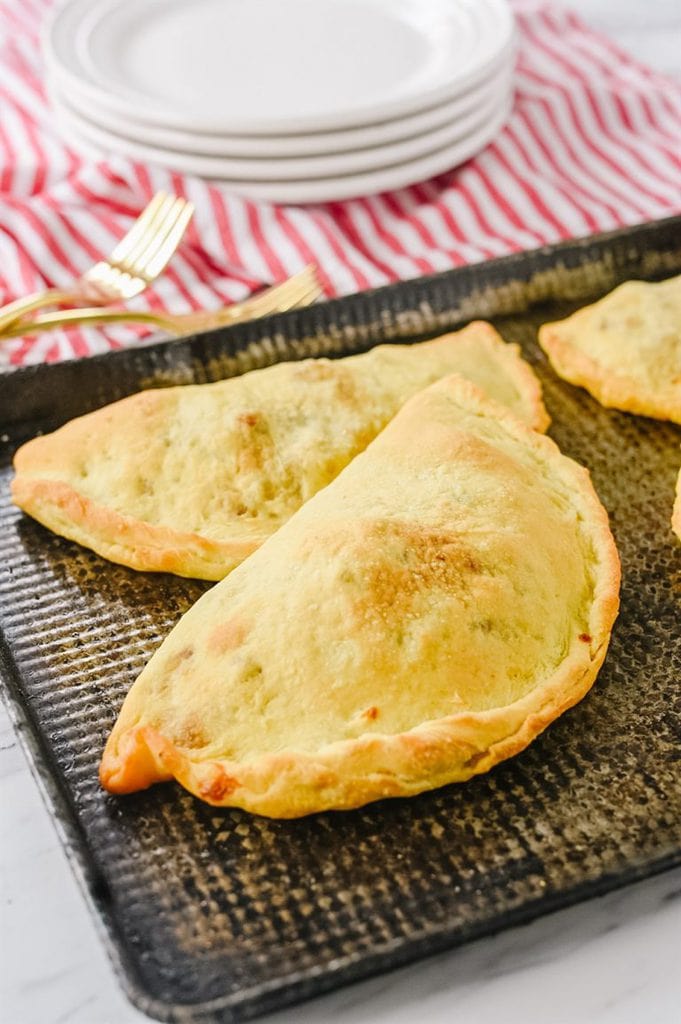 Can I Freeze Calzone?
They freeze wonderfully. The recipe made more than our reduced size family could eat so after baking and cooling I wrapped them individually and tossed them in the freezer. When you are ready for a quick snack, lunch or dinner just zap them in the microwave!
Some other easy dinner ideas you might enjoy:
Cowboy Calzone Recipe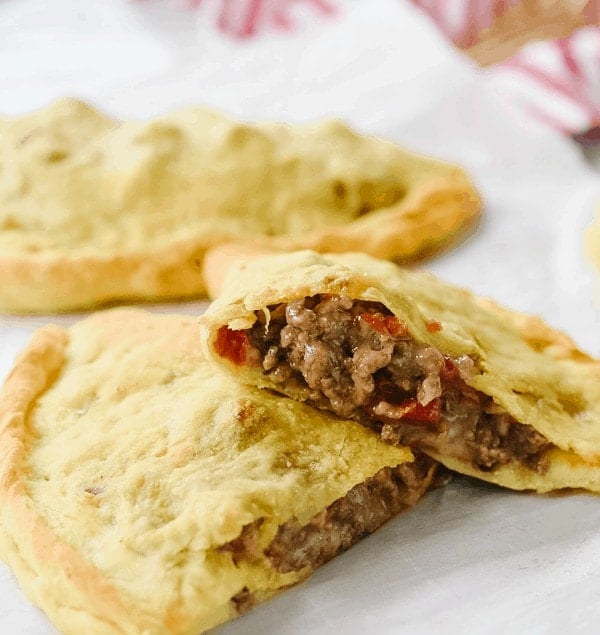 Cowboy Calzone
Cowboy Calzone is the perfect meal on the go and are filled with a delicious meat and cheese mixture that is sure to satisfy the cowboys in your life!
Ingredients
Pizza Crust
1 tsp or 1/2 packet active dry yeast
1 1/2 C warm water
4 C all-purpose flour
1 tsp kosher salt
1/3 C extra virgin olive oil plus more for drizzling
Cowboy Calzone
1/2 lb. hot breakfast sausage I used mild
1 lb. ground beef
1/2 onion finely diced
1 – 8 oz. can tomatoes and chilies Rotel brand
8 oz. whole milk ricotta cheese
1/2 C grated mozzarella cheese
1/2 C grated Monterey Jack cheese
1 egg beaten
salt and black pepper
1 recipe pizza crust 1/2 of above recipe
olive oil for brushing
Instructions
Pizza Crust
Yield: 2 pizza crusts

In a mixing bowl, pour the yeast over 1 1/2 cups of warm water, stirring gently

In a separate bowl, combine the flour and salt

Using an electric mixer on low speed, drizzle in the olive oil until just incorporated

Add the yeast mixture to the flour mixture, mixing until the dough forms a ball. (You can also do this by hand.)

Drizzle a little olive oil into a clean bowl

Toss the ball of dough in the bowl and turn over to coat in oil

Cover the bowl with a moist kitchen towel and set in a warm place for 1-2 hours, or cover with plastic wrap and store in the fridge for up to 2 days.

Divide the dough in half, then using your hands, stretch the dough to the desired shape, pressing it into an oiled pan with your fingers

The thinner the better

The surface of the dough should be lumpy from finger marks

The other half of the dough may be wrapped tightly in plastic wrap and refrigerated up to 3 days before use, or frozen for up to 6 months
Cowboy Calzone
Preheat oven to 450 degrees

In a large skillet combine the sausage and hambuger with the onion

Brown and drain off extra grease

Pour in the tomatoes and chilies

Stir to combine, and cook for 2 minutes

Remove from the heat and allow to cool slightly

In a bowl combine the three cheeses and the egg

Add a dash of salt and pepper

Add the cooled meat mixture to the cheese mixture and stir to gently combine

Divide the pizza dough into 8 equal size balls

With a rolling pin on a floured surface, roll each ball into a 6 inch circle

Place one eighth of the meat/cheese mixture in the middle of each circle

Fold half of the circle over the other half, gently pressing to slightly spread and flatten the filling inside

Press a fork along the edge to seal closed then transfer the calzone to a greased baking sheet Repeat with the remaining dough and filling

Brush the top of calzone with olive oil

Bak for 12-15 minutes until golden brown
Nutrition Facts:
Calories: 462kcal (23%) Carbohydrates: 48g (16%) Protein: 17g (34%) Fat: 21g (32%) Saturated Fat: 6g (38%) Cholesterol: 61mg (20%) Sodium: 341mg (15%) Potassium: 238mg (7%) Fiber: 2g (8%) Sugar: 1g (1%) Vitamin A: 30IU (1%) Vitamin C: 1mg (1%) Calcium: 26mg (3%) Iron: 4mg (22%)
* Disclaimer: All nutrition information are estimates only. Read full disclosure here.