Mexican Haystacks is a family friendly meal and allows everyone to customize their plate to their own individual tastes.  It's also the perfect recipe to feed a crowd.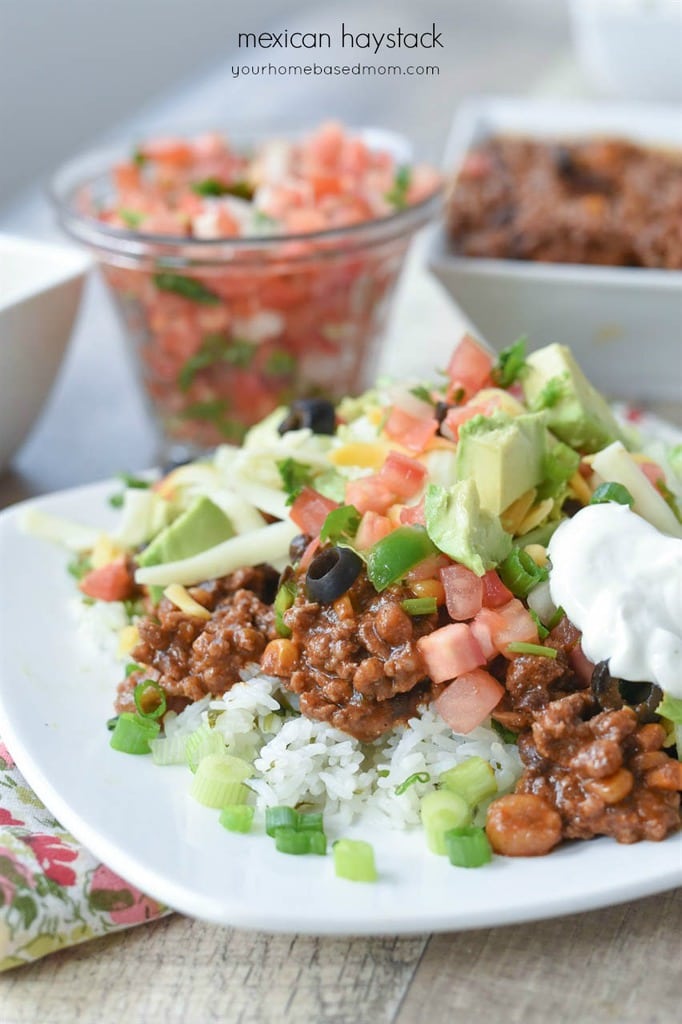 This post is sponsored by READ Salads but all opinions are my own.
If you've been around here for a while or followed me on Instagram you know that every year my family enjoys our "Week at the Beach."  Now that my kids are all grown and live from coast to coast, having them all home, at the same time, doesn't happen very often.  Our week at the beach is my favorite week of the year and I look forward to it all year long.  We recently returned from this year's reunion.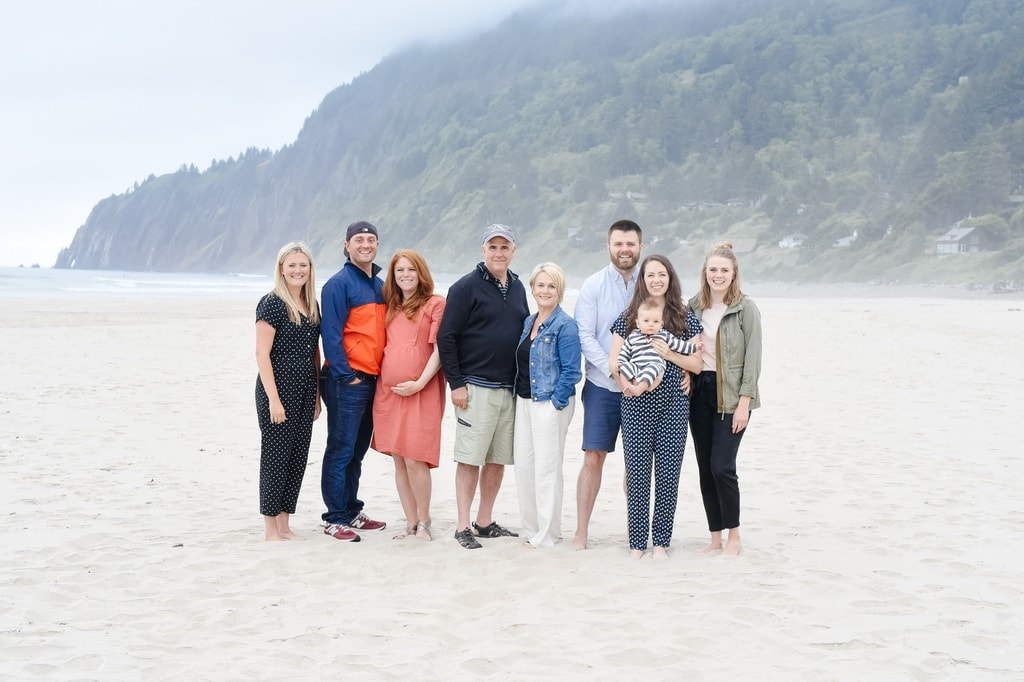 Food is important to my family and we love to eat.  But I don't want to spend all of our time together in the kitchen cooking.  I want to be out there having fun with everyone.  Today, I've got some tips and tricks I use to make sure our family reunion food is delicious but also that it is easy. Granted, we are still a pretty small group.  But the tips and ideas should work for any size group.
Family Reunion Tips
Plan Ahead.  This one is pretty common sense.  Don't wait until the last minute to plan your meals or do the shopping.  About a month ahead of time, I always send out a text to the family asking them what meals and snacks they would like to have at the reunion.  My kids have a lot of family favorite meals they like to enjoy when they are home.   This way I make sure I include all of those in the meal plan for the week.  And I don't have to come up with all the ideas either!
Share the Work Load.  Now that my children are older, I assign each of them a meal to plan and prepare.  I do the shopping, but they do the work.  That way, I'm not in the kitchen every meal.  Some do a breakfast and others do a dinner.
Plan meals that are flexible to varying dietary needs.  The bigger your family gets the more dietary needs there will be.  You will have people that don't eat gluten or dairy.  Those who don't eat spicy food.  There is bound to be food allergies and food preferences.  Not everyone likes everything.  In order to work with this and try to be as accommodating as possible without being a short order cook, I like to choose recipes that are flexible and customizable.  Today's recipe for Mexican Haystacks is perfect.
See the FREE printable below for even more family reunion tips and tricks and for more family family reunion friendly recipes!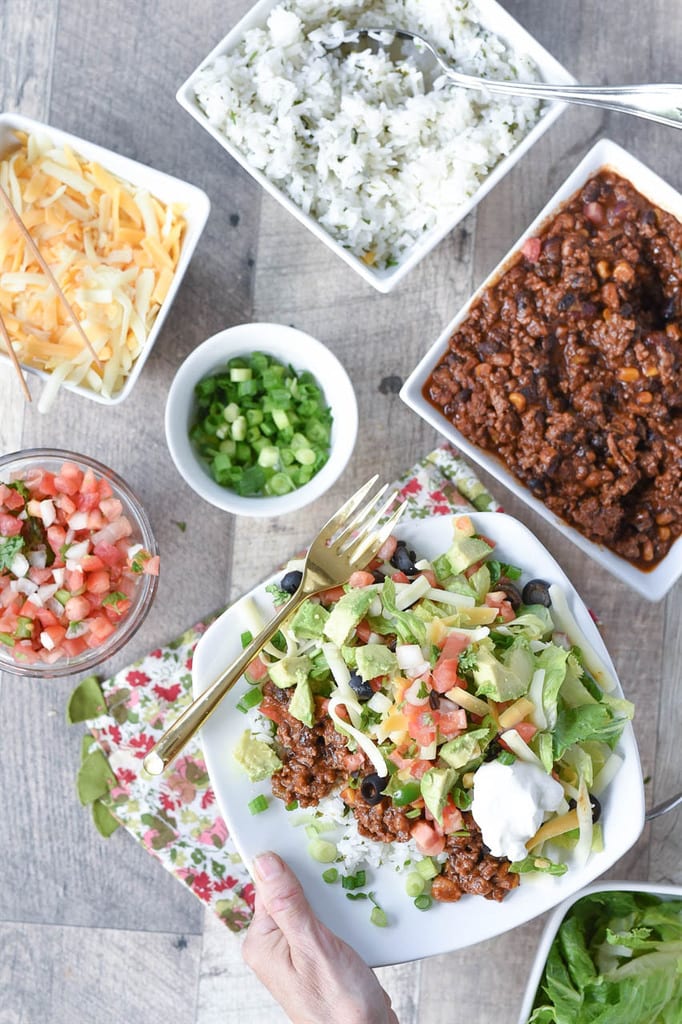 Build Your Own Haystacks
I love a meal that is "build your own."  I put out the ingredients and everyone can build their meal according to their tastes and dietary needs.  Mexican Haystacks is the perfect customizable meal.   It starts with a base that is a combination of hamburger, READ Ready to Eat Southwestern Bean Salad, taco seasoning, tomato sauce and diced green chiles.  Using the READ Southwestern Bean Salad is the perfect way to make things easier and more doable. It's a combination of black beans, corn, hominy and kidney beans in a subtly spicy tomato-bell pepper, chili-lime seasoned sauce. If you can't find this, use a can of kidney beans or black beans.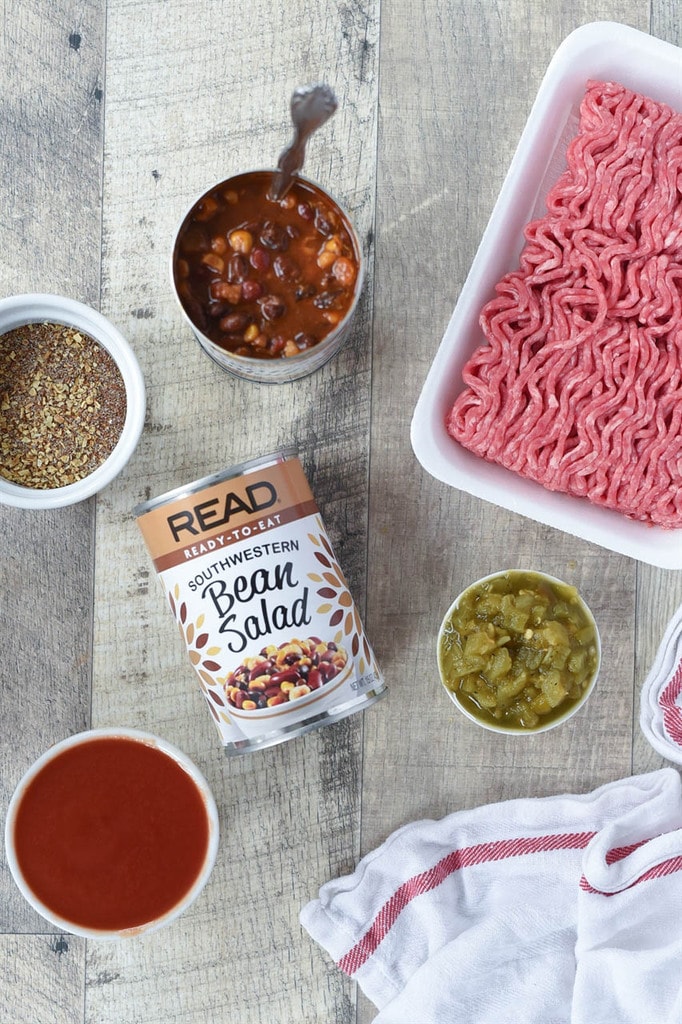 The Southwestern Bean Salad is delicious and it helps the meal come together quickly and easily. In fact, you may find yourself eating it straight out of the can.  It's good warm or cold.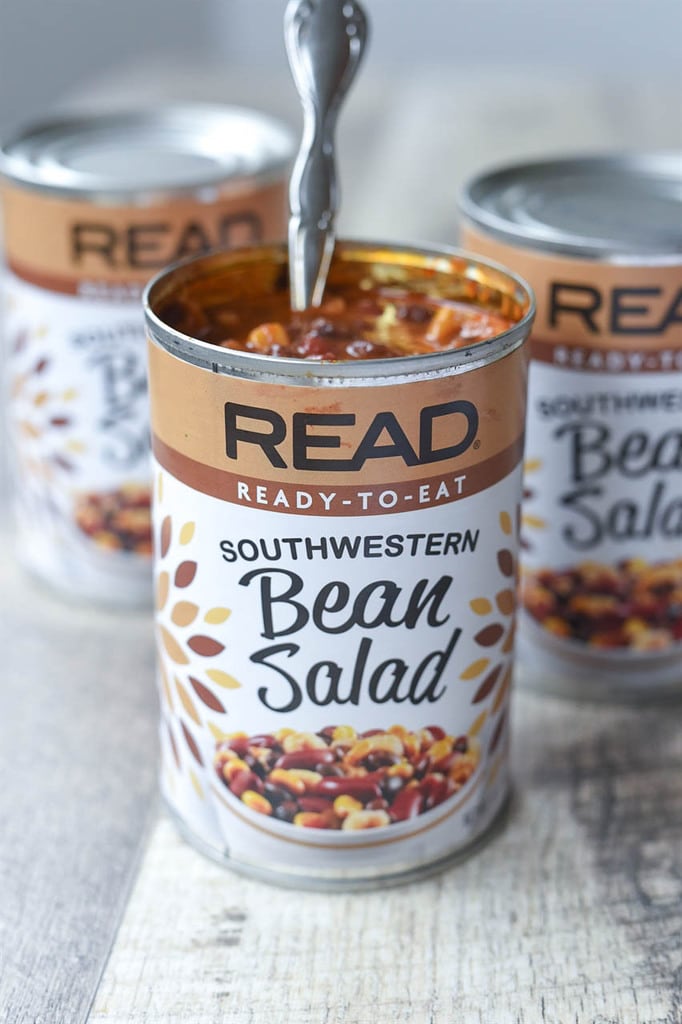 In addition to the meat mixture, I have a bowl of cilantro lime rice to use as a base, then an assortment of other toppings including, cheese, sour cream, pico de gallo, avocado, black olives, green onion and lettuce.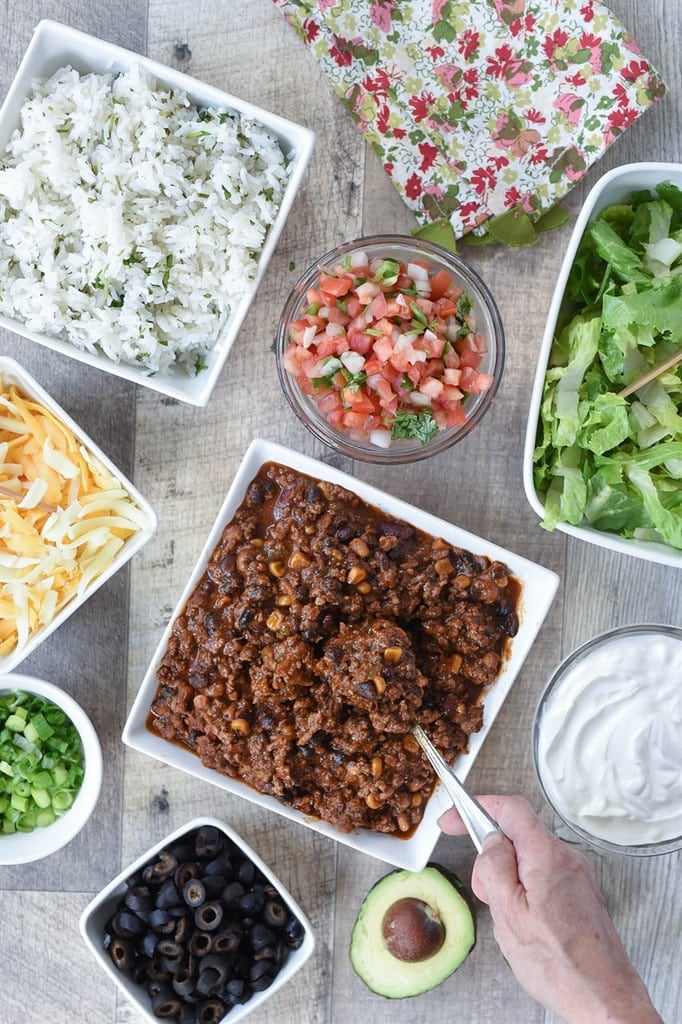 Now all you have to do is step back and let everyone build their own Mexican Haystacks.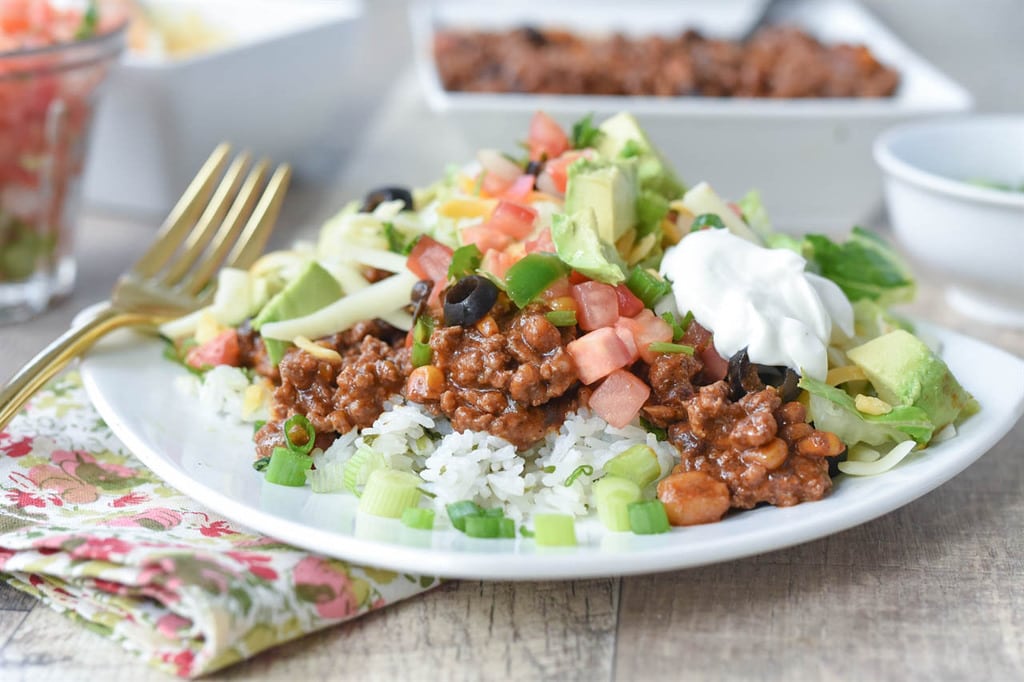 Do you have a yearly family reunion?  I'd love to hear your top tips and favorite family reunion meal ideas.  Please leave a comment below and let me know.
Click below to print off a copy of my family reunion tips and tricks as well as a list of our family reunion meal ideas to help make your next family reunion or gathering easier and less work!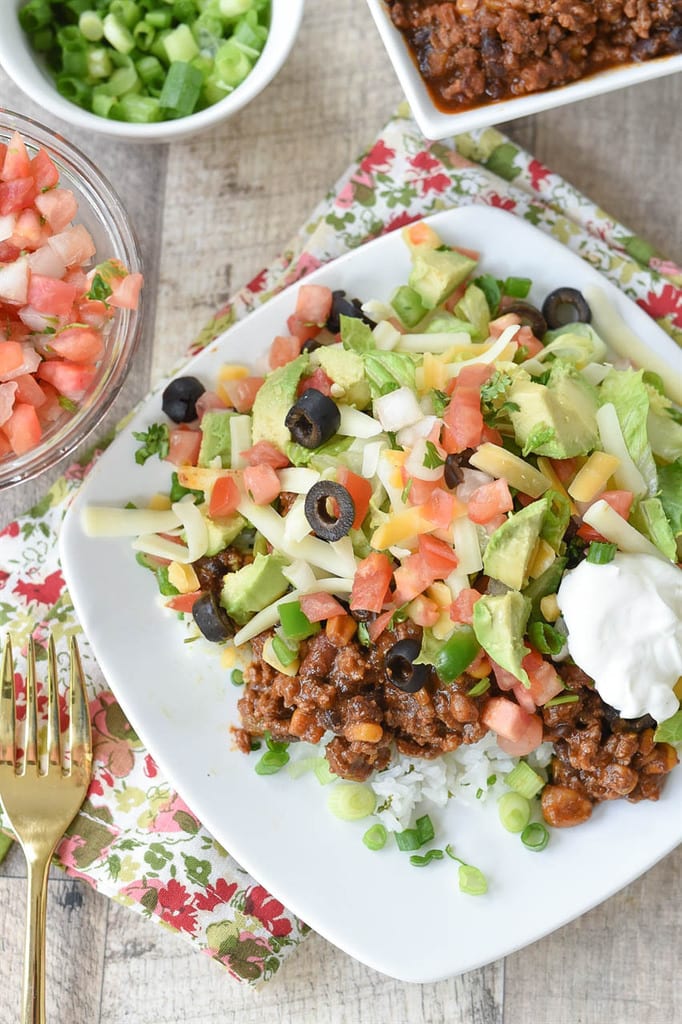 Mexican Haystacks Recipe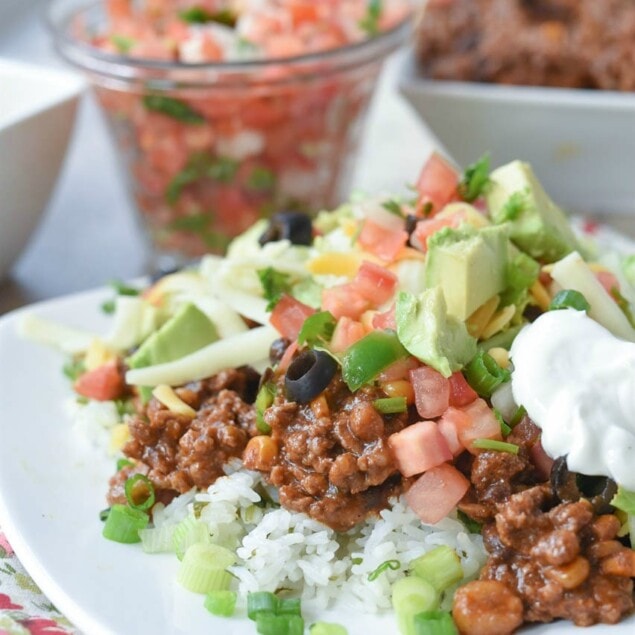 Mexican Haystacks
Mexican Haystack is a meal that is family friendly and allows everyone to customize it to their own individual tastes. It's also the perfect thing to feed a crowd.
Ingredients
1.5 lb hamburger 93/7%
1 15 oz Southwestern Bean Salad do not drain or a can of kidney beans or black beans
1 oz. taco seasoning
1 4 oz. can green chiles
8 oz. tomato sauce
Toppings
lime cilantro rice
lettuce
cheese
pico de gallo
green onions
black olives
avocados
sour cream
Instructions
Brown hamburger in a large non stick frying pan over medium heat.

Break meat into small pieces and cook until meat is cooked through. Drain off excess grease.

Add in taco seasoning, stir to incorporate.

Add in tomato sauce, green chiles and beans. Allow to bubble and stir until it thickens up, about 5 minutes.

Serve over rice with a selection of toppings.
Nutrition Facts:
Calories: 324kcal (16%) Carbohydrates: 59g (20%) Protein: 11g (22%) Fat: 4g (6%) Saturated Fat: 1g (6%) Sodium: 949mg (41%) Potassium: 144mg (4%) Fiber: 3g (13%) Sugar: 8g (9%) Vitamin A: 445IU (9%) Vitamin C: 3.6mg (4%) Calcium: 196mg (20%) Iron: 4.2mg (23%)
* Disclaimer: All nutrition information are estimates only. Read full disclosure here.